Making this from scratch may seem too daunting to attempt at home. Think again.
There really is nothing better than when something homemade turns out as good as you hope. We'll show you the tips to make the best mayonnaise you've ever tried. Perfect when making chicken salad, tuna salad, or just on a yummy tomato sandwich. Truly amazing!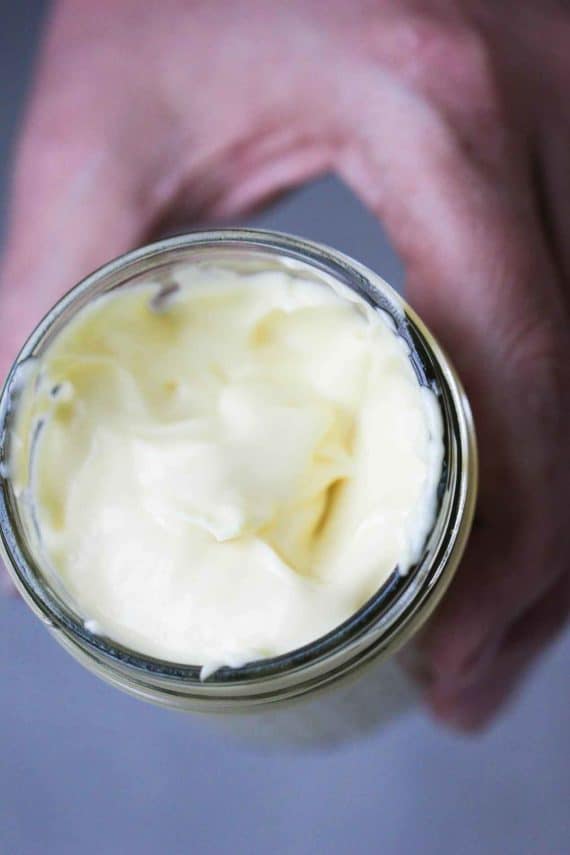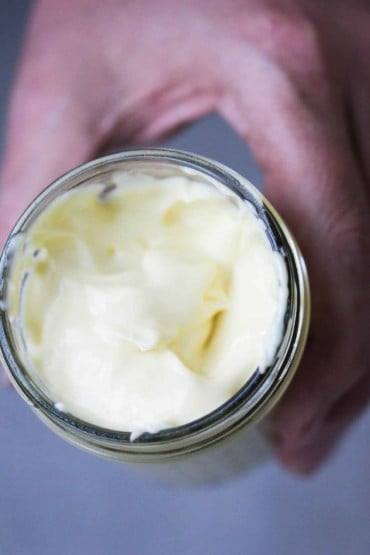 How To Make Homemade Mayonnaise
If you follow these few steps and utilize the right tools and ingredients, you'll get a perfect mayonnaise every single time.
Remember that our version has raw eggs in it. This won't pose a risk for many folks, however, anyone with a compromised immune system should avoid it.
NOTE: If you liked the video, please subscribe to our YouTube channel. Remember to click the little 'bell' icon so you'll never miss a new video!
The Ingredients and Tools You Will Need
There aren't a lot of ingredients needed to make delicious homemade mayonnaise, but there are some very important factors to keep in mind when you're picking up what you need from the grocery store.
Although you can prepare this dressing with a whisk and a bowl, an immersion blender makes the process foolproof.
Here's What You'll Need to Have on Hand
Eggs – One whole and one yolk, it's best if they are room temperature
Lemon juice – Fresh is best
Vinegar – White wine vinegar is recommended
Salt – Kosher
Onion powder – Just a pinch
Dijon mustard – Not stone ground, country, or old style. Go with the original.
Oil – The most important part of making perfect mayonnaise is the oil. You want a neutral-tasting oil. We recommend safflower oil, avocado oil, or a blend of the two.
The Tools You Will Need
An immersion blender
A vessel just large enough to fit the blade of the blender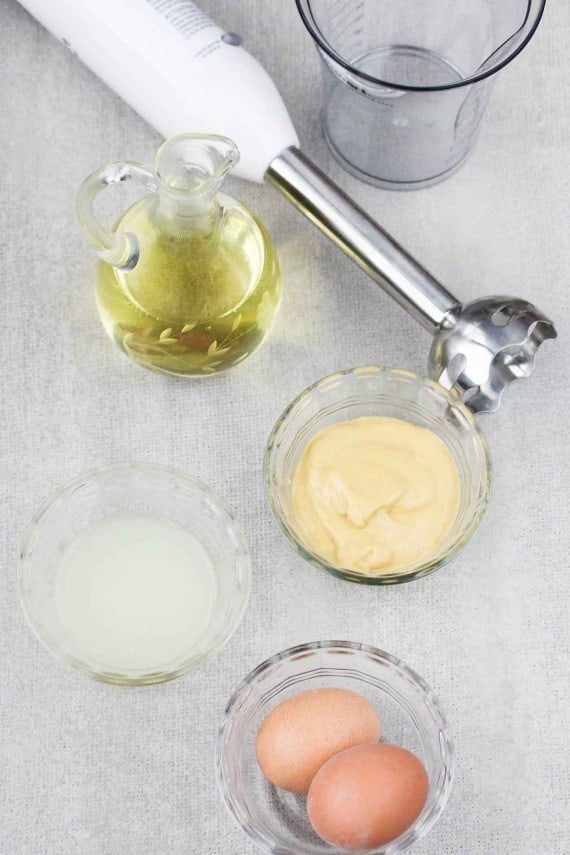 Tips for Making Perfect Homemade Mayonnaise
Use fresh and high-quality ingredients: The success of any mayonnaise recipe depends on the quality of the ingredients used. Make sure to use fresh and high-quality egg yolks, lemon juice, mustard, and a neutral oil like canola or grapeseed oil.
Keep all ingredients at room temperature: It is important to keep all the ingredients at room temperature before starting the process. This will help the ingredients emulsify properly and result in a smooth and creamy texture.
Use an immersion blender: Using an immersion blender is the easiest and most efficient way to make mayonnaise. It allows you to control the speed and consistency of the mixture and ensures that all the ingredients are well blended. Make sure to use a tall and narrow container that fits the immersion blender head snugly for best results.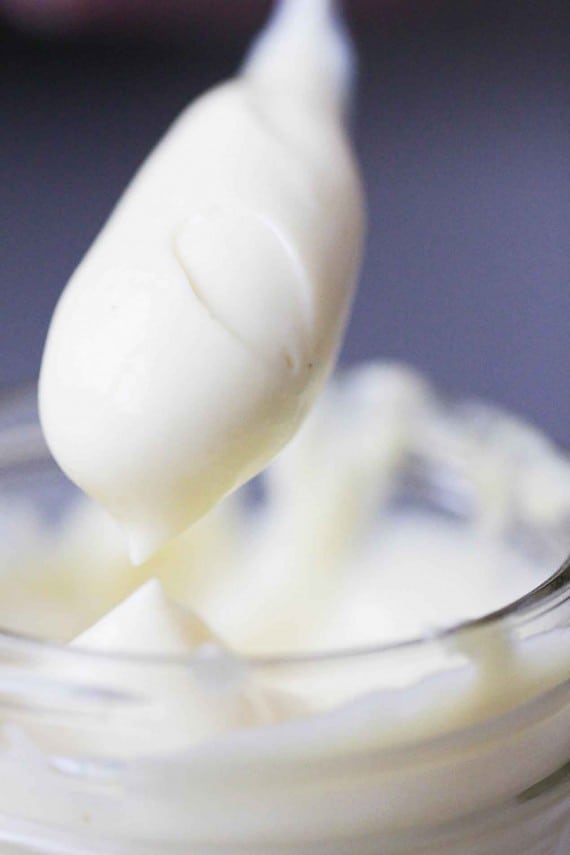 How To Use
You can use your homemade mayonnaise with any recipe that calls for mayo!
Here are some amazing recipes that are made even better with homemade mayo!
Garlic Basil Aioli
Rosemary Garlic Aioli
Kickin' Remoulade
Alabama White Sauce
Best-Ever Chicken Salad
Tuna Salad
Egg Salad
Carrot and Raisin Salad with Curry Dressing
The origin of mayonnaise is a bit uncertain. You'd think it's decidedly French, but evidence shows it may have originated in Spain. Learn more about the Uncertain History of Mayonnaise by Slate.com.
Ready to make the best mayonnaise in town? Go for it!
And when you do, be sure to take a photo of it, post it on Instagram, and tag @HowToFeedaLoon and hashtag #HowToFeedaLoon!
Classic Homemade Mayonnaise
This Classic Homemade Mayonnaise recipe is fool-proof. It may take a time or two for you to get 100% comfortable with creating perfectly smooth and creamy homemade mayo, but you'll get it. It's so delicious! It's great in our Chicken Salad and our Tuna Salad!
Print
Pin
Rate
Servings: 8 people
Calories: 197kcal
Equipment
1 Immersion blender

1 jar or vessel about the
Ingredients
1 large egg
1 large egg yolk
1 tsp fresh lemon juice
½ tsp white wine vinegar
½ tsp Kosher salt
¼ tsp onion powder
1 tsp Dijon mustard optional
¾ cup safflower oil plus another 2 tbsps (See NOTES)
Instructions
Place all ingredients in a vessel just large enough to fit the immersion blender.

1 large egg, 1 large egg yolk, 1 tsp fresh lemon juice, ½ tsp white wine vinegar, ½ tsp Kosher salt, ¼ tsp onion powder, 1 tsp Dijon mustard, ¾ cup safflower oil

Place blender all the way in, so the blades are touching the bottom of the vessel.

Turn on the blender, and gently move it upwards, so the egg and egg yolk are incorporated, and the oil and egg begin to emulsify.

Continue, gently moving up and down, until thick. Will keep in the fridge for up to one week.
Notes
See the video near the top of the blog post for visual guidance. If you like the video, please subscribe to our YouTube channel.
Using the right oil is critical. Go with any of the following (or a blend of them):
Safflower
Avocodao
Grapeseed
Homemade mayo will keep covered in the fridge for up to 1 week. We don't recommend freezing it.
NOTE:
Although the risk of contracting illness from raw eggs is minimal, those with a compromised immune system should avoid consuming them.
Nutrition
Serving: 1tbsp | Calories: 197kcal | Carbohydrates: 0.2g | Protein: 1g | Fat: 22g | Saturated Fat: 2g | Polyunsaturated Fat: 3g | Monounsaturated Fat: 16g | Trans Fat: 0.02g | Cholesterol: 46mg | Sodium: 162mg | Potassium: 13mg | Fiber: 0.04g | Sugar: 0.05g | Vitamin A: 65IU | Vitamin C: 0.02mg | Calcium: 7mg | Iron: 0.2mg
POST UPDATE: This recipe was originally published in January 2018, but was updated with improved tweaks to the recipe with new tips and photography and a fabulous new video in May 2023!