We absolutely love chicken salad and this version is no exception.
We have to admit that our Best-Ever Chicken Salad was our first recipe to go viral and has been our #1 recipe on the blog for over 4 years. This variation of that salad is absolutely heavenly. We even show you how to make your own curry powder from scratch! So heart-warming and so delicious!
HOW TO MAKE CURRY CHICKEN SALAD
This recipe comes together very quickly. We recommend roasting two or three bone-in, skin-on chicken breasts for deep flavor, but rotisserie chicken from the supermarket works, too.
And if you really want to make this extra special, homemade mayonnaise and homemade curry powder are truly something to write home about.
Watch us show you how to make this amazingly delicious chicken salad!
ROASTED CHICKEN DEEPENS THE FLAVOR
As mentioned, you can absolutely use a rotisserie chicken from the supermarket for this recipe and still get great results.
But we really love to get two or three skin-on, bone-in chicken breasts and just rub a little olive oil all over them, and then salt and pepper. Roast in the oven at 350°F for 50 minutes, or until internal temperature reaches 165°F.
EXPERT TIP: Once the chicken is cool enough to handle, pull the meat from the bones and use a knife to cube it. We keep the chicken pieces a little on the larger side, about ½" x ½". This is about the right size to match against the other components of the salad.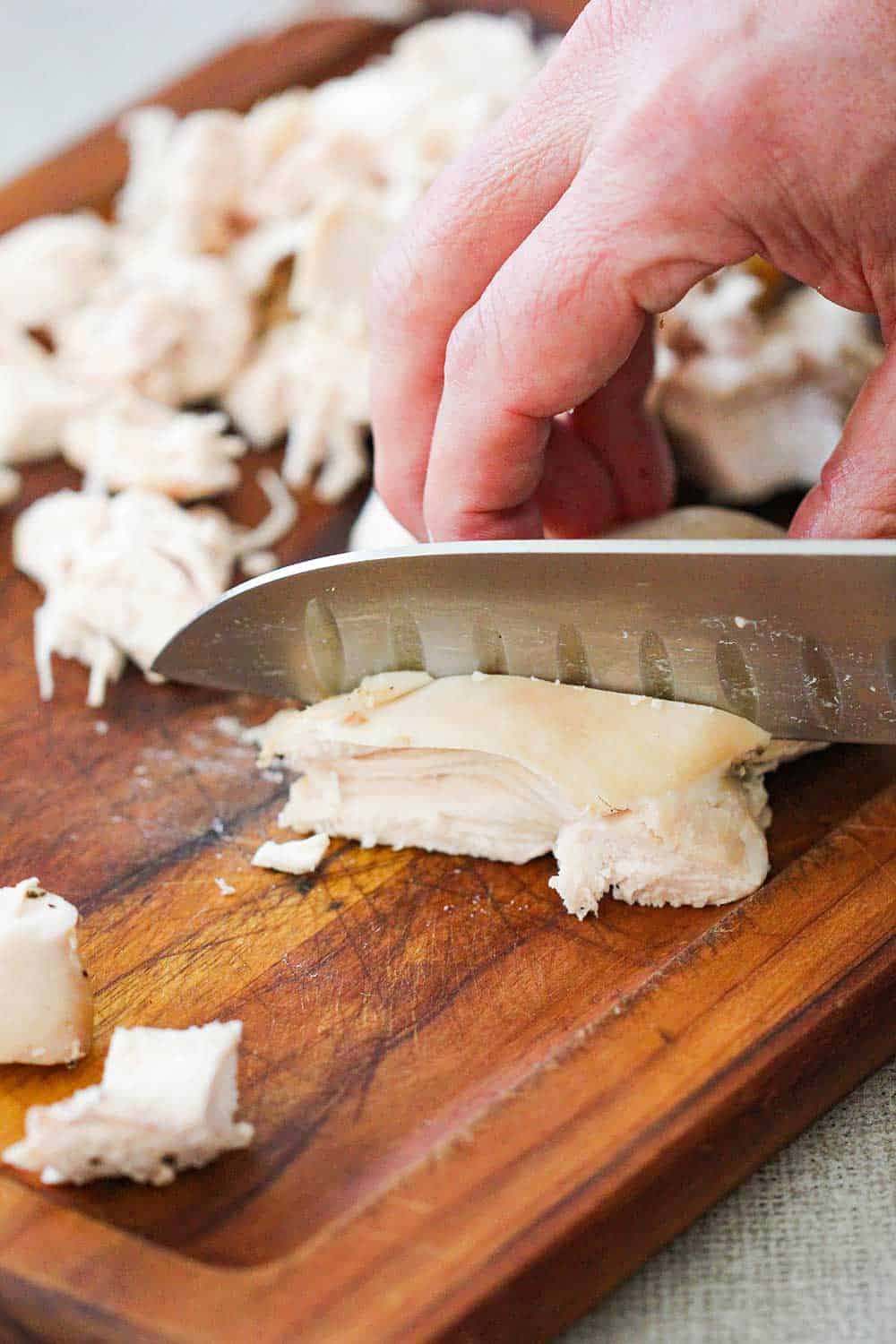 HOW TO CUT A FRESH MANGO
Fresh mango in this curry chicken salad is really wonderful. The texture and taste are just fantastic.
You can go with boxed or canned mango, no problem, just be sure to drain first.
We do, however, recommend going with fresh mango, if possible. To cut the mango, simply cut away the skin with a sharp paring knife or a good peeler. Then use a large knife to cut around the hard center of the fruit. Then cut into cubes. You'll get anywhere from ½ a cup to 1 cup of cubed fresh mango.
We absolutely love cooking with curry. This spice has such a history and elevates dishes to truly incredible culinary heights.
You will be surprised at how easy it is to make curry powder at home. Click here for the recipe and a 'how-to' video, as well.
The dressing is tangy with the mayonnaise, yogurt, lime juice, and then brought to life with ground ginger and of course, the curry powder. Yum!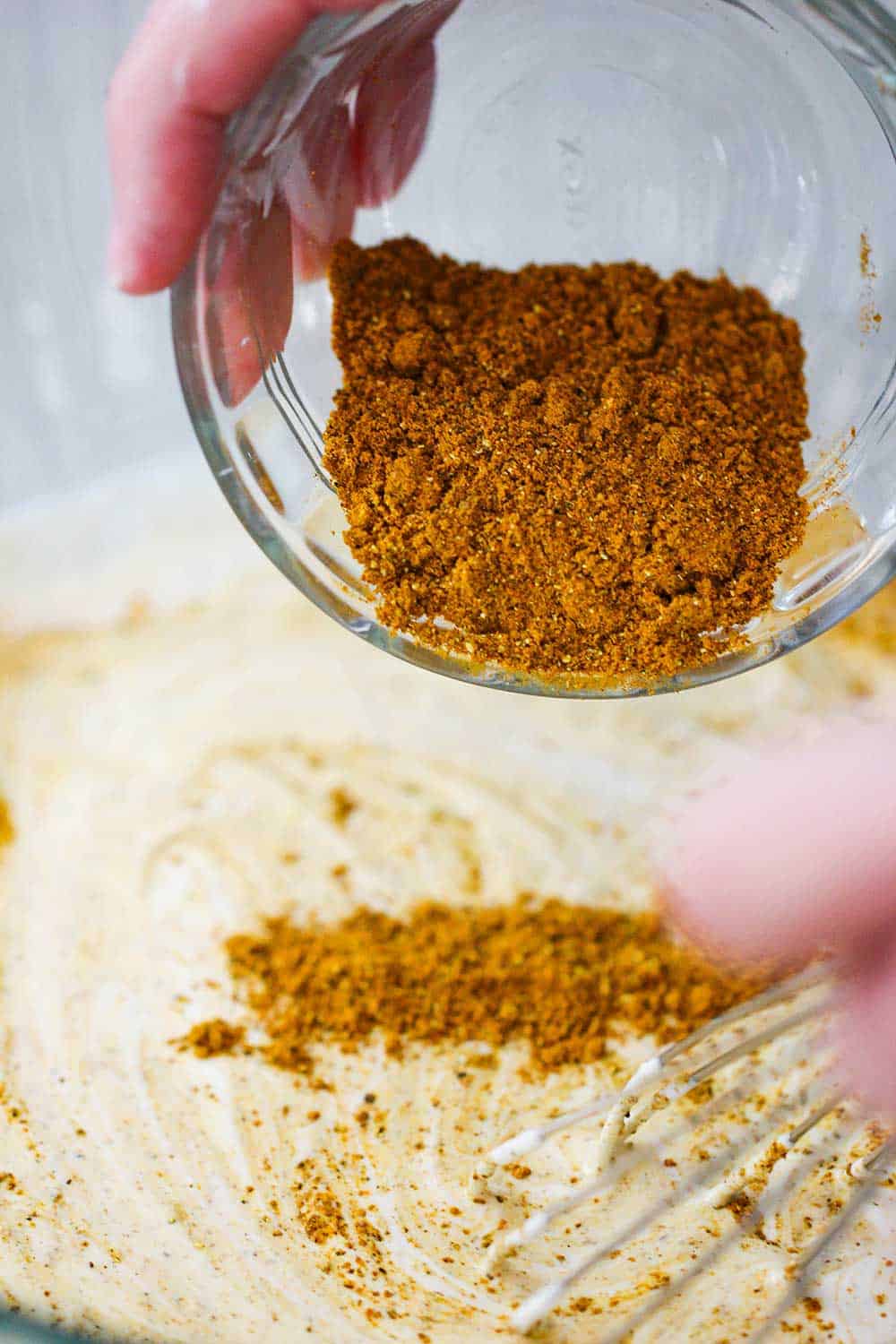 ROUNDING OUT THE FLAVOR PROFILE
The addition of the following ingredients complements this salad so much.
Seedless red grapes, halved
Red onion, finely chopped
Fresh mango, cubed
Roasted and lightly salted cashews, roughly chopped
As with our Best-Ever Chicken Salad, Best-Ever Tuna Salad, and our Best-Ever Egg Salad, feel free to modify the ingredients to your own taste!
EXPERT TIP: We recommend mixing the dressing in a separate bowl from the bowl of the dry ingredients. Because the amount of chicken could vary depending on the size of the chicken breast, you'll want to adjust the amount of dressing accordingly. Resist the temptation to overdress the salad. We recommend about 1 cup per 8 cups of dry ingredients. Of course, if you prefer a "wetter" salad, then feel free to add more. Adding the dressing in increments allows you to reach your desired consistency.
After mixing the salad together, you'll see the beautiful color and smell the incredible flavor.
Take a taste and add more salt, if necessary.
EXPERT TIP: The salad gets better after it has time to allow all the components to meld. Cover the bowl, or transfer the salad to an air-tight container and place in the refrigerator for at least one hour, or even better, overnight. For best texture and taste, allow the salad to come to room temperature before serving.
CURRY CHICKEN SALAD IS IDEAL FOR ENTERTAINING
This salad works amazingly well as a sandwich, or over a bed of lettuce.
It always gets rave reviews when served for brunch, or special occasions such as baby or wedding showers, parties, and anytime you need to feed a crowd.
This recipe comfortably feeds 6 to 8 people. Double or triple the recipe to feed a larger group.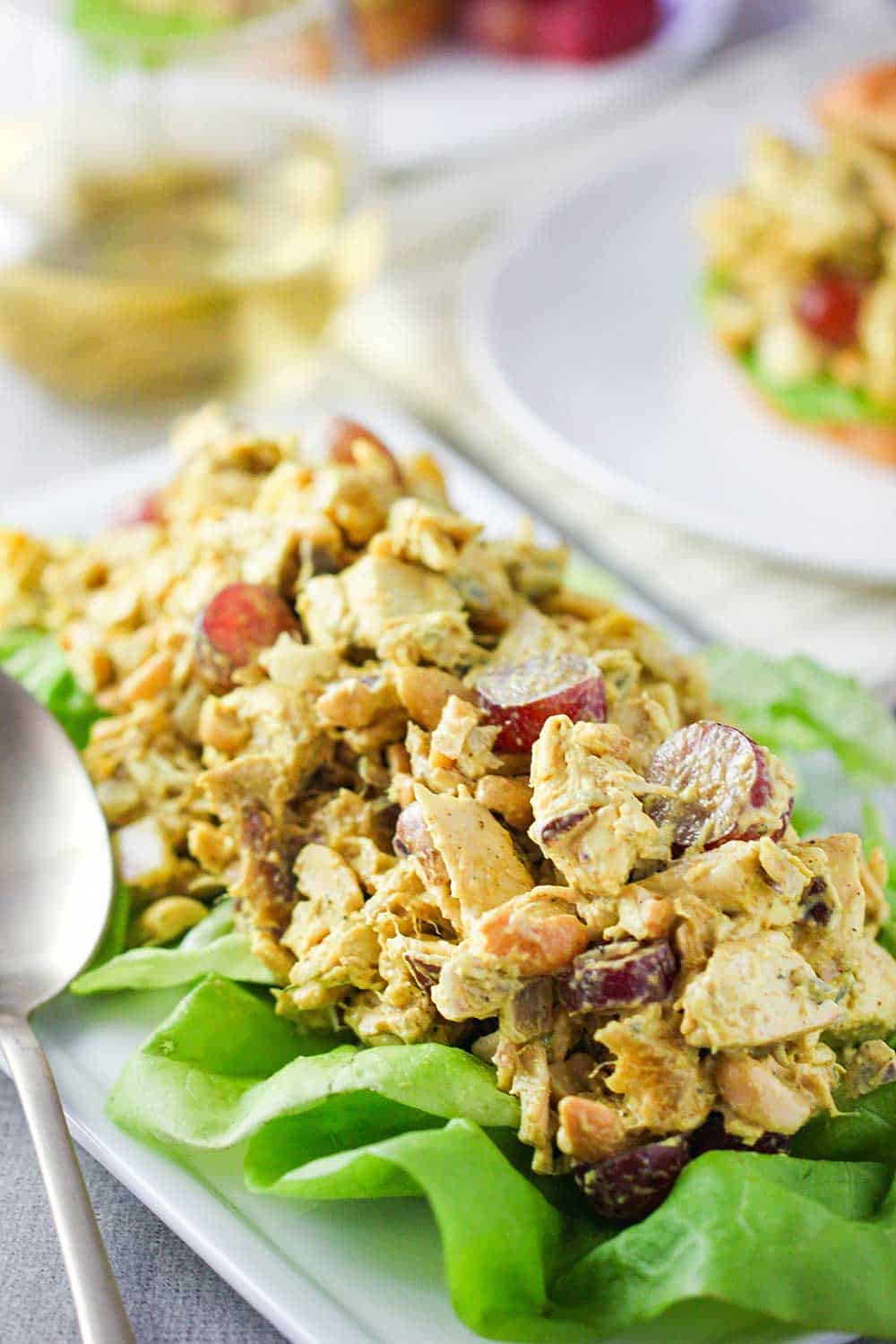 After one bite, you'll understand why this is right near the top of the list of our favorite dishes to prepare.
Our homemade curry recipe is not overly spicy at all. If you prefer a little more heat, then simply increase the amount of cayenne pepper.
Just so delicious!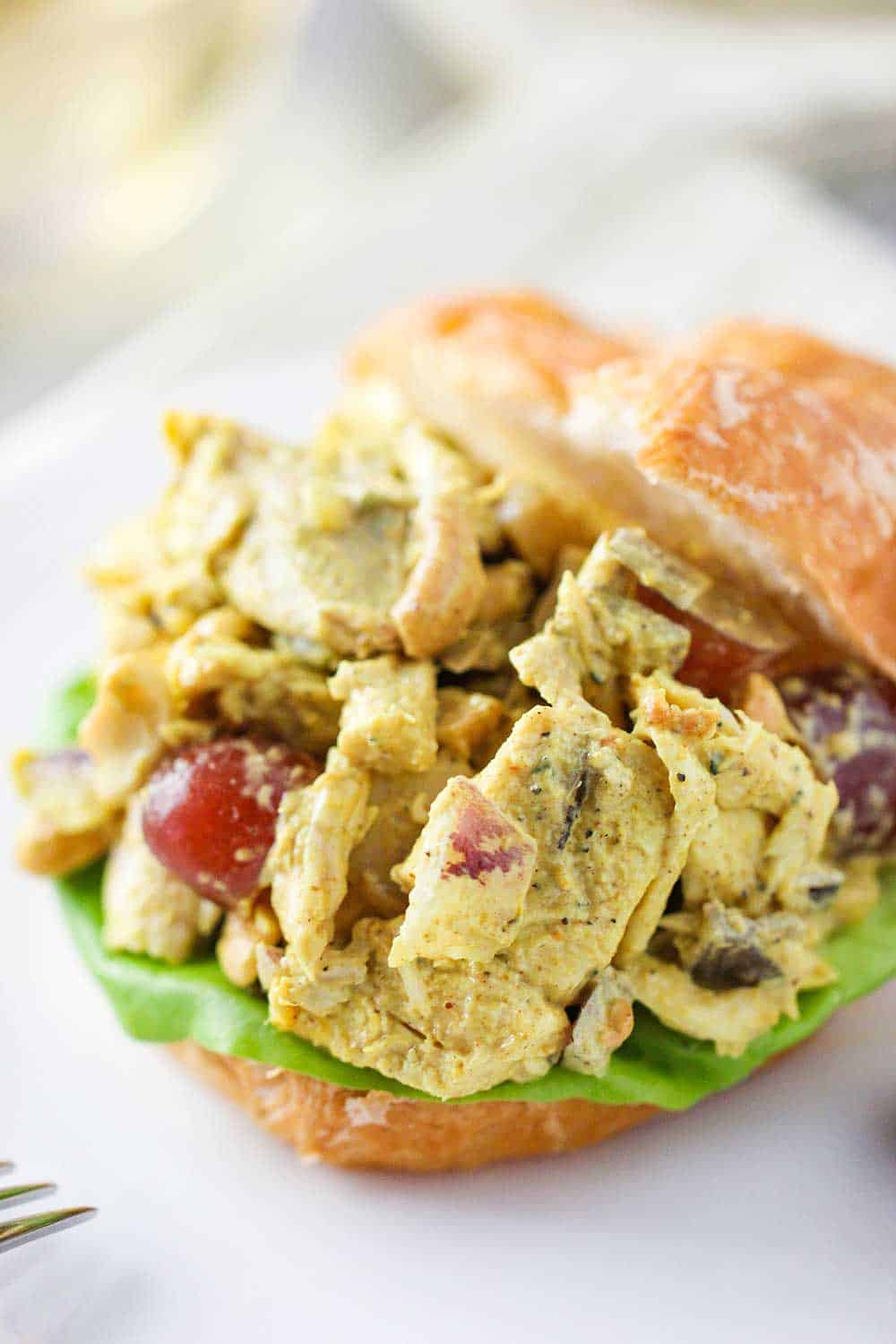 This chicken salad is always a crowd favorite.
As we said, we love serving it as a salad, but also as pre-made sandwiches.
Either way, you'll have a hit on your hands with this amazing chicken salad!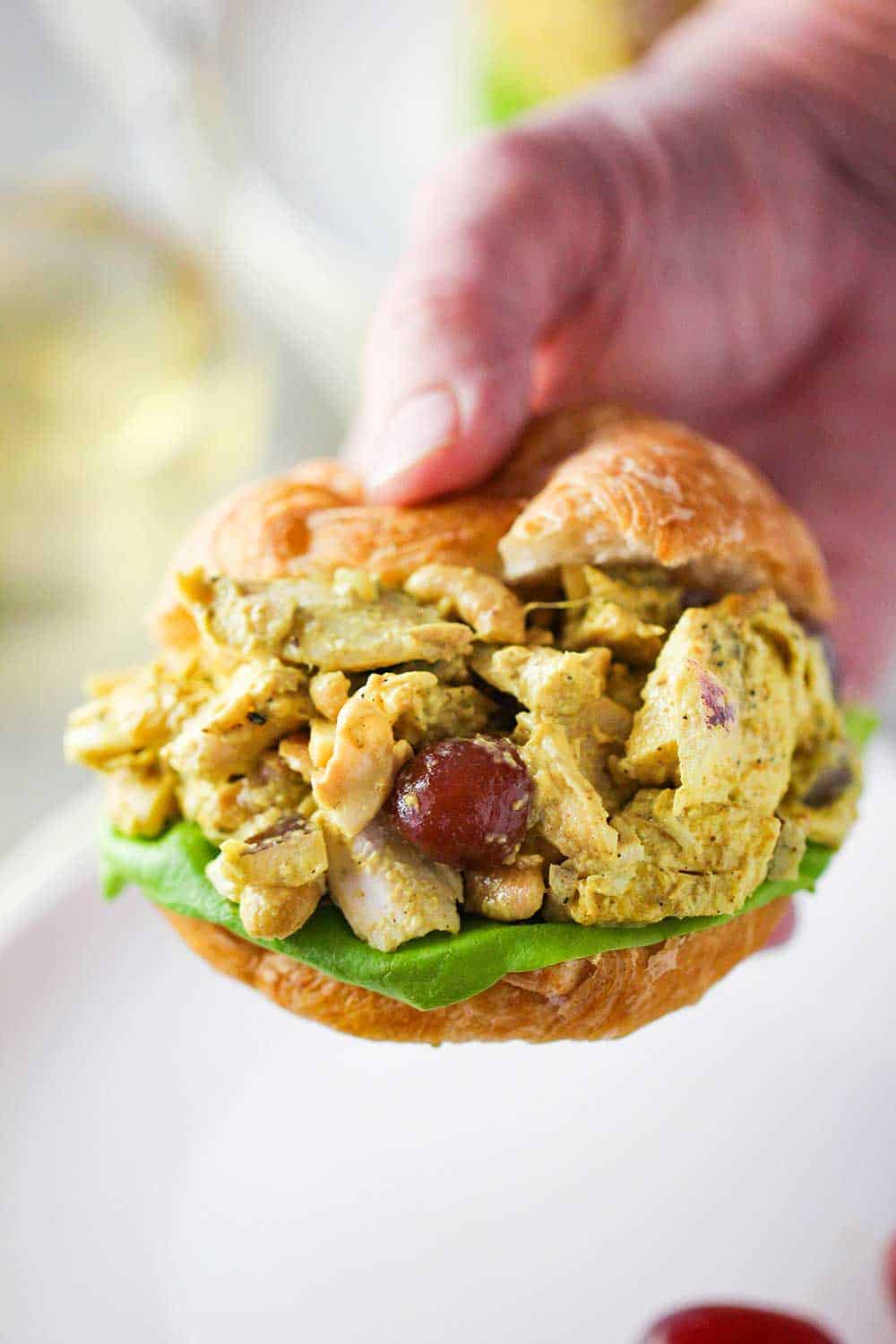 Ready to make the best Curry Chicken Salad in the world? Go for it!
And when you do, be sure to take a picture, post it on Instagram, and tag @howtofeedaloon and #howtofeedaloon!
Curried Chicken Salad
Curried chicken salad is so fresh, and explodes with flavor. Be sure to roast your chicken in the oven and then dice. If you're up to it, why not try homemade mayo and homemade curry powder! It truly takes this dish to the stratosphere. Yum!!
Print
Pin
Rate
Servings: 8 people
Calories: 469kcal
Ingredients
FOR THE ROASTED CHICKEN
2 chicken breasts split, bone-in, skin-on
2 tbsp olive oil
Kosher salt and fresh ground pepper
FOR THE SALAD
1 cup mayonnaise
½ cup plain yogurt
3 tbsp curry powder
1 tbsp lime juice fresh
1 tbsp honey
½ tsp ground ginger
1/2 tsp Kosher salt
1/2 tsp ground black pepper
1 cup red onion chopped (about a cup)
1 fresh mango peeled, pitted and diced, about ⅔ cup.
1 cup red grapes seedless, halved
1 cup salted roasted cashews roughly chopped
1 cup lettuce for garnish - optional
8 sandwich rolls croissants, ciabatta, etc - optional
Instructions
Preheat the oven to 350°F.

Rub the chicken pieces with oil and sprinkle all over with salt and pepper. Place on a baking rack on a lined baking sheet and roast for 50 minutes, or until internal temperature reaches 165°F. Set aside until cool enough to handle.

Remove the meat from the bones, discard the skin, and dice the chicken into large bite-size pieces, about ½"x½".

In a medium bowl, make the dressing by mixing together the mayonnaise, yogurt, curry powder, lime juice, honey, ginger, salt, and pepper.

In a separate, large bowl, add chicken, onion, mango, grapes, and cashews.

Add the dressing in increments, starting with about ½ a cup, gently stirring as you go. Depending on how much chicken you have, you'll most likely need about 1 to 1½ cups of the dressing. Add more or less as per your own desired consistency.

Cover with plastic wrap, or put in an air-tight container and place in the refrigerator for at least 1 hour, or overnight. The longer it sits, the more the flavors will meld. Let come to room temperature before serving.

Serve over a bed of lettuce greens, or as sandwiches using your favorite sandwich bread.
Notes
The roasted chicken can be made up to 1 day in advance. A rotisserie chicken works well, too. If we use a rotisserie, we usually use two chickens. Be sure to know the heat level of the curry powder before adding to the dressing. Our homemade curry powder is mild, but many other types may be spicy. If too spicy, start with just one tbsp, taste, and add more, if desired. We love serving this to guests over a bed of lettuce, with sliced croissants or ciabatta rolls, and allow them to make their own sandwich. The salad definitely gets better after it's had time to sit in the fridge for a day.
Nutrition
Calories: 469kcal | Carbohydrates: 46g | Protein: 22g | Fat: 14g | Saturated Fat: 3g | Cholesterol: 50mg | Sodium: 819mg | Potassium: 509mg | Fiber: 3g | Sugar: 9g | Vitamin A: 130IU | Vitamin C: 4mg | Calcium: 104mg | Iron: 4mg
POST UPDATE: This recipe was originally published in May 2014, but updated with improved tweaks to the recipe with new photography, tips, and a fabulous new video!