This Seared Pork Chops in Caper Sauce recipe is truly one of those dishes that looks gorgeous, and is equally as delicious.
Boy, oh boy…just look at those chops! And that sauce!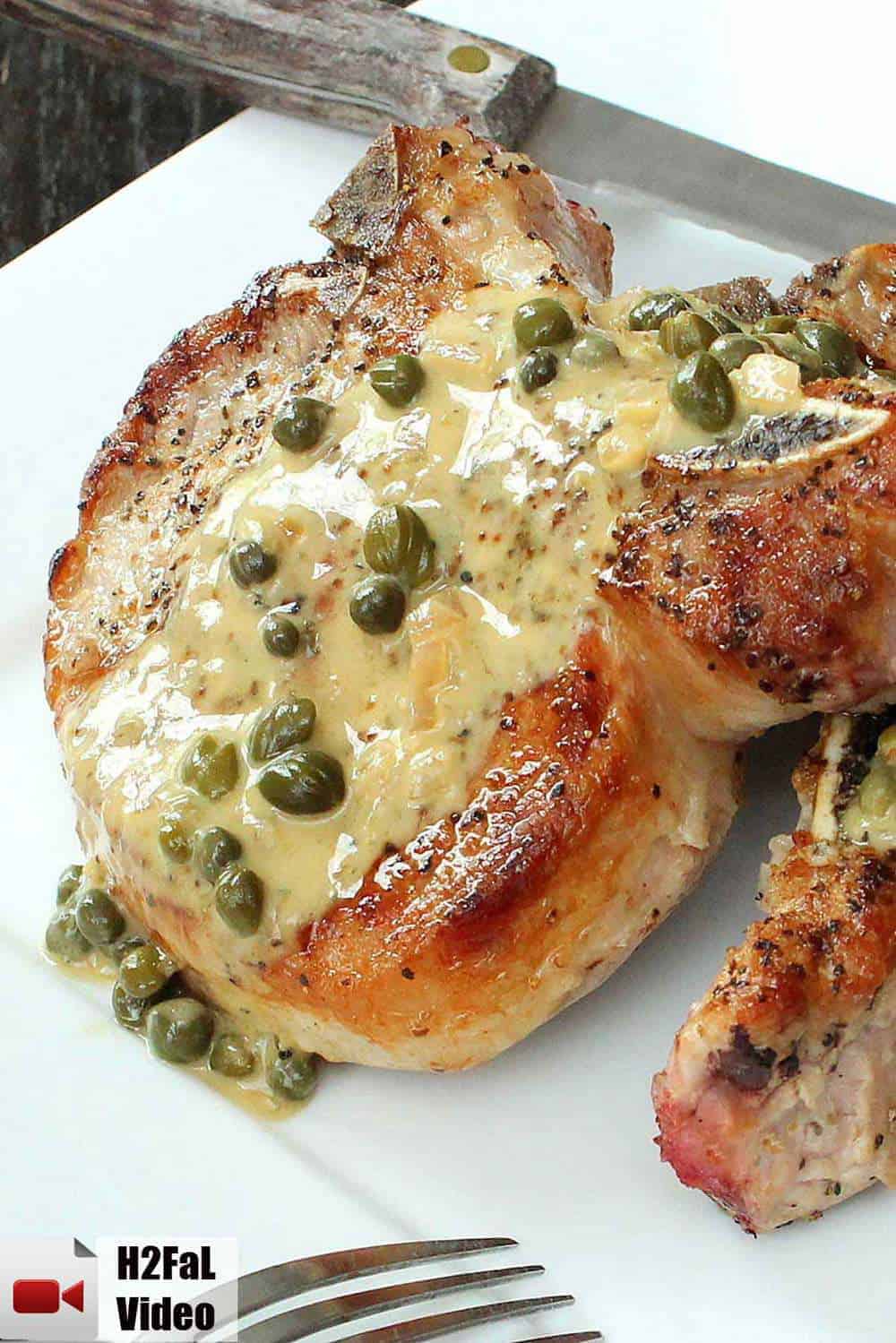 Watch us show you how easy it is to make this amazing Seared Pork Chops in Caper Sauce recipe.
Get ready though…you're going to get really hungry!
WHAT IS THE BEST CHOP TO USE?
We love starting with 1-inch-thick, bone-in, center-cut pork chops. Bone-in means more flavor!
To learn more about the different types of pork chops read this Complete Guide to Pork Chops on kitchn.
Lightly season the chops and then sear them up in a good sturdy skillet!
This is going to be good!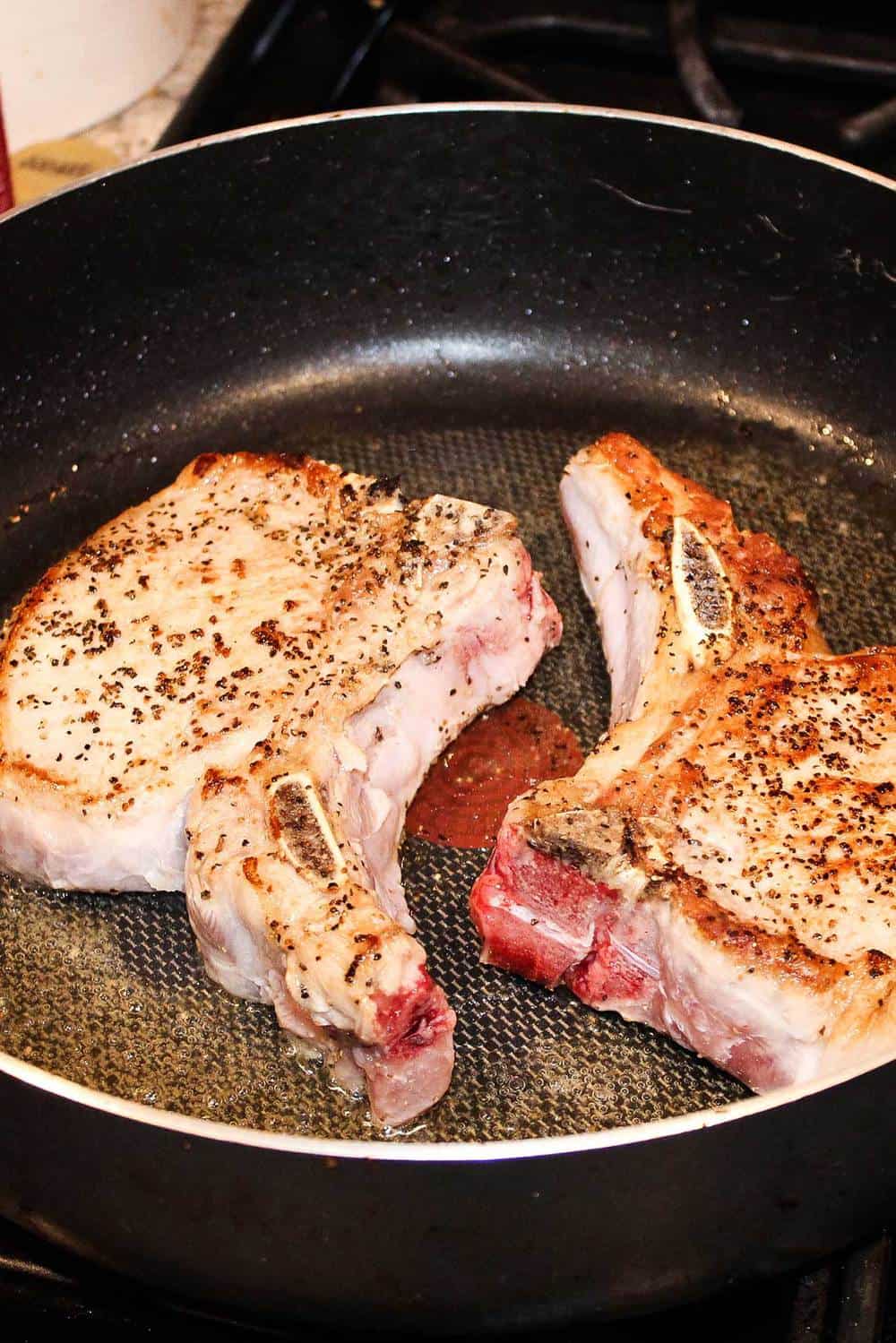 WHY WE LOVE SEARED PORK CHOPS SMOTHERED WITH A CAPER SAUCE
These pork chops are succulent and truly wonderful on their own. But, why not kick things up another level? A sauce almost ALWAYS enhances a dish on every level, from flavor profile, to texture, to appearance.
We just love the tangy taste of capers, combined with a top-notch Sherry vinegar, Dijon mustard, shallots and garlic.
Talk about a flavor sensation. This sauce is the bomb!
Mmmmmm.
Now, how about a little cream?
Just for good measure?
Oh, yes. This really is the perfect sauce. Another great sauce is with our Turkey Cutlets and Honey Mustard Sauce. And, of course, our Pan-Fried Pork Cutlets with Peaches is an instant classic.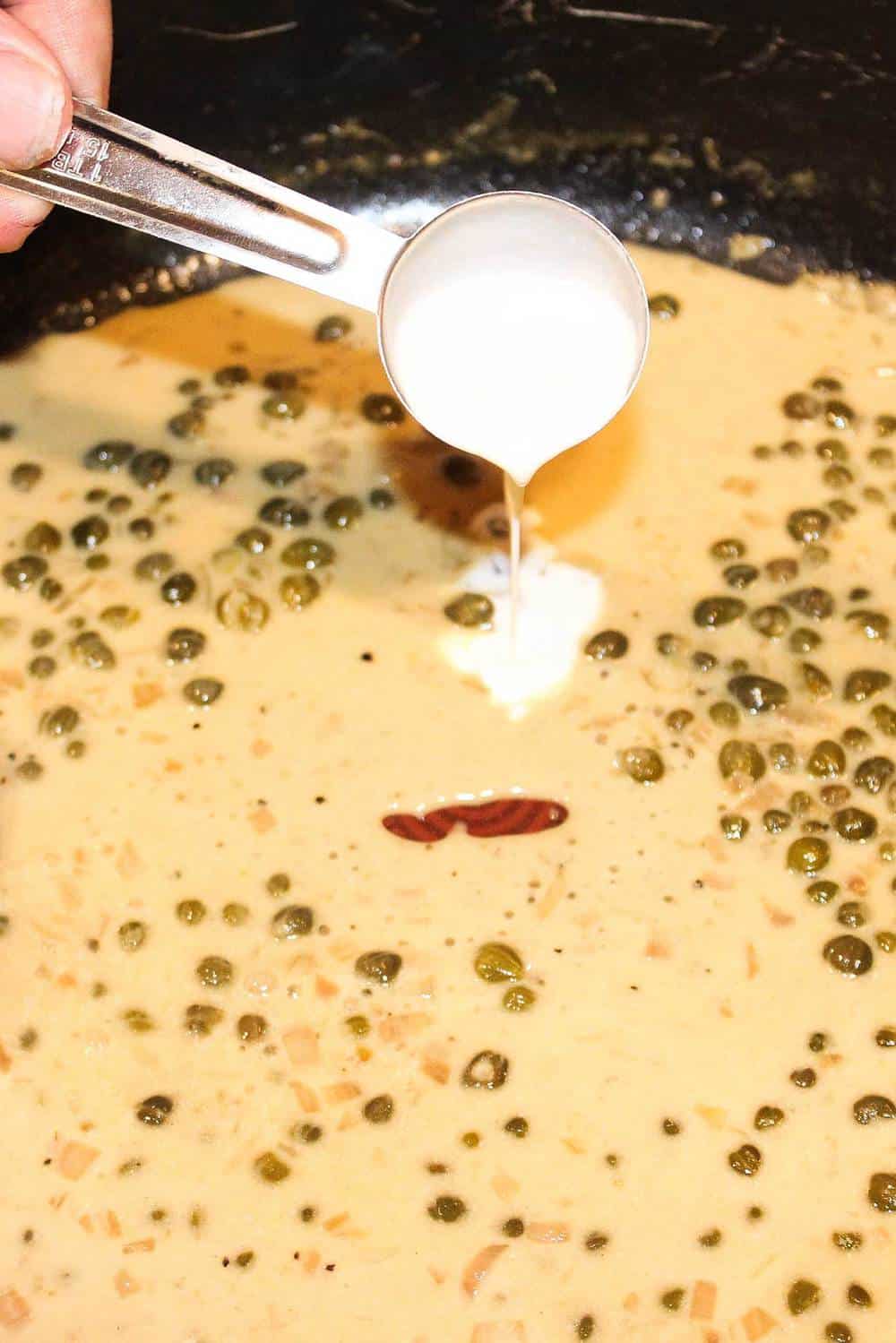 SEARING THE CHOPS LOCKS IN THE FLAVOR
Talk about searingly delicious.
Center-cut pork loin chops are so flavorful and found in most the meat department of most major supermarkets.
These chops are so delicious and tender. And topped with an amazing Caper Sauce! It all comes together for something divine.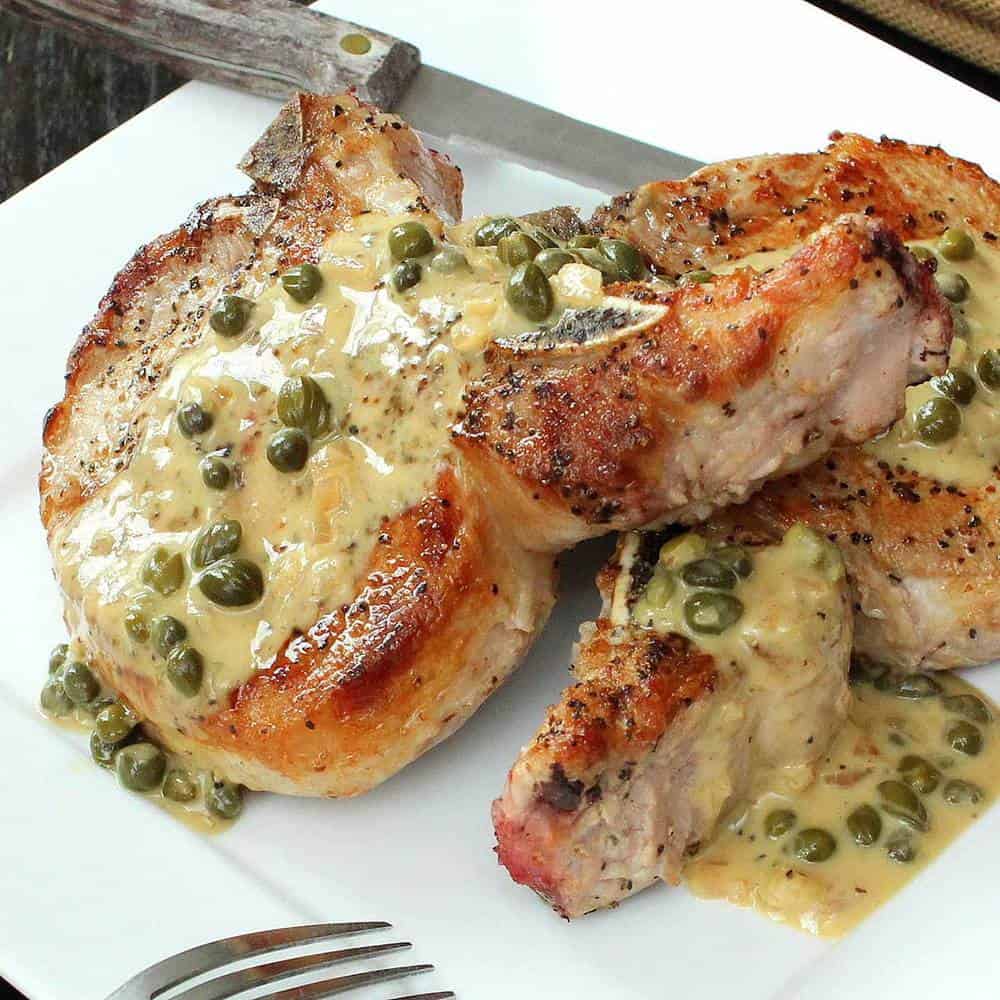 OTHER AMAZING PORK RECIPES TO TRY
Balsamic Grilled Pork Chops
Italian Smothered Pork Chops
Perfect Pork Loin Roast
Southern Country-Style Pork Spareribs
Roasted Stuffed Pork Loin
Pan-Seared Pork Chops with Cajun Rice
Now, go ahead and make this amazing Seared Pork Chops in Caper Sauce recipe!
Seared Pork Chops with Caper Sauce
This Seared Pork Chops with Caper Sauce recipe is just brimming with delicious flavor and juicy, tender meat. Searing the chops ensure locked-in flavor and the sauce just puts it over the top.
Print
Pin
Rate
Servings: 4
Calories: 265kcal
Ingredients
4 1-inch thick center-cup, bone-in pork loin chops (allow chops to sit at room temp for 30 mins)
2 tbsp olive oil
Kosher salt and freshly ground black pepper
1 medium shallot, diced
2 tsp garlic, minced
1/2 cup capers, drained
2 tbsp Sherry vinegar
1/4 cup chicken stock
1 1/2 tbsp Dijon mustard
2 tbsp heavy cream
Instructions
Pre-heat oven to 200°F.


Pat chops dry with a paper towel, and then generously sprinkle both sides with salt and pepper.

In a large skillet, heat the oil over medium-high heat.

Add the chops and sear on one side for about 4 to 5 minutes, until golden brown on the bottoms. Flip the chops over and sear the other sides for another 4 to 5 minutes. (The chops should be firm to the touch, but still have a little give).

Transfer the chops to the oven to keep warm while preparing the sauce.

Pour all but about 1 teaspoon of oil from pan and reduce the heat to medium.

Add the shallots and garlic and cook until soft, about 2 to 3 minutes.

Add the capers and cook for 30 seconds

Add the vinegar and cook until slightly reduced, about 2 minutes.

Add the stock, mustard, a pinch of salt and pepper. Cook until slightly thickened, about 2 - 3 minutes.

Stir in the cream.

Taste and adjust seasonings.

Place chops on plate or platter and pour sauce over them. Pass remaining sauce at the table.
Nutrition
Calories: 265kcal