If your looking for a new entree that is incredible in taste and is on the table in about 30 minutes, you've come to the right place.
We love cooking with pork. It's tasty and healthier than beef. Pan-frying pork loin cutlets is a revelation. And then when you pair them with peaches in a savory, yet slightly sweet sauce, the results are magical. And, did we mention it comes together in about 30 minutes! Wow!
How To Make Pan-Fried Pork Cutlets with Peaches
We have been playing around with a version of this dish for years, and always loved it.

But recently, we changed things up a bit, and couldn't believe how much better we made it.

From the thin crisp pork cutlets to the fresh peaches matched against the briny capers, to a luxurious sauce…it just works.

Watch Us Make It!


If you enjoyed this video, please SUBSCRIBE TO OUR YOUTUBE CHANNEL and never miss one of our recipe videos! Remember to hit the little 'bell' icon to be notified every time a new video is released!
How To Slice a Peach
Slicing a peach is not difficult if you follow these steps, and take special care when handling your knife.
First, we need to remove the skin. Placing the whole peaches in boiling water for about 30 to 60 seconds and then plunging into an ice bath makes the skin come off easily, often with just a few pulls from your fingers.
EXPERT TIP: There are many types of peaches on the market. When in season, it's fun to seek out freestone peaches. This just means the peaches don't cling tightly to the pit (or stone) in the middle. Clingstone peaches have pits that are more firmly attached to the flesh. Simply use a paring knife to cut slices from the stone if going with clingstone. For freestone, simply cut the peach in half, easily remove the pit, and then slice.
These peaches also make the most amazing Peach Crisp. Peaches for the entree and dessert! Why not? YUM!
Preparing the Pork Cutlets
We love picking an unseasoned or non-marinated pork loin from our butcher or even a good meat counter at your favorite grocery store.
You can slice the pork into medallions and cook them as they are, but we think they're even better when we pound them out to about ½-inch or ¼-inch thickness.
Season with salt and pepper and then dredge with flour.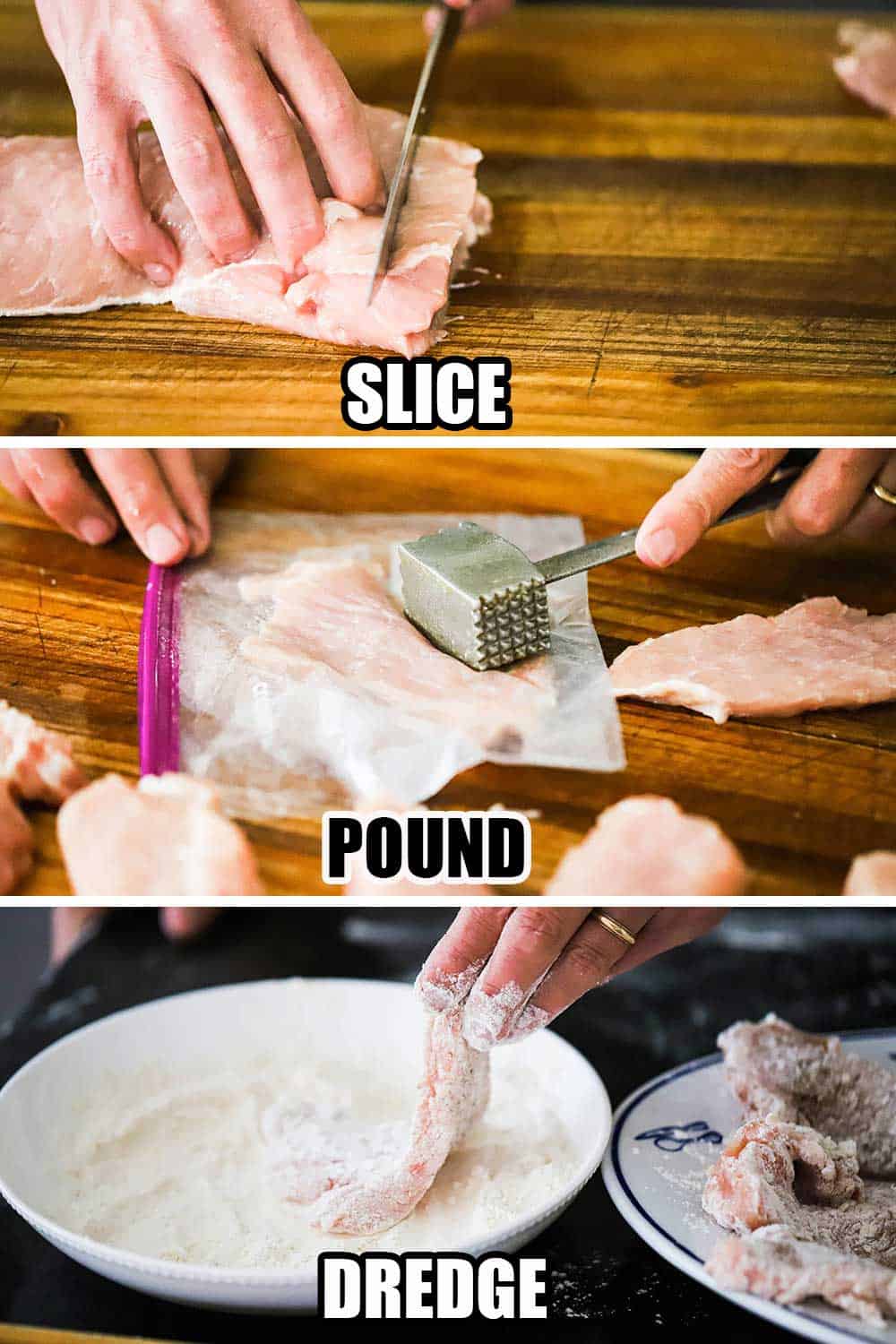 Now, it's time to get the cutlets nice and crispy.
Add a couple tablespoons of vegetable oil to a large skillet (cast-iron works nicely).
Once shimmering, add the cutlets and cook for 3 to 4 minutes per side, or until nicely browned and cooked through.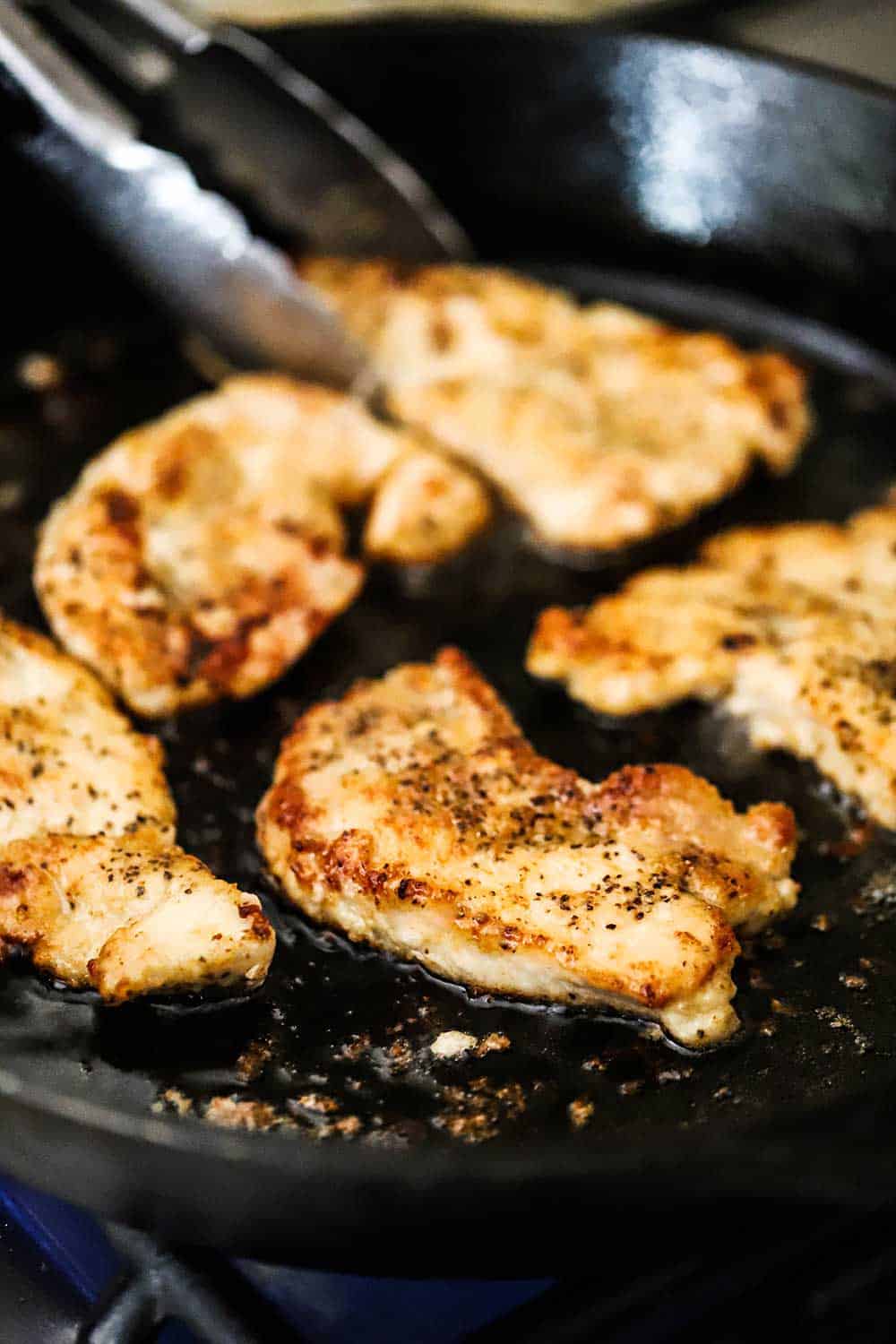 The Perfect Sauce Pan-Fried Pork Cutlets
Now, it's time to make the most amazing sauce.
In the same pan that you fried up the cutlets, pour in ¼ cup of dry sherry over medium-high heat.
EXPERT TIP: We think sherry works wonderfully with the pork and peaches, however, a dry white wine would work well. During the cooking process, 99.9% of the alcohol will cook off, however, if you don't want to cook with any type of alcohol, just melt a couple of tablespoons of butter in the skillet before adding the remaining ingredients for the sauce.
Now, comes the game-changer ingredients.
It may not seem like much, but the addition of chopped scallions and capers bring the sauce to the next level.
We're not lying folks…these two ingredients work so perfectly with the pork and the peaches.
Add about ¾ cup of chicken stock and then add those glorious peaches.
Let simmer until slightly thickened and the peaches are nice and soft.
EXPERT TIP: You can use frozen peaches, no problem. Fresh is best, but frozen will work just fine. Allow to thaw and then add about 3 cups to the pan.
When to Serve Pan-Fried Pork Cutlets with Peaches
Folks, this dish is so easy to prepare, it is the perfect weeknight meal.
But, it's also so wonderful and gorgeous in presentation, it makes a great dish for a special occasion or dinner party.
We love serving it along with our Best Mashed Potatoes
Ready to make one of the most delicious pork dishes you'll ever try or serve? Go for it!
And when you do, be sure to take a photo of it, post it on Instagram, and tag @HowToFeedaLoon and hashtag #HowToFeedaLoon!
Pan-Fried Pork Cutlets with Peaches
This dish could not be easier to prepare and the layers of flavors just are the absolute best. Go with quality frozen peaches if fresh aren't available. You don't have to pound the pork cutlets, but we think thin, slightly larger pieces are amazing.
Print
Pin
Rate
Servings: 4
Calories: 469kcal
Equipment
Large skillet/saucepan (cast-iron works well)
Ingredients
3 large peaches fresh, peeled, and sliced
1½ lb pork tenderloin sliced into 1-inch medallions
salt and pepper
1 cup all-purpose flour
2 tbsp vegetable oil
¼ cup sherry
½ cup scallions green onions, chopped
½ cup capers drained
¾ cup chicken stock
2 tbsp lemon juice fresh
Instructions
Peel and slice the peaches. Set aside.

Pound the pork medallions with the side of a mallet until about ¼ to ½-inch in thickness.

Sprinkle salt and pepper over both sides of the pieces of pork.

Dredge each seasoned piece of pork through a shallow bowl filled with the flour. Shake off excess flour and place on a platter.

In a large skillet, preferably cast-iron, heat the oil over medium heat. Once the oil is shimmering, add the cutlets to the pan and cook until browned on the bottom, about 3 to 4 minutes. Carefully shuffle the cutlets with tongs or a spatula a little to help them from sticking to the pan.

Carefully flip the cutlets and cook for another 3 to 4 minutes, until browned all over and cooked through. Remove the cutlets to a platter or large plate.

With the pan still over medium heat, add the sherry to the pan. Stir with a wooden spoon, and prying up any bits that may be stuck to the pan from searing the pork cutlets. Cook, stirring frequently, until reduced, about 1 minute.

Add the scallions and capers to the pan and stir for about 1 minute. Add the chicken stock and then peaches. Cook until the sauce has slightly thickened, about 8 to 10 minutes. Season with ½ tsp salt and a pinch of pepper.

Nestle the pork cutlets into the sauce and cook for another couple of minutes, enough to warm the cutlets. Stir in the lemon juice and then serve at once.
Notes
SEE VIDEO (towards top of the blog post) for visual reference (and a good time!). Pounding the pork medallions isn't 100% necessary. We just like them thin, and pounding them makes them also a little wider. If you leave them thick, then you'll need to increase the cook-time by another 4 or 5 minutes per side. If you can't find fresh peaches, frozen, or drained canned peaches will work, too. Allow frozen peaches to thaw before adding to the sauce. This dish comes together very quickly, but the cutlets can be prepared 4 or 5 hours in advance. We recommend reheating them in a 400 F oven for about 10 minutes, to help crisp them back up. When simmering the cutlets, try not to completely submerge them, as the sauce will soften the crispy exterior to the tops of the pork. In the video, you'll notice we didn't add lemon juice at the end. We've found that a little lemon juice makes the dish even better! But it's also amazing without it! The recipe can easily be doubled if feeding a group. The sauce and cutlets will keep in the fridge for 5 days and can be frozen for 1 to 2 months.
Nutrition
Calories: 469kcal | Carbohydrates: 41g | Protein: 41g | Fat: 14g | Saturated Fat: 8g | Polyunsaturated Fat: 1g | Monounsaturated Fat: 3g | Trans Fat: 1g | Cholesterol: 112mg | Sodium: 762mg | Potassium: 1060mg | Fiber: 4g | Sugar: 13g | Vitamin A: 588IU | Vitamin C: 15mg | Calcium: 44mg | Iron: 4mg