We are salsa fanatics, and this is one of our all-time favorites.
Salsa is such a wonderful addition to your favorite TexMex and Mexican dishes, but also to have on hand for parties, game-day, or just relaxing on a weekend. This comes together in about 15 minutes and is delicious served room temp or we think even better, warmed.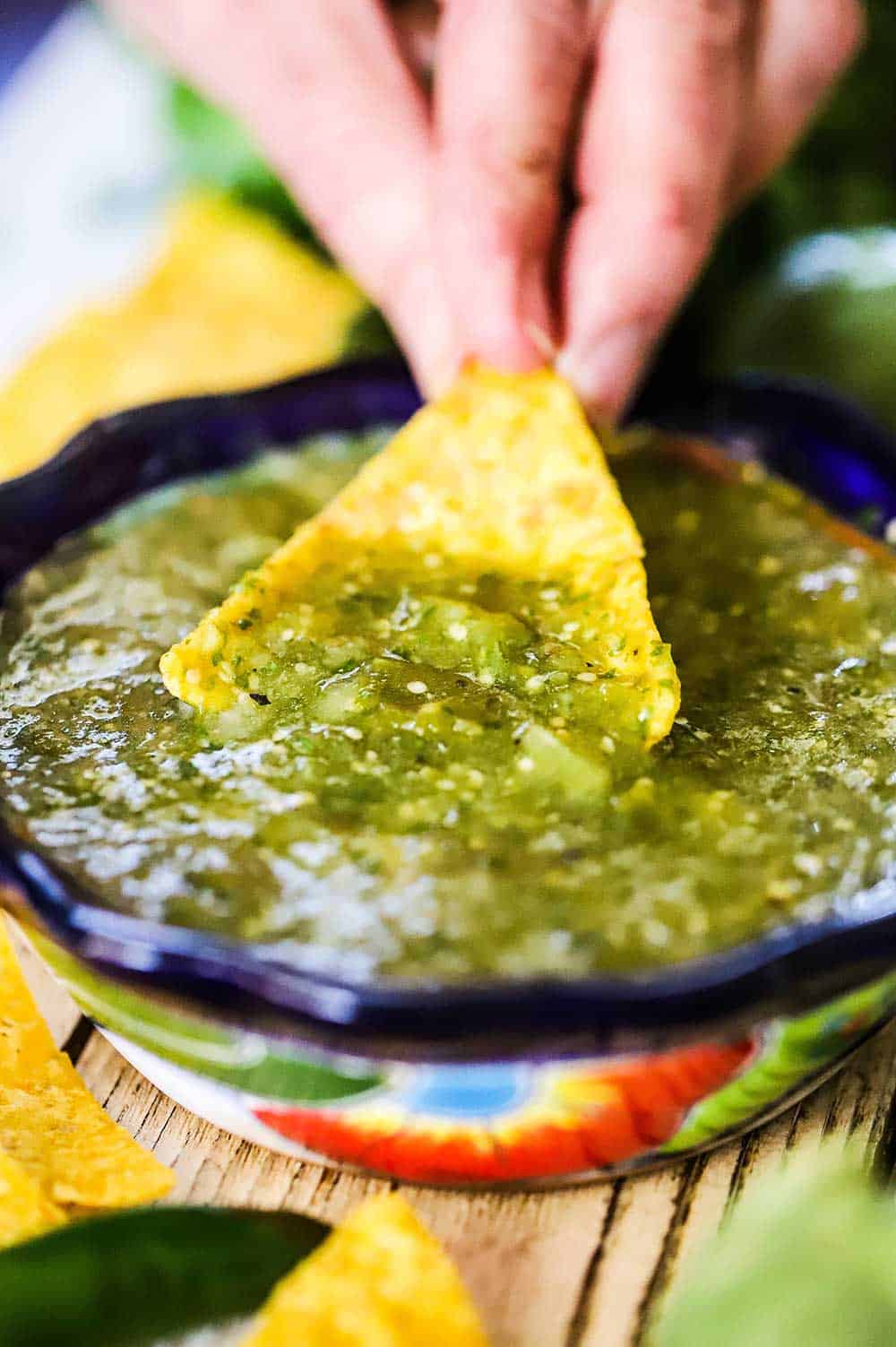 How To Make Salsa Verde
Verde means 'green' in numerous languages including Spanish, Portuguese, Italian, and Romanian.
To us, it just means a deliciously fresh-tasting salsa or sauce.
You won't believe how easy it is to bring it all together. All you need is a grill, a blender, and about 15 minutes!
Preparing the Vegetables
We're going to start off by roasting tomatillos and green peppers, such as a serrano.
Tomatillos are mild in taste and roast beautifully. They can be found in the produce section of most well-stock supermarkets.
EXPERT TIP: Tomatillos are critical to making salsa verde. If you can't locate any, we suggest purchasing a nice quality bottle (or canned) version which can usually be found in the Hispanic section of your market.
Place the tomatillos and serrano peppers on a grill pan and place over direct heat. Cook for about 8 minutes, turning occasionally until browned and lightly charred. If you don't have a grill pan, you can simply roast the vegetables under the broiler on HIGH for about 8 minutes.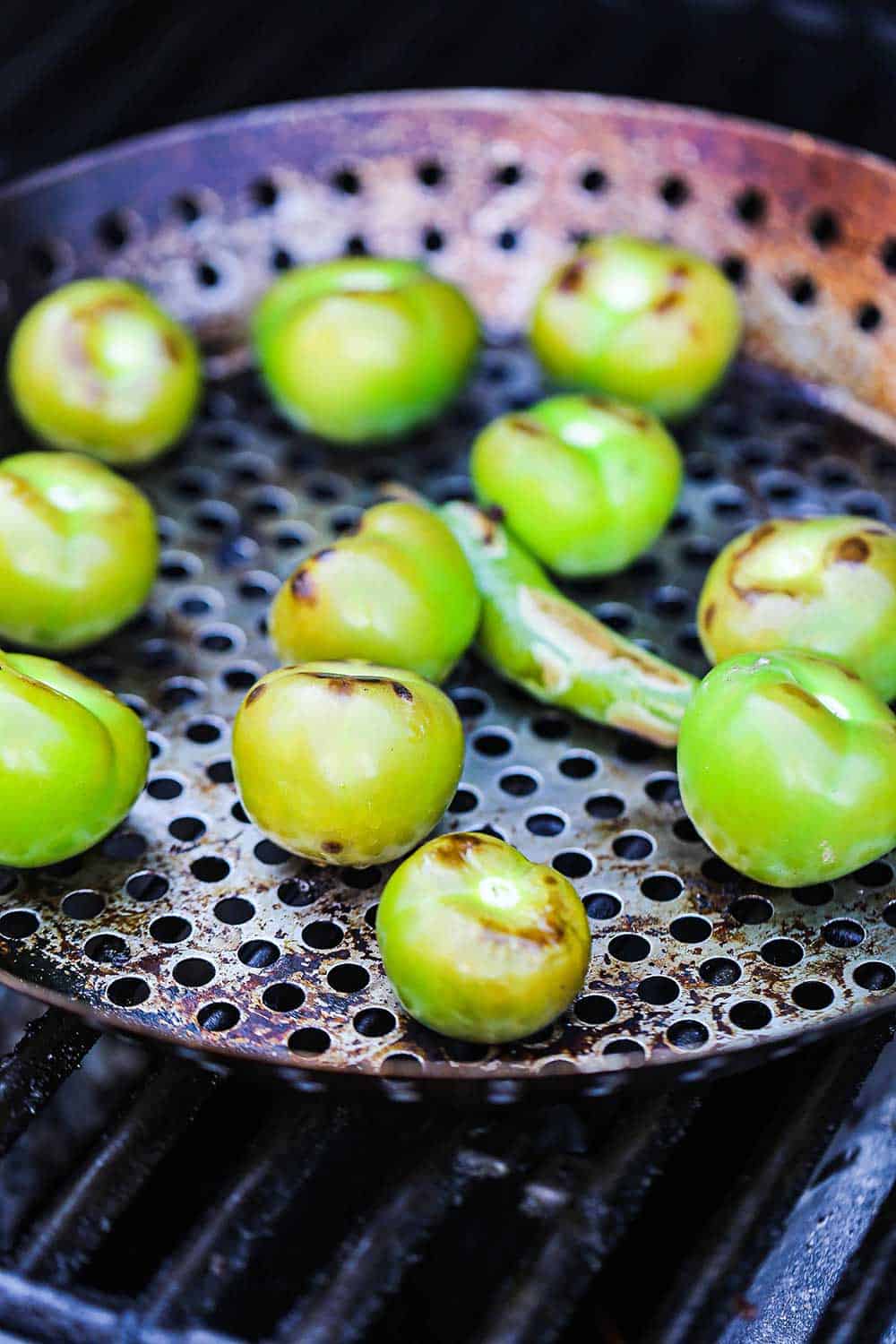 Place the roasted tomatillos and peppers in a blender along with minced garlic, fresh cilantro, and salt to a blender or food processor.
Purée or Process until smooth.
EXPERT TIP: Salsa verde can be a spicy, or as mild, as you prefer. A simple guide for using peppers. 1 serrano or half of a jalapeno (with seeds removed) is mild. 2 serranos or 1 whole jalapeno is medium. 3 serranos and 1½ of more jalapenos will give you a spicy salsa. Remember, the seeds and the ribs within the peppers deliver heat. Keep them in or remove them, according to your tastes.
When To Serve Salsa Verde
Think of this green salsa as you would any type of salsa, such as roasted tomato salsa, restaurant-style, or even skillet roasted corn salsa.
We serve this with our TexMex tacos, chicken burrito bowl, or even at a party or game day. It's also amazing served warm with warm homemade flour tortillas.
Of course, this salsa with a bowl of corn tortilla chips couldn't be better!
Ready to make the best green salsa this side of San Antonio? Go for it!
And when you do, be sure to take a photo, post it on Instagram, and tag @HowToFeedaLoon and hashtag #HowToFeedaLoon!
Salsa Verde
Salsa Verde is a green salsa that can be as spicy or as mild as you desire. So fresh, simple, and just delicious. And it comes together in about 15 minutes!
Print
Pin
Rate
Servings: 8
Calories: 14kcal
Equipment
Grill pan

Blender or food processor
Ingredients
1 lb tomatillos outer husk removed
1 serrano pepper or 2 for medium heat, 3 for spicy
2 cloves garlic minced
¼ cup cilantro fresh, chopped
1 tsp Kosher salt heaping
¼ cup yellow onion finely chopped
Instructions
Turn grill on the medium-high heat.

Place the husked tomatillos and pepper(s) on a grill rack. Place over direct heat on the grill and roast, turning occasionally, until browned and lightly charred in places, about 8 minutes.

Use a pair of tongs to transfer the roasted tomatillos to a blender. Use a small knife to cut away the stem of the pepper(s) and cut them in half, removing the seeds and ribs. Place the pepper(s) with the tomatillos in the blender.

Add the minced garlic, cilantro, and salt. Purée until smooth, about 30 seconds to 1 minute.

Serve warm, or cover and chill and then serve chilled or at room temperature.
Notes
Tomatillos can be found in the produce section of most well-stocked supermarkets or at produce markets. Tomatillos are a critical ingredient for salsa verde. If you can't find fresh, then we recommend purchasing bottled or canned green salsa (or preferably salsa verde or verde sauce) that can be found in the Hispanic section of most markets. One serrano pepper (roasted) will produce a mild salsa. Two peppers: Medium. Three or more: Spicy. Jalapenos (fresh or pickled) can be substituted. See the blog post for exact measurement is using jalapenos. This salsa is great served room temperature or chilled, but we really love it served warm. The salsa will keep covered in the fridge for up to 10 days and it freezes beautifully for up to 2 months.
Nutrition
Calories: 14kcal | Carbohydrates: 3g | Protein: 1g | Fat: 1g | Saturated Fat: 1g | Polyunsaturated Fat: 1g | Monounsaturated Fat: 1g | Sodium: 294mg | Potassium: 150mg | Fiber: 1g | Sugar: 2g | Vitamin A: 513IU | Vitamin C: 9mg | Calcium: 9mg | Iron: 1mg