Peanut Butter Cup Ice Cream Cake with Oreo Crust and Caramel Sauce Topping.
We defy you to find a more exciting string of words than those right there.
Folks, we're not going to kid you here. This ice cream cake takes some time to make. But like most things in life, the goodness with the end result without doubt outweighs the agony of having to wait several days to dig into it.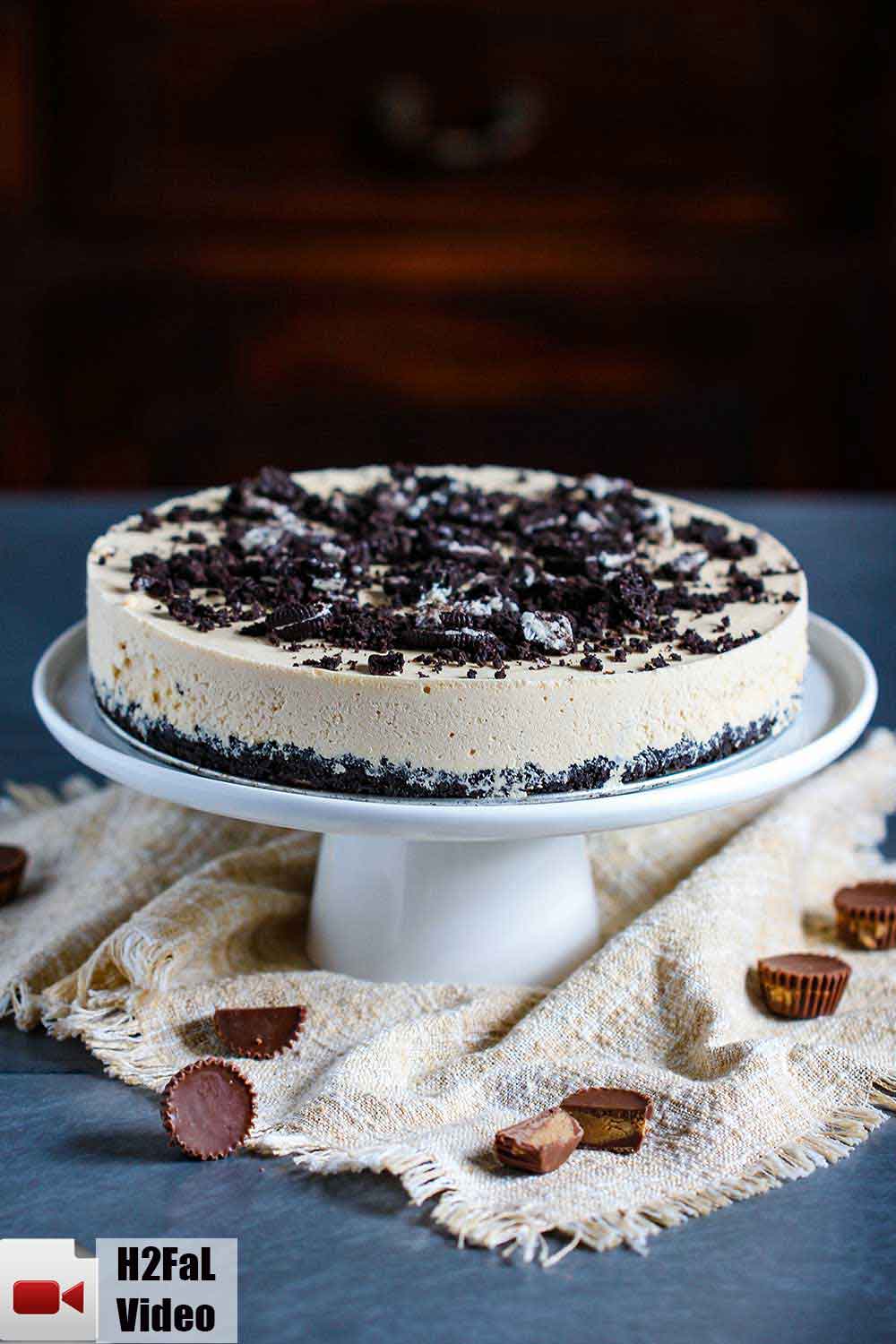 PEANUT BUTTER CUP ICE CREAM CAKE IS MADE IN STAGES
Once you commit to making the most delicious ice cream cake you'll ever have in your life, you'll need to plan a little in advance.
It's not difficult to make, you just need to allow time for a couple of the ice cream components to chill and then to freeze overnight (or for at least 6 hours, for chilling and then again freezing).
Watch us show you how to prepare this incredible Peanut Butter Cup Ice Cream Cake
PEANUT BUTTER ICE CREAM IS PERFECT FOR THIS CAKE
This peanut butter ice cream is a typical custard-based ice cream.
You'll start by making an amazing delicious peanut butter custard on the stove.
Once the custard has just thickened enough to coat the back of your spoon, remove from heat and then stir in the cream and vanilla extract.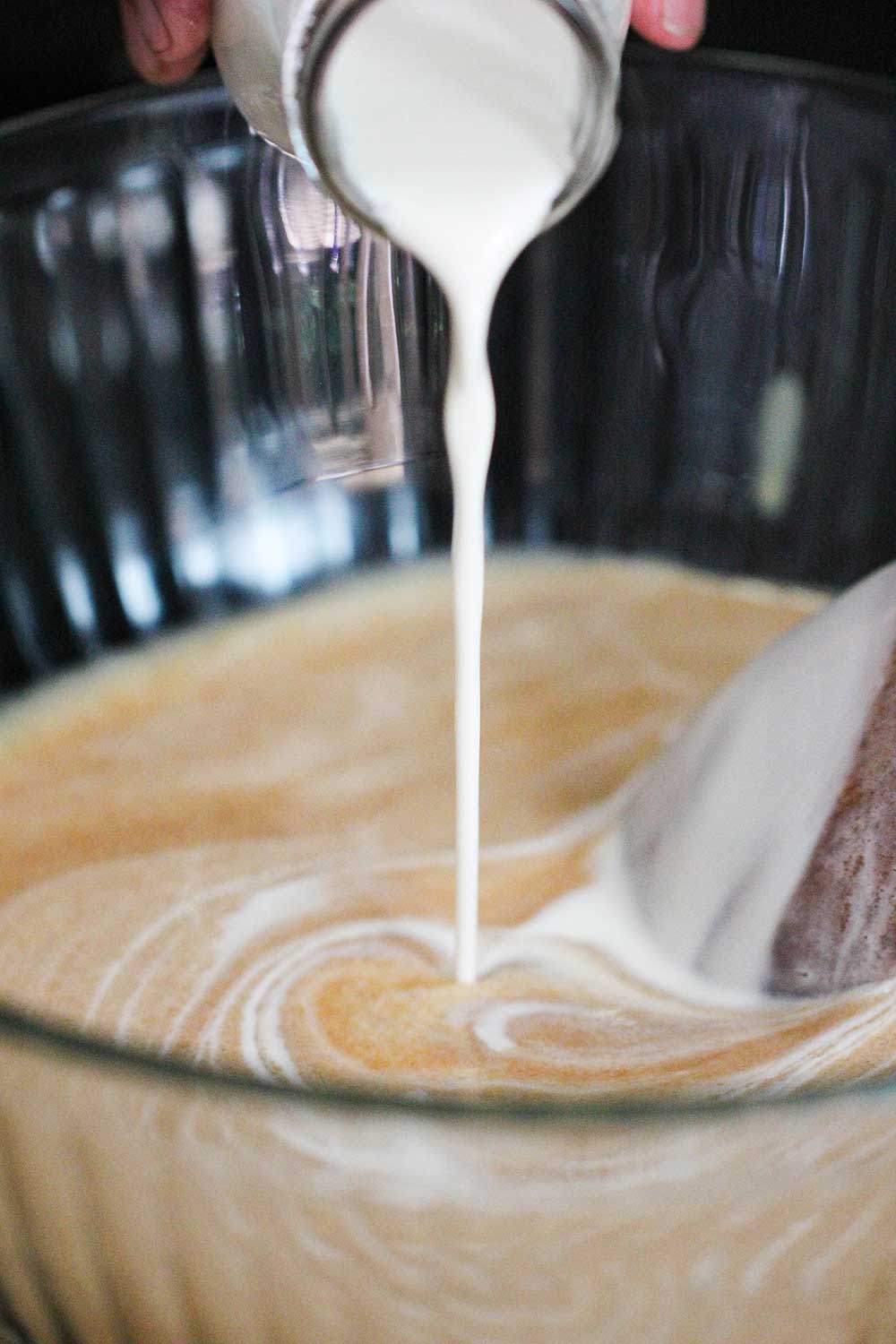 Next grab a fine-mesh sieve, or colander, and strain the custard into a large glass bowl.
Use the back of a wooden spoon to help the custard pass through the small holes.
Once you've done this, you've completed the first stage of this amazing dessert. This will need to chill in the refrigerator for at least 6 hours, or even better, overnight.
AN OREO COOKIE CRUST IS DELICIOUS
Of course, you can make the crust with any cookie you like.
A peanut butter cookie, such as a Nutter Butter, would be delicious. Simply pulverize about 18 to 20 cookies, add some melted butter and vanilla, and the press into the base of a 9-inch springform pan.
But we think a good ole Oreo cookie crust just can't be beat with this amazing ice cream cake. And you don't even have to remove the cream filling of the cookies!
Now, it's time for stage 2…Making the ice cream!
Be sure to follow your manufacturer's instructions for churning ice cream, but all you really have to do is pour the chilled custard into the ice cream chamber, and then churn away!
After about 50 to 60 minutes, you'll have a soft, but ready-to-eat ice cream. However, you're not done yet. You'll need pour this into your prepared pan. And then you guessed it, into the freezer it goes for at least 6 to 8 hours, or even better, overnight!
PEANUT BUTTER ICE CREAM CAKE IS GREAT FOR BIRTHDAY PARTIES
Want to make that certain birthday person feels extra special when his or her actual birthday comes along? You can never go wrong with an ice cream cake!
Some of our other favorite ice creams flavors are:
Strawberry and White Chocolate Ice Cream
Sweet Corn and Pistachio Ice Cream
But did we mention what our all-time favorite way to eat ice cream is? Just in case you missed it: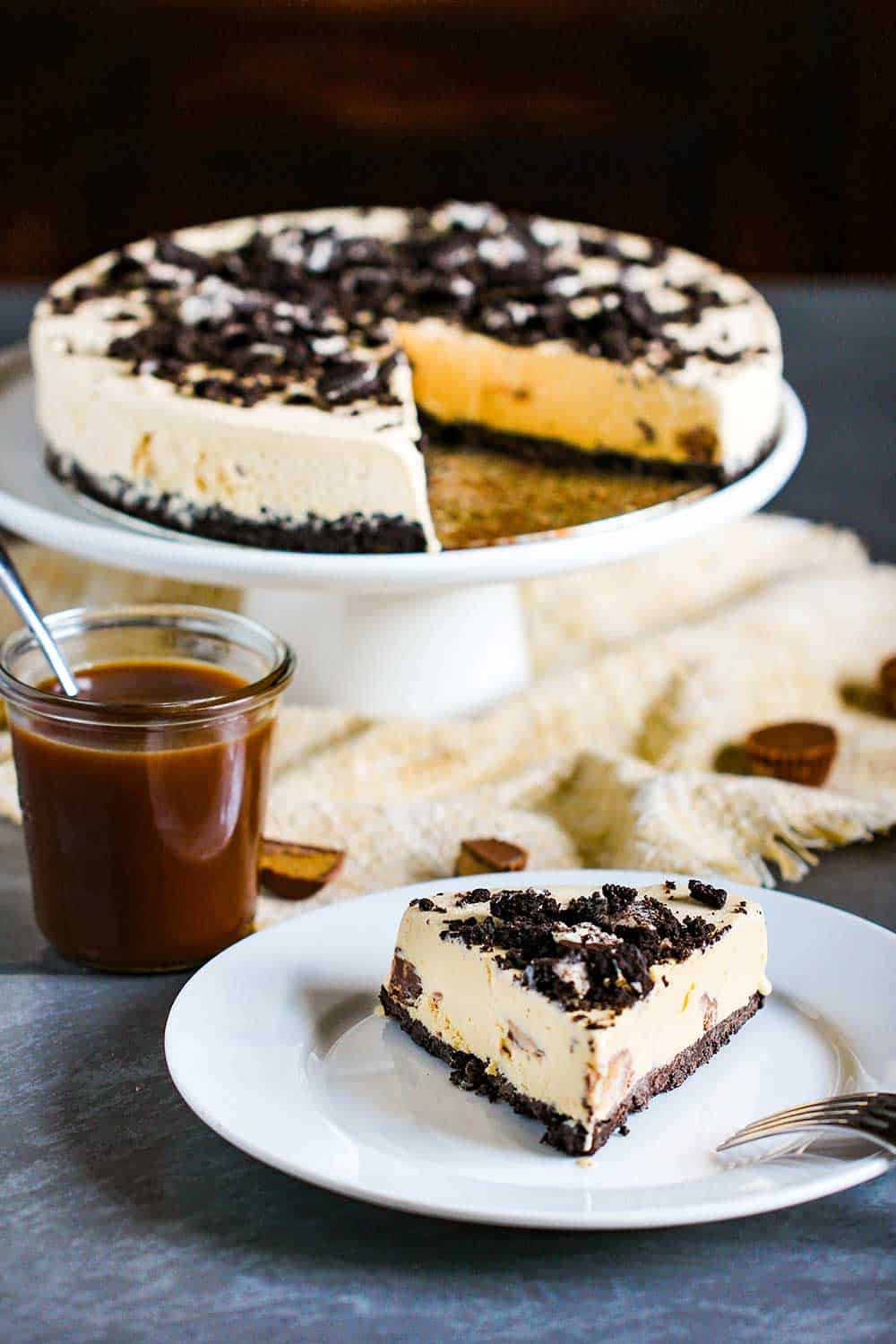 WARM CARAMEL SAUCE IS THE PERFECT TOPPING
Okay, folks, it's time to bring this 3-part Ice Cream Cake Opera home.
It's absolutely fantastic as is. But…once completely chilled, we like to add a little more crushed Oreos on top.
And then…get ready for it…a drizzle of homemade caramel sauce. To. Die. For. This is the ice cream cake of a lifetime. And this ice cream cake needs to be in your life! Go for it!
Peanut Butter Cup Ice Cream Cake
Peanut Butter Cup Ice Cream Cake. Oreo crust. Homemade caramel sauce. Start this amazing dessert several days in advance of serving, and you will not believe the end result you'll have on your hands. Simply amazing.
Print
Pin
Rate
Servings: 12 people
Calories: 646kcal
Ingredients
FOR THE CRUST
18 to 20 Oreo cookies No need to remove the centers!
2 tbsp unsalted butter melted
1 tsp vanilla extract
FOR THE ICE CREAM
3/4 cup sugar
3 large eggs
1 cup whole milk
1/2 cup creamy peanut butter
1 & 1/2 cups heavy cream
2 tsp vanilla extract
1 cup chopped miniature chocolate peanut butter cup candies cut in half
FOR THE SAUCE (MAKE AHEAD)
Instructions
START THE ICE CREAM
Using a stand-mixer or a handheld mixer, beat the eggs with the sugar in a medium bowl until slightly pale and somewhat thickened, about 1 minute.

On the stove, in a medium sauce pan, bring the milk to a slight simmer.

With the mixer running, carfully beat the warmed milk into the egg/sugar mixture.

Pour the mixture back into the pan on the stove and stir continuously with a whisk or a wooden spoon until the custard begins to thicken. About 3 to 4 minutes. Don't let the mixutre boil, or the eggs will scramble. Remove from the heat.

Stir in the peanut butter and mix until fully incorporated.

Pour the custard through a strainer, or colander, into a large bowl. Stir in the heavy cream and vanilla. Cover with plastic wrap and place the bowl in the refrigerator for 4 to 6 hours, or overnight.
MAKE THE CRUST
Place the crushed Oreos, melted butter and vanilla extract in a large bowl, and mix together with a wooden spon.

In a 9-inch springform pan, press the Oreo mixture along the bottom, saving about a tablespoon of the mixture for topping the cake with.

Place in the freezer.
BACK TO THE ICE CREAM
Pour the refrigerated mixture into the bowl of your ice cream machine.

Follow the manufacturer's instructions, churning for about 50 to 60 minutes.

About 5 minutes before the mixing is complete, add in the chopped peanut butter cup candies.

Let mix completely. At this point, the ice cream will be nice and creamy.
ASSEMBLE THE CAKE
Take the spring form pan with the crust out of the freezer.

Spread the ice cream over the crust. Freeze for at least 6 hours, or, overnight.
TO SERVE
Remove the ice cream cake from the freezer for 15 minutes. Sprinkle the reserved Oreo cookies over the top (plus a few more, roughly chopped, if desired).

Take a warmed sharp knife, and gently run it along the edges of the pan. Release the pan and remove the side ring.

Heat the caramel sauce in a pan. (Or, serve the caramel sauce at room temperature).

Slice the cake, drizzle with the caramel sauce. Serve at once!
Nutrition
Calories: 646kcal