Homemade Blueberry Ice Cream is honestly as heavenly tasting as it sounds.
It just doesn't get much better than homemade ice cream. I think everyone has memories as a child that excited feeling he or she had waiting for the churning to end and the ice cream ready to be eaten. Well, this recipe has that excitement and even more with fresh blueberries. Incredible.
HOW TO MAKE HOMEMADE BLUEBERRY ICE CREAM
Obviously, the star of the amazing ice cream are the blueberries.
Fresh is always best, but in a pinch, you could certainly go with frozen.
In the blender they go to begin the process of becoming a beautiful sauce.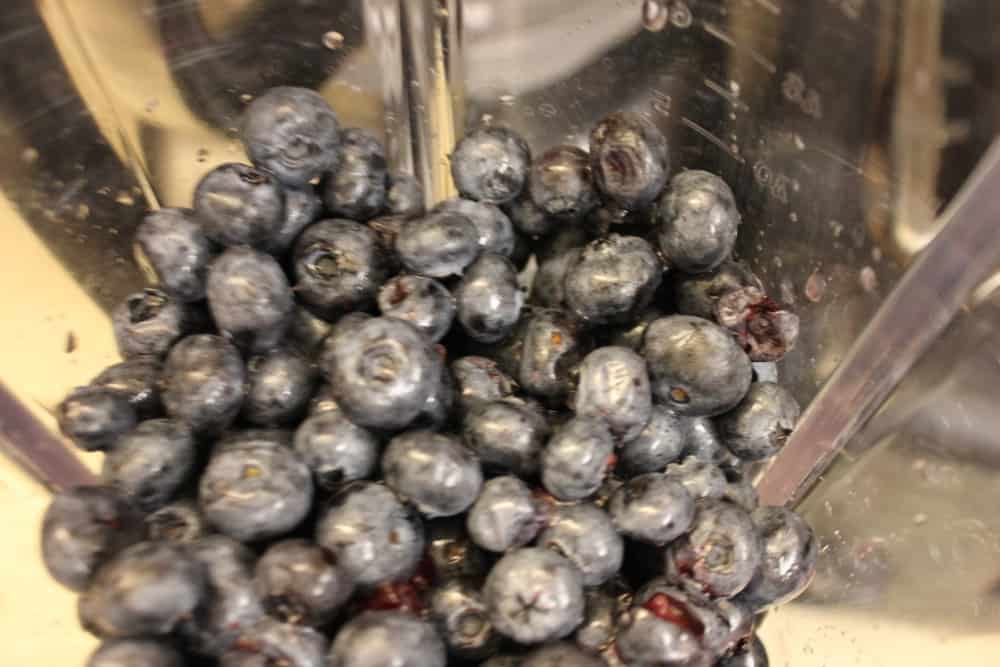 STRAIN THE SAUCE FOR SMOOTH ICE CREAM
We do love a good chunky ice cream, just like in our S'Mores Ice Cream or our Strawberry and White Chocolate Ice Cream, but for this Homemade Blueberry Ice Cream, we want a beautiful smooth texture, with a few whole blueberries added in for the occasional delicious surprise.
Straining the pureed blueberries through a fine-mesh sieve will help us to achieve this.
Oh, you had us at blueberry!
CONDENSED MILK ADDS A SILKY TEXTURE
When my mom made homemade ice cream back in the day, she made a standard custard on the stove. And then into the electric churn that sat in the kitchen sink. Oh, the wild and crazy history of ice cream.
But, back to current day, this recipe does not require a custard to be made first.
We build the cream mixture with a evaporated milk.
Next, we add in the egg yolk and egg, and then comes the strained blueberries, plus some whole blueberries.
This ice cream is so delicious, but it is also so beautiful.
Mmmmm…
THE PERFECT SUMMERTIME ICE CREAM
This homemade blueberry ice cream is so summery, and so wonderful.
We just love the flavors here.
This ice cream makes an amazing ice cream sandwich between a couple cookies, too. But, it's also pretty amazing just on it's own in a nice bowl. Yum!
Homemade Blueberry Ice Cream
This homemade blueberry ice cream is incredible. Make when fresh blueberries are in their prime. Or, use raspberries, or blackberries to your liking. So amazingly good!
Print
Pin
Rate
Servings: 10
Ingredients
3 pints of fresh blueberries rinsed and dried
2 tablespoons of fresh lemon juice
1 14 oz. can of sweetened condensed milk
8 egg yolks
1 whole egg
1 cup of whole milk
1 quart of heavy cream
Instructions
Puree two pints of the blueberries in a blender.

Strain the juice into a bowl, discarding the skins.

Stir in the lemon juice.

Slowly whisk together the condensed milk, yolks, and egg in a separate large mixing bowl.

Gradually whisk in the milk and cream. (don't over beat!)

Stir in the blueberry-lemon juice and the remaining pint of blueberries.

Transfer about a 1/3 to your ice cream maker, following the manufacturer's directions. (repeat two more times with the remaining cream).

Process the ice cream until the mixture starts to thicken.

Transfer the ice cream to a plastic container with a tight-fitting lid and freez for at least up to 2 hours.

Serve and enjoy!!