If you're looking for a stew that will comfort you, make you feel happy, and be about the most delicious bowl of yumminess you've had all year…you've come to the right place.
This stew is reminiscent of Beef Bourguignon, which slow cooks in a robust red wine. The meat is melt-in-your-mouth good and the depth of flavor is incredible. You can slow cook this in a pot, preferably a Dutch oven, or in your slow-cooker. Either way is comfort food at its very best.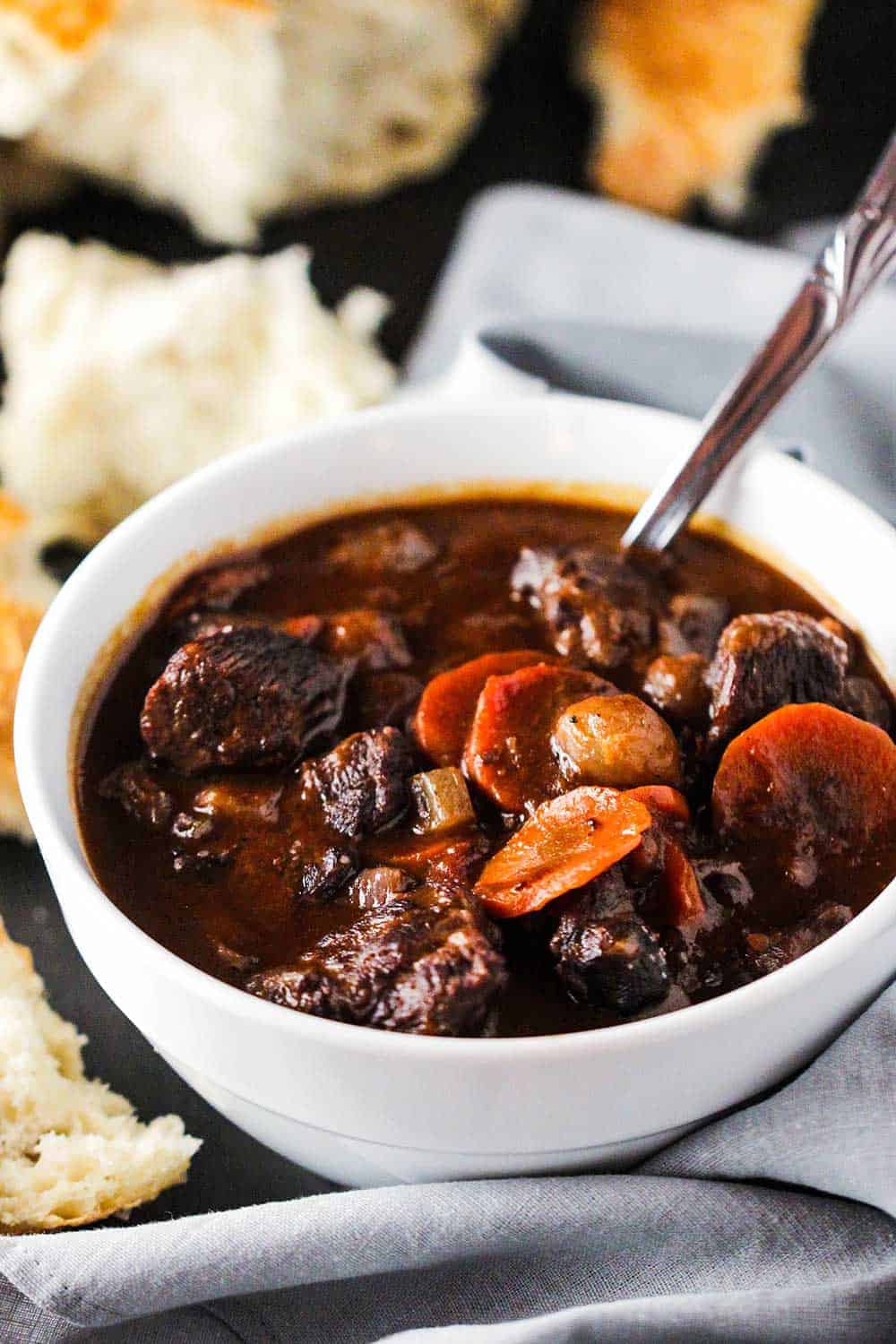 HOW TO MAKE HEARTY BEEF STEW
This easy beef stew recipe is a snap to make at home.
We'll take you through all the easy-to-follow steps for honestly making the best beef stew you'll ever eat or serve.
THE BEST BEEF FOR BEEF STEW
We highly recommend a nice 3 to 4 lb chuck roast for this hearty beef stew.
Now, there are different types of chuck roast.
EXPERT TIP: The best cuts of a chuck roast to look for are top blade, chuck eye, and arm pot roast. Be sure to look for thin streaks of fat throughout the meat – this is called 'marbling.' These streaks of fat melt during cooking and bastes the meat internally so it becomes moist and tender. However, don't confuse marbling with the thicker strips of fat that separate distinct muscles.
Cutting the meat into 1-inch chunks, and the dredging them in seasoned flour, and then searing them in the pot locks in flavor and helps to keep the meat super tender.
BUILDING THE FLAVOR PROFILE
After the meat has been seared (usually in two batches), set the meat aside, and in the same pot, it's time to sauté the vegetables.
If necessary, add a little more oil, and then add in the onions, carrots, and celery.
EXPERT TIP: As the meat sears, some of the meat and seasoned flour will stick to the bottom of the pan. This is normal and very good. A little later, when you add the red wine, you'll use a wooden spoon to scrape up all the delicious goodness. This is called de-glazing and deepens the flavor of the stew.
Next, goes in the wine. That's right, an entire 750ML bottle of good quality, robust wine.
You'll also add beef stock and hand-crushed whole tomatoes.
After simmering for 10 minutes, the alcohol cooks out, and the wine begins to transform into a deeply flavorful stew.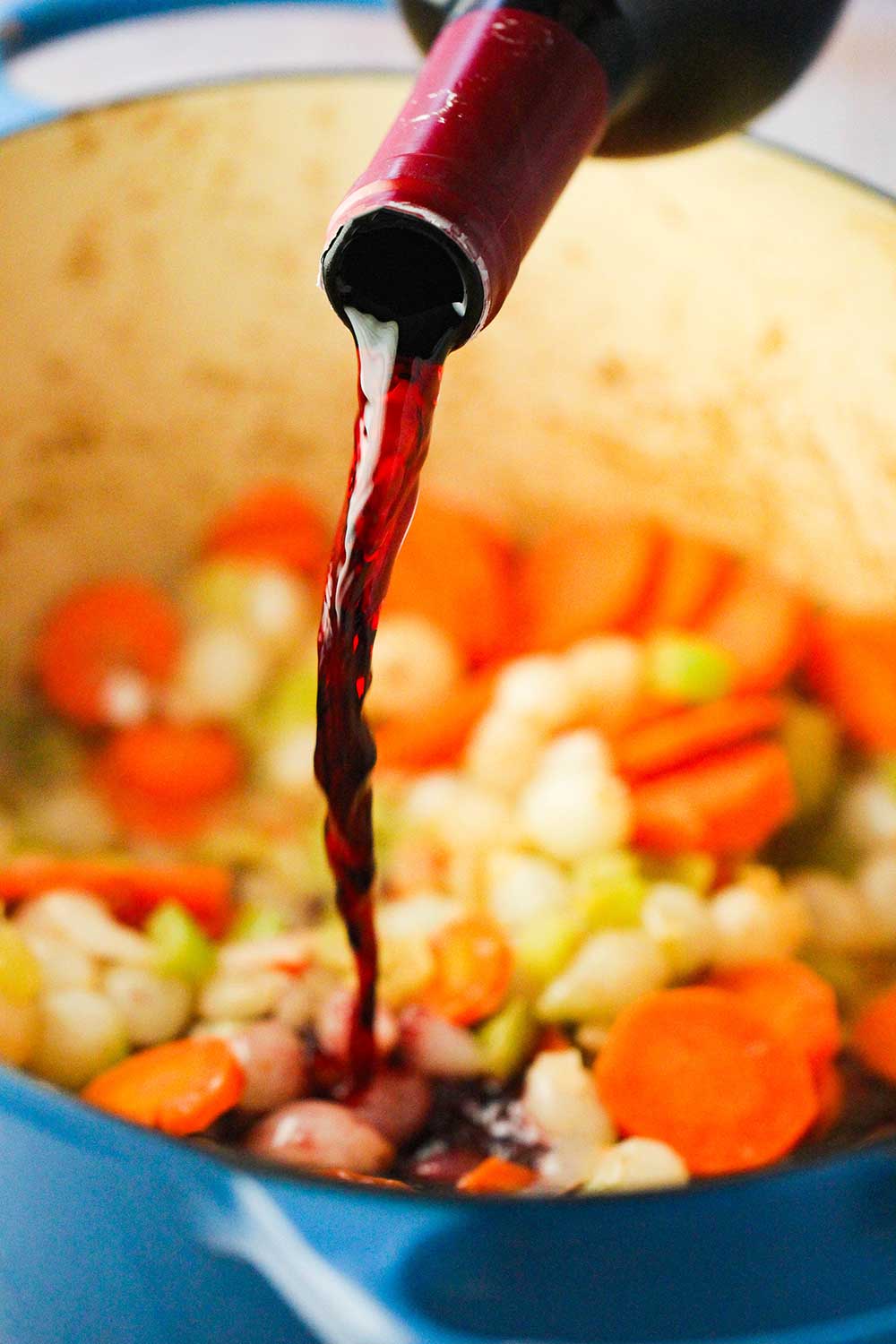 Finally, it's time to add the meat back into the pot.
You'll want to create a thickener at this point. We take a 1/4 cup of all-purpose flour and combine it with a heaping tbsp of tomato paste.
Whisk this into the hearty beef stew and it will slightly thicken. NOTE: The stew will continue to thicken as it slow cooks in the oven, or slow-cooker.
HEARTY BEEF STEW SLOW COOKER VERSION
If you want to transfer the stew to a slow-cooker to finish cooking, this is the time to do it.
Simply add to your slow-cooker and set the setting to low, for 6 to 8 hours, or on high for 3 to 4 hours.
We love our slow-cooker, but we really love covering the stew in the Dutch oven with the lid, and then let it finish off in the oven for an hour and a half, to two hours. Stirring once or twice during the cooking.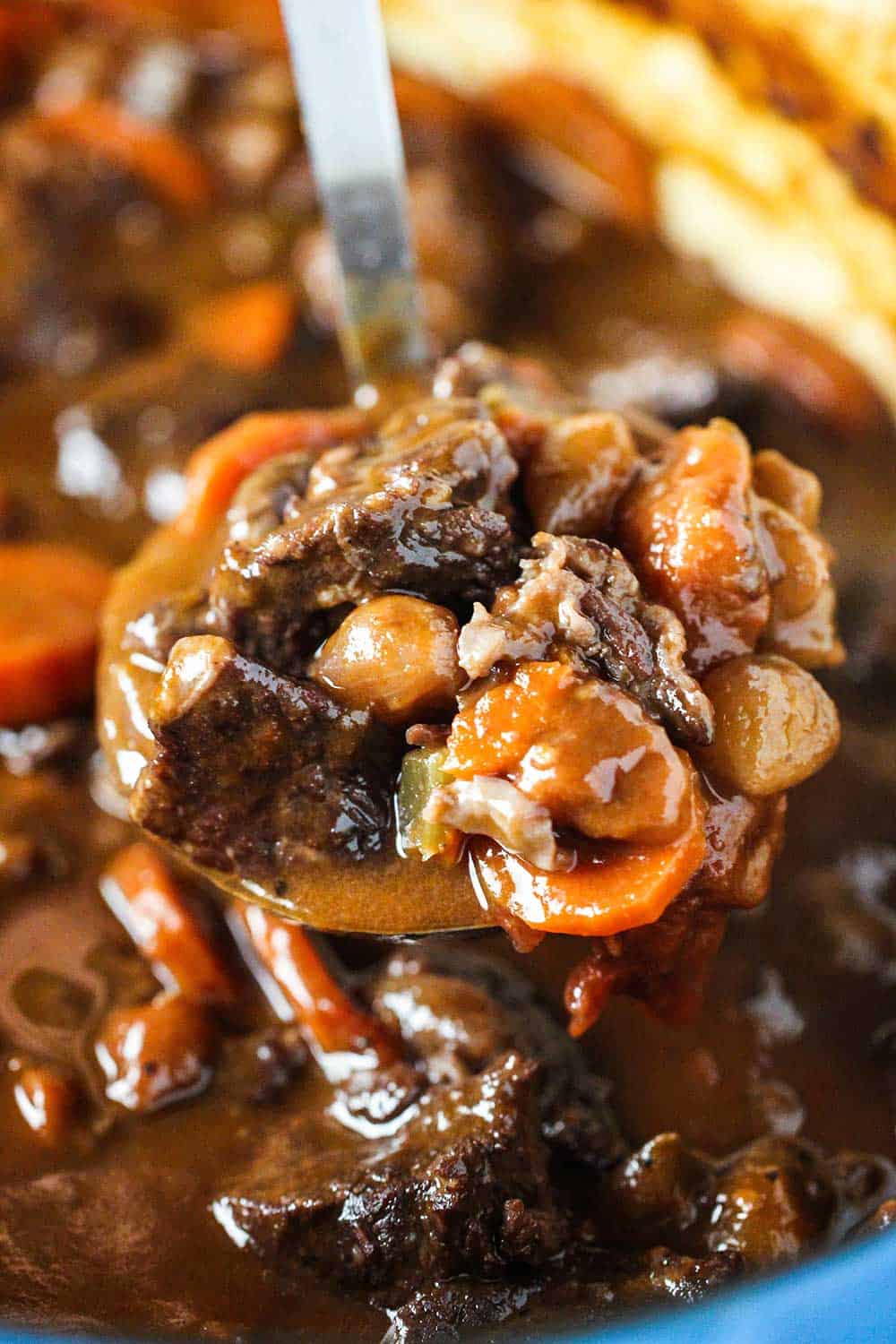 WHAT TO SERVE WITH BEEF STEW
The stew is just amazing and always gets major rave reviews when we serve it to family and friends.
As with so many dishes, it's even better the next day.
It's very filling and is even better when served with Country White Bread, and you and your loved ones will be so very happy.
Just in case you need one more reason to make this stew.
Just take a close look at the bowl full of deliciousness.
We promise you, it's just a good as it looks. Maybe even better!
Ready to make the best Hearty Beef Stew in the land? Go for it!
And when you do, be sure to take a picture, post it on Instagram, and tag @howtofeedaloon and hashtag #howtofeedaloon!
Hearty Beef Stew
This Hearty Beef Stew is so heart-warmingly amazing. Slow cook in your oven with your Dutch oven (or your slow cooker) with a robust red wine. This will be the best hearty beef stew you'll ever have!
Print
Pin
Rate
Servings: 8 people
Calories: 501kcal
Equipment
Large Dutch oven, or sturdy pot with a lid. Or, slow-cooker.
Ingredients
¾ cup all-purpose flour you'll use 3 tablespoons at first, and then the rest at the end
2 tsp Kosher salt divided, 1 tsp for dredging, 1 for tomato thickener
1½ tsp black pepper divided, 1 tsp for dredging, ½ tsp for stew
3½ lb beef chuck cut into 1 to 2-inch pieces
2 tbsp unsalted butter
2 tbsp olive oil
1 cup yellow onion chopped
1 cup carrots peeled and sliced
1 cup celery chopped
15 oz pearl onions if frozen, thawed
1 750ML bottle red wine robust cabernet or burgundy is great
1 28 oz can whole tomatoes drained and roughly chopped
1 cup beef stock
1 tbsp tomato paste heaping
Instructions
Pre-heat the oven to 350F (unless using a slow-cooker).

On a platter, stir together the ½ cup flour, 1 tsp salt, and 1 tsp pepper.

Turn the beef pieces in the seasoned flour, shaking off any excess.

Heat the butter and oil in a large Dutch oven over medium heat.

Add half of the floured meat into the pan. Let cook for 5 minutes without stirring. Use a wooden spoon to turn the meat around in the pan, and cook for another 5 minutes until the meat is browned all over. Use a slotted spoon to remove the meat to a clean plate.

In the same pot, add a little more oil, if necessary. Add the onion, carrots, and celery to the pan and cook over medium-high heat, stirring often, until the vegetables have softened, about 5 - 8 minutes. Stir in the pearl onions.

Pour in the wine and use a wooden spoon to scrape up the browned bits from the bottom of the pan.

Stir in the tomatoes and stock and bring to a boil. Simmer for 10 minutes.

Meanwhile, in a small bowl, add ¼ cup of flour and the tomato paste. Use a fork to work the paste into the flour. It's okay if it's not completely a paste.

Return the beef to the pan. Add 1 tsp of salt and ½ tsp of pepper.

Stir in the tomato thickener and whisk for about 1 to 2 minutes, until slightly thickened. The stew will continue to thicken as it cooks in the oven or slow-cooker.

Place the lid on the pot and place in the oven for 1½ to 2 hours until the meat is very tender, stirring a couple of times during the cooking process. If using a slow-cooker, add the stew and cook on LOW for 6 to 8 hours, or on HIGH for 3 to 5 hours. Serve warm with bread!
Notes
A 3 to 4 lb nicely marbled chuck roast works best for this stew. Don't worry about the dark layer that will form on the bottom of the pan from searing the floured meat. It is loaded with flavor and will come up with a wooden spoon after you've added the wine. This is called de-glazing. It is very important to bring the wine (and stock and tomatoes) to a boil and then a strong simmer for 10 minutes. This cooks out the alcohol taste and transforms the wine into a wonderful sauce. If you prefer to not cook with wine, then we suggest not making this particular stew. The robust wine is critical to making this stew hearty and uniquely delicious. The stew is even better the next day. It will keep in the refrigerator for up to 1 week and freezes beautifully for up to 2 months.
Nutrition
Calories: 501kcal | Carbohydrates: 19g | Protein: 41g | Fat: 16g | Saturated Fat: 6g | Cholesterol: 145mg | Sodium: 842mg | Potassium: 943mg | Fiber: 2g | Sugar: 5g | Vitamin A: 2875IU | Vitamin C: 7mg | Calcium: 67mg | Iron: 5mg
POST UPDATE: This recipe was originally published in March 2015 but was updated with improved tweaks to the recipe with tips, new photography, and a fabulous new video.