Sweet and Sour Pork is insanely delicious.
This recipe will even rival your favorite upscale Chinese restaurant.
And it's so much better than you would get with take-out. It's that good.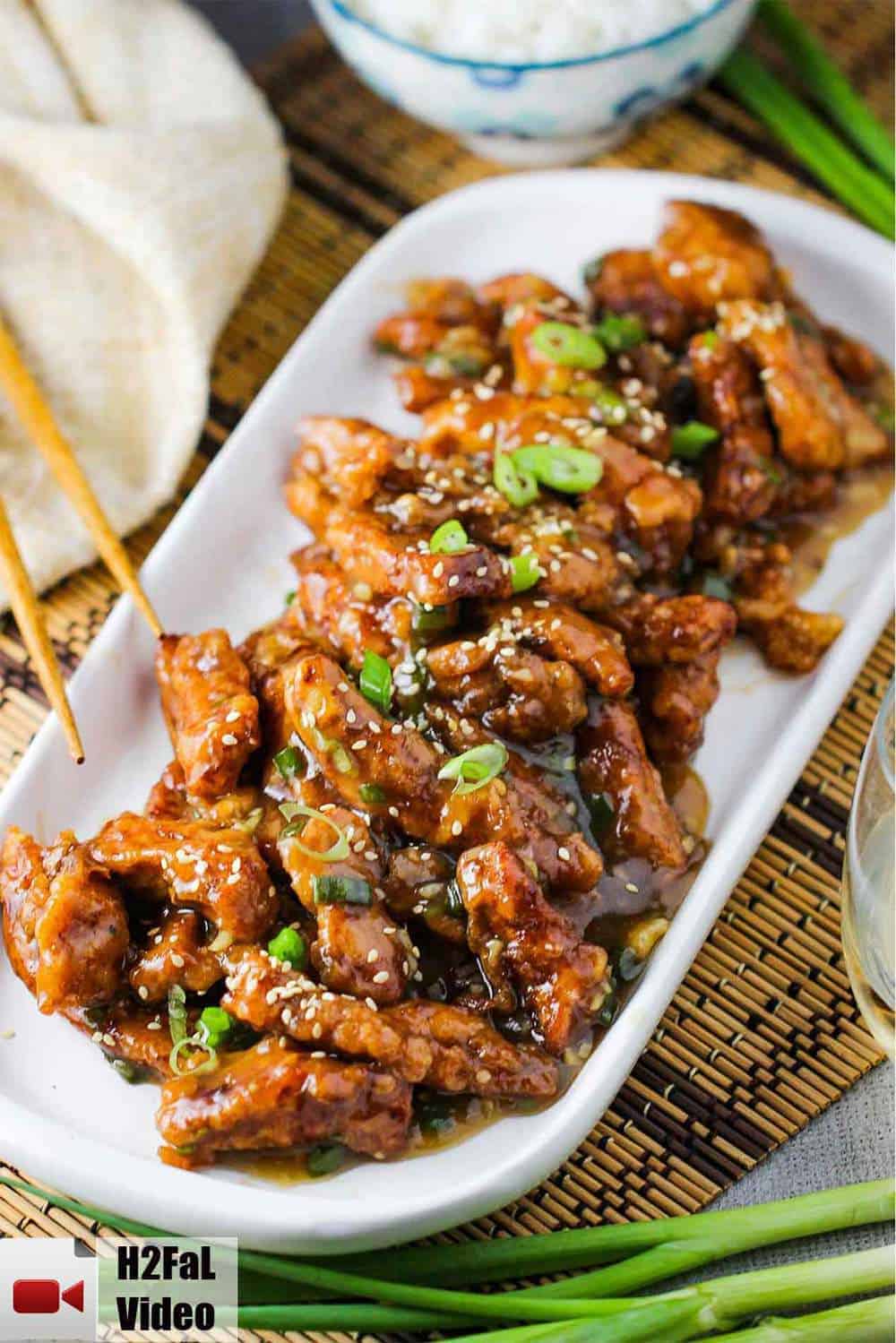 SWEET AND SOUR PORK IS EASY TO PREPARE AT HOME
This dish has it all. Crispy pork with a succulent sweet and sour sauce that simply cannot be beat.
Watch us show you how easy it is to prepare Sweet and Sour Pork!
The ingredients for Sweet and Sour Pork are classic Chinese ingredients, however, we provide some viable substitutes in the recipe if you can't find some items.
Shaoxing rice wine is common in Chinese cuisine, both as a wine and as an ingredient for cooking. Now days, you can likely find it in well-stocked supermarkets in the Asian food aisle. Of course, you can follow the link we provided to easily have a bottle shipped right to your doorstep.
Black Chinese Vinegar, or Chinkiang, can also be found in many markets, but if not…have it shipped right to you!
PORK TENDERLOIN WORKS PERFECTLY
We love getting a pork tenderloin (not a pork loin) and slicing it into 1/2-inch medallions.
We then cut the medallions into 1/2-inch strips.
If the strips are more than an inch long, cut them in half.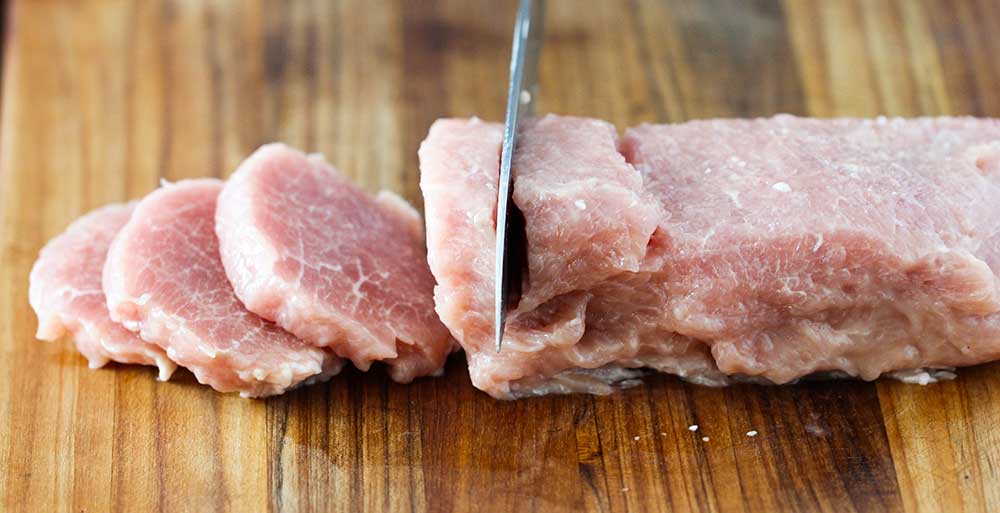 After marinating the pork strips in the Shaoxing wine (or medium-dry Sherry), it's time to place them in the batter.
The batter is simple…eggs and cornstarch.
Cornstarch is standard in Chinese cooking, and helps to make the pork strips extra crispy.
A DOUBLE-FRY MAKES THE PORK SUPER CRISPY
When using your wok to deep-fry, it's important to make sure your wok is very secure.
A wok ring works perfectly.
For the first fry, bring the oil temperature to 300°F.
USE A CLEAN WOK TO MAKE THE SWEET AND SOUR PORK SAUCE
Once the pork is fried and crispy, keep it warm in a low-temperature oven.
Now it's time to make the incredible sauce. You'll need a clean wok. If you have two woks, grab the spare.
If not, no problem! Carefully discard the oil, wipe out the wok, and heat 2 tablespoons of peanut oil over medium heat. Stir fry the garlic and ginger, and then add the stock. Once it comes to a boil, add in the pre-made sauce. It will thicken quickly. Simply stir in the chopped scallions and then the sesame oil.
At this point, the dish is ready for plating.
You can simply pour the sauce over the fried pork, or you can do what we love to do, and to toss the pork in the wok with the sauce.
The pork will stay nice and crisp, even as the strips submerge into the sublime sauce. Mmmmm….Just look at this:
Folks, we're not joking around here. This is the best Sweet and Sour Pork in town. We promise.
The dark and tangy sauce is the perfect match agains the super crispy fried pork pieces.
We love it served with white or brown rice, or simply a lovely side of steamed vegetables, such as broccoli.
Just amazingly delicious.
Sweet and Sour Pork
Sweet and Sour Pork is a Chinese dish favorite and this recipe will rival even the best upscale Chinese restaurant. The pork strips are super crispy and are bathed in a succulent dark and tangy sauce. This is so much better than that synthetic-looking orange concoction you will find in most take-out places. This is the real deal.
Print
Pin
Rate
Servings: 2 people
Calories: 426kcal
Ingredients
3/4 lb pork tenderloin
Peanut oil for frying (you'll need some for sautéing, too)
FOR THE BATTER
2 large eggs
1/2 cup corn starch
FOR THE MARINADE
1/2 tsp salt
2 tsp Shaoxing rice wine or medium-dry sherry
FOR THE SAUCE
1/4 tsp salt
3 tbsp granulated sugar
2 tbsp Black Chinese vinegar
1 tsp light soy sauce
3 3/4 tsp corn starch
3 scallions, green parts only chopped, plus some sliced, for garnish
3 tbsp peanut oil
2 tsp garlic minced
2 tsp fresh ginger root finely chopped
3/4 cup chicken stock
1 tsp sesame oil
1 tbsp white sesame seeds lightly toasted
Instructions
Place the tenderloin in the freezer for 15 to 20 minutes. Remove from freezer, and then slice 1/2-inch medallions. Next, cut the medallions into 1/2-inch strips. If a strip is longer than 1 inch in length, slice in half. Put strips into a medium-sized bowl.

Add the wine and salt to the pork strips, mix well, cover with plastic wrap, and place in the fridge for 30 minutes.

For the sauce, combine the salt, sugar, vinegar, soy sauce, and cornstarch in a small-medium bowl.

Pour enough oil into your wok (or large sturdy pot, such as a Dutch oven) until it's about 1-inch deep. Heat over medium heat until it reaches 300°F. A candy thermometer helps with this.

In a medium-sized bowl, add the eggs and gently beat together. Add the corn starch and mix until completely mixed and a thick batter has formed.

Add the pork strips to the batter and mix until completely coated.

Drop some of the battered strips into the oil, adding them individually to prevent sticking, and stir with forks, or metal tongs, to separate.

Fry the strips for about 3 minutes, until they are just cooked through. Remove and drain on a plate lined with paper towels. Repeat with the remaining strips until you have cooked all of them.

Increase the heat until it reaches 375°F. Add the pork strips in one or two batches and deep-fry them until they are crisp and golden. Remove, drain, and place on a serving dish.

To prepare the sauce, either carefully discard the oil from the wok and then and wipe it clean with a towel, or use a second wok. Heat 3 tablespoons of oil over medium heat.

Add the garlic and ginger and stir-fry for about 30 seconds, until they are fragrant. Add the stock and bring to a boil. Add the prepared sauce from the small bowl.

Stir briskly as the liquid thickens, then add the scallions and sesame oil, stirring a few times.

Either pour the sauce over the pork strips, or add the pork strips to the sauce in the wok to coat and then transfer to a serving dish. Top with sliced scallions and toasted sesame seeds. Serve immediately with steamed rice or vegetables.
Nutrition
Calories: 426kcal