Fresh tomatoes are truly one of the greatest parts of summertime. And this dish elevates them to amazing heights.
If you love a good caprese salad, then you are going really love this dish. Get your hands on freshly grown heirlooms and get a nice variety, and with just a few simple additions, you will have one of the most delicious and gorgeous salads of all time. Truly epic in taste and beauty.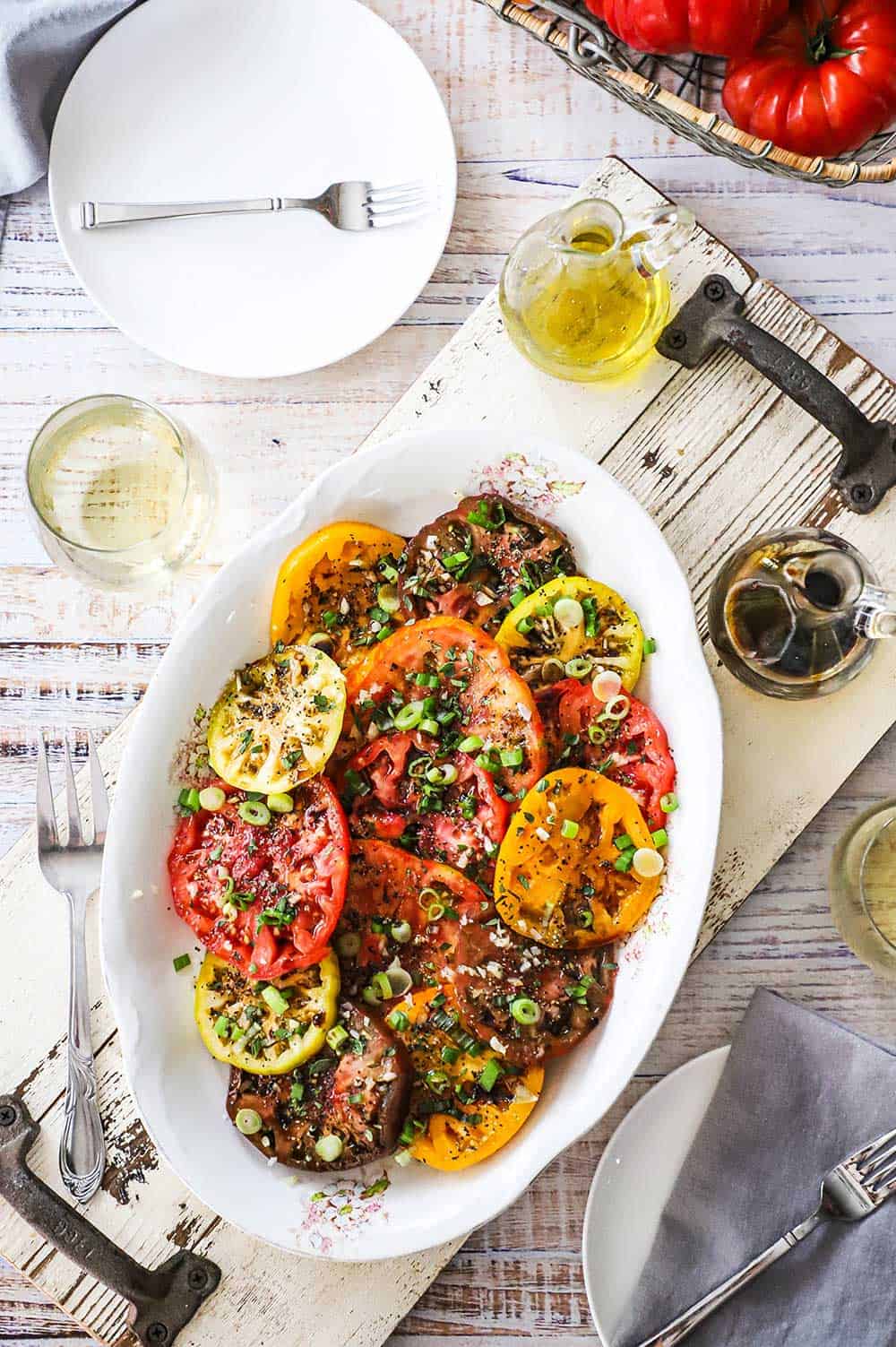 How To Make Heirloom Tomato Salad
This salad is so simple to prepare and requires very little time.
You can even assemble the salad up to 2 hours before serving.
It is also one of the most beautiful salads you will ever serve. And did we mention how easy it is to make?
NOTE: If you liked this video, please subscribe to our YouTube channel. Remember to click the little 'bell' icon so you'll never miss a new video. Thank you!
The Ingredients You Will Need
Obviously, the star of this amazing salad is the heirloom tomatoes. But, we've added in some other ingredients that elevate the flavor profile tremendously. Here's what you'll need
Heirloom tomatoes – There are a nice variety of heirloom tomatoes. You want to select ones that are ripe, but not too soft. Remember the skin is delicate, so handle the tomatoes with care. Learn more about the varieties here.
Salt and pepper – The salt will help to bring out the juiciness of the tomatoes. We love to go with coarse Kosher salt and freshly ground black pepper.
Sugar – This may seem strange, but trust us on this one. Just a sprinkling of the sugar over all of the heirlooms brings out an even more amazing flavor.
Garlic – Finely minced and sprinkled on. It truly deepens the overall flavor profile.
Fresh oregano – We usually think of fresh basil in a tomato salad. Just wait until you try fresh oregano. Basil will work, too, of course.
Vinegar – A small drizzle of Champagne (or white wine) vinegar and another drizzling of aged balsamic adds a layer of acid that is incredible.
Extra-Virgin Olive Oil – Go with quality.
Bread – You'll want to dip it into the amazing juices on the platter.
EXPERT TIP: Be sure to pick up a variety of heirlooms from your farmer's market. If any feel stiff when pressed, avoid them. They should feel juicy but not bruised.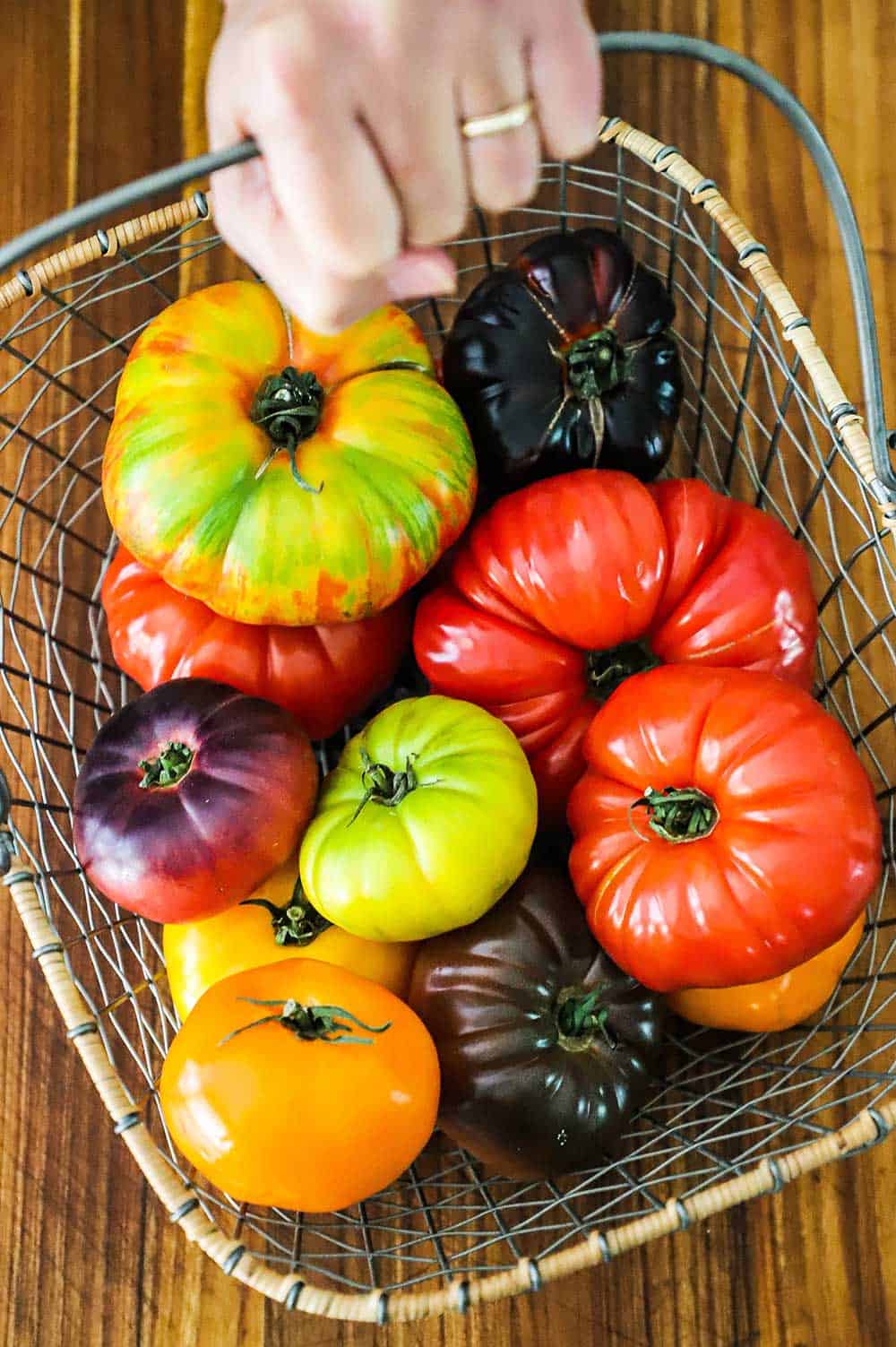 Tips for the Perfect Heirloom Tomato Salad
A Sharp Knife and Steady Hand – The best salad will have tomato slices that are uniform in size. It's easy to make misshapen slices if you're not careful. Take your time and do your best to slice downwards in a straight line.
Quality and Quantity Both Matter – To bring out the most flavor, you'll want to utilize top-notch vinegar and olive oil. If you can find it, we think Champagne vinegar is wonderful with the aged balsamic. But be careful, don't overdress the salad. A drizzle of each vinegar is all that's needed. You'll go with about 3 tablespoons of the EVOO.
Let the Salad Rest – We recommend allowing the salad to rest on the counter for 1 to 2 hours before serving. The tomatoes will release some of their amazing juices and mix with the other ingredients. Perfect for sopping up with rustic bread slices.
EXPERT TIP: After you've sliced the heirlooms, place them on the platter and then pour the collected juiced from the cutting board all over the tomatoes. There's big flavor there!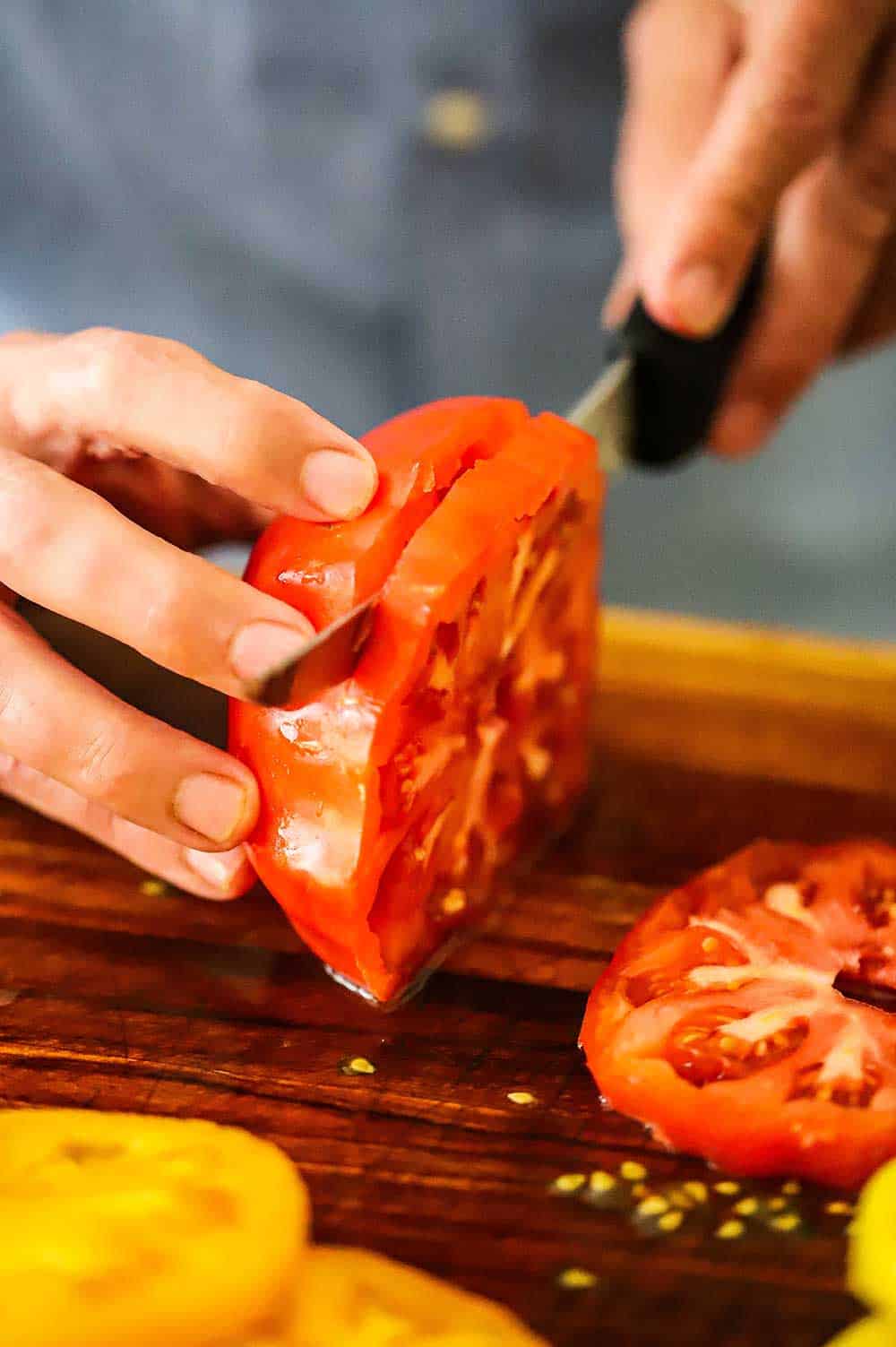 How To Serve
This recipe calls for four heirloom tomatoes and that will give you about 12 to 15 slices. A large platter works beautifully.
As mentioned, the salad can be prepared up to 2 hours in advance of serving, with no need to refrigerate.
This salad is ideal for outdoor BBQs and picnics, but it is elegant enough to serve at a dinner party. Or, as a side dish for a weeknight meal.
EXPERT TIP: Leave a vessel of the EVOO and balsamic vinegar near the salad, some folks may want to add a little more to their own serving.
Other Recipes Featuring Tomatoes
We love all kinds of tomatoes so much, especially when they are in peak season during the summer months. Here are some of our favorite recipes featuring that beautiful red fruit:
Caprese-Stuffed Chicken
Caprese Salad with Grilled Peaches
Southern Tomato Pie
Fried Green Tomatoes
Roasted Tomato Soup
Steak and Eggs with Blistered Tomatoes
Caprese Pasta Salad
Braised Green Beans and Tomatoes
But in the mean, you need to run and pick up some beautiful heirloom tomatoes and make this stunning salad!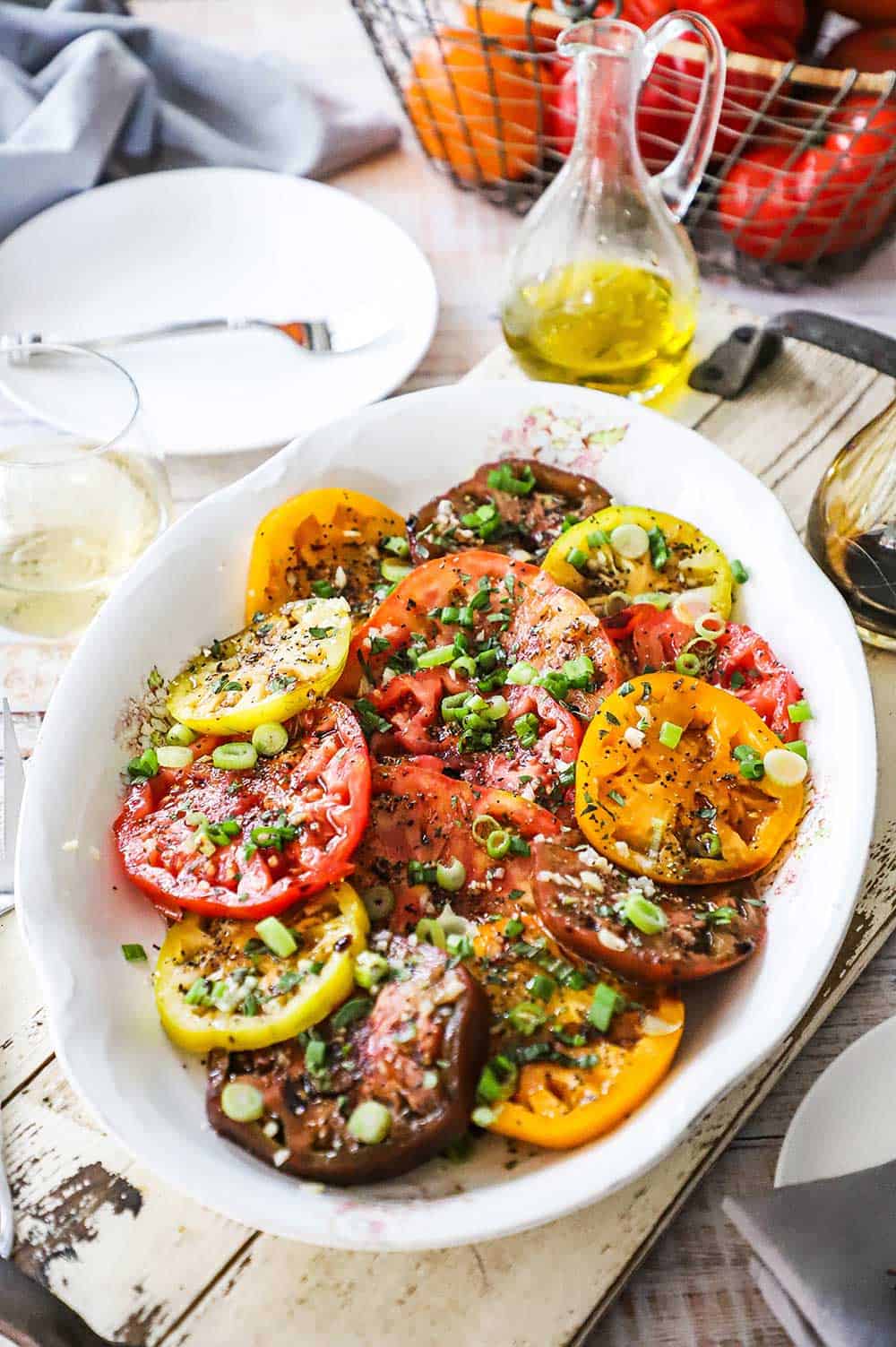 If you like summertime tomatoes, then you are going to absolutely love this salad.
It is truly a celebration of tomato goodness.
The heirlooms are the star, but the other ingredients bring to next-level deliciousness. It's really that good!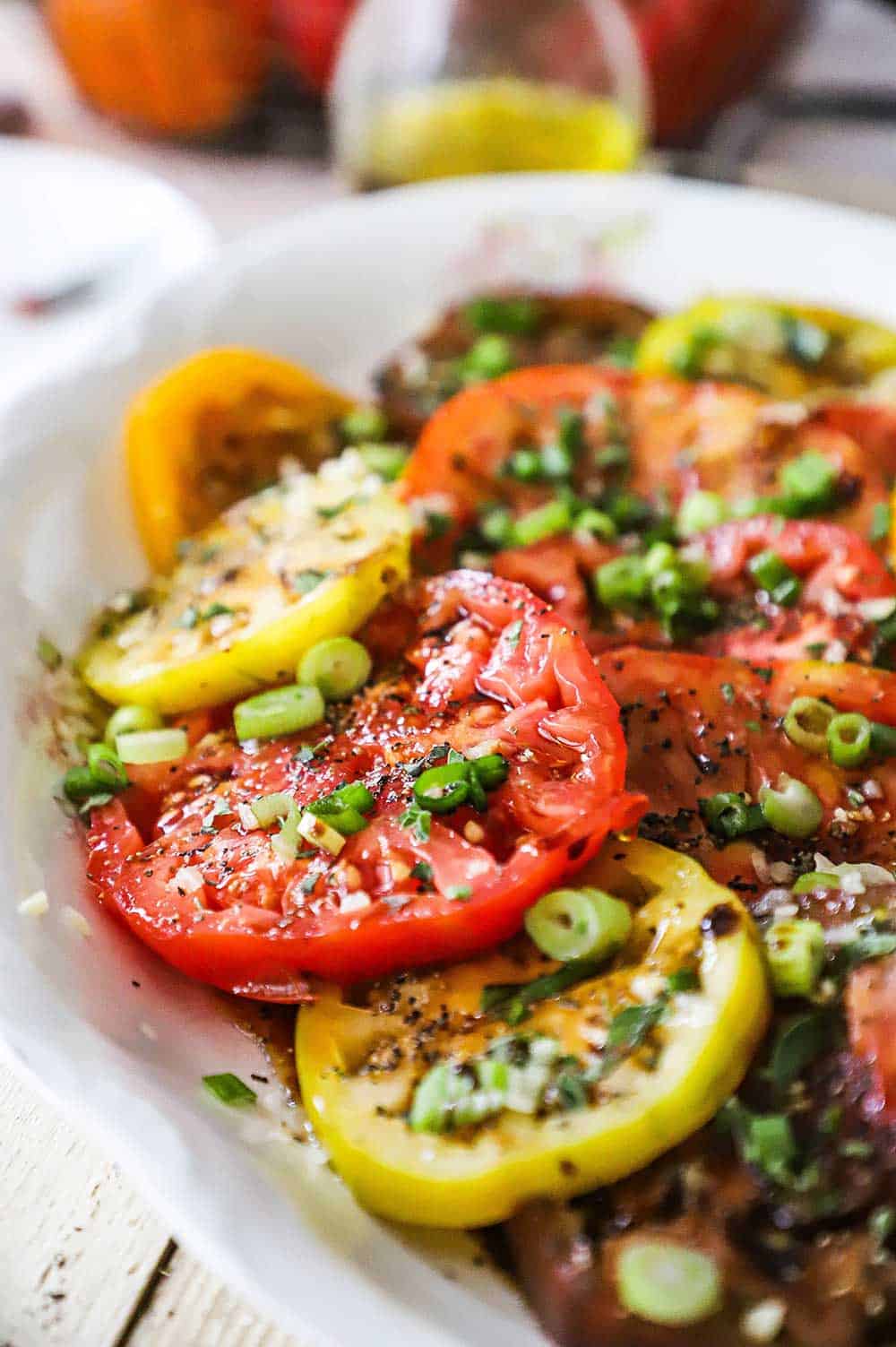 Ready to make the best salad in town? Go for it!
And when you do, be sure to take a photo of it, post it on Instagram, and tag @HowToFeedaLoon and hashtag #HowToFeedaLoon!
Heirloom Tomato Salad
Heirloom Tomato Salad is a true celebration of summertime deliciousness. Pick up a nice variety of heirlooms from your favorite farmer's market. Be sure the tomatoes are ripe, but not too ripe (they will feel almost mushy when pressed). The salad can be prepared up to 2 hours in advance of serving.
Print
Pin
Rate
Servings: 6
Calories: 104kcal
Ingredients
4 heirloom tomatoes up to 5 or 6, pick a variety
1 tsp salt
1 tsp black pepper
1 tsp sugar
2 cloves garlic minced
1 tsp oregano fresh, chopped
balsamic vinegar aged
Champagne vinegar or white wine
4 tbsp extra-virgin olive oil
1 scallion thinly sliced, white and green parts
Instructions
Cut the tomatoes into uniform slices, keeping their juices. Place the tomatoes on the platter and pour the juices over them.

Sprinkle all of the tomatoes with the salt, pepper, and sugar. Sprinkle the garlic and oregano over the top of the salad.

Lightly drizzle the balsamic and then the Champagne vinegar over the top of the salad. Next, drizzle the olive oil and then sprinkle the sliced scallion over the top.

Allow the salad to stand at room temperature for up to 2 hours. Serve with bread to sop up the amazing juices.
Notes
See the video near the top of the blog post for visual guidance. If you liked the video, please subscribe to our YouTube channel.
White wine, sherry, or tarragon vinegar are excellent substitutes for Champagne vinegar.
Although the tomatoes are still delicious the next day, this salad is definitely best served within a couple of hours of being assembled.
Nutrition
Calories: 104kcal | Carbohydrates: 5g | Protein: 1g | Fat: 10g | Saturated Fat: 1g | Polyunsaturated Fat: 1g | Monounsaturated Fat: 7g | Sodium: 393mg | Potassium: 213mg | Fiber: 1g | Sugar: 3g | Vitamin A: 711IU | Vitamin C: 12mg | Calcium: 19mg | Iron: 0.5mg