This dish is a true celebration of summertime yumminess.
Green tomatoes have a tangy taste, but also a hint of sweetness. Find them during the summer months just before tomatoes are at their peak. We love serving them with our homemade ranch, which can be made several days in advance!
How To Make Fried Green Tomatoes
These gems are a snap to bring together.
Once you secure the green tomatoes, all you need is your standard dredging station and a skillet with hot oil.
Choosing the Best Tomato
When in season, many types of fresh tomatoes are available at markets, vegetable stands, and possibly even in your own garden!
You can find tomatoes that are green in color that are fully ripened. Although extremely delicious, these aren't the ones we want for this dish.
EXPERT TIP: The best tomatoes for fried green tomatoes are regular vine-grown tomatoes that have not turned red yet. They are plentiful just before and while fresh tomatoes are available at markets, or in your own garden. They are somewhat small, and firm when you slice into them.
As mentioned, you're going to bread the tomato slices with a standard cornmeal and breadcrumb mixture.
Grab 3 small/medium-sized baking pans or bowls, and fill the first one with flour, the second one with buttermilk, and the third one with cornmeal, breadcrumbs, smoked paprika, cayenne pepper, salt, and pepper.
EXPERT TIP: Once you place the tomatoes in the cornmeal/breadcrumb mixture, use your fingers to help the mixture adhere. It's okay if the tomato is not 100% covered in breading. These are intended to have a rustic look and feel to them.
How To Cook Fried Green Tomatoes
Our preferred method for cooking these babies is to fry them quickly in oil. But you can certainly cook them in the oven or your air-fryer. Follow these simple steps for perfectly cooked fried green tomatoes:
Fry – Pour enough vegetable oil in a sturdy skillet, such as cast-iron so it's about ½-inch to 1 inch in depth. Heat the oil over medium-high heat and use a candy thermometer (if possible) to get the oil to 350°F. Fry the breaded tomatoes in batches, 2 minutes per side. Drain on paper towels.
Bake – Preheat your oven to 375°F and place the breaded tomatoes on a baking sheet. Cook for 15 minutes, then carefully flip them, and then cook for another 15 minutes, or until golden and crispy.
Air-Fry – Preheat your air-fryer to 400°F. Lightly spray the basket and breaded tomatoes with oil. Working in batches, air-fry them for 5 minutes, open the basket and flip them, then fry another 3 minutes.
Once fully cooked, the inside of the tomato becomes soft and so delicious.
The exterior is crispy and loaded with flavor.
EXPERT TIP: Reheating the fried tomatoes works perfectly in an air-fryer. Pop them in at 400°F for a couple of minutes. It heats them and crisps them right up again. But in our case, there are usually never leftovers. They are that good.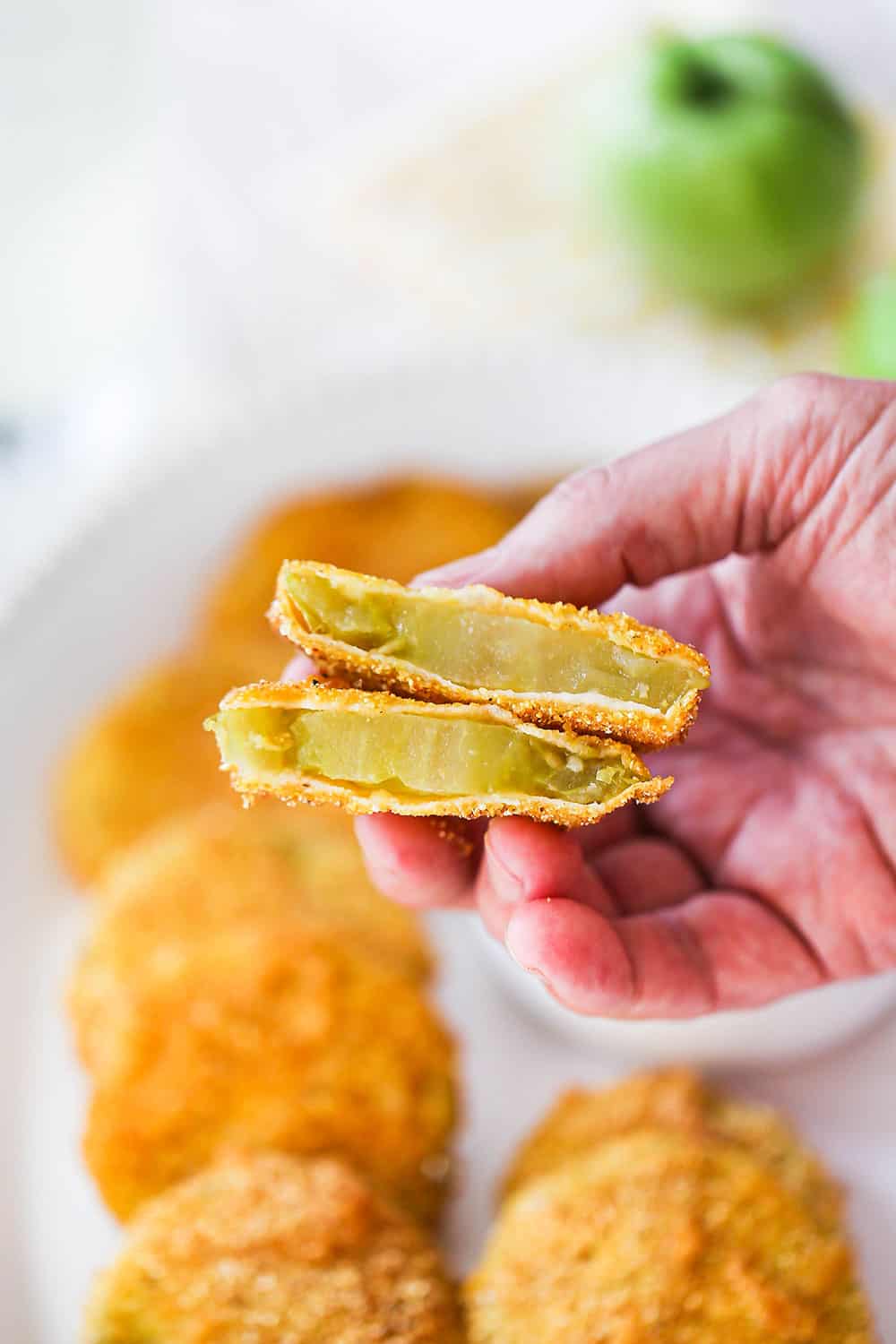 When And How To Serve
We love serving these as an appetizer for guests on a warm summer afternoon.
They are beautiful on a platter with a bowl of our easy homemade ranch dressing.
They're also fabulous served with fried asparagus or zucchini fritters.
We highly recommend serving them with some sort of dip. Did we mention homemade ranch? The best!
Ready to make the best summer dish this side of the Whistle Stop Café (Google it)? Go for it!
And when you do, be sure to take a picture of it, post it on Instagram, and tag @HowToFeedaLoon and hashtag #HowToFeedaLoon!
Fried Green Tomatoes
Fried Green Tomatoes are a celebration of all that's delicious in summer. Find green tomatoes at markets, vegetable stands, or even your own garden, before tomatoes are ripe and red. If you can't find them, ask someone at your local vegetable market to get some for you.
Print
Pin
Rate
Servings: 4
Calories: 304kcal
Equipment
Large, sturdy skillet (ie, cast-iron)
Ingredients
3 medium green tomatoes sliced about 1/4" to 1/2", usually 3 slices each
vegetable oil for frying
1 cup all-purpose flour
1 cup buttermilk
½ cup cornmeal finely ground, heaping
½ cup breadcrumbs heaping
½ tsp smoked paprika
½ tsp cayenne pepper
1 tsp Kosher salt
½ tsp black pepper freshly ground
Ranch dressing for dipping
Instructions
Add enough of the oil to a large sturdy skillet (ie, cast-iron) to fill it to about 1/2-inch to 1-inch in depth. Heat over medium-high heat to 350F.

Meanwhile, set up a dredging station with three small to medium-sized baking pans or bowls. Place the flour in the first pan, buttermilk in the second, and mix in the third pan the cornmeal, breadcrumbs, paprika, cayenne, salt, and pepper.

Place the sliced tomatoes first in the flour, flipping to coat and cover. Shake off excess and then lower into the buttermilk. Shake off excess and then add into the cornmeal/breadcrumb mixture. Use your fingers to help the breading adhere to the tomato. It's okay if the tomato is not 100% coated with the breading.

Working in batches, carefully add the tomatoes to the hot oil. Cook them for about 2 minutes, and then use a fork and metal spatula or tongs to carefully flip the tomatoes over. Fry for another couple of minutes, or until they are golden brown. Transfer to a plate lined with paper towels. Repeat with remaining tomatoes.

Serve at once with homemade ranch dressing (or your favorite dipping sauce).
Notes
Be sure to select green tomatoes that are un-ripened vine tomatoes. Don't use naturally green tomatoes, such as heirloom. You'll typically get about 3 slices per tomato yielding 9 fried tomatoes. The recipe can easily be doubled if serving a group. See instructions in the blog post for baking or air-frying the tomatoes. The tomatoes reheat perfectly in an air-fryer for just a couple of minutes at 400 F. Though they won't be nearly as crunchy, they're still delicious at room temperature. The homemade ranch can be made several days in advance and we think is the perfect accompaniment for the tomatoes.
Nutrition
Calories: 304kcal | Carbohydrates: 56g | Protein: 10g | Fat: 18g | Saturated Fat: 2g | Polyunsaturated Fat: 1g | Monounsaturated Fat: 1g | Cholesterol: 7mg | Sodium: 757mg | Potassium: 407mg | Fiber: 5g | Sugar: 8g | Vitamin A: 920IU | Vitamin C: 22mg | Calcium: 114mg | Iron: 3mg