This Instant Pot Braciole recipe is an Instant Pot instant classic! There is nothing about this dish that is not absolutely to love. The filling is so flavorful, and then the beef pressure cooked to perfection in a classic rustic tomato sauce.
Doesn't get much better than this!
The ingredients are classic Italian for this authentic braciole recipe. This all comes together in just about an hour.
Be sure to get thinly sliced round steak. Ask your butcher to cut it thin, for braciole…he/she will know what to do.
The filling is a wonderful combination of Italian sausage, Parmesan cheese, parsley, Panko bread crumbs, fresh basil, and an egg.
All on top of thinly sliced prosciutto. Oh, yes indeed.
INSTANT POT BRACIOLE TASTES JUST LIKE THE CLASSIC RECIPE
There is something about rolling all this goodness up that is just so satisfying. You begin to imagine what it's going to look like and more importantly, taste like, with each turn of the steak.
So, so good! Instant Pot Braciole is the best!
I use some kitchen twine to tie these loaded rolls of deliciousness into compact logs.
Tie once lengthwise, and then one or two ties around the body. They are easily clipped off with scissors once cooked.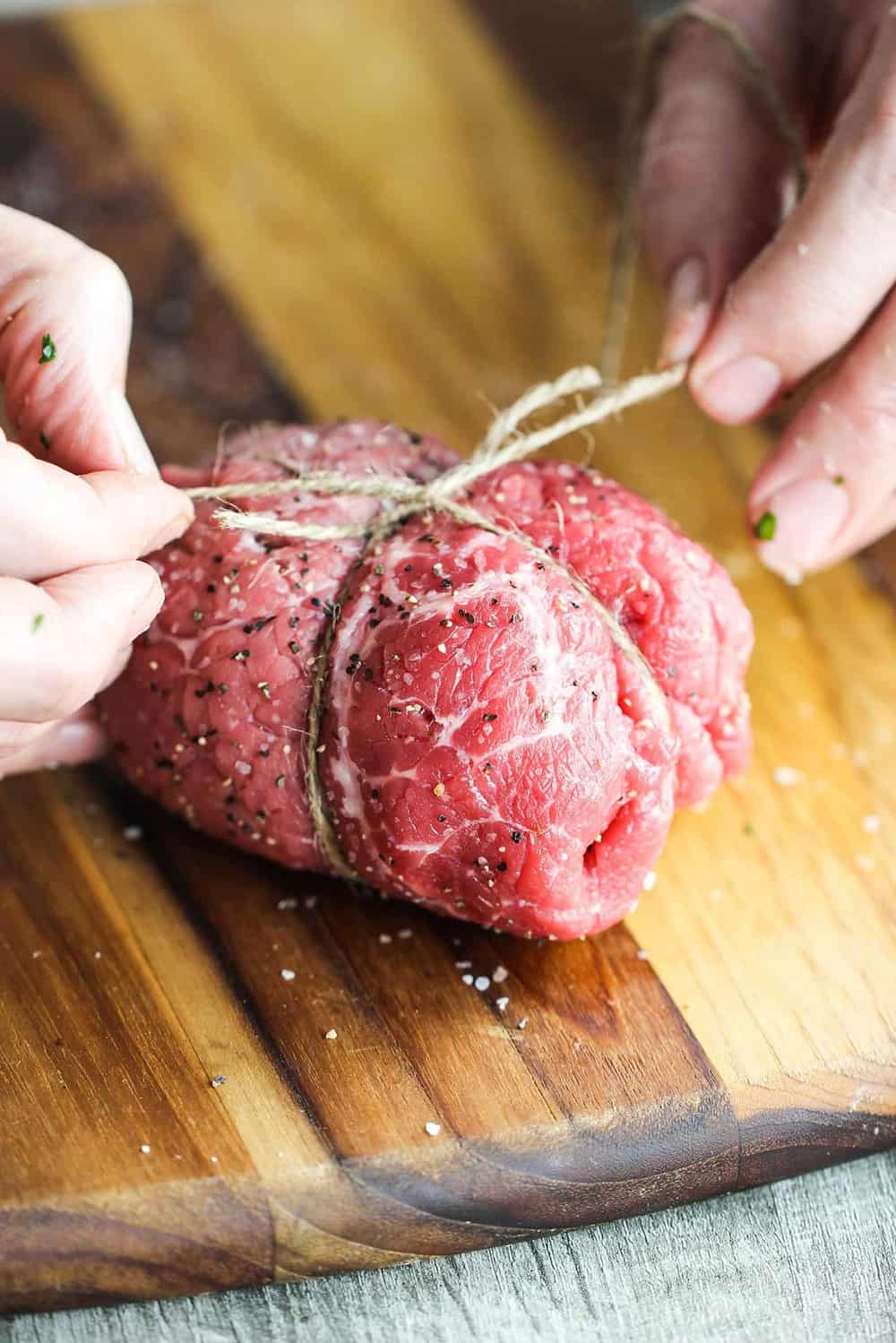 Searing the meat for about 5 to 6 minutes helps to lock in the flavor, as well as give the meat a nice browned texture.
It all adds up to a perfect bite of yumminess.
After the braciole has pressure cooked in the Instant Pot, the braciole is so tender and just incredible smelling as you slice it!
Wow, aren't you getting excited to make this amazing dish?
ONE OF OUR FAVORITE DISHES OF ALL TIME
I know I say this a lot (and it's always true) but this dish is just so delicious. The Loon said this is definitely one of his top 3 favorite dishes that I've made in the Instant Pot, maybe even in the top 2.
I have to agree, it's that good.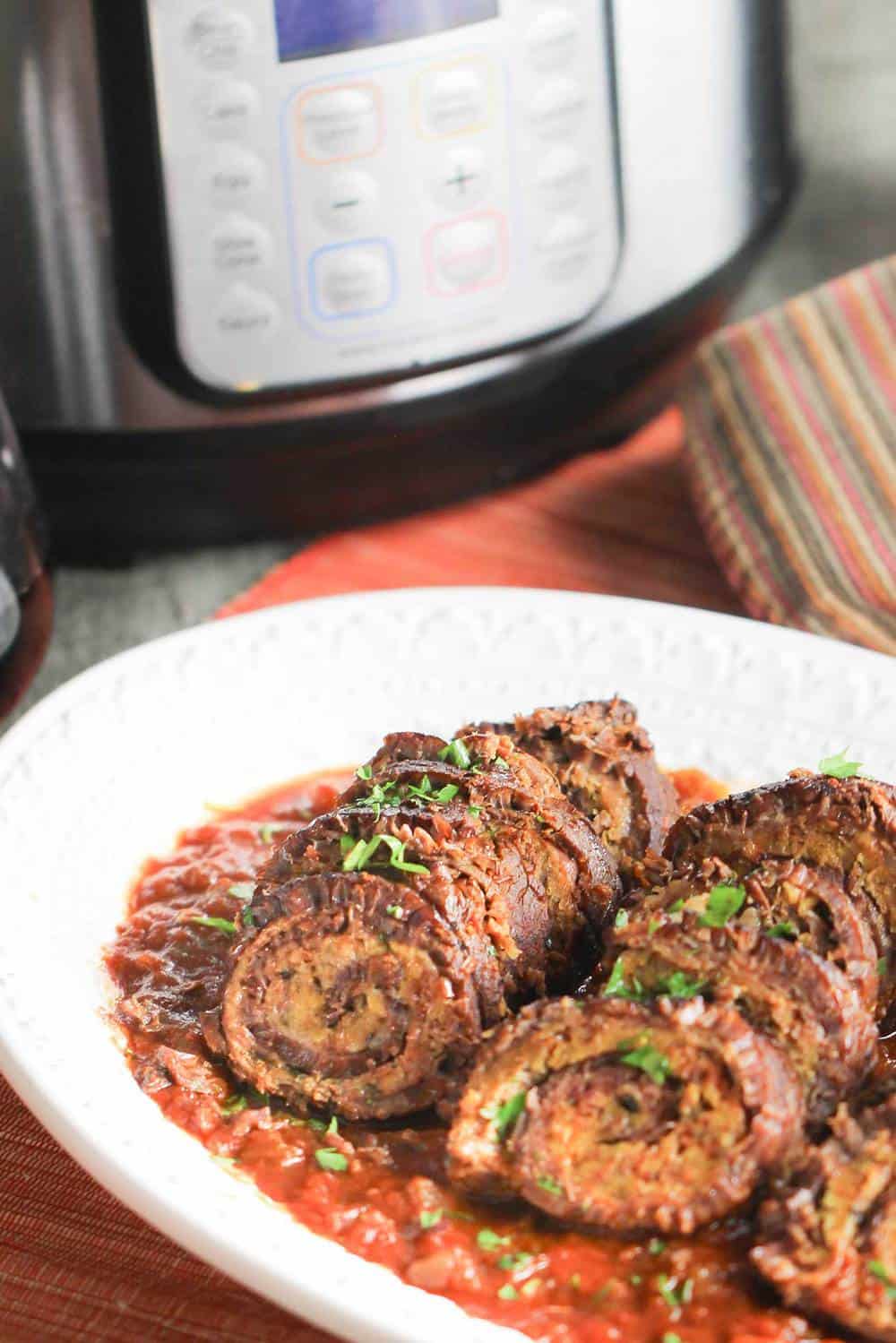 Seriously, though. Take one more look at this and tell me with a straight face that you're not really getting a major hankering for making this incredible Instant Pot Braciole recipe.
This dish is so impressive, and thanks to the Instant Pot…it is on the table in about an hour, even a little less!
Instant Pot Braciole: Yes! Yes! Yes!
Instant Pot Braciole
This Instant Pot Braciole is so incredibly flavorful, and is classic Italian cuisine. But made super simple in the Instant Pot. What normally takes hours of low and slow braising in the oven, comes together in just under an hour with your Instant Pot. So delicious!
Print
Pin
Rate
Servings: 4 people
Calories: 699kcal
Ingredients
¼ lb Italian sausage about 2 links, casings removed
⅓ cup Panko bread crumbs
2 tbsp Parmesan cheese grated
1 tbsp parsley fresh, chopped
1 tbsp basil fresh, chopped
1 large egg
4 round steaks thinly sliced, pounded (if necessary) to about 1/4-inch thickness
Kosher salt and freshly ground black pepper
3 oz prosciutto thinly sliced
3 tbsp olive oil
1 yellow onion chopped
3 cloves garlic minced
1 carrot peeled and chopped
1 rib celery chopped
2 tbsp tomato paste
½ cup dry red wine
1 28 oz. can crushed tomatoes
1 tbsp dried oregano
2 bay leaves
2 tbsp fresh parsley chopped, for garnish
Instructions
In a medium-size bowl, stir together with a fork the sausage, bread crumbs, Parmesan, parsley, basil, and egg until well combined.

Season the steaks on both sides with salt and pepper.

Arrange 1 to 2 slices of prosciutto over each steak.

Using the fork, spread filling evenly over the prosciutto on each steak, leaving a border of about 1/4-inch on all sides.

One steak at a time, starting at a short edge, roll each steak up.

Securely tie the roll with twine at intervals along the roll, and then again with one string lengthwise. Alternatively, secure the roll with toothpicks.

Turn the Instant Pot to SAUTÈ and heat the oil on More/High until shimmering.

Add the steak rolls and cook, turning them frequently, until browned on all sides, about 5 to 6 minutes. Using tongs, remove from the pot and set aside.

To the pot, add the onions, garlic, carrot, celery and cook until they start to become tender, about 4 minutes.

Add the tomato paste and stir until well blended.

Add the wine and bring to a boil.

Stir in tomatoes, oregano and bay leaves.

Nestle the rolls into the sauce.

Lock the lid into place and cook at MEAT/STEW or PRESSURE COOK or MANUAL on High Pressure for 30 minutes.

When finished cooking, select CANCEL and let pressure release naturally for 10 minutes. Then carefully move the valve to Steaming to allow for Quick Release.

Carefully remove the rolls and transfer to a cutting board.

Taste the sauce, and add more salt and pepper, if desired.

Using a sharp knife, cut the beef crosswise into slices about 1/2-inch thick, removing the twine as you cut.

Spoon some of the sauce onto a platter, and place the slices on top of the sauce, spooning more sauce over the top.

Garnish with chopped parsley. Serve at once!
Nutrition
Calories: 699kcal | Carbohydrates: 12g | Protein: 62g | Fat: 28g | Saturated Fat: 7g | Cholesterol: 226mg | Sodium: 657mg | Potassium: 1152mg | Fiber: 2g | Sugar: 3g | Vitamin A: 3125IU | Vitamin C: 10mg | Calcium: 124mg | Iron: 6mg