This Classic Pork Milanese is one of the simplest dishes in all of Italian cuisine, but it is truly magical.
Veal Chop Milanese is very traditional, but I love going the pork chop route.
So very tender and flavorful.
This dish is super delicious, super easy…and super gorgeous on the table!!  
135% Loon Approved!
So amazingly delicious!
Now make Amazing Classic Pork Milanese!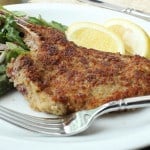 Classic Pork Milanese
This Classic Pork Milanese is really easy to make, but is also a very elegant and delicious meal. Ask your butcher to French the chops, so the bone is exposed, and then you can pound each cutlet nice and thin, to about 1/4-inch. Use day-old bread for the bread crumbs, along with a nice arugula salad and lemon. Wow, oh wow. Super delicious.
Prep Time 20 minutes
Cook Time 12 minutes
Total Time 32 minutes
Servings 4 people
Calories 326 kcal
Ingredients
4 10 oz bone-in pork chops Frenched (ask your butcher to do this for you)
Kosher salt
Freshly ground black pepper
1 loaf country white bread day old, crusts removed (it's okay a few pieces of the crust remain)
1/4 cup Parmesan cheese grated
3 eggs
1 cup all-purpose flour
3 tbsp unsalted butter
1 tbsp olive oil
2 cups arugula
1/2 cup cherry tomatoes halved
1/4 cup red onion chopped
Mustard Vinaigrette for dressing the salad
Lemon wedges for garnish
Instructions
One at a time, place the pork chops in a large freezer bag, or between 2 pieces of wax paper, and gently pound with a meat pounder, avoiding the bones, until about 1/4-inch thick.

Season the chops on both sides with salt and pepper. Set aside.

Use a food processor to pulse the bread into fine crumbs.

Pour the crumbs onto a large plate, or bowl, and mix in the cheese.

Place the flour on a large plate, or bowl. Season with a pinch of salt and pepper.

In a shallow bowl, gently beat the eggs until blended.

One at a time, dredge the chops through the flour, then dip into the egg, coating completely (except the bone), and then in the bread crumbs. With your fingertips, pat the crumbs into the chops to help them adhere.

Place on a rack for 15 minutes.

In a large skillet, or frying pan, over medium heat, melt the butter with the olive oil until hot.

Add the chops, 2 at a time, and cook, turning once, until browned and crisp on the exterior, yet tender and moist on the inside, about 3 minutes per side.

Toss the arugula, tomatoes and onion with the prepared vinaigrette.

Transfer the chops to plates along with the dressed arugula salad.

Garnish with lemon wedges.