There is just so comforting about a big bowl of delicious pasta. And this shrimp dish hits all the right notes.
This dish is so flavorful, it truly is restaurant-quality. However, the ingredients are simple and straightforward. Serve with a classic Caesar salad, Italian dinner rolls, and a nice bottle of wine for an amazing Italian-themed feast at home. And it comes together in about 30 minutes!
How to Make Shrimp Scampi
As mentioned, this dish comes together in just about 30 minutes
However, you can make it even easier on yourself and sear the shrimp in advance and then finish the sauce off just as guests are arriving.
NOTE: If you liked this video, please subscribe to our YouTube channel. Remember to click the little 'bell' icon so you'll never miss a new video! Thank you!
The Ingredients You Will Need
There truly are just a handful of ingredients in this dish, but they just work beautifully together.
Here's What You'll Need to Pick Up
Shrimp – Large, or extra large. Leave the tails on for a pretty presentation.
Salt and Pepper – For the shrimp and for the sauce
Oil – Quality olive oil is best
Garlic – Lots of it!
Wine – Dry and white, such as Chardonnay or Sauvignon Blanc
Worcestershire sauce – Adds a subtle depth of flavor
Lemon juice – Plenty of it, freshly squeezed is best
Stock – Chicken, vegetable, or seafood will work
Butter – Unsalted, plenty of it!
Parsley – Freshly chopped, for garnish
Pasta – Linguine is a great choice. Steamed rice is a nice choice, too.
EXPERT TIP: You'll want to make sure you get your pan/skillet nice and hot. The olive oil should be shimmering before you toss in the garlic. It's important to stir the garlic constantly. This will lightly brown the garlic, but not burn it. If starting the turn a dark brown, turn off the heat and toss the shrimp in the skillet. The shrimp will be cooked when very pink and curled, about 4 minutes.
Tips for Perfect Shrimp Scampi
Mise en Place – Because you're cooking with shrimp, the dish comes together very quickly. Because it's important to have all of the ingredients prepped and in their place (aka Mise en Place). You won't have time to grab anything from the fridge without the danger of overcooking or burning. Plan accordingly for cooking your pasta, too.
Make a Sauce Reduction – You'll want to make sure you simmer the sauce on fairly high heat for about 7 to 8 minutes. It doesn't need to be a strong boil, but should be simmering strongly. This will concentrate the flavors and reduce the sauce by about half. There should be enough sauce to coat the pasta, and that's it. Be sure to save a little sauce on the side for dipping bread slices!
Serve at Once – Though leftovers do heat up perfectly fine (and deliciously), we recommend serving this fresh off the stove just after the shrimp have been added and the butter has melted. Fresh is definitely best with scampi!
EXPERT TIP: After you've sautéed the garlic and shrimp, you'll need to remove it from the pan, and then add the remaining ingredients, except the butter. Simmer on medium-high until the sauce has concentrated, and reduced almost in half. Stir in the butter until melted.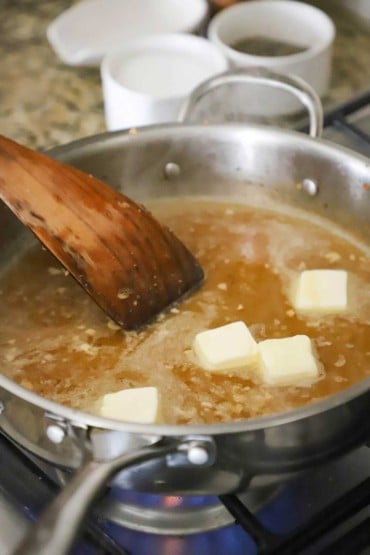 How To Serve
As mentioned, we think the sauce and shrimp pair perfectly with pasta cooked al dente (not too mushy!). For an extra special meal, make the pasta from scratch! It's easier than you might think!
We like to transfer the shrimp and sauce to a large platter with a serving spoon, and then the cooked pasta in a separate bowl. You can toss the pasta with a couple of splashes of olive oil to keep the strands from sticking to each other.
This recipe 3 to people. It can easily be doubled to serve 6 to 8 folks.
EXPERT TIP: Toss in a pinch of red pepper flakes to spice things up a tiny bit. That's optional, but we find it's a wonderful contrast to the lemon and butter. But, remember, a little goes a long way. Or, serve it tableside, and let guests add on their own.
Other Classic Italian or American-Itlain Dishes To Try
You just can't go wrong with classic Italian dishes or those more associated with Italian-American recipes. Here are a collection of our favorites:
Shrimp Fettuccine Alfredo
Chicken Marsala
Chicken Francese
Creamy Tuscan Chicken
Pasta Primavera
Chicken Piccata
Classic Bolognese Lasagna
White Chicken and Spinach Lasagna
Baked Ziti
Italian Stuffed Shells
Fettuccine with Creamy Sausage Sauce
Now, in the meantime, aren't you craving a big serving of this shrimp scampi?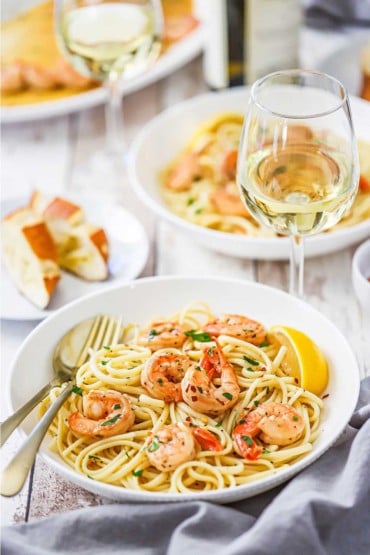 This is truly Italian-American cuisine at its very best.
This dish will rival any scampi served at just about any restaurant you try.
And it's so quick and easy! Double win!
Ready to make one of the best Italian dishes this side of Little Italy, NYC? Go for it!
And when you do, be sure to take a photo of it, post it on Instagram, and tag @HowToFeedaLoon and hashtag #HowToFeedaLoon!
(Quick and Easy) Shrimp Scampi
This shrimp scampi is definitely quick and easy, but the results are without a doubt restaurant-quality. The sauce, alone, is worth writing home about. Serve over linguine or rice, and with plenty of fresh, crusty bread for soaking. So good!
Print
Pin
Rate
Servings: 4 people
Calories: 599kcal
Ingredients
1 lb large shrimp peeled and deveined - leave the tails on (if desired)
Kosher salt and freshly ground black pepper
2 tbsp olive oil
2 tbsp garlic minced
1 cup quality dry white wine don't use cooking wine!
1 tbsp Worcestershire sauce
5 tbsp fresh lemon juice about 2 lemons
¼ cup chicken stock
4 tbsp unsalted butter ½ stick
½ tsp red pepper flakes optional
2 tbsp fresh parsley chopped, for garnish
1 lb linguine cooked, if desired
Instructions
Lightly season the shrimp all over with salt and pepper.

Heat the oil in a large skillet over high heat.

Add the garlic and cook until translucent and lightly browned, about 2 to 3 minutes.

Add the shrimp and sauté until pink and fully cooked, about 3 to 5 minutes.

Transfer cooked shrimp to a platter or plate.

In the same pan, over medium-high heat, add the wine, Worcestershire sauce, lemon juice, and stock. Bring to a boil.

Reduce heat to medium and cook until liquid is reduced by half, about 6 - 7 minutes.

Whisk in butter and season to taste with ½ tsp salt and ¼ tsp pepper.

Add shrimp to re-heat, tossing to coat well with sauce, for about 1 minute.

Sprinkle with parsley, just before serving. Serve directly over pasta or rice, or separately. Serve at once.
Notes
See the video near the top of the blog post for visual guidance. If you liked the video, please subscribe to our YouTube channel.
You can leave the tails on the shrimp if desired. Just be sure to remove as much of the shell as possible.
There should be enough sauce to coat the pasta, however, if you like extra sauce, then double the sauce ingredients (wine, Worcestershire sauce, lemon juice, chicken stock, and butter). You'll need to let the sauce reduce for about 15 minutes.
Leftovers will keep covered in the fridge for up 3 days. Gently reheat on the stove, adding a little more stock, as needed.
Nutrition
Calories: 599kcal | Carbohydrates: 88g | Protein: 16g | Fat: 18g | Saturated Fat: 9g | Polyunsaturated Fat: 2g | Monounsaturated Fat: 7g | Trans Fat: 0.5g | Cholesterol: 31mg | Sodium: 91mg | Potassium: 338mg | Fiber: 4g | Sugar: 4g | Vitamin A: 597IU | Vitamin C: 4mg | Calcium: 43mg | Iron: 2mg
POST UPDATE: This recipe was originally published in April 2018, but was updated with improved tweaks to the recipe with new tips and photography and a fabulous new video in February 2023!