This post is kindly sponsored by Crock-Pot but the recipe, photography, and opinions are 100% ours
BBQ Brisket Sandwiches are the real deal, folks.
They are so easy because we make them in our amazing Crock-Pot® 6-Quart Programmable Cook & Carry™ Slow Cooker. They are perfect for tailgating, parties, family gatherings, or any time you want something off-the-charts delicious.
HOW TO MAKE BBQ BRISKET SANDWICHES IN YOUR CROCK-POT®
Crock-Pot® slow-cookers have been enjoyed and used through generations of both of our families. I have such amazing memories of coming home from church on Sundays and smelling a roast, or ham, or you name it, slow-cooking in my mom's beloved Crock-Pot. That meal would always be my favorite of the week. And my mother was (and still is) an amazing cook.
As Texans, we have to admit that most of the best BBQ joints around this great state use smokers to cook their brisket to BBQ perfection. That way of cooking is pretty amazing, no doubt. But we honestly believe this recipe comes close to rivaling any pit-master's version anywhere. It's really that good.
Watch us show you how to make BBQ Brisket Sandwiches at home!
WHAT YOU WILL NEED TO MAKE BBQ BRISKET SANDWICHES
4 lb brisket
Buns
Pickles and Onions (Optional, but so delicious!)
Our Perfect BBQ Rub adds a depth of flavor to the brisket that gives it a real authentic BBQ taste. Generously rub it into the meat before placing in the Crock-Pot.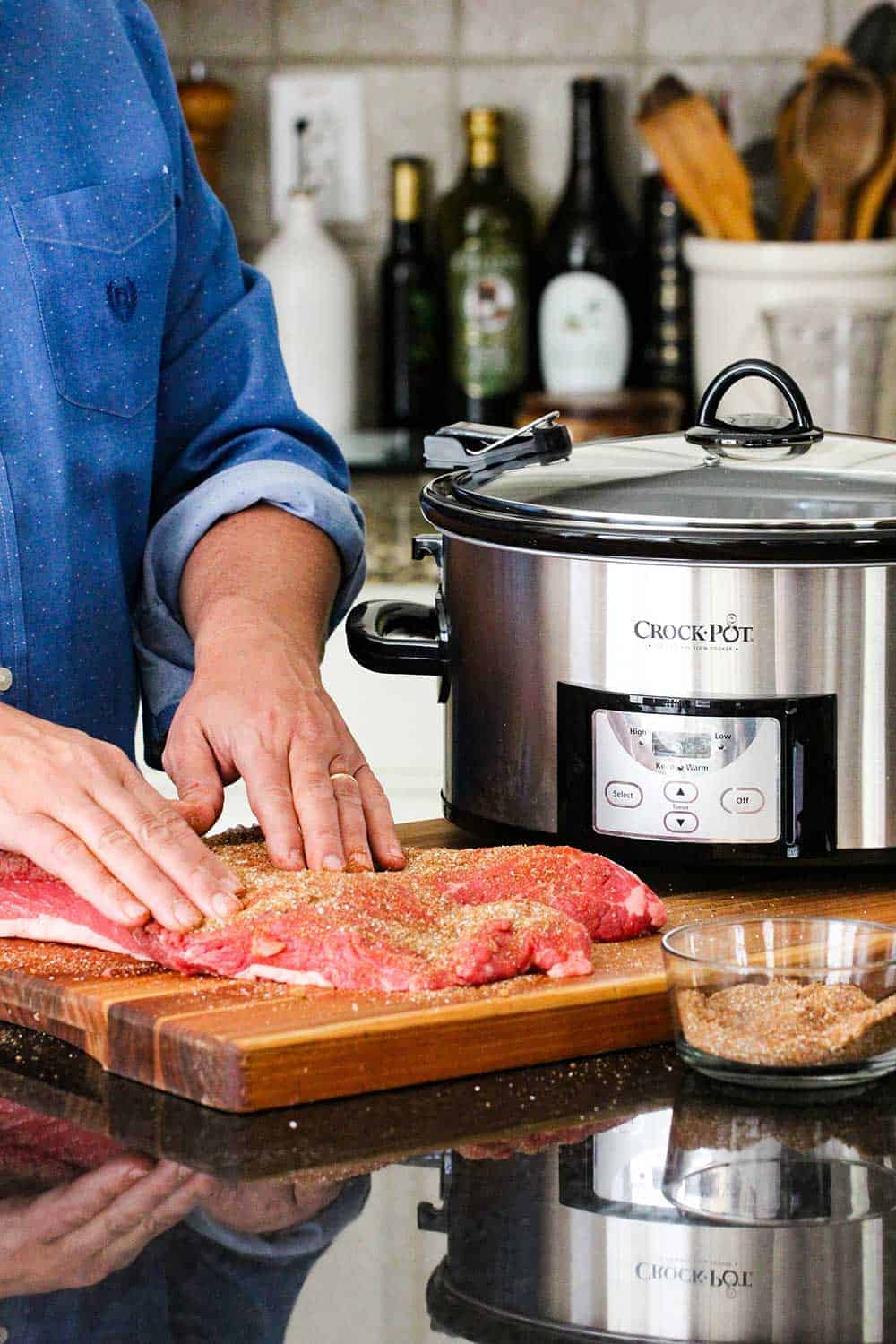 HOMEMADE BBQ SAUCE IS EASY AND CAN BE MADE AHEAD
In addition to the Perfect BBQ Rub, we feel what gives these BBQ Brisket Sandwiches their amazing taste is our Easy Homemade BBQ Sauce.
EXPERT TIP: Make the BBQ sauce up to one week in advance and refrigerate until ready to use. We love it so much, we make a double batch. Extra sauce on the BBQ brisket sandwiches is incredible.
Next, mix 1 cup of the BBQ sauce with 1 cup of good-quality beef stock and then pour over the brisket in the Crock-Pot.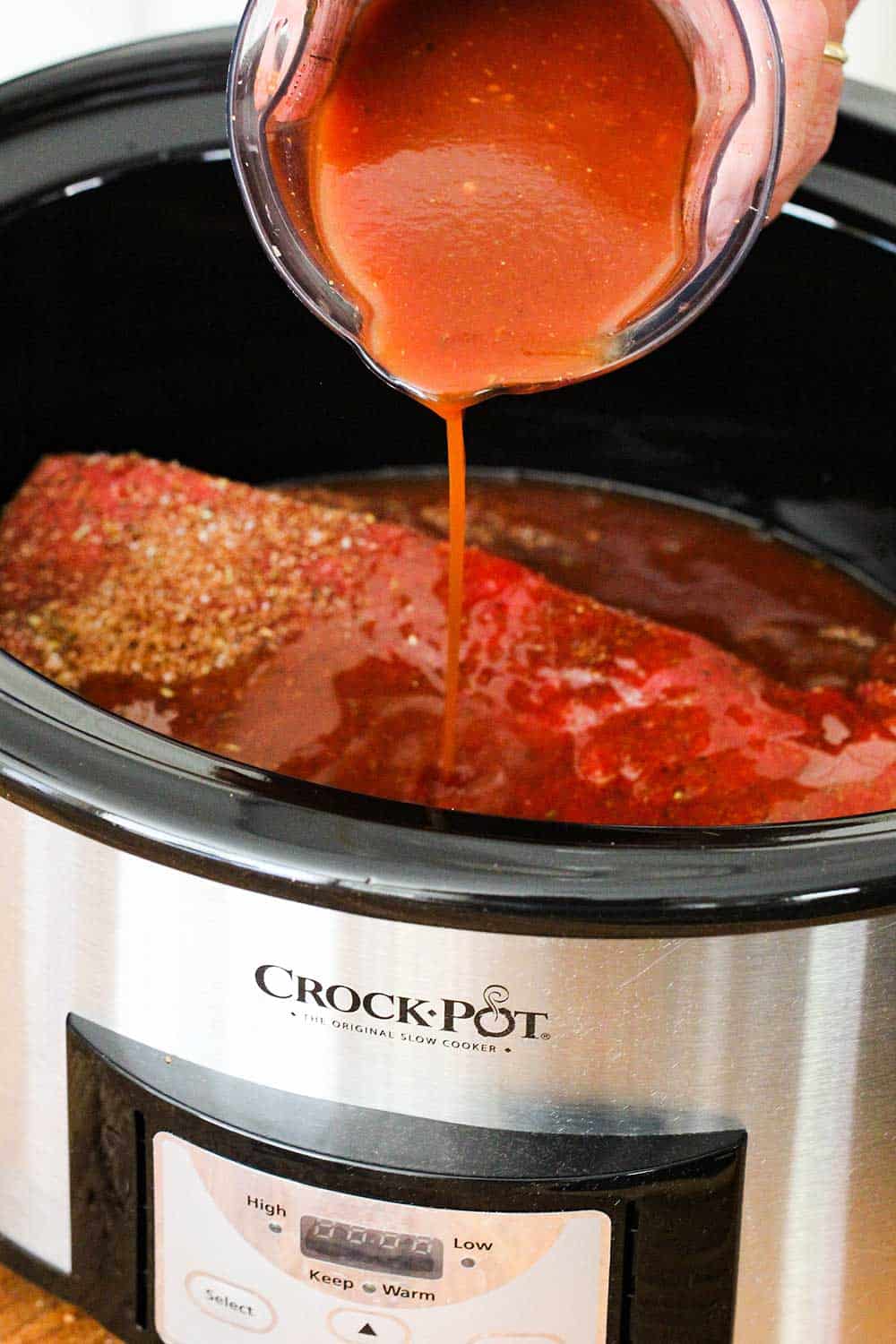 CROCK-POT® SLOW COOKERS ARE PERFECT FOR TAIL-GATING
These BBQ brisket sandwiches are amazing all year long. But, they are truly the perfect dish to bring to a tailgating event on game-day.
One of the many features we love about our Crock-Pot is that the Cook & Carry™ locking lid that makes it easy to travel with. Simply lock the lid in place before you leave and the chopped brisket will stay secure while you travel to the big game. The large, durable side handles make carrying easier than with other slow cookers.
The night before we head to the stadium, we simply set the super easy programmable Crock-Pot to 10 hours and then dream of amazing BBQ brisket sandwiches all night.
The Crock-Pot slow-cooks the brisket until it is so tender that you can easily shred it with a couple forks.
HOW TO CHOP THE COOKED BRISKET
Another great feature of our Crock-Pot® 6-Quart Programmable Cook & Carry™ Slow Cooker is that once the cooking time is complete, it's automatically switched over to the warm setting.
Once you are ready to finish off the dish, all you need to do is carefully remove the brisket from the slow-cooker and place in a large roasting pan or baking sheet.  Save 2 cups of the cooking liquid and discard the rest.
Use 2 forks to shred, and then we like to take a large, sharp knife and cut the shreds into small pieces. We're getting real close to authentic BBQ chopped brisket, folks!
Now, add the chopped meat back into the Crock-Pot and stir in the 2 cups reserved liquid and 1 cup of the prepared BBQ sauce.
Turn the Crock-Pot to high and set the programmable timer to just 30 minutes.
Meanwhile, toast some sandwich buns, slice an onion, and get your pickles ready. And if you're heading to the stadium, it's time to put on your favorite team jersey and face paint (if that's your thing).
SLOW-COOKER BBQ BRISKET SANDWICHES FEED PLENTY
The large capacity 6-quart Crock-Pot holds enough of the chopped brisket to feed a hungry group of 10 to 12 people.
Just plug in the Crock-Pot and keep the meat on warm.
Your only problem will be keeping other tailgating fans from wanting to get in line to try the incredible BBQ Brisket Sandwiches! Just look at these babies!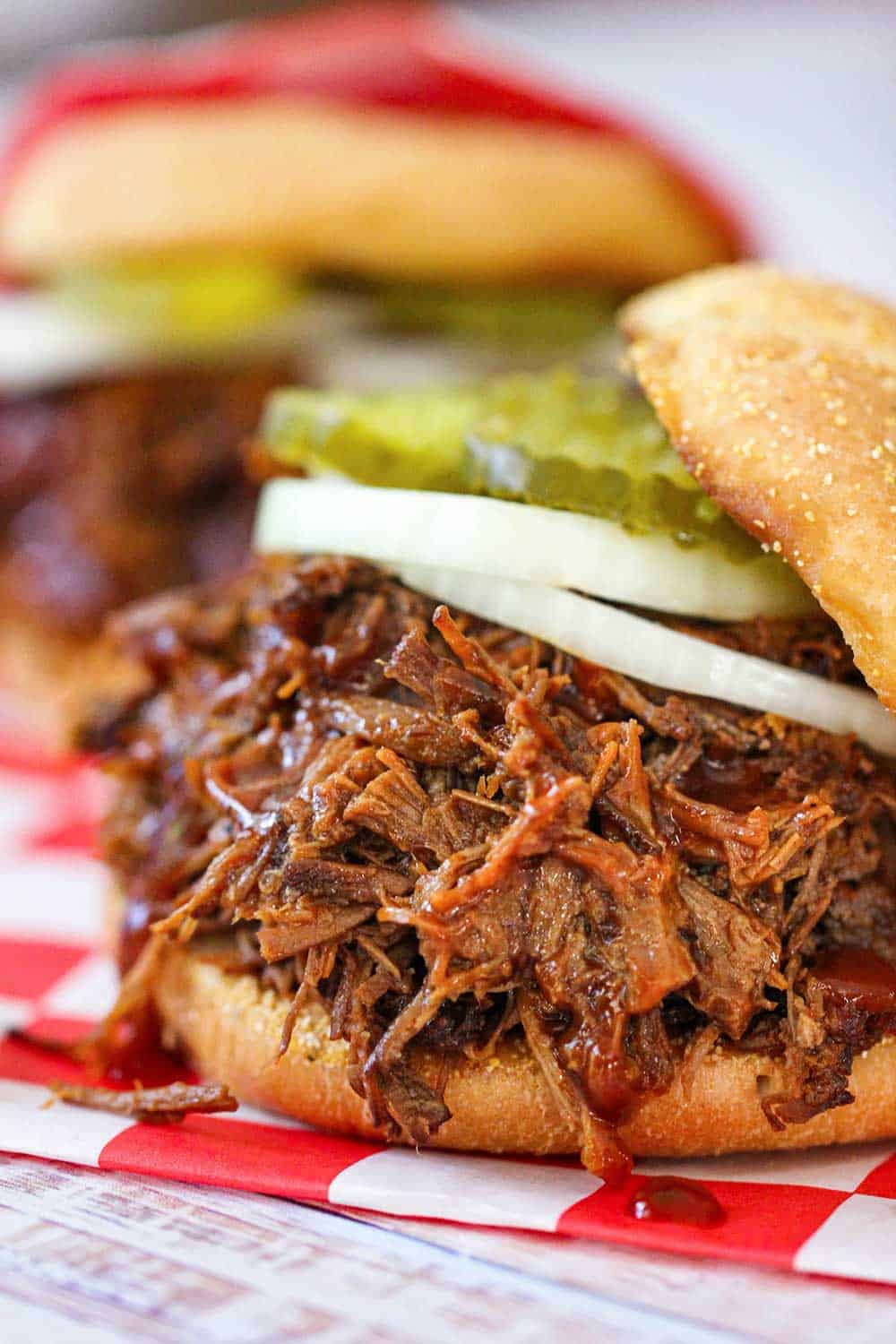 We just can't rave enough about one of our favorite brands in the world, Crock-Pot®. It' safe to say that we have at least four different styles and sizes of this iconic slow-cooker in our house, and we honestly use them all the time.
You can easily find this awesome Crock-Pot® 6-Quart Programmable Cook & Carry™ Slow Cooker at one of our favorite places to shop in the world, Target.
And friends, if you make one tailgating dish this year, we strongly urge you to try these incredible BBQ Brisket Sandwiches. They are amazing and one of our most favorite things in the world to prepare and serve to friends and family.
Get ready for major cheers when you bring this to your next tailgating party! Woo-hoo!
And don't forget, when you make this dish (and you must make it, trust us!), be sure to take a picture, post on Instagram and tag @howtofeedaloon and @crockpot and @target!
BBQ Brisket Sandwiches
BBQ Brisket Sandwiches, made in your Crock-Pot® slow-cooker, will rival any bbq sandwich from even the best bbq pitmaster anywhere. That's a bold statement...but wait until you try these. Perfect for tailgating, or parties, or anytime you want to feed a hungry crowd!
Print
Pin
Rate
Prep Time: 15 minutes
Cook Time: 10 hours
Make ahead - BBQ Sauce: 20 minutes
Total Time: 10 hours 35 minutes
Servings: 12 people
Calories: 463kcal
Equipment
Crock-Pot® 6-Quart Programmable Cook & Carry™ Slow Cooker
Ingredients
2 ½ cups BBQ sauce make ahead of time
½ cup perfect BBQ rub
4 lb brisket trimmed of excess of fat
1 cup beef stock
12 hamburger buns toasted
1 medium onion sliced (optional, for garnish)
pickles sliced (optional, for garnish)
Instructions
Prepare the easy BBQ sauce as directed and set aside.

Mix together the perfect BBQ rub and set aside.

Use your fingers to rub the perfect BBQ rub all over the brisket.

Place the brisket into the slow-cooker. You may need to cut the roast into 2 piecse. It's okay if they overalp.

In a medium bowl, mix together 1 cup of the prepared BBQ sauce and the beef stock (1 cup). Pour over the meat.

Cover and cook on LOW for 10 hours.

Save 2 cups of the cooking liquid from the slow-cooker and discard the rest. Set aside.

Carefully remove the meat from the slow-cooker and place in a large roasting pan or baking sheet. Use two forks to shred the meat.

Transfer the shredded meat to a cutting board and chop the meat using a large knife.

Add the meat back into the slow-cooker and add another cup of the BBQ sauce along with the 2 cups reserved cooking liquid. Mix until combined.

Cook on HIGH for 30 minutes.

Serve warm with toasted buns, additional BBQ sauce, sliced onions, and sliced pickles.
Notes
This can easily be made in advance and kept in the refrigerator for up to 3 days, or frozen up to 1 month.  Re-heat in the slow-cooker until heated through.   Keep on the WARM setting when serving.  Be sure to trim away excess fat from the brisket before cooking.  If your brisket is too large for the pot, then cut into two pieces.  It's okay if they overlap.  We often double the batch of the homemade BBQ sauce, because it's just so good, and folks usually like to add more to their sandwiches when they assemble them. 
Nutrition
Calories: 463kcal | Carbohydrates: 47g | Protein: 37g | Fat: 13g | Saturated Fat: 3g | Cholesterol: 94mg | Sodium: 986mg | Potassium: 742mg | Fiber: 2g | Sugar: 23g | Vitamin A: 133IU | Vitamin C: 2mg | Calcium: 105mg | Iron: 5mg