Is there anything much more comforting than a tender pot roast with mashed potatoes? In a word: No.

The only thing better about this incredible roast is that it is so easy to prepare and it only requires 6 simple ingredients. Serve over best mashed potatoes and be prepared for a very well-received dinner.


NOTE: If you liked this video, please subscribe to our YouTube channel. And remember to click the 'bell' icon so you'll never miss a new video!
How To Make Mississippi Pot Roast
We love using our slow-cooker to make this incredible roast.
However, you can also slow cook it in a covered large pot (preferably Dutch oven) at 300°F for 3 to 4 hours, until fork-tender.
EXPERT TIP: We love to prepare the roast in the slow-cooker the night before and then just turn it on the next morning and let it cook low and slow all day…just in time for an amazing dinner.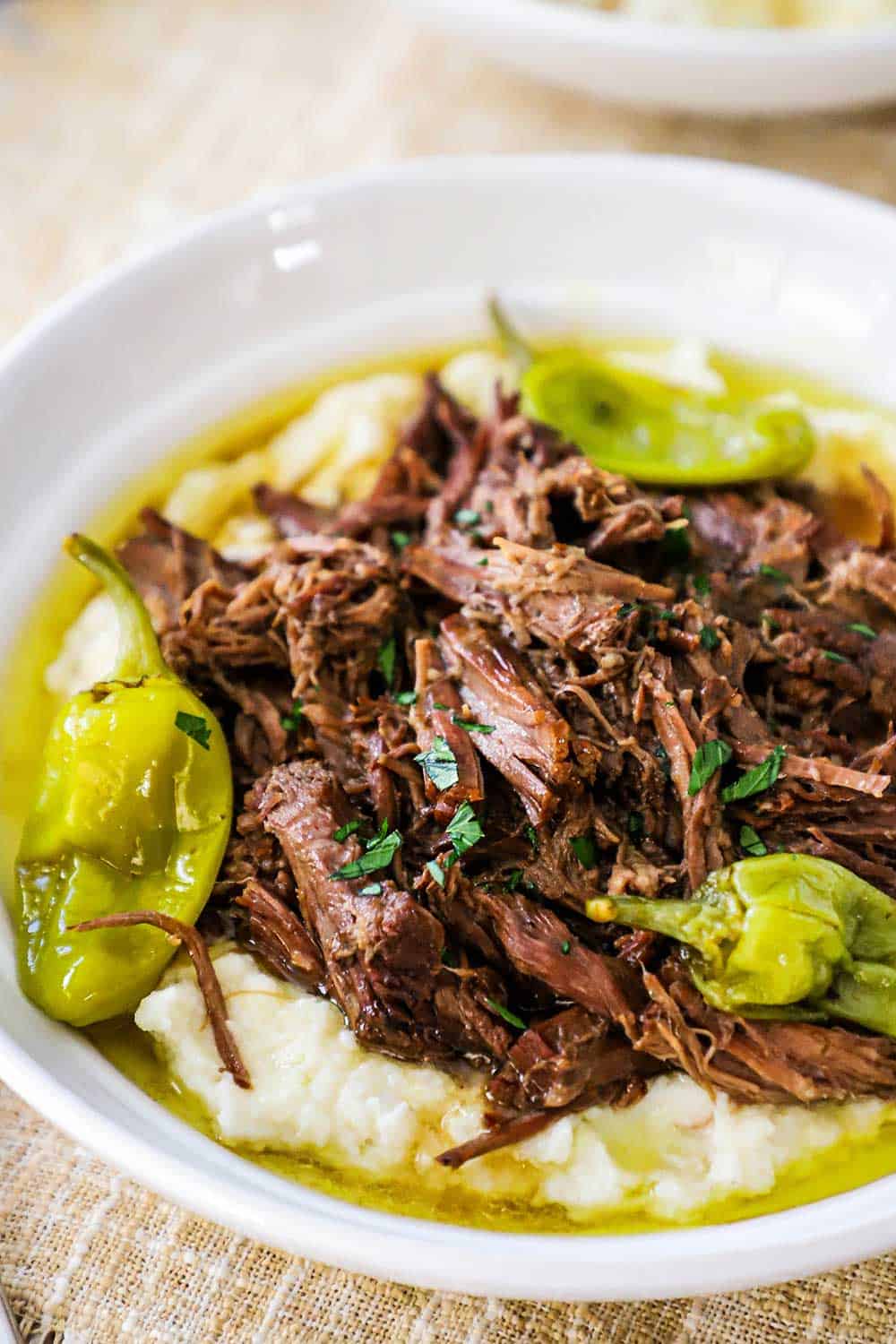 Choosing the Best Cut of Meat
You'll find a wide variety of roasts to choose from when pursuing the meat counter at your supermarket.
Cooking a roast low and slow will always allow even a tough cut of meat to break down and become extremely tender.
Go with a chuck roast. It's inexpensive, flavorful, and will produce an amazing sauce.
EXPERT TIP: We really like to sear the roast before we place it in the slow-cooker. This helps to lock in flavor and add a nice crust to the exterior of the meat. However, if you're pinched for time, this step can be omitted. You can salt and pepper the roast before searing, or not. There are lots of seasonings in the two packets, so it's not really necessary.
The Ingredients You Will Need
This roast only requires six ingredients, and you can omit one of them (olive oil), if you're not searing the roast first.
Here's what you'll need to pick up from the supermarket:
3 to 4 lb chuck roast
1 packet of au jus gravy mix
1 packet of Ranch salad dressing mix
1 bottle of pepperoncini peppers (in brine)
You'll also need these ingredients, but chances are you already have them on hand:
Vegetable or olive oil (if searing)
1 stick butter
Add all ingredients on top of the roast and then let your slow-cooker do all the work!
Slow-cook the roast on low for 8 to 10 hours or on high for 4 to 5 hours.
All you will need are a couple of forks to shred the meat.
EXPERT TIP: You may find small chunks of fat when you are shredding the meat. This is normal, just remove them from the pot and discard them.
How To Serve and Store Mississippi Pot Roast
This roast is so filling and so satisfying, it doesn't require a lot of additional side dishes. Another reason it's so perfect for a busy weeknight meal.
It does beg for a plate of mashed potatoes, however. These potatoes can easily be made in advance and gently reheated on the stove.
EXPERT TIP: Depending on the size of your roast, you are more than likely going to have plenty of leftovers. Which is great! We honestly think the roast is even better the next day. Simply place leftover roast, mashed potatoes, and any sauce in a large container with a lid and keep in the fridge for up to 5 to 7 days. Easily reheat on the stove, in the oven, or even easier: in the microwave.
As the pepperoncini peppers slow cook with the meat, they lose much of their heat.
We love to cut them up and stir them into the meat mixture, or just leave them whole on top.
EXPERT TIP: This roast creates a nice amount of juice which when stirred, makes a divine sauce. No need to add any water to the slow-cooker before cooking. After plating, allow everyone to spoon more of that delicious sauce over the top.
The Perfect Weeknight Dinner
There are few meals that are this simple to prepare, and this easy on the budget, and yet are this fulfilling and family-pleasing.
It may feel strange opening up a couple of packets to season your roast.
You also may be asking: Why is it called Mississippi Pot Roast? Word is, the woman who developed the recipe many years back lived in Mississippi. Works for us!
Other amazing weeknight winner dishes that we love are our Easy Ravioli with Tomato-Basil Sauce, Chicken Spaghetti, and our Sheet Pan Greek Chicken!
You'll be hard-pressed to find a more tender roast than this one.
The flavor is amazing and the texture is melt-in-your-mouth delicious.
This has become one of our most favorite meals to prepare, and we have a feeling it will become one of your favorites, too.
Ready to make one of the easiest, yet most delicious roasts in town? Go for it!
And when you do, be sure to take a photo of it, post it on Instagram, and tag @HowToFeedaLoon and hashtag #HowToFeedaLoon!
Mississippi Pot Roast
Mississippi Pot Roast is one of the easiest meals you will ever make. And, by the way, one of the most delicious roasts, too. Only 6 ingredients come together to make a family-friendly that will be requested time and time again.
Print
Pin
Rate
Servings: 8
Calories: 552kcal
Ingredients
4 lb chuck roast
2 tbsp olive oil or vegetable oil
1 packet au jus gravy mix See NOTES regarding sodium
1 packet Ranch dressing mix See NOTES regarding sodium
6 pepperoncini peppers
¼ cup pepperoncini brine Juice from the bottle
8 tbsp unsalted butter cut into pieces
2 tbsp parsley fresh, chopped, optional
Instructions
In a large pot (ie, Dutch oven), heat the oil over medium-high heat. Add the roast and sear on 1 side for about 4 minutes, until nicely browned. Flip the roast over and sear on the other side for another 4 minutes.

Place the roast in your slow-cooker and cover with au jus gravy mix, Ranch salad dressing mix, pepperoncini brine, pepperoncini peppers, and butter. Cook on LOW for 8 to 10 hours or on HIGH for 3 to 5 hours.

Shred the meat with the 2 forks. Discard any chunks of fat. Stir the meat to incorporate the juice.

Serve warm.
Notes
See the video near the top of the blog post for visual guidance. If you like the video, please subscribe to our YouTube channel.
Both the au jus gravy mix and the Ranch mix are fairly high in sodium. We like our roasts to be a little on the salty side. If you prefer it to not be too salty tasting, then try using just half of each packet. You'll still get the amazing flavor and the meat will still be fall-apart delicious.
If you don't have time to sear the roast, don't worry about it. The searing adds a nice texture, but the roast will still be delicious if you don't sear it first.
This roast makes a good amount. Leftovers are just as good, if not even better the following days. Keep in an air-tight container with a lid in the fridge for up to 5 to 7 days. The cooked meat freezes beautifully for up to 2 months.
Nutrition
Calories: 552kcal | Carbohydrates: 2g | Protein: 44g | Fat: 38g | Saturated Fat: 8g | Polyunsaturated Fat: 3g | Monounsaturated Fat: 19g | Trans Fat: 2g | Cholesterol: 187mg | Sodium: 449mg | Potassium: 781mg | Fiber: 1g | Sugar: 1g | Vitamin A: 489IU | Vitamin C: 8mg | Calcium: 44mg | Iron: 5mg