This Incredible Slow Cooker Baby Back Ribs recipe is the bomb.  Of course, being raised in Texas…I know all about good BBQ.  These aren't slow-cooked with indirect heat from a smoker…BUT…trust me (and the Loon), these gems are still fall-off-the bone good, with so much flavor, you'll throw your hat in the air, and yell:  YEE HAW!!!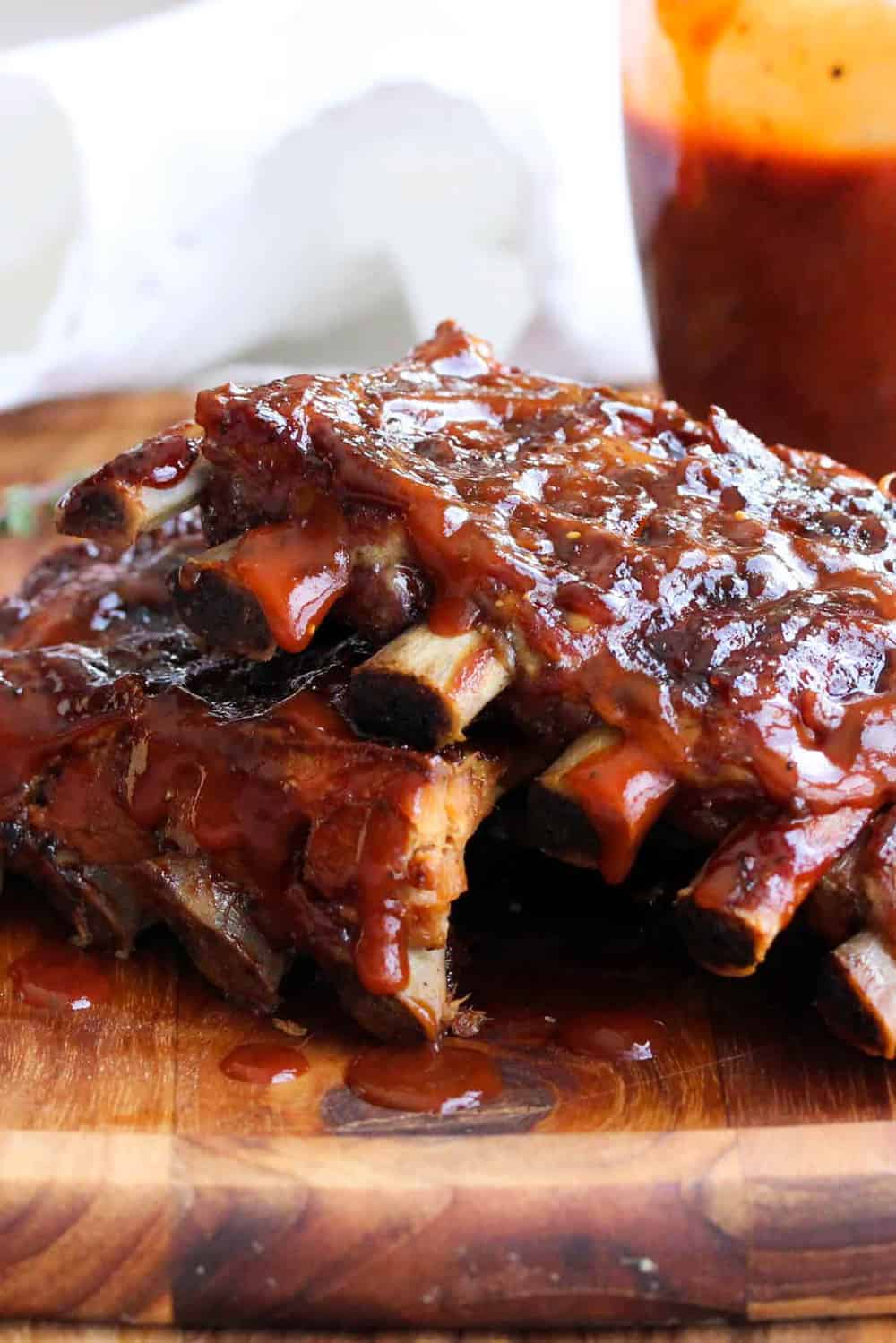 And making your own Homemade BBQ Sauce could not be easier, and the taste is authentic and just perfect for these ribs. Once you try this sauce, you'll never buy the bottled stuff again. It's that good, and so simple to make!
So incredibly easy to make, and SO GOOD!!!!!!!
Watch us show you how easy it is to make the fall-off-the-bone Slow Cooker Baby Back Ribs and Homemade BBQ Sauce:
Incredible Slow Cooker Baby Back Ribs
This incredible slow cooker baby back ribs recipe couldn't be easier, or more amazing on flavor. Don't have a smoker to cook your ribs?...here's the next best thing. So easy, and so fall-off-bone delicious!
Author: Kris Longwell
Recipe type: BBQ
Cuisine: BBQ / Southern
Serves: 4 - 6
Ingredients
Spray of non-stick cooking spray
2 tablespoons light brown sugar
1 teaspoon smoked paprika
1 teaspoon Kosher salt
½ teaspoon dried ground thyme
½ teaspoon ground black pepper
⅛ teaspoon cayenne pepper
3 to 3½ lb trimmed pork baby back ribs
Instructions
Coat the slow cooker with nonstick cooking spray.
Combine the brown sugar, paprika, salt, thyme, black pepper and cayenne.
Rub the mixture all over the ribs.
Place ribs in slow cooker and cover.
Cook on LOW for 7 - 8 hours, or until ribs are tender.
Make the Easy BBQ Sauce.
Remove ribs from the slow cooker and discard the liquid.
Turn your broiler to low, or, turn your slow cooker to high.
Coat the ribs with the sauce and place under broiler (or back into to the slow cooker).
Cook under broiler for about 2 minutes, remove, re-coat with another layer of sauce, and cook for another couple minutes. OR, let ribs cook on HIGH in slow cooker for 30 minutes.
Remove and serve at once, with additional BBQ sauce!