These are the quintessential snack. Fluffy on the inside and salty crispy on the exterior. Just the best.
If you're looking for the perfect appetizer for the big game, party, or just a fun weekend afternoon, this is the recipe for you. Even the pickiest of eaters love these gems. Be sure to have a side of homemade beer cheese, or even just mustard or nacho cheese sauce for dipping. Always a huge hit. And so easy to make!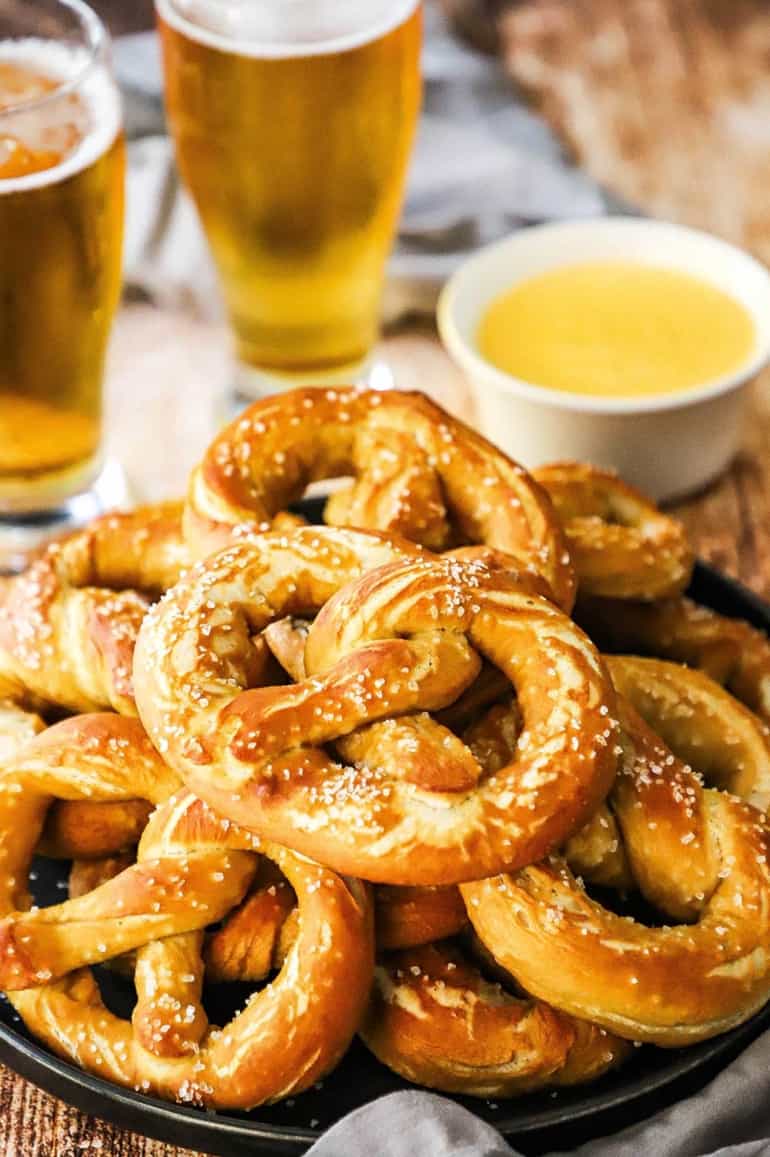 How To Make Homemade Soft Pretzels
You may think making delicious pretzels from scratch is too difficult to try at home.
We're here to tell you to re-think that notion. We've got the tips to make the most yummy chewy soft pretzels in the world!
NOTE: If you liked this video, please subscribe to our YouTube channel. Remember to click the little 'bell' icon so you'll never miss a new video. Thank you!
The Ingredients You Will Need
There are just a handful of ingredients required to make this national treasure of a snack, but the way you bring them all together is critical in achieving the classic pretzel taste and texture.
Here's what you need to have on hand
Water – Warm (around 105°F is perfect)
Yeast – Instant (aka Rapid Rise) or Active Dry
Barley Malt Syrup – Can also use dark corn syrup or dark brown sugar
Salt – Kosher
Butter – Melted and slightly cooled
Flour – All-purpose
Baking soda – See NOTES regarding this
Salt – Coarse sea salt or pretzel salt
EXPERT TIP: To form the pretzel, first divide the dough into twelve pieces. Use your hands to roll each piece of dough into about a 20-inch rope. Lift the two ends up, twist them, and fold them over to attach the opposite end. Use your fingers to shape the dough into a pretzel shape. See the images below for reference.
Tips for Perfect Homemade Soft Pretzels
Check Your Yeast – You can use Instant Yeast (aka Rapid Rise) or Active Dry. But, it is critical that the yeast is still active. If after 8 to 10 minutes with the warm water and barley malt syrup and the yeast isn't foaming, you'll need to discard it and get new yeast. The water should be warm, but not too hot. 105° to 115°F is perfect.
Knead the Dough Properly – Have plenty of flour on hand. The dough will be sticky at first, but as you continue to knead, it will become pliable, elastic, and no longer sticky. It's a little bit of a workout, but you'll need to knead the dough for 6 to 8 minutes.
Watch the Bake Time – Most ovens vary from oven to oven. Also, there are usually hot spots inside an oven. You'll want to bake the pretzels until they are a deep golden color and beginning to split on the tops. This usually takes about 15 minutes but might be less or more, depending on your oven. Typically, you'll need two baking sheets, preferably lined with silicon mats. Switch them around after about 10 minutes of baking.
EXPERT TIP: Once the pretzels have been formed, you'll need to get a pot of 8 cups of water boiling. Carefully mix in the baking soda and stir until dissolved. After placing the uncooked pretzels in the boiling soda water, you'll only want to boil them for 25 to 30 seconds. Don't leave them in any longer, or they will have a bitter taste to them.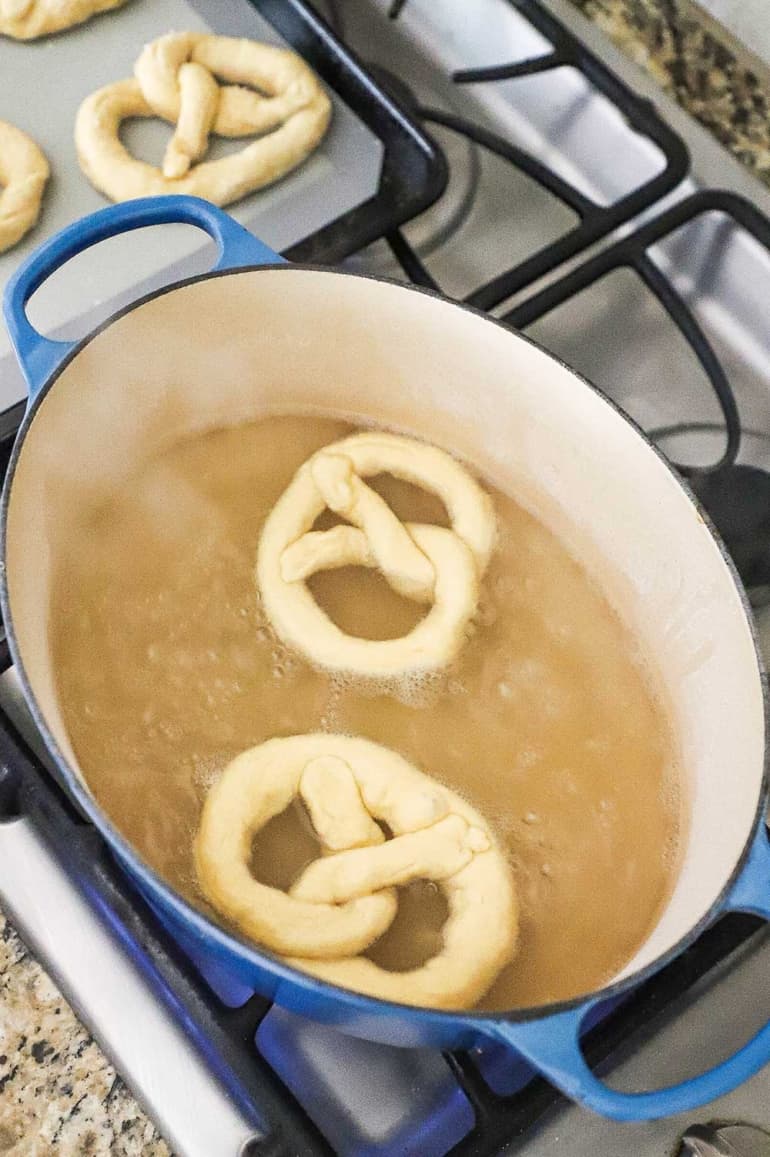 How To Serve and Store
Your guests will truly be impressed when you bring out a platter of these incredible pretzels.
They are really delicious served warm, but they are also fantastic served at room temperature.
You'll definitely want some sort of dipping sauce to accompany them. We love our homemade beer cheese sauce, but yellow mustard, grainy mustard, or nacho cheese sauce are all great options, too. Or, a combination of all of them!
In the unlikely event that you have leftover soft pretzels, you can store them in a large freezer baggie on the counter for up to 5 days. They freeze beautifully, too!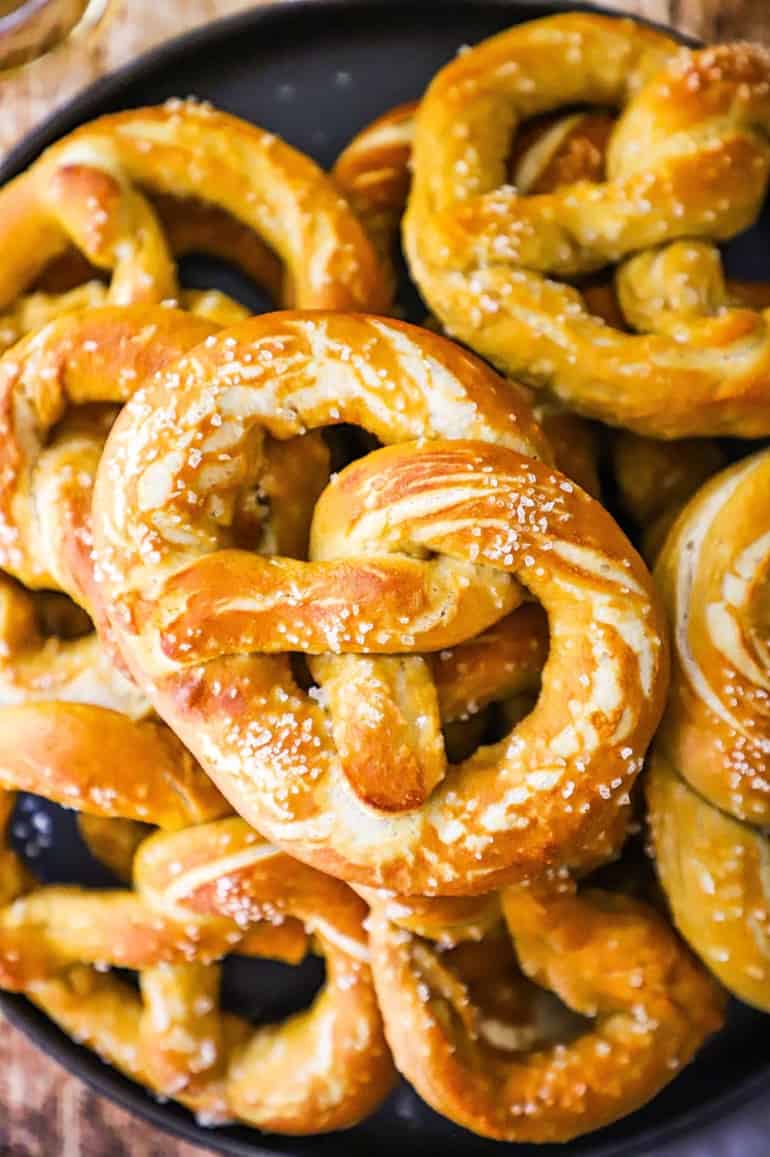 Other Party Appetizer Recipes to Try
We love serving these pretzels for family gatherings, parties, and watching the big game. They are always a huge hit. Here are some other favorite party foods that folks flip for.
Loaded Potato Skins
Classic Buffalo Wings
Fried Pickles with Homemade Ranch
Sheet Pan Nachos
Fried Mozzarella with Fresh Marinara Sauce
Tex-Mex Queso
Best-Ever Guacamole
These are all so good. But, aren't you craving this classic snack? The best!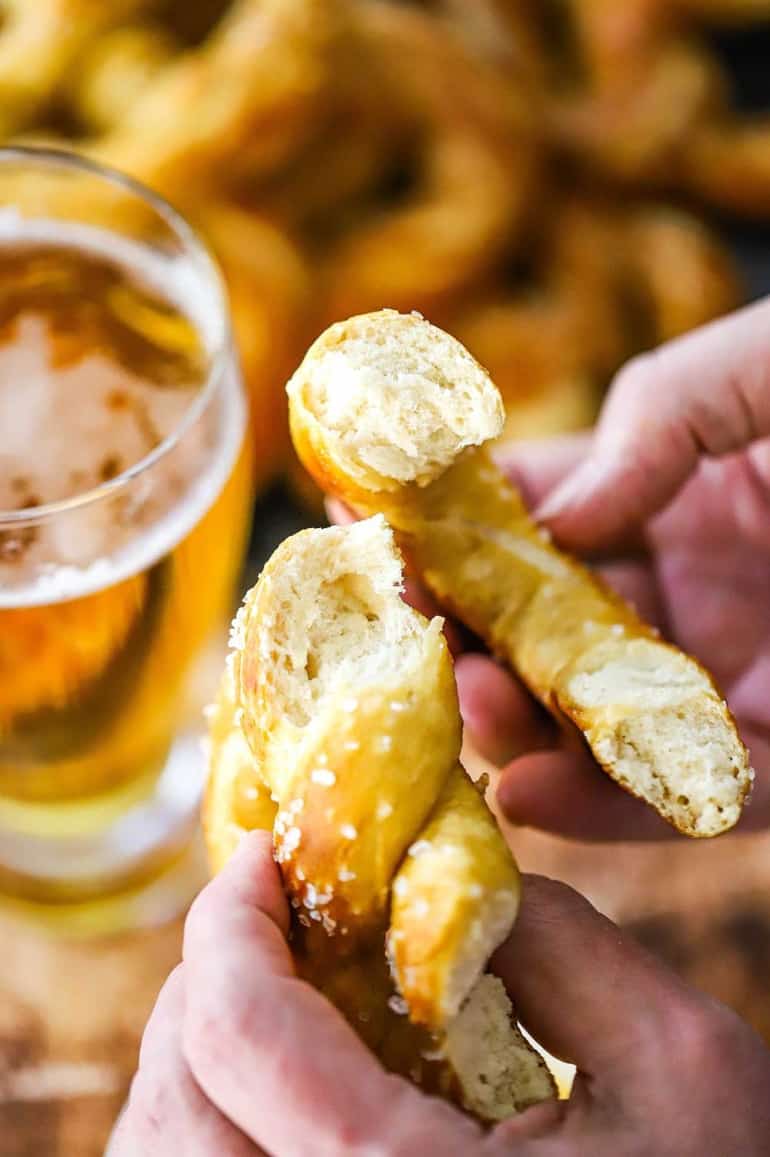 There is just something extra-special about freshly baked homemade pretzels.
Once you make them, you'll never want to purchase the store-bought variety again.
This recipe gives you that classic chewy interior with a slightly crunchy exterior with a touch of salt. Insanely good!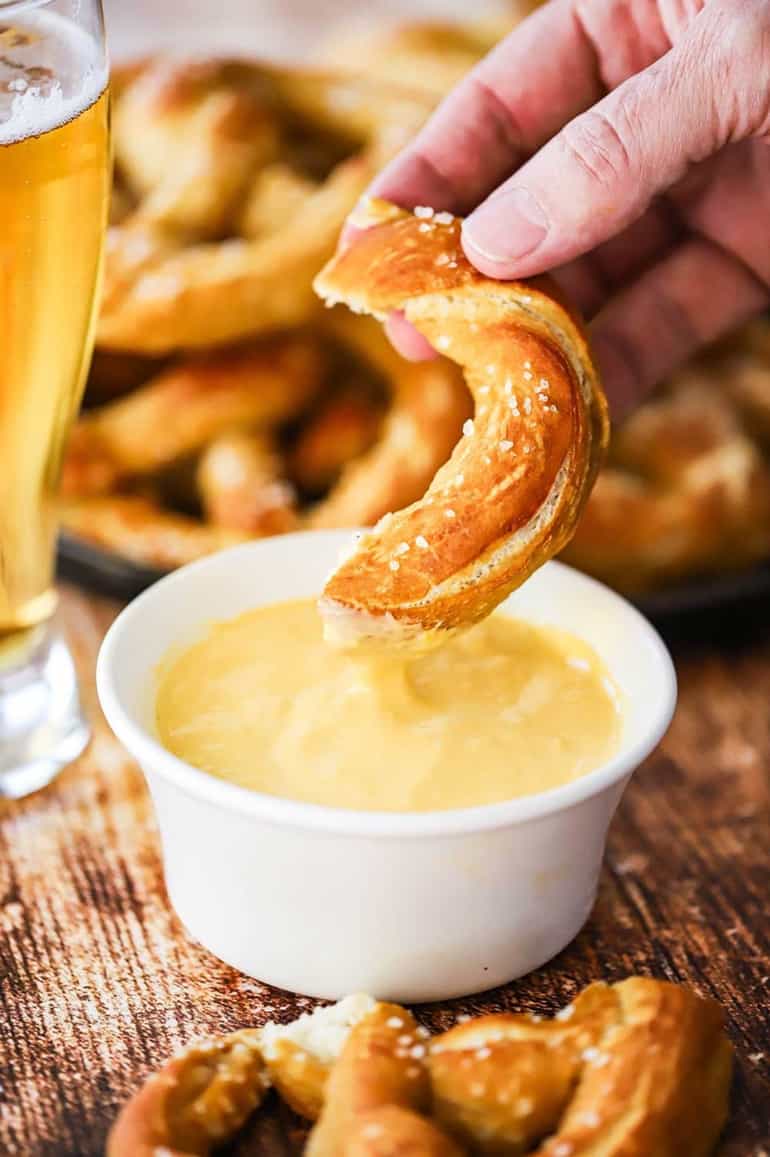 Ready to make the most delicious baked appetizer in town? Go for it!
And when you do, be sure to take a photo of them, post it on Instagram, and tag @HowToFeedaLoon and hashtag #HowToFeedaLoon!
Homemade Soft Pretzels
Homemade Soft Pretzels are seriously about as good as they get. It may seem intimidating, but if you follow this recipe closely, you will be amazed at how delicious and authentic they turn out.
Print
Pin
Rate
Servings: 12
Calories: 176kcal
Equipment
Silicone mats or parchment paper with cooking spray
Ingredients
1½ cups warm water 105° to 115°F
2¼ tsp instant yeast or ative dry, 1 package
2 tbsp barley malt syrup or dark corn syrup
½ tsp Kosher salt
2 tbsp unsalted butter melted and slightly cooled
4 cups all-purpose flour
8 cups water
½ cup baking soda
coarse sea salt for sprinkling
Instructions
In a large bowl, mix together the warm water, yeast, and malt barley syrup. Let rest for 8 to 10 minutes, until foamy.

1½ cups warm water, 2¼ tsp instant yeast, 2 tbsp barley malt syrup

Whisk in the salt and melted butter.

½ tsp Kosher salt, 2 tbsp unsalted butter

Working 1 cup at a time, use a wooden spoon to mix the flour. Keep working the flour into the wet mixture until a dough just starts to form. You may not use all 4 cups of the flour.

4 cups all-purpose flour

Turn the dough onto a floured surface and knead the dough with your hands for 6 minutes, adding more flour if the dough becomes wet to the touch.

Cover the dough with a kitchen towel and let rest for 10 minutes.

Cut the dough into 12 equal portions. Roll one piece of dough into roughly a 20-inch rope. Lift the two ends of the rope up and twist them together about halfway down. Attach the two ends of the rope to the circular end of the pretzel dough (see the photos in the blog post or the video for visual reference).

Meanwhile, bring the water to a boil in a large pot over high heat. Carefully mix in the baking soda and stir until dissolved.

½ cup baking soda, 8 cups water

Working in batches, carefully lower the pretzels into the boiling soda water and cook for no more than 25 to 30 seconds. Use a slotted spatula to remove the pretzels from the water. Briefly let the water drip off the pretzels.

Preheat oven to 400°F.

Place the partially cooked pretzels on baking sheets that have been lined with silicone mats or parchment paper sprayed with cooking spray. Sprinkle the pretzels with the coarse salt.

coarse sea salt

Bake the pretzels for 15 minutes, or until deeply golden. Switch the baking sheets and turn them around after about 10 minutes of baking.

Remove from the oven and transfer the pretzels to a baking rack. Let them rest for at least 10 minutes.
Notes
See the video near the top of the blog post for visual guidance. If you liked the video, please subscribe to our YouTube channel.
Barley malt syrup is hard to find but can easily be ordered online. It really contributes to the authentic pretzel taste. If you can't get your hands on it, dark corn syrup or even dark brown sugar will work, in a pinch.
You can prepare the pretzels all the way through boiling them up to 12 hours before baking them. Cover them tightly and keep them refrigerated until 1 hour before baking. Let them rest on the counter to lose their chill. Uncover and bake as instructed.
Leftover pretzels will keep for up to 1 week and can be frozen for up to 2 months.
Nutrition
Calories: 176kcal | Carbohydrates: 33g | Protein: 5g | Fat: 2g | Saturated Fat: 1g | Polyunsaturated Fat: 0.2g | Monounsaturated Fat: 1g | Trans Fat: 0.1g | Cholesterol: 5mg | Sodium: 1475mg | Potassium: 67mg | Fiber: 2g | Sugar: 0.1g | Vitamin A: 58IU | Vitamin C: 0.01mg | Calcium: 12mg | Iron: 2mg