If you love really fresh seafood. If you love hanging out at the best, especially during those delicious summer months. You've found the recipe for you.
This recipe comes one of our favorite chefs, Donal Link. The version has got a little kick (heat) to it, so, adjust the flavors to your own liking, but wow, does this go fast when we make it. If you live near an ocean…try and get the freshest fish possible. Hang out, and wait for fisherman coming in from the day!! Seriously, this is so fresh and so incredible.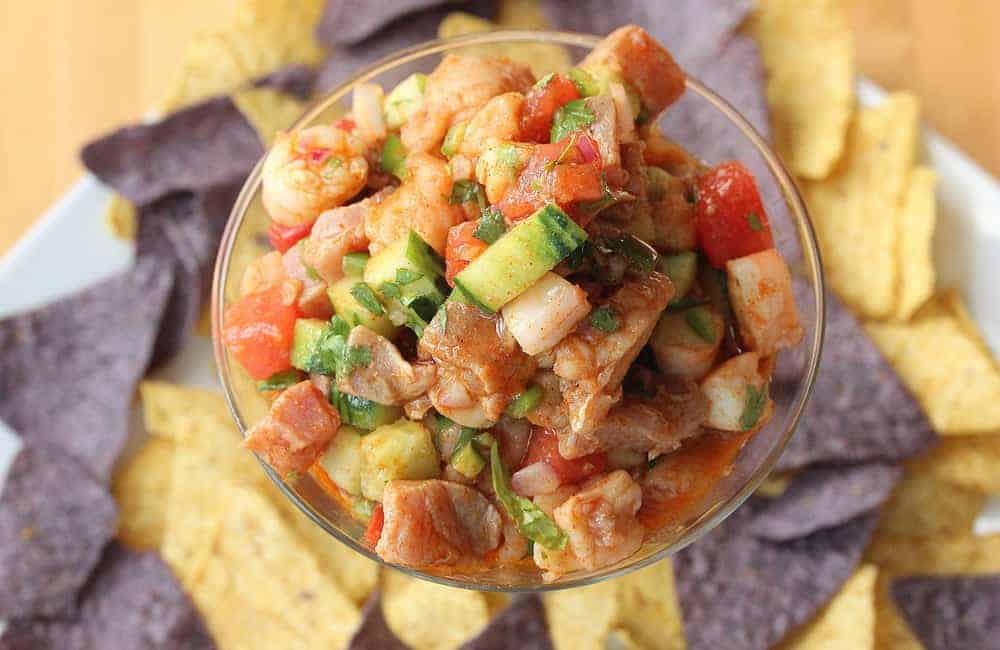 HOW TO MAKE CEVICHE
Ceviche originated in Peru, and is now found all over South and Central America! It's super popular and so delicious in Mexico and lately the United States.
Seek out the freshest fish you can, and all you need is a little citrus and acid to "cook" to fish!
We love going with sashimi tuna, which is about as fresh as fresh can be. But don't worry, if you can't get your hands on sashimi, super fresh tuna from your fish market will do just fine.
The acid from citruses, such as lemon or lime juice, literally cooks the fish enough to break down any bacteria that might be lurking in fresh fish.
Be sure to ask your fishmonger the date when the fish was caught. Frozen is okay, but fresh is always best.
HEALTH NOTE: Anyone with a compromised immune system, or the elderly or very young, should avoid consuming raw or uncooked fish or proteins.
CUTTING THE FISH PIECES
When you are cutting up the various fish, think of creating delicious bite-size pieces as you slice.
All the components of this amazing dish should be similar in size.
If you like this dish, chances are, you'll also fall in love with our Seared Black Peppercorn Tuna Steak over Spinach Salad.
Oh, but this ceviche. It's so fresh and so good.
Ready to make the best Seaside Ceviche in town? Go for it!
And when you do, be sure to take a picture, post it on Instagram, and tag @howtofeedaloon and #howtofeedaloon!
Seaside Ceviche
This Seaside Ceviche recipe from Donald Link is wonderful. I made some of my own tweaks, but he kills it with this one. This goes fast, it's that good!
Print
Pin
Rate
Servings: 8 people
Calories: 166kcal
Ingredients
FOR THE COOKED SHRIMP
½ cup Kosher salt
1 tsp cayenne
5 bay leaves
1 lemon sliced
8 large shrimp shells on
FOR EVERYTHING ELSE
8 oz bass fresh, cut into small dice
¼ cup red-wine vinegar
2 limes lime juice fresh
10 oz. tuna steak sashimi grade, is possible, cut into small dice
1 cup watermelon peeled, seeded, and diced
1 cup tomato seeded and diced
½ cup cucumber diced
¼ cup red onion finely diced
1 serrano chile stemmed, seeded, and minced
¼ cup fresh cilantro chopped
1 tbsp chili powder Ancho is really good
1 tbsp Kosher salt
¼ cup extra-virgin olive oil
Instructions
COOK THE SHRIMP
Combine the salt, cayenne, bay leaves, and lemon slices in a large pot with 1/2 gallon water and bring to a rolling boil over high heat.

Add the shrimp and cook until they are bright pink and just cooked through, about 3 minutes.

Turn off heat, and immediately add about 4 cups of ice into the pot and allow the shrimp to cool completely in the poaching liquid (this takes about 10 minutes).

Peel and dice.
PREP THE BASS
In a medium bowl, place the bass with the vinegar and lime juice. Stir well.

Cover with plastic wrap and place in the fridge for 30 minutes.
MAKE THE CEVICHE
Transfer the prepped bass to a large bowl and add all the remaining ingredients.

Adjust the seasonings, to taste.

Serve at once with tortilla chips and lime wedges.
Nutrition
Calories: 166kcal | Carbohydrates: 5g | Protein: 15g | Fat: 6g | Saturated Fat: -2g | Cholesterol: 51mg | Sodium: 8045mg | Potassium: 294mg | Fiber: 1g | Sugar: 2g | Vitamin A: 1504IU | Vitamin C: 13mg | Calcium: 30mg | Iron: 1mg