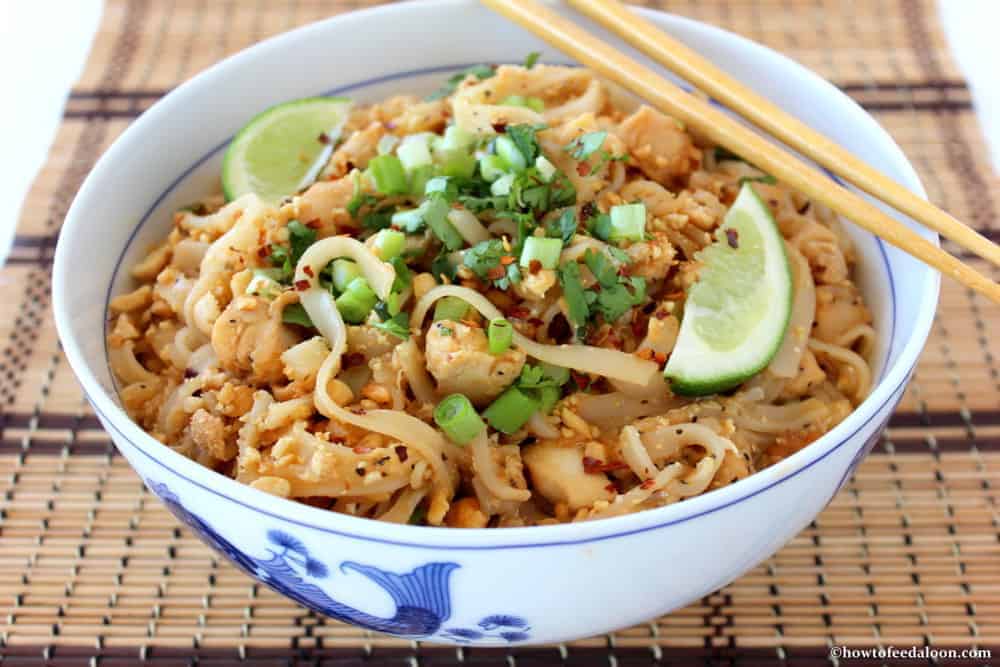 I love pad Thai with shrimp, but I thought I'd start with the classic:  Classic Chicken Pad Thai.  Find your closest Asian market, and pick up some of these seemingly hard-to-find ingredients.  You will love the cross-cultural experience..and you will LOVE the flavors they bring.  Come on…give it a try..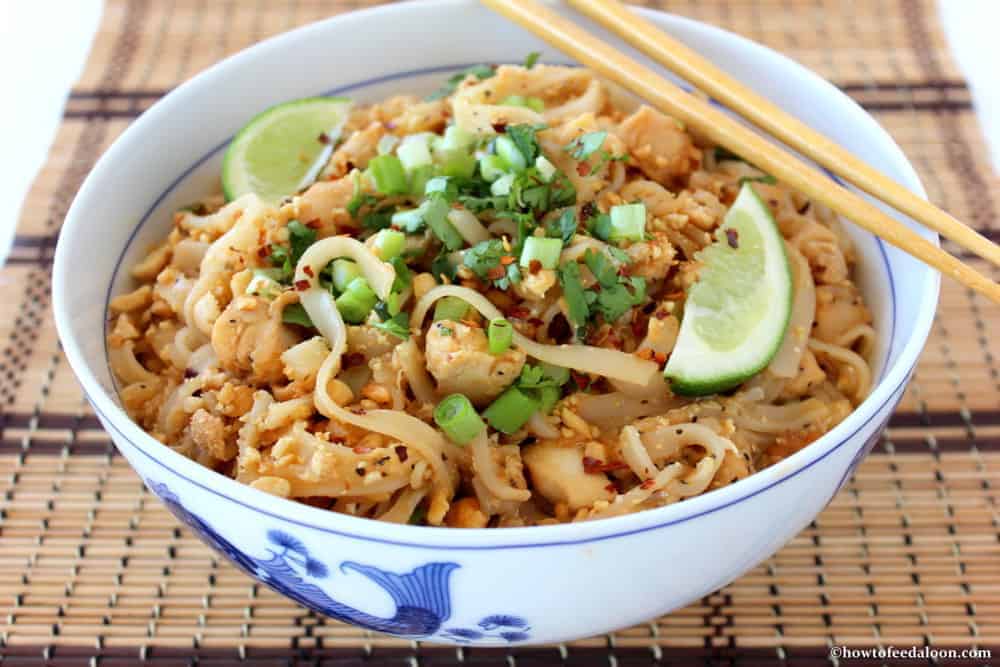 Classic Chicken Pad Thai
This is the ultimate classic chicken pad Thai
Print
Pin
Rate
Prep Time: 25 minutes
Cook Time: 15 minutes
Total Time: 40 minutes
Servings: 8 people
Calories: 396kcal
Ingredients
1 chicken breast chopped into to small bite size pieces
1 teaspoon cornstarch
2 1/2 tablespoons soy sauce
8 oz rice noodles
3 tablespoons stir-fry wok oil*
4 cloves garlic minced
1/4 cup chicken stock
3 cups fresh bean sprouts*
1/2 teaspoon white pepper
3 green onions sliced
1/4 cup cilantro chopped
1/3 cup dried coriander seeds
1/2 cup roasted peanuts chopped in a grinder, or food prosecutor, or a big ole' hatchet.
1 lime - halved for garish.
FOR THE PAD THAI SAUCE
Pad Thai Sauce:
1 tablespoon tamarind paste*
1/4 cup hot water
2 tablespoons fish sauce*
3 tablespoons palm sugar* or brown sugar
*found in the Asian section of your best-in-class market, or an Asian market
Instructions
Slice the chicken into small pieces and put in a bowl.

Dissolve the cornstarch in the soy sauce and pour over the chicken. Stir well. Set aside.

To make the Pad Thai sauce, dissolve the tamarind paste in the hot water, then add all other sauce ingredients, stirring to combine and dissolve the sugar.

Separately, soak the noodles in a pot of pre-boiled water until they are nice and soft.

Drain the noodles, and then rinse with cold water.

Heat your wok over medium-high heat.

Add 2 tablespoon of oil plus the garlic. Stir fry until fragrant.

Add the marinated chicken and chicken stock and stir-fry for about 5 minutes, or until chicken is cooked through.

Add the rice noodles to the wok. plus the Pad Thai sauce.

Using a couple of utensils, or a nice pair of tongs, quickly stir-fry the noodles using a tossing motion (like tossing a salad).

Stir-fry 2 minutes.

Mix in the bean sprouts and white pepper,

Continue stir-frying for 2 minutes.

Serve immediately with the chopped peanuts, sliced green onions, coriander, chopped cilantro. Mix these in, and leave some for garnish on top.

Serve with sliced lime.
Nutrition
Calories: 396kcal