Thai food is so deep in flavor and steeped in tradition.
And this dish is about as classic as they come. Of course, we also love our Shrimp Pad Thai, but we love chicken, too. You may need to make a run to your local Asian market to grab an ingredient, or two, or just order them online. And this dish comes together quickly!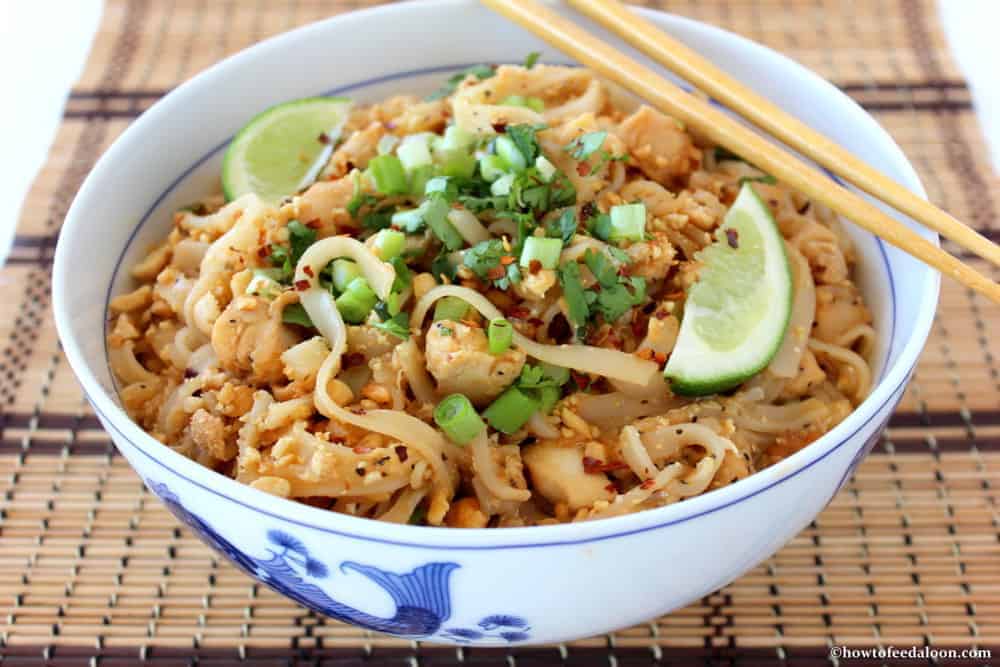 HOW TO MAKE CLASSIC CHICKEN PAD THAI
Of course, it all starts with chicken. We use a boneless, skinless chicken breast that we have cut into bite-sized pieces.
We use our wok to cook the chicken pieces until just starting to brown.
The pieces won't be completely cooked, but will finish cooking at the dish progresses.
Next, we add in our Thai wide noodles.
Before you add the noodles, you'll need to soak them for 2o to 30 minutes in warm water to make them soft. Double-check package instructions for exact soaking time.
EXPERT TIP: Thai wide noodles can be found nowadays in the Asian section of most well-stocked supermarkets. You could also substitute linguine for the noodles, but the taste and texture will not exactly authentic, but still tasty!
MAKING THE PAD THAI SAUCE
Tamarind paste is a key ingredient in all Pad Thai dishes and can always be found in Asian markets.
This is one ingredient you shouldn't skip.
If you don't have access to an Asian market, you can easily order it online.
Next, all the ingredients stir-fry together over very high heat, and then you're all set!
Garnish with crushed peanuts, fresh lime, and cilantro.
Chicken Pad Thai perfection!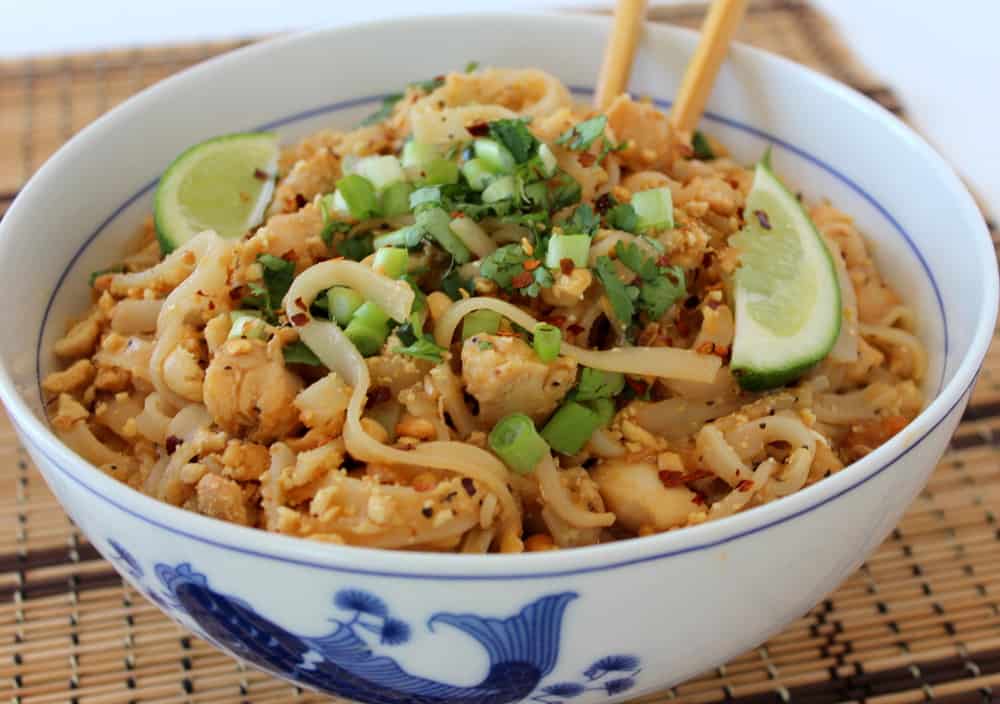 Ready to make the best Chicken Pad Thai in town? Go for it!
And when you do, be sure to take a photo, post it on Instagram, and tag @howtofeedaloon and hashtag #howtofeedaloon!
Classic Chicken Pad Thai
This is the ultimate Classic Chicken Pad Thai! So satisfying and real Thai flavor. If you can't find any of the ingredients in your local markets, they can easily be ordered online.
Print
Pin
Rate
Servings: 8 people
Calories: 294kcal
Equipment
Wok, or large sturdy skillet/pan
Ingredients
1 chicken breast chopped into to small bite size pieces
1 tsp cornstarch
2½ tbsp soy sauce
8 oz rice noodles
3 tbsp oil stir-fry wok oil
4 cloves garlic minced
¼ cup chicken stock
3 cups bean sprouts
½ tsp white pepper
3 green onions sliced
¼ cup cilantro chopped
⅓ cup coriander seeds dried
½ cup roasted peanuts chopped in a grinder, or food prosecutor, or with a knife
1 lime cut into wedges, for garish
FOR THE PAD THAI SAUCE
1 tbsp tamarind paste
¼ cup hot water
2 tbsp fish sauce
3 tbsp brown sugar
Instructions
Slice the chicken into small pieces and put in a bowl.

Dissolve the cornstarch in the soy sauce and pour over the chicken. Stir well. Set aside.

To make the Pad Thai sauce, dissolve the tamarind paste in the hot water, then add all other sauce ingredients, stirring to combine and dissolve the sugar.

Separately, soak the noodles in a pot of pre-boiled water until they are nice and soft.

Drain the noodles, and then rinse with cold water.

Heat your wok over medium-high heat.

Add 2 tablespoon of oil plus the garlic. Stir fry until fragrant.

Add the marinated chicken and chicken stock and stir-fry for 5 minutes.

Add the rice noodles to the wok plus the Pad Thai sauce.

Using a couple of utensils, or a pair of tongs, quickly stir-fry the noodles using a tossing motion (like tossing a salad).

Stir-fry 2 minutes.

Mix in the bean sprouts and white pepper,

Continue stir-frying for 2 minutes.

Serve immediately with the chopped peanuts, sliced green onions, coriander, chopped cilantro. Mix these in, and leave some for garnish on top.

Serve with sliced lime.
Nutrition
Calories: 294kcal | Carbohydrates: 38g | Protein: 12g | Fat: 11g | Saturated Fat: 1g | Cholesterol: 18mg | Sodium: 809mg | Potassium: 362mg | Fiber: 4g | Sugar: 8g | Vitamin A: 95IU | Vitamin C: 10mg | Calcium: 60mg | Iron: 2mg