Thai Beef with Red Curry is literally exploding with flavor. The slow simmer on the beef makes it over-the-top tender.
And the combination of a little heat with a little sweet…can't be beaten. (Try singing that…it makes it even better).
This dish will warm you to the bone.
HOW TO MAKE THAI BEEF WITH RED CURRY
We love to start with a 2 to 2 1/2 lb cut of beef, such as chuck or round.
The meat is good and marbled and will become fork-tender as it slowly simmers in the fragrant sauce.
Mmmmmm…beef.
Thai red curry paste is now available in the Asian section of most major supermarkets.
It is super flavorful and adds ease in preparing this dish. You see (and smell) the deep delicious red curry as it simmers with the veggies.
If you can't find it in your local market, seek out an Asian food market, or you can buy it online here.
Coconut milk is very common in Thai dishes, as it adds a richness and balance that is truly something special.
Be sure to get unsweetened coconut milk.
Creamy and just so delicious.
Bamboo shoots can also be found in the Asian section of most supermarkets nowadays.
They add a wonderful texture to this incredible Thai Beef with Red Curry.
They are the perfect match for the super tender beef.
We just love bamboo shoots in our Asian dishes.
And of course you've got to go with Jasmine rice.
This is the perfect rice to go with this incredible dish.
Simply follow the instructions on the package, and you're good to go.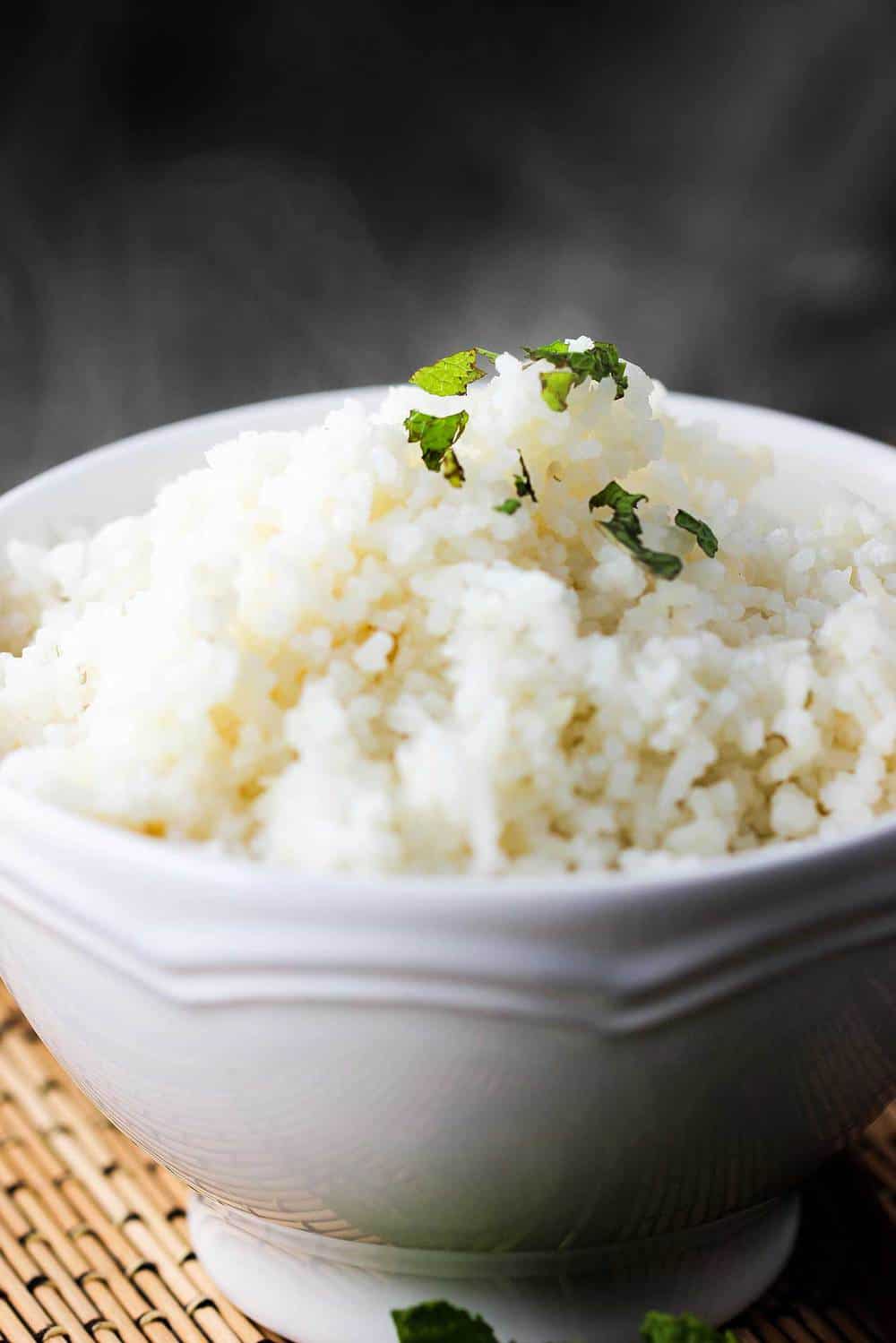 You'll need a little time (well, a few hours), to cook this nice and slow.
But trust us, it's well worth the wait.
And it's even better the next day after the flavors continue to meld. Oh…just look at this Thai Beef with Red Curry:
OTHER THAI RECIPES TO TRY
Easy Shrimp Pad Thai
Grilled Thai Wings
Thai Beef Salad
Classic Chicken Pad Thai
Thai Green Curry Chicken
But in the meantime, go and make this amazing Thai Beef with Red Curry!
Thai Beef with Red Curry
This Thai Beef with Red Curry is so comforting and warms you to the bone. A little bit of heat, a little bit of sweet, and HUGE amount of tender texture and incredible flavor. Slow cooked to perfection.
Print
Pin
Rate
Servings: 8 people
Calories: 438kcal
Ingredients
2½ lb beef lean chuck or round, cut into bite-size pieces
Kosher salt and freshly ground black pepper
3 tbsp olive oil
1 yellow onion chopped
4 cloves garlic minced
¼ cup Thai red curry paste
2 13 fl. oz. cans unsweetened coconut milk
2 tbsp fish sauce
2 tbsp fresh lime juice
2 tbsp dark brown sugar
2 8 oz. cans bamboo shoots drained
3 tbsp fresh mint chopped
Cooked Jasmine rice for serving
Instructions
Sprinkle the beef with 1 tsp salt and pepper, each, all over.

Heat the oil in a large skillet, or Dutch oven, over medium-high heat.

Working in batches (if necessary), sauté the beef until browned on all sides, about 5 to 6 minutes. Set aside.

Add the onion and garlic to the pan and sauté over medium-high heat until soft, about 2 minutes.

Add the curry paste and stir until fragrant and coats the onion and garlic, about 1 minute.

Add the coconut milk and stir with a wooden spoon, scraping up the browned bits on the bottom of the pan.

Stir in the fish sauce, lime juice and brown sugar and bring to a boil.

Place the beef into a large pot, or Dutch oven, and add the curry / coconut milk mixture.

Partially cover and cook over low heat for about 2 hours, until the meat is tender and the sauce has thickened somewhat.

15 minutes before the dish is done cooking, stir in the bamboo shoots.

Spoon over cooked Jasmine rice and garnish with mint.
Nutrition
Calories: 438kcal | Carbohydrates: 6g | Protein: 25g | Fat: 25g | Saturated Fat: 8g | Cholesterol: 101mg | Sodium: 451mg | Potassium: 432mg | Fiber: 1g | Sugar: 4g | Vitamin A: 1244IU | Vitamin C: 3mg | Calcium: 51mg | Iron: 3mg