We recently re-visited this recipe. We hadn't made it in years. Wesley declared this is now his favorite beef dish. That's saying something.
There is something so comforting about the combination of curry and coconut milk that is just incredible. We feel that way about Classic Shrimp Curry. With this recipe, you can do it on the stove, in the oven, or in your slow cooker. All deliver melt-in-your-mouth chunks of flavorful beef enveloped in an unforgettable sauce.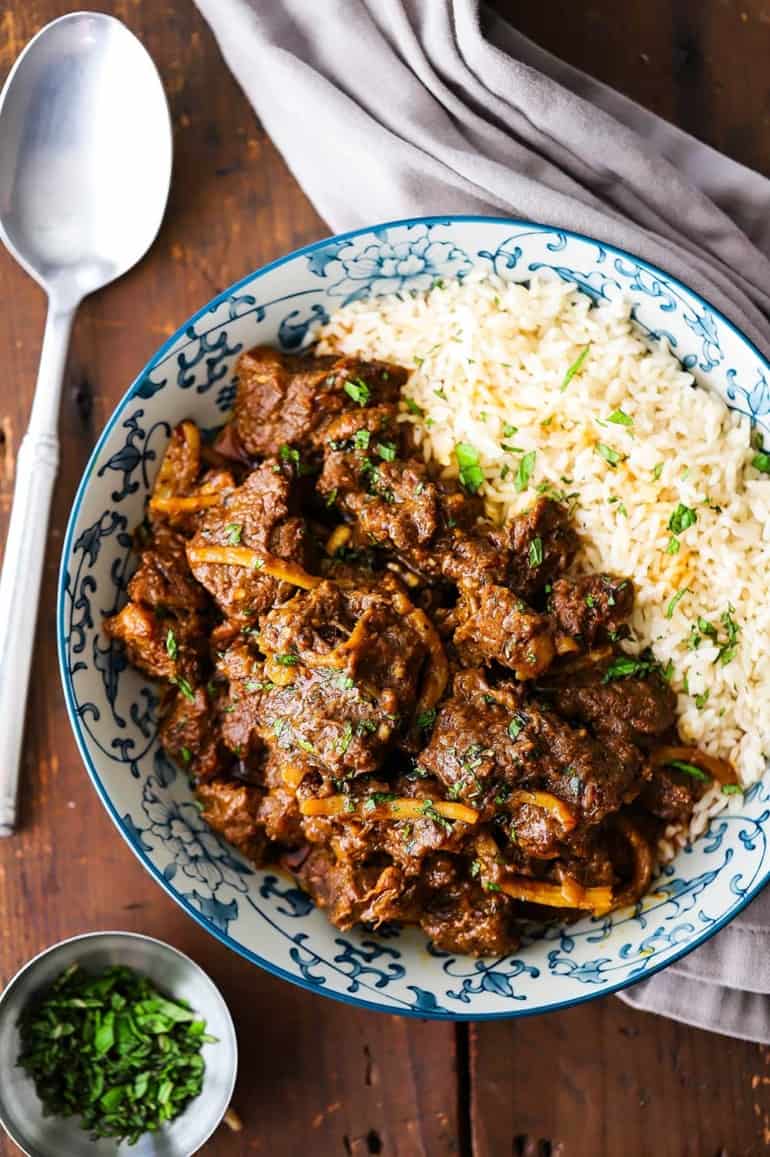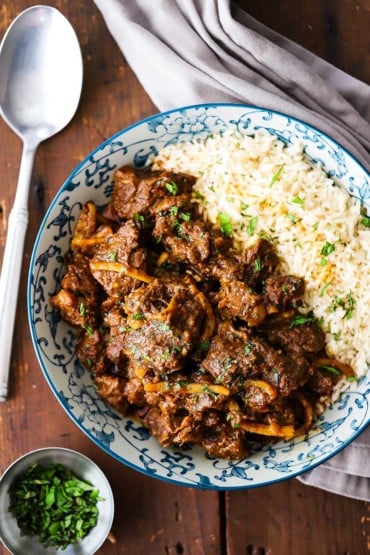 How to Make Thai Beef with Red Curry Sauce
The depth of flavor in this dish is truly amazing.
But, you will be amazed at how easy it is to prepare!
NOTE: If you liked this video, please subscribe to our YouTube channel. Remember to click the little 'bell' icon so you'll never miss a new video! Thank you!
The Ingredients You Will Need
All of the ingredients in this incredible Thai dish can be found, nowadays, in the Asian section of most well-stocked supermarkets. If you don't see them, you can easily order them online (or, visit your local Asian market!).
Here's What You'll Need to Have on Hand
Beef – Go with an inexpensive roast, such as chuck. It will get super tender as it slowly cooks.
Seasoning – Salt and pepper is what you need for the beef.
Oil – Olive oil or extra-virgin olive oil is best.
Onion – Finely chopped.
Cloves – Fresh, and finely minced.
Thai red curry paste – Found in the Asian section of many supermarkets, or online.
Unsweetened coconut milk – Be sure to get coconut milk and not coconut cream. Found in the Asian section of your market, or online.
Fish sauce – Found in the Asian section of your market or online. If you can't get your hands on fish sauce, you can substitute soy sauce.
Lime juice – Fresh is best, but, bottled will work just fine.
Brown sugar – Light or dark, but we prefer dark.
Bamboo shoots – Found in the Asian section of your market, or online. We like to cut the shoot into strips with a knife. Just makes a nicer presentation and easier to eat.
Mint – Fresh is best. Don't skip this. It's a wonderful match to the savory sauce.
Jasmine rice – See recipe in NOTES of recipe card. If you don't have Jasmine, go with your favorite steamed rice.
EXPERT TIP: Sear the chunks of meat in the oil until just browned all over. It won't be cooked through, but will finish cooking during the slow simmer. After removing the seared meat, you'll want to safely remove all but about 1 to 2 tbsps of the rendered grease from the beef.
Tips for Perfect Thai Beef With Red Curry Sauce
Season the Beef – You won't need to add any additional salt or pepper to the sauce, because the fish sauce is salty and the curry paste has plenty of pepper flavor. However, you want to the beef to be nicely seasoned. Don't skimp when seasoning it with salt and pepper.
Stir Frequently – The coconut milk, when heated, will start to separate. You'll see oil. This is normal, and tastes delicious (it's not like grease from the beef). However, if you stir frequently, the sauce will stay mostly emulsified. Adding additional coconut cream about 15 minutes before serving makes the sauce nice and creamy.
Don't Forget the Mint – Fresh mint adds a brightness to the finished dish that is wonderful. You can also stir the chopped mint into the cooked Jasmine rice.
EXPERT TIP: As mentioned, it is normal for the coconut milk to start to separate after it's been cooking for a while. It may seem like there is excessive grease, but this okay. Stir frequently to keep the sauce combined and emulsified. The sauce is flavored wonderfully, and doesn't taste greasy, at all.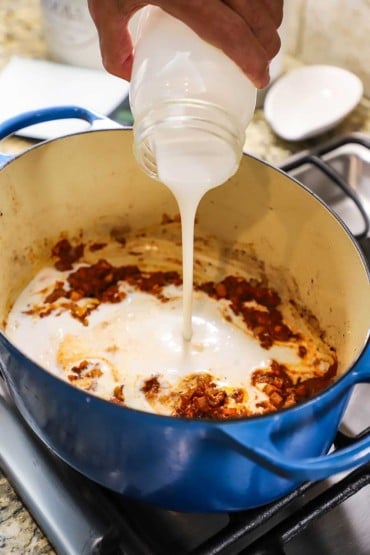 Three Ways to Slow-Cook Thai Beef
We love the ease of slow simmering the beef and sauce on the stove for about 90 to 105 minutes. Just be sure to keep the heat very low, and stir often!
To prepare the dish in your slow-cooker, simply sear the beef with the onions and garlic, and then transfer to your slow cooker with the other ingredients (except the mint), and cook on LOW for 6 hours, or HIGH for 3 hours. Add the bamboo shoots about 10 minutes before serving!
For cooking in the oven, prepare the dish as written, but instead of simmering on the stove, place in an oven preheated to 325°F, covered, for 3 hours, stirring every now and then.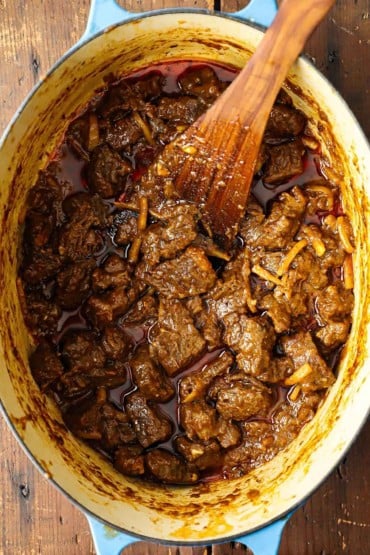 Other Thai Recipes To Try
Thai cuisine is deep in tradition and even deeper in flavor. So often with that classic mix of a little sweet and a little heat. Add more heat, if desired! Here are a handful of our favorites!
Classic Chicken Pad Thai
Easy Shrimp Pad Thai
Thai Beef Salad
Classic Chicken Pad Thai
Thai Green Curry Chicken
These are all amazing, but isn't this Thai dish calling your name right about now?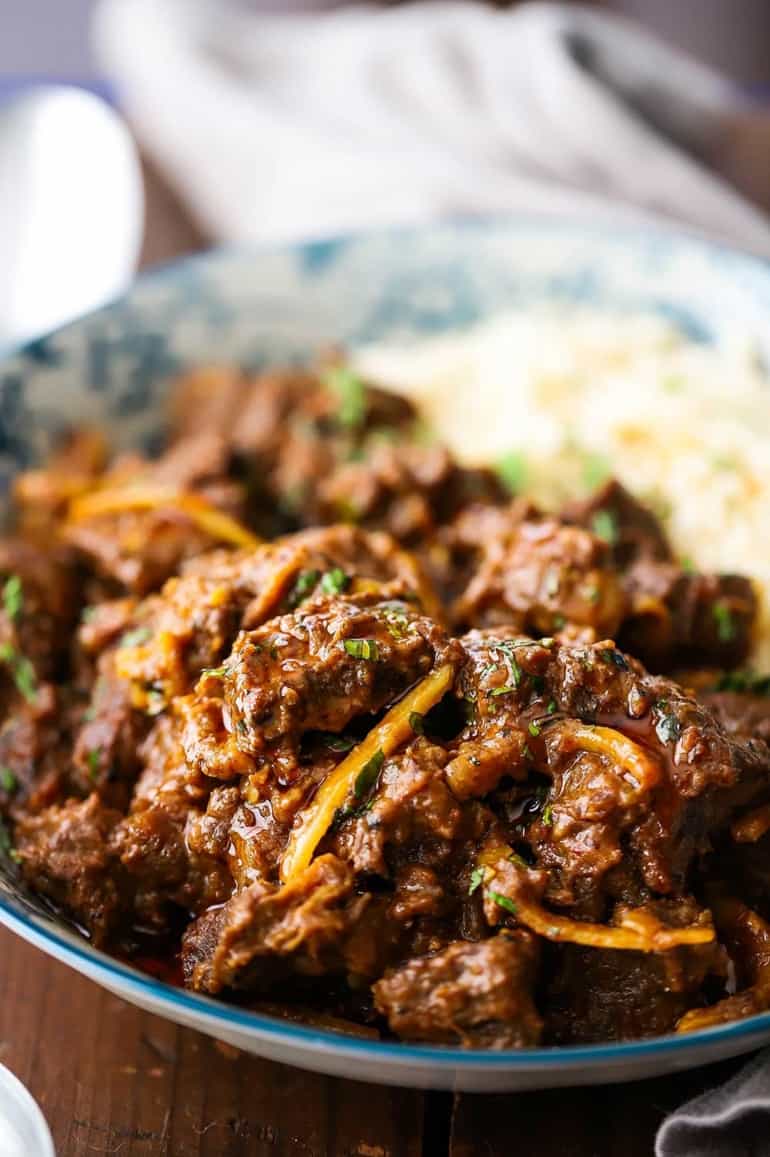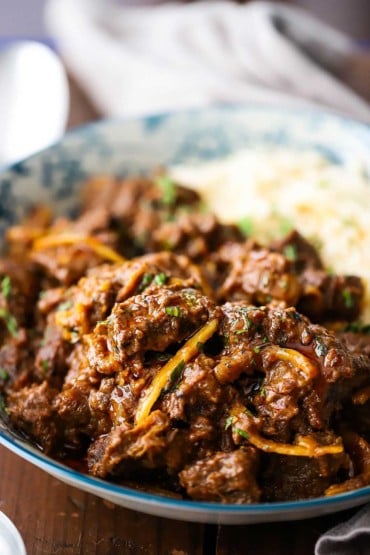 This dish is truly comfort food at its very best.
Think of it kind of like a beef stew, over rice, with an Asian twist.
Every time we make this for guests, that simply can't get over how delicious it is! And it's easy enough to prepare for a weeknight dinner or a weekend get together!
Each and every bite is a melt-in-your-mouth taste sensation that you'll want to make time and time again!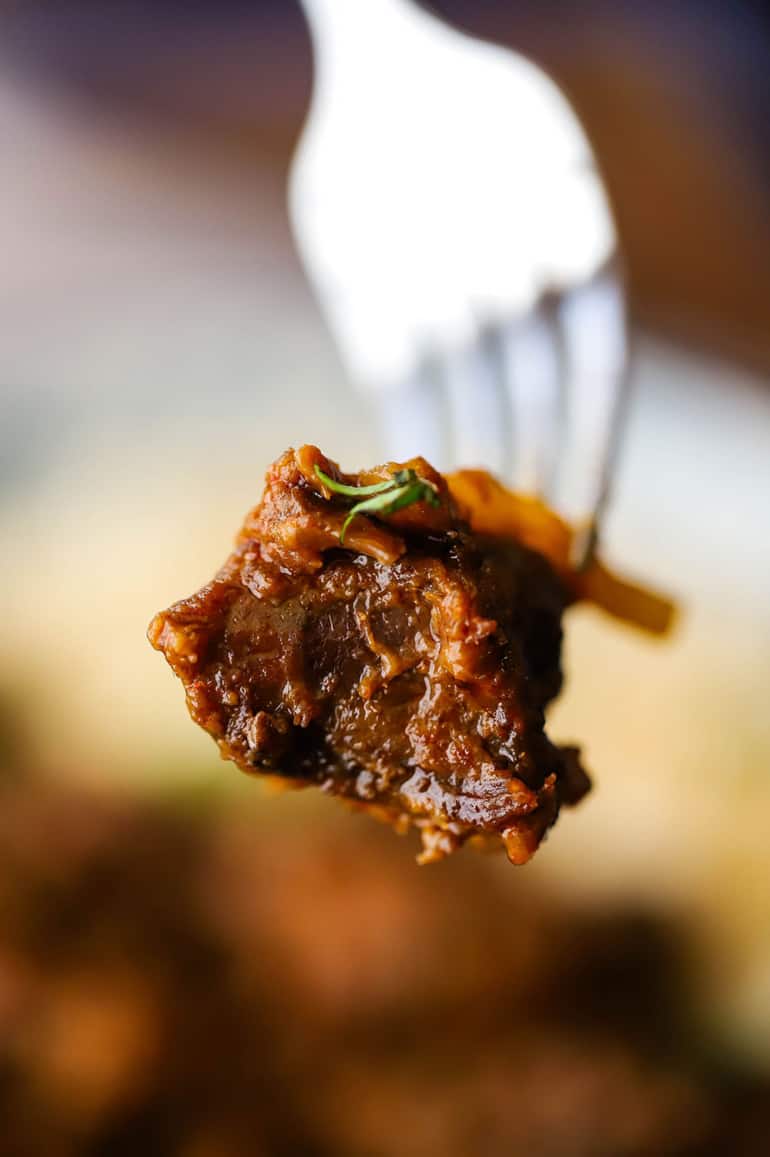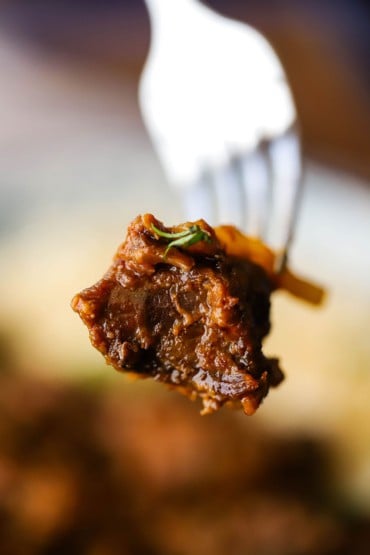 Ready to make the best Thai beef dish in town? Go for it!
And when you do, be sure to take a photo of it, post it on Instagram, and tag @HowToFeedaLoon and hashtag #HowToFeedaLoon!
Thai Beef with Red Curry
This Thai Beef with Red Curry is so comforting and warms you to the bone. A little bit of heat, a little bit of sweet, and HUGE amount of tender texture and incredible flavor. Slow cooked to perfection.
Print
Pin
Rate
Servings: 4 people
Calories: 728kcal
Equipment
Large pot with lid or slow-cooker
Ingredients
2½ lb beef lean chuck or round, cut into bite-size pieces
Kosher salt and freshly ground black pepper
2 tbsp olive oil
1 yellow onion chopped
4 cloves garlic minced
¼ cup Thai red curry paste
2 13 oz cans unsweetened coconut milk
2 tbsp fish sauce
2 tbsp fresh lime juice
2 tbsp dark brown sugar
1 8 oz can bamboo shoots drained, cut into thin strips, if desired
3 tbsp fresh mint chopped
Cooked Jasmine rice for serving
Instructions
Sprinkle the beef with 1 tsp salt and pepper, each, all over.

2½ lb beef, Kosher salt and freshly ground black pepper

Heat the oil in a large skillet, or Dutch oven, over medium-high heat.

2 tbsp olive oil

Working in batches (if necessary), sauté the beef until browned on all sides, about 5 to 6 minutes. Use a slotted spoon to remove the seared (but not fully cooked) beef to a platter. Set aside.

Remove all but about 1 to 2 tbsp of the oil from the pot. Add the onion and sauté over medium-high heat until soft, about 4 minutes. Add the garlic and sauté for another 1 minute.

1 yellow onion, 4 cloves garlic

Add the curry paste and stir until fragrant and coats the onion and garlic, about 1 minute.

¼ cup Thai red curry paste

Add 1½ cans of the coconut milk and stir with a wooden spoon, scraping up the browned bits on the bottom of the pan.

2 13 oz cans unsweetened coconut milk

Stir in the fish sauce, lime juice and brown sugar and bring to a boil.

2 tbsp fish sauce, 2 tbsp fresh lime juice, 2 tbsp dark brown sugar

Place the beef into a large pot, or Dutch oven, and add the curry / coconut milk mixture.

Partially cover and cook over low heat for 90 minutes, stirring frequently. until the meat is tender and the sauce has thickened somewhat.

15 minutes before the dish is done cooking, stir in the bamboo shoots and the remaining half can of coconut milk.

1 8 oz can bamboo shoots

Spoon over cooked Jasmine rice and garnish with mint.

3 tbsp fresh mint, Cooked Jasmine rice
Notes
See the video near the top of the blog post for visual guidance. If you liked the video, please subscribe to our YouTube channel.
As the coconut milk cooks, it is normal to separate and leave pools of oil. This is coconut oil and is not greasy tasting like grease from beef. Stirring frequently helps to keep the sauce together. However, the coconut oil is flavored with the curry paste and is delicious.
Leftovers are delicious and will keep in the fridge for up to 5 days. Reheat on the stove over medium heat, or in the microwave in 1-minute increments until heated through.
How to Cook Jasmine Rice:
Add 1 cup and 1¼ cups water with 1/4 tsp salt into a medium saucepan.
Bring to a boil. Cover and immediately lower the heat to low.
Simmer for about 12 minutes. Turn off the heat and let rest, covered, for 10 minutes.
Remove the lid and fluff with a fork. Serve at once.
Nutrition
Calories: 728kcal | Carbohydrates: 12g | Protein: 50g | Fat: 30g | Saturated Fat: 14g | Polyunsaturated Fat: 2g | Monounsaturated Fat: 14g | Trans Fat: 3g | Cholesterol: 201mg | Sodium: 901mg | Potassium: 874mg | Fiber: 1g | Sugar: 8g | Vitamin A: 2490IU | Vitamin C: 5mg | Calcium: 102mg | Iron: 6mg
POST UPDATE: This recipe was originally published in October 2015, but was updated with improved tweaks to the recipe with new tips and photography and a fabulous new video in August 2023.