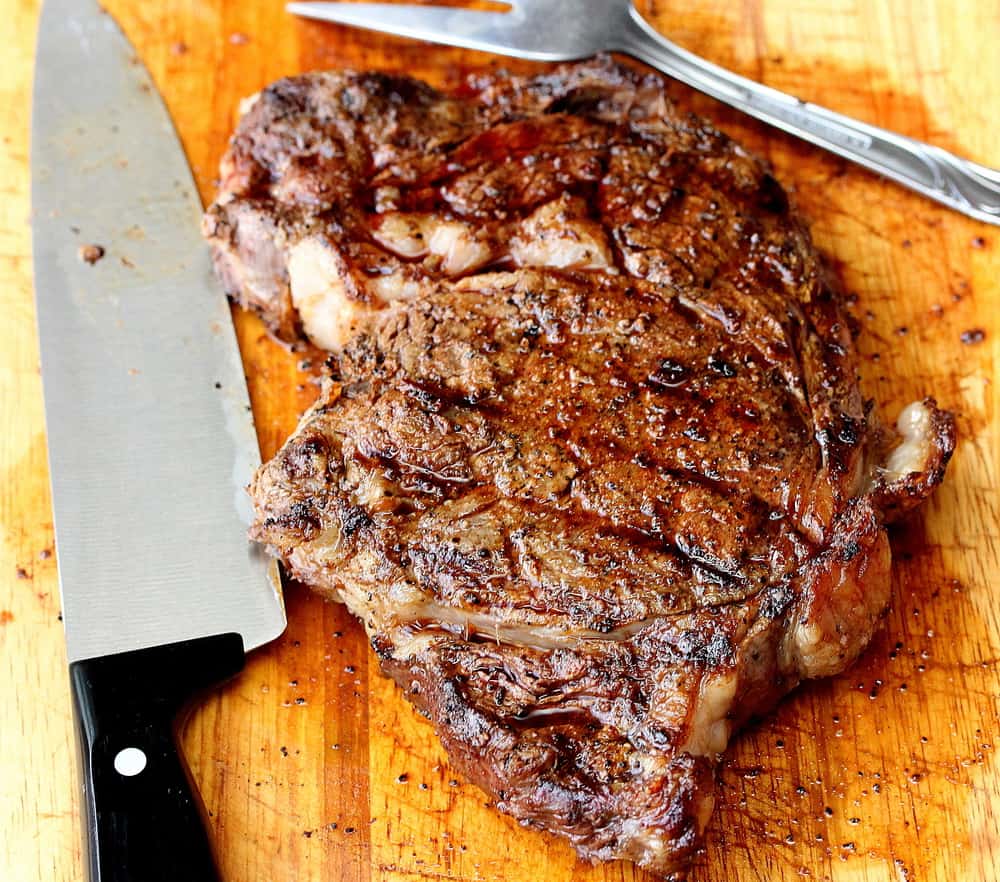 The Loon could only think of one word when I made him Grilled Cowboy Ribeye Steaks…YEE-HAW!!  These are so good.  Typically, Cowboy Ribeye steaks are grilled up with the bone-in variety, but I had these two boneless cuts sitting in the fridge, and man, or man…perfect.  They were the perfect night for steak, grilled to perfection out on the Weber.  We like ours to a nice medium rare (130 F)…cook the steaks to about 125 F (or 135 F, for medium), and then remove them from the grill and let rest for about 5 minutes, allowing the juices to distribute.  The meat will continue to cook, up about another 5 degrees.  Mmmm….incredible.   100% Loon Approve!
Grilled Cowboy Ribeye Steaks
These Grilled Cowboy Ribeye Steaks are amazing. The rub, which includes ground coffee bean, put these babies over the top. Nothing short of incredible.
Author: Kris Longwell
Recipe type: Steak
Cuisine: American
Serves: 4
Ingredients
1 tablespoon of coarse Kosher salt
1 teaspoon smoked paprika
1 teaspoon granulated garlic powder
1 teaspoon freshly ground black pepper
1 teaspoon ground thyme
1 teaspoon finely ground coffee beans
4 1&1/2-inch ribeye steaks (12 - 14 ounces, each)
Instructions
Let steaks sit at room temp for 1 hours.
Mix first six ingredients in small bowl.
Sprinkle the spice rub over the steaks, pressing with your fingers to adhere to the meat.
Heat grill to medium-high heat.
Grill steaks, about 6 minutes per side. Use an instant-read thermometer: 125 F for medium rare, 135 F for medium.
Remove steaks from grill and let rest for 5 minutes.
Serve and enjoy!