There is something just so satisfying about a beautiful large salad. And this salad in particular is about as impressive as they come.
And, of course, many of the components of this classic salad can be made up to 1 day in advance. It's easy to serve family-style or tossed and served individually. Serve with the Best-Ever Chicken Salad, Classic Gazpacho, and Spinach Spanakopita for a lunch to remember!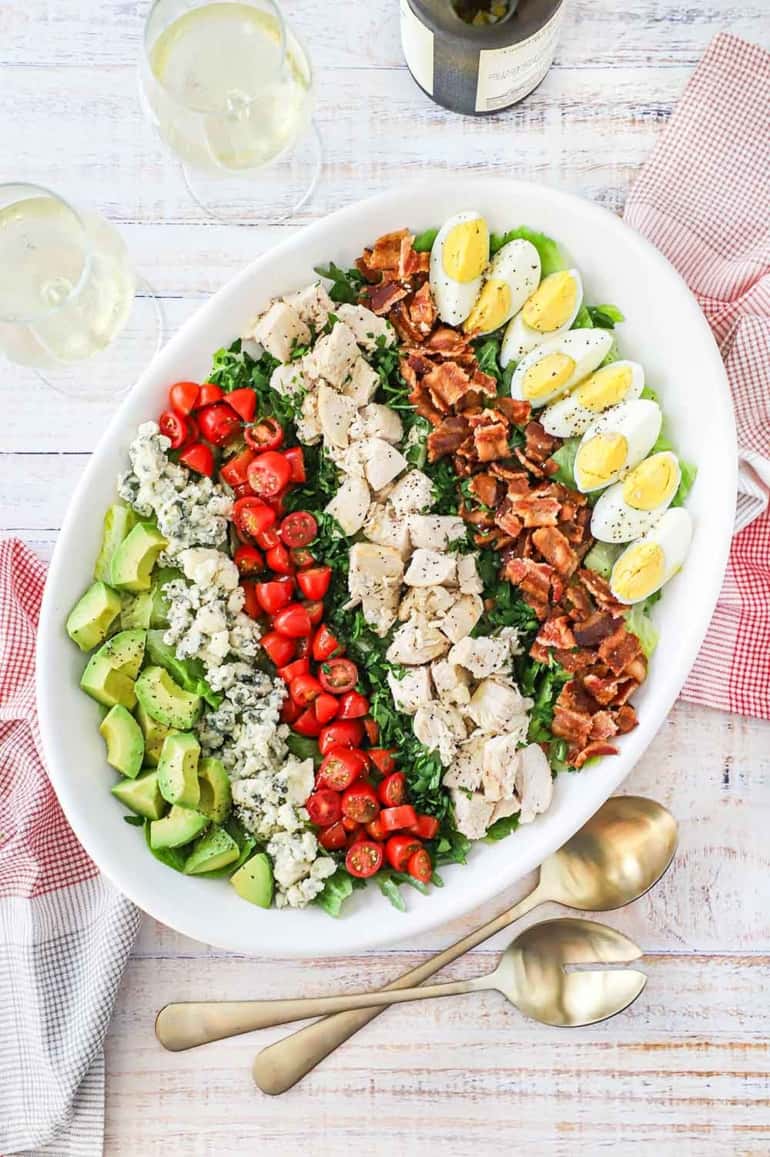 How To Make Classic Cobb Salad
As you can see, there are quite a few components to this iconic salad. Fortunately, so many of these components can be made up to a day in advance.
By the way, the history of this amazing salad is fascinating, and it has stood the test of time!
NOTE: If you liked this video, please subscribe to our YouTube Channel. Remember to click the little 'bell' icon so you'll never miss a new video. Thank you!
The Ingredients You Will Need
There are substitutions you make when putting this salad together. But, the following ingredients are classic components of this beloved salad.
For the French Vinaigrette
Vinegar – Red wine is classic and adds just the right amount of acidity.
Worcestershire sauce – Adds even more depth of flavor.
Dijon – Regula is great, but for a much deeper flavor profile, try stone-ground or Country-style.
Garlic – Minced.
Blue cheese – Roquefort is best, smashed into a paste.
Seasonings – Salt and pepper.
Oil – Good quality extra virgin olive oil is best.
For the Salad
Lettuce – For the bed of the salad, we used a combination of Romaine and watercress (or arugula).
Hard-boiled eggs – See EXPERT TIP below for how to make perfectly hard-boiled eggs, every single time. This can be done 24 hours in advance (don't peel them and keep them in the fridge).
Bacon – Cooked and crumbled, this can be done hours in advance.
Herbs – Chopped parsley and chives are perfect.
Chicken – Cooked and cubed, or cooked and cubed turkey. This can be done 24 hours in advance.
Tomatoes – Chopped. We love cutting small grape or cherry tomatoes up. Easy and delicious.
Avocados – Cut into chunks and tossed with lemon or lime juice (to keep it from turning brown).
Blue cheese – Roquefort is great, but Danish or Maytag are good choices as well. Be sure to crumble from a block for the best taste and texture.
EXPERT TIP: Be sure to resist the temptation to overdress the salad. We recommend placing the Romaine and watercress (or arugula) in a large bowl and then toss with several tablespoons of the dressing. You'll need to have more dressing to drizzle over the top of the assembled salad and then to pass tableside, too. A little of this dressing goes a long way (but in a good way).
Tips for a Perfect Classic Cobb Salad
Use Crisp Lettuce – The base of a Cobb salad is typically made with crisp lettuce, such as romaine combined with watercress or arugula. Clean the lettuce and then allow it to crisp up in the refrigerator as you prepare the toppings to the salad.
Make the French Vinaigrette from Scratch – A classic Cobb salad is typically dressed with a French vinaigrette, which is made with Dijon mustard, red wine vinegar, and olive oil. To make the vinaigrette, place all of the ingredients in a jar with a tight-fitting lid. Shake vigorously until emulsified. You may need to shake again just before serving.

Use Top-Notch Roquefort Cheese, if Possible – Roquefort cheese is a classic ingredient in a Cobb salad, adding a tangy and salty flavor. Be sure to use top-notch Roquefort cheese for the best flavor and texture. If possible, don't use pre-crumbled blue cheese. It is not as creamy as block cheese. If you can't get Roquefort, look for Danish or Maytag.
EXPERT TIP: To make perfect hard-boiled eggs, simply place the whole eggs in a medium-sized saucepan. Add enough cool water to cover the eggs by about 1 to 2 inches. Bring the water to a boil over high heat. Immediately turn the heat off, cover the pan, and the let the eggs rest for 20 minutes. Remove with a slotted spoon, and then run cool water over them. Peel just before ready to serve.
How To Serve
As you can see, this salad is truly gorgeous in presentation. It's perfect for entertaining. For a baby or wedding shower, a festive brunch, a festive lunch with loved ones, the list goes on.
Have all of the components ready to go before guests arrive. Just before serving, place all of the items on the salad in single-form lines. We like to turn the lines a bit to an angle for an attractive appearance.
Pour about half of the remaining dressing all over the top and then let guests use large serving spoons to create their own salad in individual serving bowls.
Other Classic Salads Recipes to Try
This Cobb salad is one of our favorites to serve guests, without a doubt. But, these salad recipes are always a hit, too. Beautiful and so flavorful. Give them a try!
Watermelon and Cucumber Salad with Feta
Classic Chinese Salad with Mandarin
Spinach Salad with Warm Bacon Vinaigrette
Roasted Beet and Burrata Salad
Green Bean and Tomato Salad with Scallion Dressing
Heirloom Tomato Salad
Fresh Strawberry and Spinach Salad with Avocado
All of these salads are fresh, delicious, and always a hit when served. In the meantime, isn't this classic salad calling your name?
There are so many reasons to absolutely love this iconic salad.
When you serve it to guests, you won't believe the response. It's so beautiful, it's practically breathtaking.
But, when you dig into this vibrant salad, you (and your guests) will be beyond impressed. It's honestly that delicious.
Ready to make the most spectacular salad this side of Hollywood and the Brown Derby? Go for it!
And when you do, be sure to take a picture, post it on Instagram, and tag @HowToFeedaLoon and #HowToFeedaLoon!
Classic Cobb Salad
This Classic Cobb Salad has all the ingredients that just go together so perfectly. Serve it family-style and let guests create their own salad, or mix together and serve in individual bowls. The chicken, bacon, hard-boiled eggs, and dressing can all be prepared in advance.
Print
Pin
Rate
Servings: 6 people
Calories: 436kcal
Ingredients
2 lbs chicken breasts bone-in, skin-on (See NOTES)
2 tbsp olive oil
Kosher salt and ground black pepper
6 strips bacon
3 eggs hard-boiled
4 cups Romaine lettuce washed, dried, torn into pieces, and chilled
2 cups watercress roughly chopped, or baby arugula
2 tbsp flat-leaf parsley fresh, chopped
2 tbsp chives fresh, chopped
2 small avocados peeled, pit removed, and roughly chopped
2 cups cherry tomatoes halved
7 oz Roquefort cheese crumbled (you'll need a little more for the vinaigrette)
For the French Vinaigrette
¼ cup red wine vinegar
1 tsp Worcestershire sauce
1 tsp Dijon mustard
2 cloves garlic minced
Kosher salt and ground black pepper
1 oz Roquefort dressing about 1 to 2 tbsp
⅓ cup extra-virgin olive oil
Instructions
Roast the Chicken
Preheat oven to 375°F.

Place a baking rack on a baking sheet lined with foil.

Brush the olive oil all over the chicken. Liberally sprinkle with salt and pepper all over the chicken breasts. Bake for 45 to 55 minutes, or until the internal temperature reaches 165°F. Let cool on the rack.

2 lbs chicken breasts, 2 tbsp olive oil, Kosher salt and ground black pepper

When cool enough to handle, use a knife to cut the meat from the bone. Try not to shred the meat. Cut the chicken meat into bite-sized cubes. Set aside. If not using within the hour, cover and refrigerate until an hour before assembling the salad.
Cook the Bacon
You can cook the bacon in a skillet until crisp, or you can cook it in the oven. For the oven method, preheat your oven to 375°F, line a baking sheet with foil, and cook the bacon until crisp, usually about 15 minutes. Place cooked bacon on a paper towel-lined plate. Crumble before assembling the salad. This can be done at the same time you're roasting the chicken. It can also be done several hours before assembling the salad.

6 strips bacon
Hard-Boil the Eggs
Place the eggs in a medium-sized saucepan. Add enough cool water to the pan to cover the eggs by 1 to 2 inches. Bring the water to a boil and then immediately turn off the heat and cover the pan. Allow the eggs to rest in the water for 20 minutes. Use a slotted spoon to remove the eggs. Don't peel the eggs until just before assembling the salad. The eggs can be prepared up to 24 hours in advance (keep refrigerated).

3 eggs
Chill the Lettuce and Prepare the French Vinaigrette
In a large bowl, mix together the cleaned Romaine and watercress (or arugula). Place in the refrigerator to chill while you make the vinaigrette.

4 cups Romaine lettuce, 2 cups watercress

In a small bowl (or do this directly in a jar with a lid), stir together the red wine vinegar, Worcestershire sauce, Dijon, garlic, ½ tsp salt, and ½ tsp black pepper.

7 oz Roquefort cheese, ¼ cup red wine vinegar, 1 tsp Worcestershire sauce, 1 tsp Dijon mustard, 2 cloves garlic, Kosher salt and ground black pepper

Transfer to a jar with a tight-fitting lid (if mixing in a bowl first).

Use the back of a fork to smash 1 oz (about 2 tbsp) of the Roquefort cheese. Add the cheese to the jar and then pour in the olive oil. Fasten the lid to the jar and then shake vigorously for at least 30 seconds, until the vinaigrette is fully mixed and emulsified. Set aside.

1 oz Roquefort dressing, ⅓ cup extra-virgin olive oil
Assemble the Salad
Shake the vinaigrette in the jar again and then drizzle about ¼-cup of it over the chilled lettuce. Toss to coat the lettuce (it shouldn't be dripping, only lightly coated.

Spread the dressed lettuce across the bottom of a large platter.

Peel the eggs and then quarter them, lengthwise. In a small bowl, mix together the chopped parsley and chives.

2 tbsp flat-leaf parsley, 2 tbsp chives

Adding in rows across the top of the lettuce, add the chopped avocado, crumbled bacon, half of the herb (parsley and chives) mixture, the cubed cooked chicken, the rest of the herb mixture, the halved cherry tomatoes, the crumbled Roquefort cheese, and the quartered hard-boiled eggs.

2 small avocados, 2 cups cherry tomatoes

Drizzle more of the dressing over the top, leaving enough for some to be passed at the table.

Top with a little freshly ground pepper, if desired. Serve at once.
Notes
See the video near the top of the blog post for visual guidance. If you liked the video, please subscribe to our YouTube Channel.
You can also cook the chicken by poaching skinless, boneless chicken breasts in a pot with lightly salted water. Bring the water to a boil and then reduce the heat to low and simmer for 15 minutes. The center should not be pink in the middle and have an internal temperature of 165°F.
Leftover roasted turkey is a great option, too!
We recommend using cubed blue cheese. The pre-crumbled is not as creamy. Crumble the cheese with your fingers. If you can't find Roquefort, go with Danish or Maytag. These can all be found in the specialty cheese section (usually near the prepared meats and deli area) in most well-stocked supermarkets.
Toss the cut avocado in a little lime or lemon juice to keep it from oxidizing (turning brownish).
The chicken and eggs (unpeeled) can be prepared up to 24 hours in advance. The bacon can be cooked several hours in advance. And the dressing can be made a couple of days in advance. Keep everything refrigerated until about an hour before assembling the salad.
Nutrition
Calories: 436kcal | Carbohydrates: 11g | Protein: 47g | Fat: 21g | Saturated Fat: 8g | Polyunsaturated Fat: 6g | Monounsaturated Fat: 9g | Trans Fat: 0.1g | Cholesterol: 223mg | Sodium: 992mg | Potassium: 1239mg | Fiber: 6g | Sugar: 2g | Vitamin A: 4107IU | Vitamin C: 29mg | Calcium: 284mg | Iron: 3mg
POST UPDATE: This recipe was originally published in June 2015, but was updated with improved tweaks to the recipe with new tips and photography and a fabulous new video in July 2023!