We love Greek cuisine so much, and this is, without a doubt, one of our favorites.
This dish may be vegetarian, but it is incredibly loaded with layers and layers of flavor. It's easy to prepare and is stunning in presentation. You can serve it warm or at room temperature. It's perfect for brunch, an appetizer, or a side dish for a wonderful feast.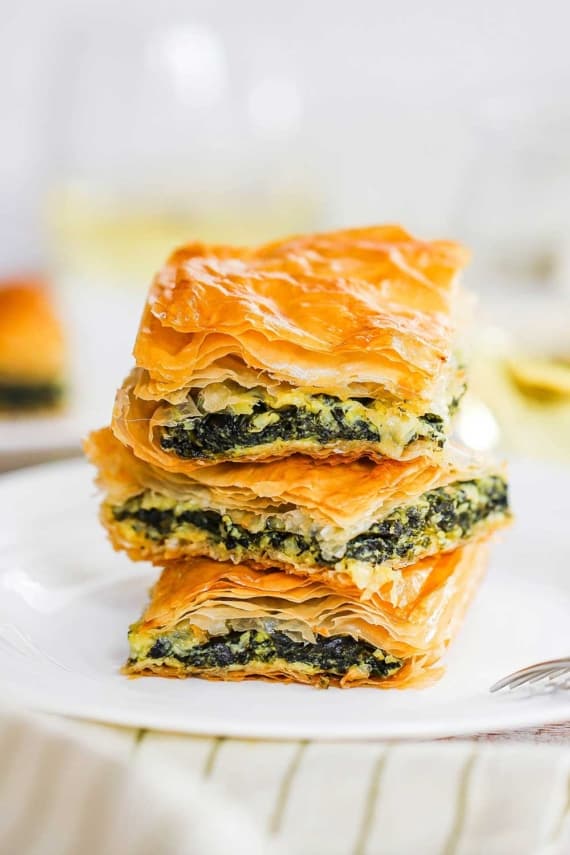 How To Make Spanakopita (Greek Spinach Pie)
As mentioned, this dish is not hard to make and is actually kind of fun.
You'll want to make sure you layer the bottom half of the phyllo sheet in a manner that allows some of them to go up the sides of the dish.
Be sure to watch the video to exactly how it's done.
NOTE: If you liked this video, please subscribe to our YouTube channel. Remember to click the little 'bell' icon so you'll never miss a new video. Thank you!
The Ingredients You Will Need
The ingredients list for this classic dish is not extensive and can easily be found in most well-stocked supermarkets.
Here are the ingredients you'll need:
Spinach – Fresh or frozen (thawed a squeezed dry)
Oil – Olive oil is best
Onion – Chopped
Fresh herbs – Dill or parsley
Eggs – Lightly beaten
Feta – Crumbled from a block
Parmesan – Grated
Salt – Kosher
Butter – Melted
Phyllo dough – Thawed and allowed to sit out for an hour
EXPERT TIP: You'll use an entire stick of melted butter (8 tbsp). As you are layering the first batch of phyllo, it may seem like there is going to be too much butter. It's not. Don't apply too much butter on the bottom half. If you run out while you're buttering the top portion, you may need to melt a little more.
Tips for Perfect Spanakopita
Layering the Phyllo – It's important to allow some of each layer of the bottom half of the phyllo to go up the side of the baking dish by about an inch. Alternate sides and ends when adding the layers. After you add the filling, you'll press the phyllo on the edges onto the filling. This will keep the filling from overflowing and making the bottom soggy. See the video for reference.
Squeezing the Spinach – Spinach contains a lot of water. There will be lots of water in thawed frozen spinach, but there will even be liquid with freshly sautéd spinach. Squeeze with your hands to or the side of a wooden spatula to remove as much as you can. You could also place it in a kitchen towel and wring it over the kitchen sink. This keeps the filling from getting too wet.
Scoring is Critical – In order to get perfectly cut squares, you'll need to score the top layer of phyllo before baking. Be sure not to cut all the way through the spanakopita, though. Use a thin sharp knife to score. Then slicing the squares will be easy after the dish is baked.
How To Serve
As mentioned, this dish is wonderful served warm at room temperature, however, we think fresh out of the oven is best.
It is a wonderful addition to brunch or shower. Imagine this being served alongside classic gazpacho, the best-ever chicken salad, fresh fruit, and a blueberry buttermilk pie!
You can cut the dish into 9 large squares, or, score the squares with a diagonal cut through each one to make 18 smaller triangles.
EXPERT TIP: For the top layers, no need to press the phyllo sheets up the sides of the dish. If the sheets are longer than 9″x13″ (which is the size of the baking dish), then you can cut them to the exact dimensions of the dish, or, don't worry about it, and just wrap the excess ends back onto the phyllo.
Other Mediterranean Inspired Recipes to Try
We'll be adding more and more Greek dishes in the coming months, but below are some of our current favorites, plus other Mediterranean dishes.
Greek Salad with Grilled Steak
Sheet Pan Greek Chicken and Vegetables
Mediterranean Pasta with Shrimp
Grilled Marinated Lamb Chops
Mediterranean-Style Baked Snapper
Tuna Steaks with Olives, Tomatoes, and Capers
But in the meantime, you've got to make this dish. It is truly spectacular.
This dish is just special. It's a bit decadent, yet flakey and light, too.
And it is absolutely sure to impress. It is one of our favorite dishes to serve and once you prepare it, you'll quite likely feel the same way.
Every bite is just incredible.
Ready to make the best dish this side of the Parthenon? Go for it!
And when you do, be sure to take a photo of it, post it on Instagram, and tag @HowToFeedaLoon and hashtag #HowToFeedaLoon
Spanakopita (Greek Spinach Pie)
Spanakopita (Greek Spinach Pie) is a truly spectacular and delicious dish to serve and eat! Layers of buttery phyllo encase an amazingly delicious spinach and cheese filling. The phyllo layers are baked to flakey perfection. Perfect for a special occasion or part of a yummy feast at home.
Print
Pin
Rate
Servings: 8
Calories: 451kcal
Ingredients
2 tbsp olive oil
1 cup onion chopped
2 lbs spinach fresh, washed and stems removed, or 15 oz frozen - water squeezed out
¼ cup dill fresh, chopped
4 large eggs
8 oz feta crumbled
2 tbsp Parmesan cheese grated
¾ tsp Kosher salt
8 tbsp unsalted butter melted, plus extra for greasing dish
1 lb phyllo dough thawed and set out for 1 hour
Instructions
Heat the oil in a large skillet over medium-high heat. Add the onions and sauté until soft, about 4 to 5 minutes.

2 tbsp olive oil, 1 cup onion

Working in batches, add handfuls of spinach to the pan and cook, stirring often, until completely wilted. Continue doing this until all the spinach has been cooked and is wilted.

2 lbs spinach

Turn off the heat and stir in the dill. Transfer to a colander. Once cool enough to handle, use your hands or a wooden spatula to squeeze out excess liquid.

¼ cup dill

In a large bowl, lightly beat together the eggs. Stir in the cooled spinach mixture, feta, Parmesan, and salt. Stir until fully mixed.

4 large eggs, 8 oz feta, 2 tbsp Parmesan cheese, ¾ tsp Kosher salt

Use softened butter or oil to grease a 9"x13" baking dish.

Add a layer of phyllo dough to the bottom of the dish, allowing one side to go up the side of the dish. Brush melted butter over the phyllo. Repeat this process 7 more times, allowing the sides to go up the side of the dish, alternating between the long sides of the dish and the ends, as well. Be sure to butter each layer.

8 tbsp unsalted butter, 1 lb phyllo dough

Transfer the spinach and cheese filling on top of the phyllo. Carefully use your fingers to fold the dough along the sides of the dish back over the filling. Use a sharp knife to help loosen any dough that is stuck to the side of the dish. This keeps the filling from spilling over.

Add 8 more layers of phyllo over the top, buttering each layer as you go. (If your dough is larger than 9"x13", you can carefully cut it to 9x13, or just go ahead and use the larger size, and fold the edges back over the dough).

Use a thin sharp knife to score the dough into 9 squares, cutting through the top layers of phyllo, but not cutting all the way through. You can score the squares into diagonals, making 18 triangles, if desired.

Place the dish in the refrigerator to chill for 30 minutes. After about 15 minutes of chilling, preheat the oven to 375°F.

Bake, uncovered, for 35 to 45 minutes, until the dough is puffed and golden on top.
Notes
See the video near the top of the blog post for visual guidance. If you liked the video, please subscribe to our YouTube channel.
You can use 15 ounces of frozen spinach in place of the fresh. Be sure the spinach is completely thawed and you've squeezed as much water out as possible. Use your hands or the back of a wooden spatula to do this, or place it in a kitchen towel and wring it over the kitchen sink. We don't recommend using fresh baby spinach.
1 stick of butter should be enough, but if you apply too much on the bottom layers, you may need a little more melted butter for the top layer(s).
Spanakopita is best served fresh from the oven or within several hours of baking. Leftovers will keep covered for up to several days, although the flakey texture will be diminished. We don't recommend freezing baked spanakopita.
Nutrition
Calories: 451kcal | Carbohydrates: 37g | Protein: 15g | Fat: 21g | Saturated Fat: 11g | Polyunsaturated Fat: 2g | Monounsaturated Fat: 6g | Trans Fat: 0.5g | Cholesterol: 149mg | Sodium: 963mg | Potassium: 771mg | Fiber: 4g | Sugar: 2g | Vitamin A: 11361IU | Vitamin C: 35mg | Calcium: 298mg | Iron: 6mg