Black Bean with Andouille Sausage Soup will warm you to the bone.
Soak the beans overnight and then the soup comes together very quickly the next day. Any kind of smoked sausage will work, but we really love andouille sausage in this soup.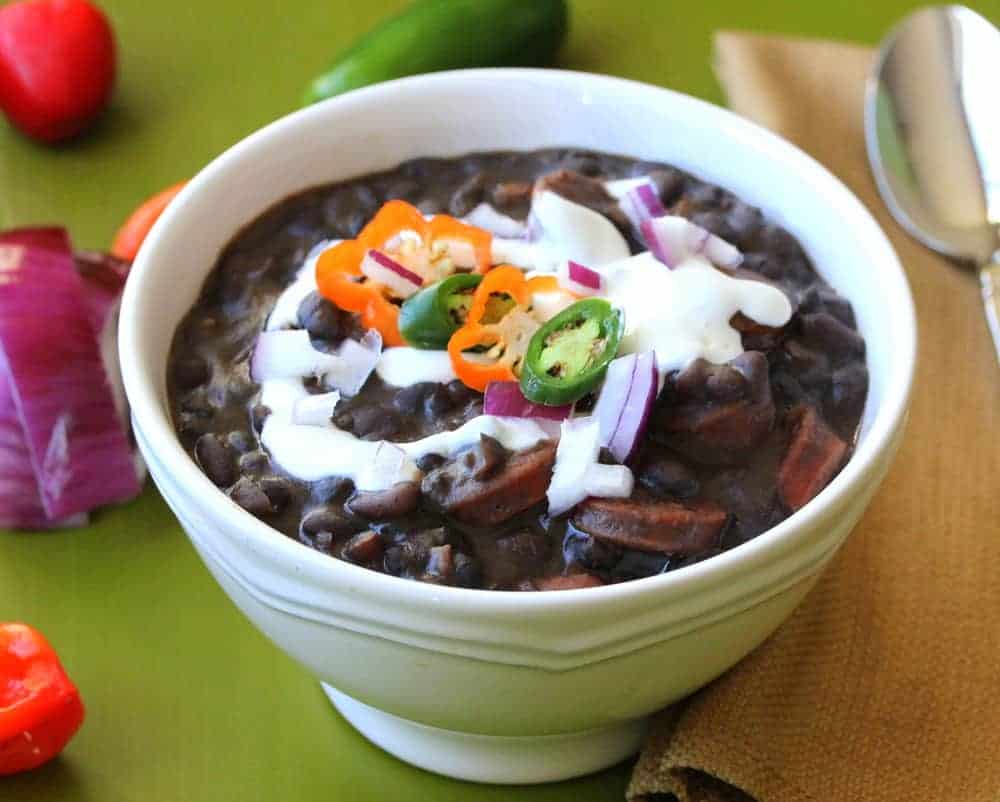 HOW TO MAKE BLACK BEAN WITH ANDOUILLE SAUSAGE SOUP
We recommend soaking the beans overnight for the best texture for the soup.
However, if you forget to do that, follow these instructions: In a large pot, add 10 cups of water for each pound (2 cups) of dry beans. Heat to boiling; boil for 2–3 minutes. Remove from heat, cover and soak for at least 1 hour, but best for up to 4 hours.
Black beans are loaded with flavor. And of course, so is andouille sausage. It has just a little heat, but is really amazingly delicious. It is very popular in Cajun cooking.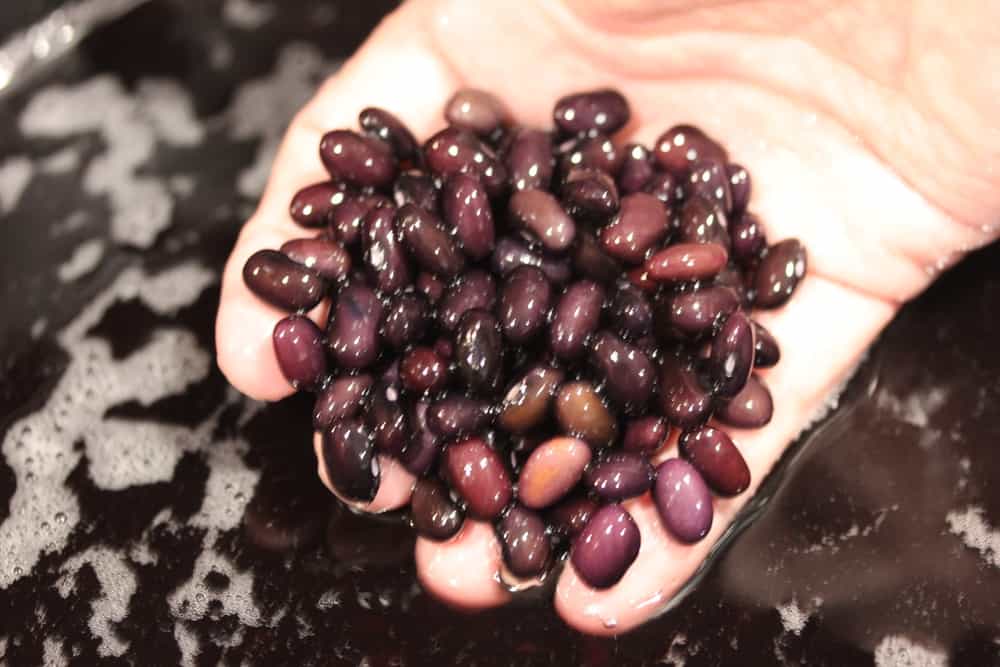 SAUTE THE VEGGIES AND SEAR THE SAUSAGE
In a large pot, preferably a Dutch oven, sauté the onions, garlic, and peppers in the rendered bacon grease until soft and starting to brown.
After slicing the sausage into medallions, sear them until nicely brown all over.
SIMMER THE BLACK BEAN WITH ANDOUILLE SAUSAGE SOUP FOR BEST FLAVOR
After adding the sautéed sausage into the pot with the beans and the liquid, let it simmer for 2 to 2½ hours.
The smell is intoxicating.
Simmering will reduce the soup somewhat, which is good, you're building a deeper and better flavor profile.
THE PERFECT COLD-WEATHER SOUP
Need some soup to warm and comfort you? Look no further. This soup is about as perfect a soup for a cold day as you'll ever find.
Give it some time to come together, and you'll be so thankful you did. Of course, you can substitute olive oil and vegetable stock and omit the bacon, ham hocks, and sausage to make this completely vegetarian and vegan…but in the H2FaL kitchen…we love some pork. But, that's up to you. Okay…let's get to it!
Black Bean with Andouille Sausage Soup
Black Bean with Andouille Sausage Soup is about as comforting as they come. You'll need to start this the day before serving...it's not difficult, but so worth the time. Pure comfort.
Print
Pin
Rate
Servings: 10 people
Calories: 311kcal
Ingredients
1 lb dried black beans
4 strips thick slab bacon chopped
2 medium yellow onions chopped
4 cloves garlic minced
2 jalapeno peppers seeded and diced
11 cups water
1 large ham hock
2 tsp Kosher salt
1 tsp lemon juice
1 lb Andouille sausage cooked (or smoked), and cut into 1/4" medallions.
Chicken stock as needed for thinning
Red onion chopped (for garnish)
Creme friache or sour cream (for garnish)
Peppers sliced (for garnish)
Steamed white rice
Instructions
Soak beans in pot overnight, then discard any beans that are floating on top of water.

In a large pot (Dutch oven works well), cook bacon over medium heat until crisp...use a slotted spoon to place on paper towel-lined plate. Leave the bacon fat in the pot.

Cook the onion, garlic and jalapeno in the bacon grease until translucent, about 8 minutes.

Drain the black beans and then add to the cooked veggies.

Turn the heat to low and add the water, ham hocks, salt and lemon juice.

Simmer for 2 & 1/2 hours until thickened. (Add stock if becomes too thick).

Sear the sausage in a separate skillet over medium high heat.

Remove the ham hocks from the soup, and then add the cooked bacon and sausage.

Add more chicken stock to reach the consistency of your liking.

Adjust seasonings, as necessary.

Serve with creme friache, onions, peppers and steamed rice.
Nutrition
Calories: 311kcal | Carbohydrates: 29g | Protein: 19g | Fat: 14g | Saturated Fat: 4g | Cholesterol: 38mg | Sodium: 887mg | Potassium: 818mg | Fiber: 7g | Sugar: 1g | Vitamin A: 56IU | Vitamin C: 4mg | Calcium: 72mg | Iron: 3mg