Homemade Tamales are the real deal.   They take some time, but that's part of what makes them so magical.
Families have gathered for many, many years, often just before the holiday season, and each person would have their own job – working together, laughing, reminiscing, and creating delicious treats for everyone to enjoy whenever anyone wants one during the holiday season.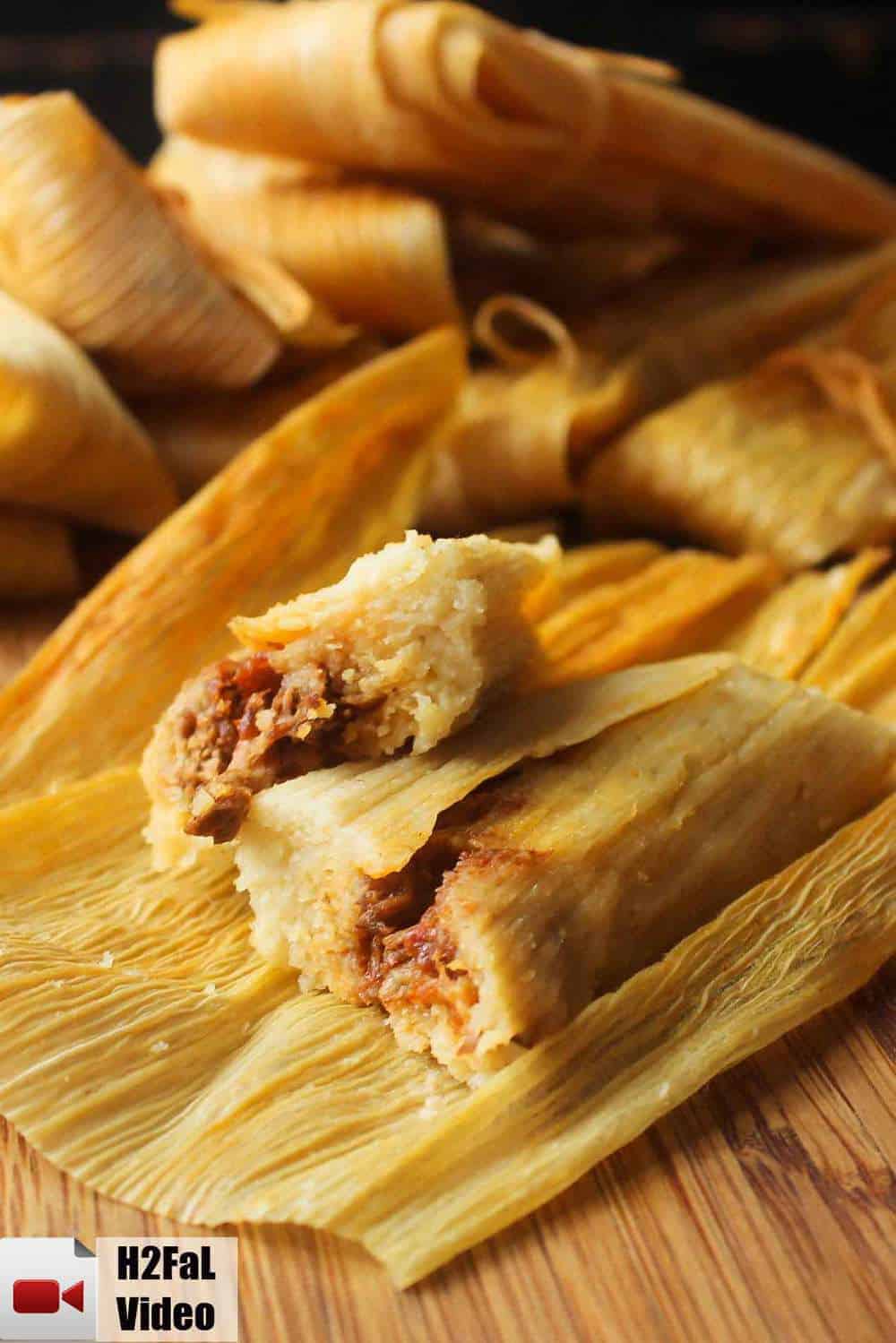 HOW TO MAKE HOMEMADE TAMALES FROM SCRATCH
Making authentic homemade tamales from scratch is easier than you might think! Watch us show you how to make the best tamales in town!
Soaking the corn husks for a couple hours is important to make them nice and pliable for when you are ready to fill them.  I do this by taking a large roasting pan, placing the husks in the pan, and then filling the pan with water.
I then place something heavy (my Dutch oven lid works perfectly) on top of the husks, and then just let rests for at least 2 hours.
Once you are ready to use, pat them off with a kitchen towel, and you're good to go!
The pork filling is so incredible, the peppers give them just a little heat, but not too much.
And there is something about the chicken filling that is just so satisfying.  Let the chicken filling simmer until it has thickened somewhat.
Both fillings are amazing in these homemade tamales. Sometimes this may take a little longer than expected, but just be patient, it's all so very worth it!
USE YOUR HANDS WHEN FORMING HOMEMADE TAMALES
When making the dough, I like to use my hands.
Keep adding stock until you've got the consistency of cake batter. It shouldn't be runny.
You can see here, we're real close, just a little more chicken stock, and then we'll be set.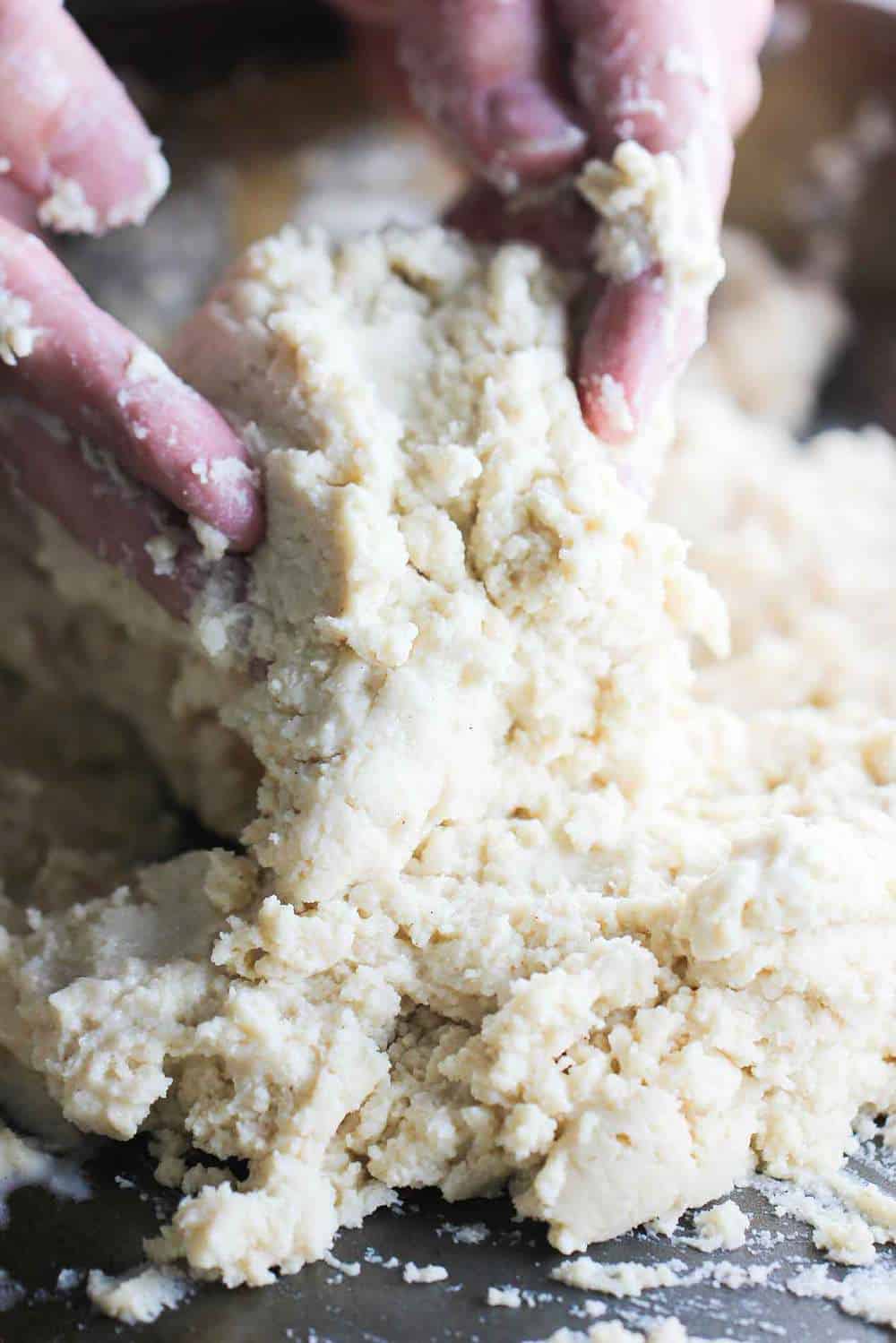 Once you are ready to spread the masa dough onto the husk, you won't need too much.  Just a thin layer works perfectly.  This is because the dough will expand in size as it is being steamed.
And did I mention how delicious using rendered pork lard is in the dough? I didn't?
Well, it really, really is.  And…it's better for you than shortening. Seriously!
Fold once side in towards the middle, and then fold in the other side.
It takes just a little bit of practice, you'll get the hang of it very quickly.
It's almost steam time, which means we're getting close to HOMEMADE TAMALES TIME!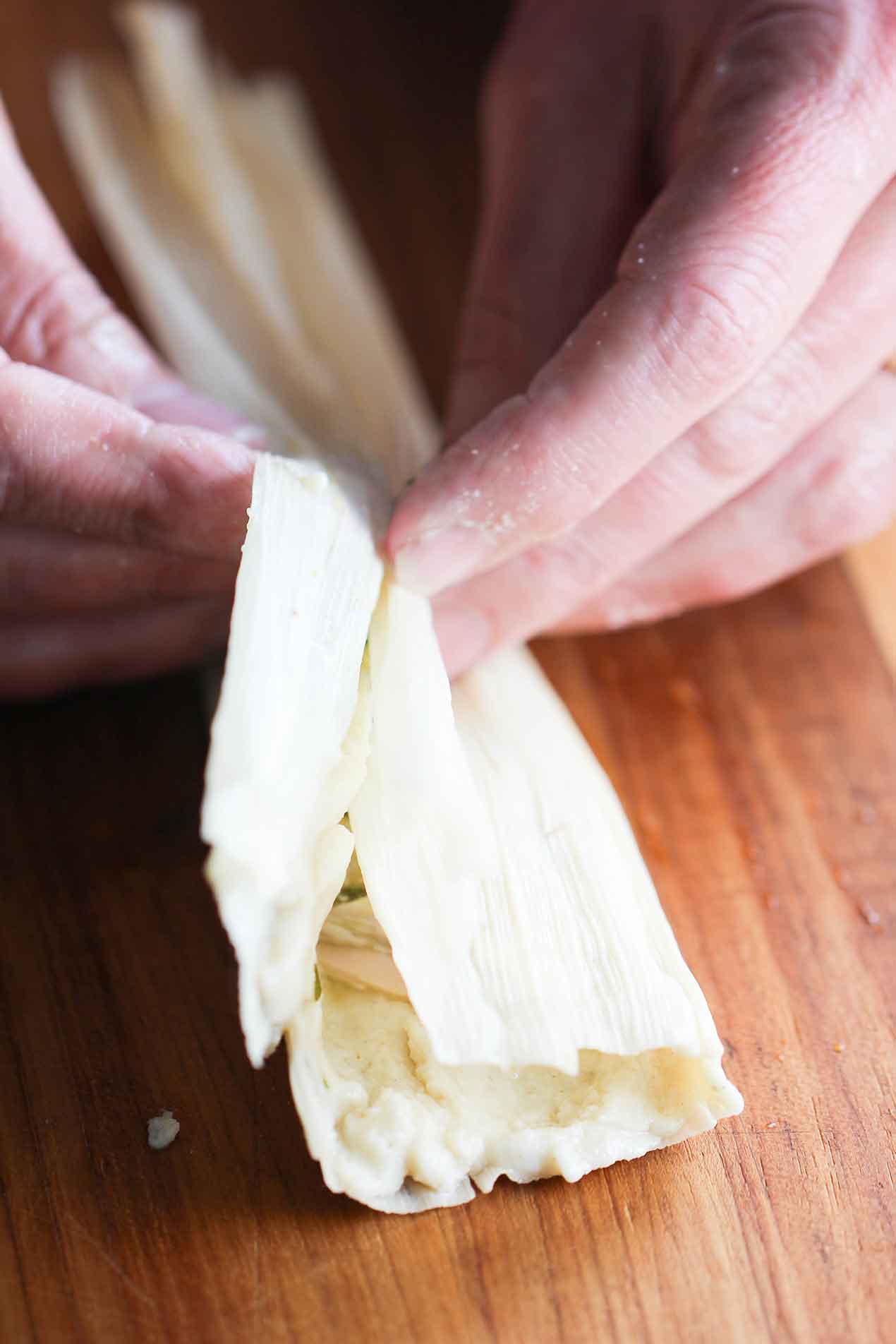 TALAMES HAVE BEEN AROUND FOR OVER 7,000 YEARS
A trip to a Mexican market may be required to make these truly authentic, but trust me, it's worth it.
You will not be disappointed. This Authentic Tamales recipe truly delivers.  The only problem is, once you start devouring these gems, it's hard to stop.
They are really amazing with a little Classic Tex-Mex Queso on the side!
OTHER AMAZING AUTHENTIC MEXICAN RECIPES TO TRY:
In the mean time, make these amazing Homemade Tamales! TWant to learn about the amazing (and ancient) history of tamales? Read all about it's amazing history from SurvivingMexcio.com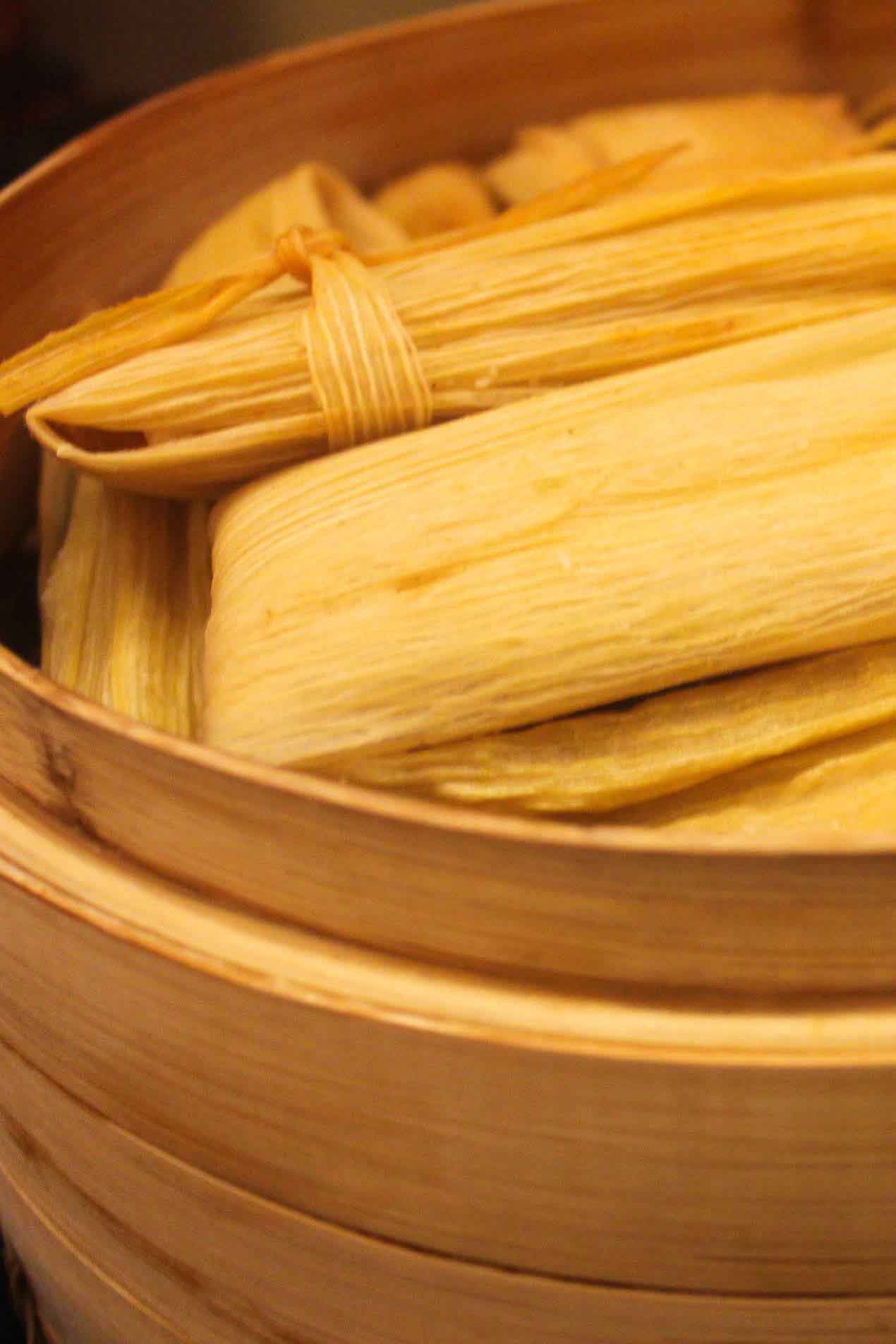 Ready to make the amazing and authentic tamales? Go for it!
And when you make them, take a picture, post to Instagram, and tag @howtofeedaloon and #howtofeedaloon!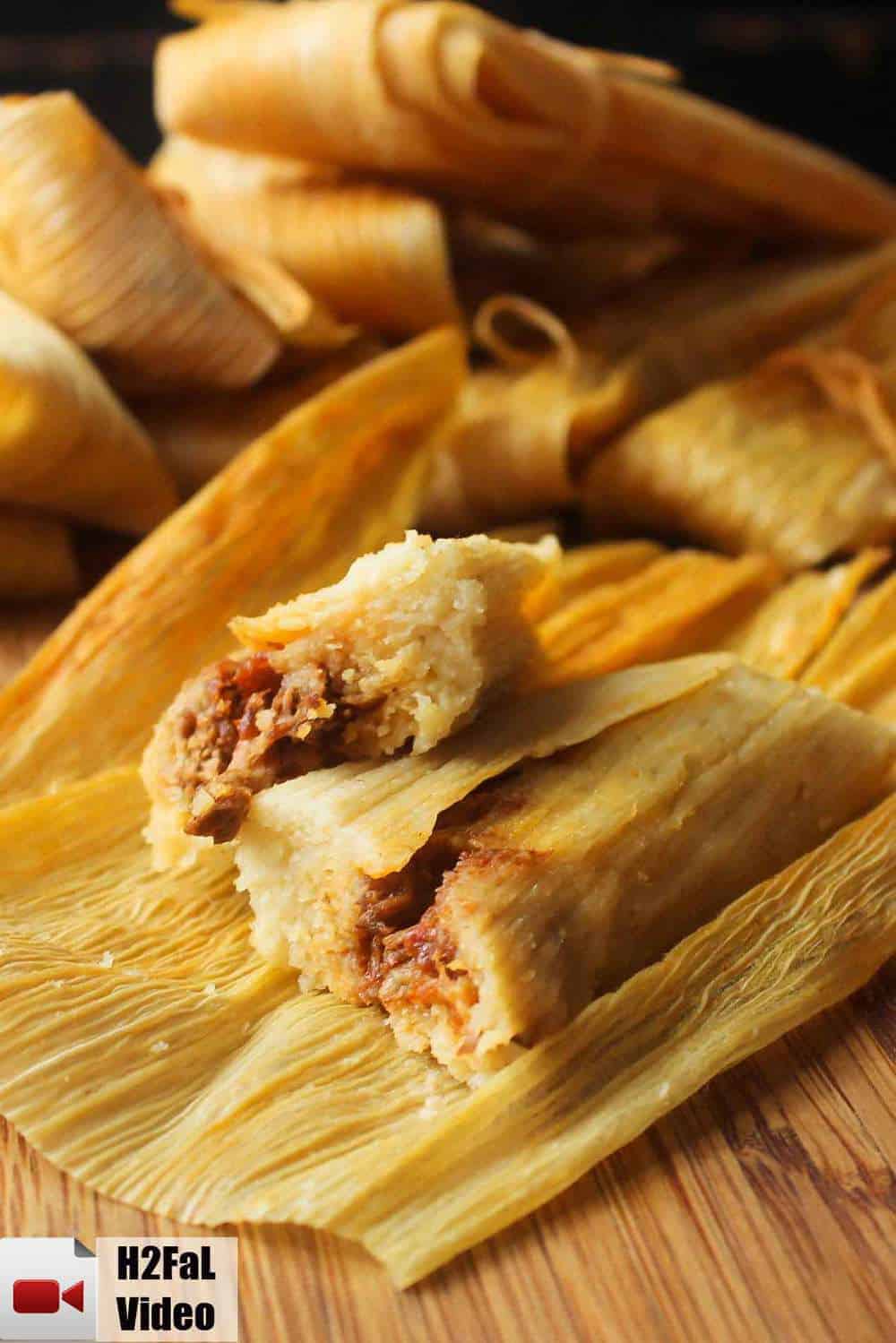 Authentic Homemade Tamales
Authentic Homemade Tamales are something magical. This is a recipe for both chicken and pork tamales. They are the real deal. About as good as you'll find. So heart-warming and steeped in history and cherished by families generation after generation. We absolutely love them. They freeze very well, too.
Print
Pin
Rate
Prep Time: 2 hours
Cook Time: 4 hours
Total Time: 6 hours
Servings: 12 people
Calories: 356kcal
Ingredients
CHICKEN FILLING
1 lb tomatillos (10 to 12), husked, stemmed and rinsed
2 to 3 fresh jalapenos stemmed
4 large garlic cloves peeled and roughly chopped
1 1/2 tbsp olive oil
3 1/2 cups chicken stock
Salt about 2 teaspoons
4 cups cooked chicken, coarsely chopped a roasted chicken from the supermarket works well
2/3 cup fresh cilantro, chopped
PORK FILLING
16 medium dried guajillo** and/or ancho chiles* stemmed, seeded and torn into rough pieces
4 tomatillos
4 cloves garlic, minced
1/2 tsp ground black pepper
1/4 tsp ground cumin
1 1/2 lbs lean boneless pork shoulder or butt works well, cut into 1/2-inch cubes
Salt
BATTER
2 1/2 cups of pork lard* melted
1 tsp salt
1 1/2 tsp of baking powder
7 cups of masa harina** mixed with 4 1/2 cups hot water
2 1/2 cups chicken stock
1 16 oz package of dried corn husks**
*available at Mexican markets
**available at Mexican markets or specialty food markets ie, Whole Foods
Instructions
PREPARE THE HUSKS
Place the husks in a large bowl, or even your kitchen sink with the stopper in. Fill with warm water and weight the husks down with heavy pot(s).

Let soak for at least 2 hours.
PREPEARE THE CHICKEN FILLING
Place the tomatillos and jalapenos in a medium sauce pan and cover with water. Bring to a boil then lower to a smooth simmer.

Simmer the veggies for 20 minutes.

Add the cooked veggies, plus the garlic in your blender, and process to a smooth puree.

Heat the oil in a large skillet, or Dutch over medium high heat.

Once oil is hot, add the puree all at once and stir until thicker, and a little darker, about 10 minutes.

Add 2 cups of the stock and simmer over medium heat until thick enough to coat a spoon, about another 15 minutes.

Season generously with salt, about 2 teaspoons.

Stir in the chicken and cilantro, remove heat.
PREPARE THE PORK FILLING
Add the peppers and the tomatillos to a medium sauce pan, cover with water and bring to a boil. Lower the heat to a smooth simmer for 20 minutes.

Working in batches, if necessary, add the peppers, tomatillos, garlic, black pepper, cumin into a blender and puree.

Strain the mixture a through a medium-mesh strainer into a medium saucepan.

Add the meat, 3 cups of water, and 1 teaspoon of salt.

Simmer, uncovered, over medium heat, stirring regularly, until the pork is fork tender and the liquid is reduced to the consistency of a thick sauce, about an hour and a half.

Use a fork to break the pork into small pieces.

Taste and season with additional salt, if necessary (taste first).

Let cool.
PREPARE THE DOUGH/BATTER
Get a large pan (I like to use a roasting pan), and add the wet masa (make sure you've already added the hot water to the masa) salt, and baking powder, and mix with your hands.

Pour in the melted lard, and continue to incorporate with your hands.

Now, add in the broth, one cup at a time.

Keep mixing with your hands. The consistency should be like a cake batter...but not runny. It should hold it's shape in a spoon.

Add more stock if necessary.
FORMING THE TAMALES
Take a corn husk and rip into string size pieces (you'll use these later to tie up the pork tamales...this will help you know which are pork and which are chicken)

Now, take a corn husk, and pat if off with a dish towel.

Flatten the husk, and with a spoon, scoop out about 1/4 cup of the batter.

In the upper, wider portion of the husk, spread the batter to the size of about a post card. With the short side of the rectangle at the top of the husk, and the body of the rectangle running down the length of the husk. Leave about an Inch of space on each long side of the husk (watch the video for reference). Don't worry about making the batter thick...it will expand as it steams.

Now, scoop out about two tablespoons of the chicken mixture and spread it down the middle of the batter.

Fold over the right third of the husk, then fold in the left side.

Fold up the bottom.

Repeat, alternating between chicken and pork filling.

When making the pork tamale, tie with a string.

Place uncooked tamales on a large baking sheet.
STEAMING THE TAMALES
Place unused corn husks on each layer of your steamer. Place corn husks over the top of the tamales.

Add water to the steamer and cover.

Heat and steam over a constant medium heat for about 1 and 1/4 hours.

Watch carefully to make sure that all the water doesn't boil away, add more water as necessary.

Tamales are done when the husks peel away from the masa easily.

The tamales will need to stand for at least a half an hour for the dough to firm up.

For the best tamales, let them cool completely, then steam again to warm (you can easily heat in a microwave at this point).
Nutrition
Calories: 356kcal