There is something about a piping hot pot pie that is just so comforting, and this recipe does not disappoint.
We are crazy for homemade pot pies. Our Chicken Pot Pie is one of the most popular recipes on the blog. We're pretty sure this incredible beef version will be a big, too. The easy homemade pie dough puts it over the top. And, of course, the Guinness creates a deeply flavorful sauce that brings it all together. Ultimate comfort food!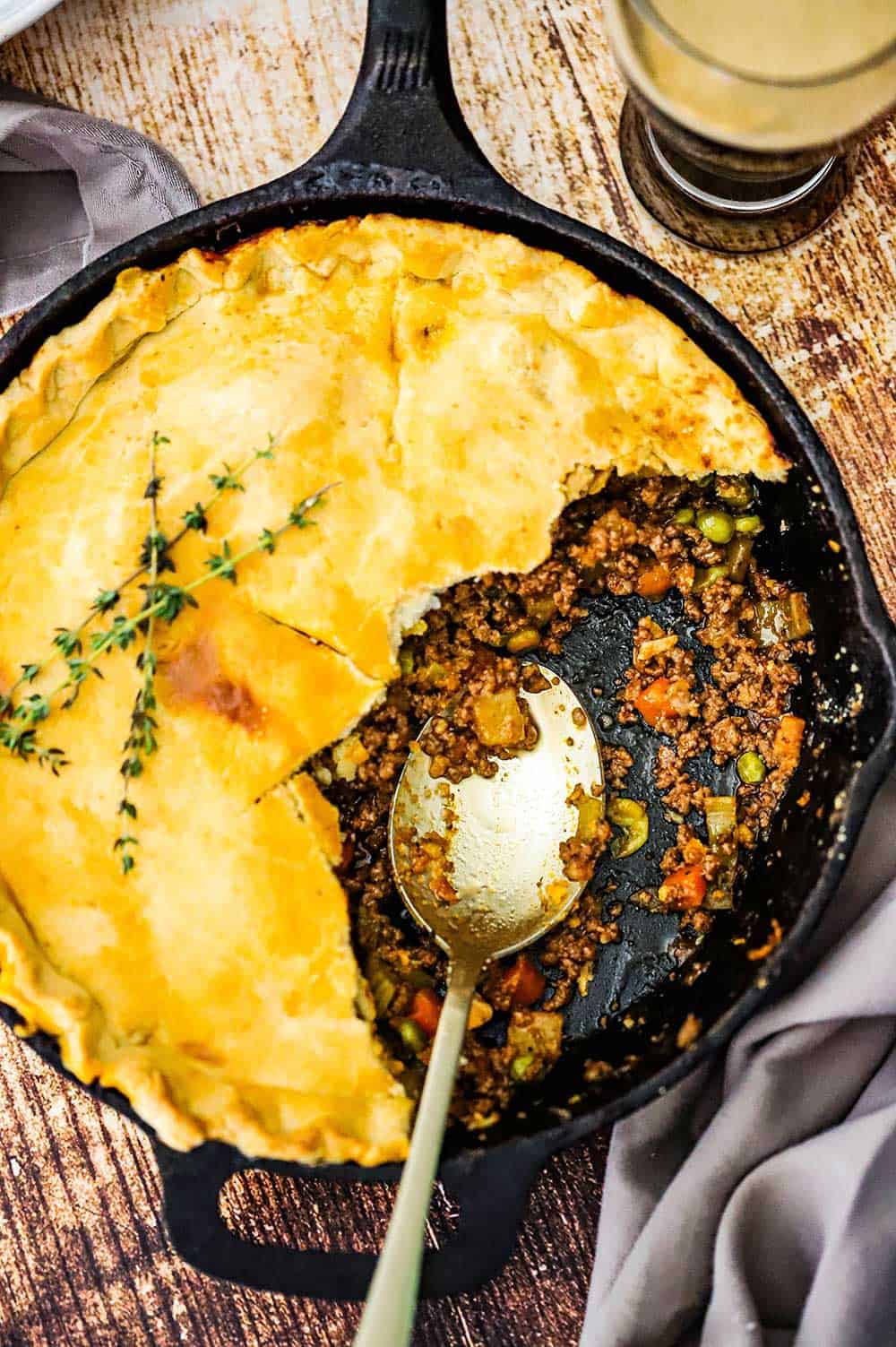 How To Make Guinness Ground Beef Pot Pie
You can take some shortcuts with this recipe to make it easier on yourself without sacrificing taste.
Store-bought pie dough is a great option. And frozen vegetables work, too!
If you like to make everything from scratch (like we do), this makes for a really fun weekend foodie project! And it's not hard, it just takes a little bit of time!
NOTE: If you liked this video, please subscribe to our YouTube channel. Remember to click the little 'bell' icon so you'll never miss a new video!
The Ingredients You Will Need
Pie Dough – As mentioned, you can make the easy pie dough in advance, if you prefer. Our dough freezes beautifully, too. However, store-bought pie dough is a great option.
Beef – We highly recommend going with lean beef for this recipe. Our favorite is Laura's Lean 96% Lean Ground Beef. If you don't go with lean ground beef, you'll want to drain off most of the excess grease.
Vegetables – We love going with carrots, celery, carrots, and frozen sweet peas. If using fresh, peel and cube the carrots and potatoes. Roughly chop the celery. If using frozen vegetables, add them during the end of the cooking process, along with the peas. You could substitute frozen cubed potatoes, in place of fresh potatoes, too.
Flavor Enhancers – Thyme (1 tbsp fresh, 1 tsp dried), Worcestershire sauce, tomato paste.
Beer – Go with a nice stout beer. Guinness is our favorite! If you prefer to not cook with beer, increase the beef stock.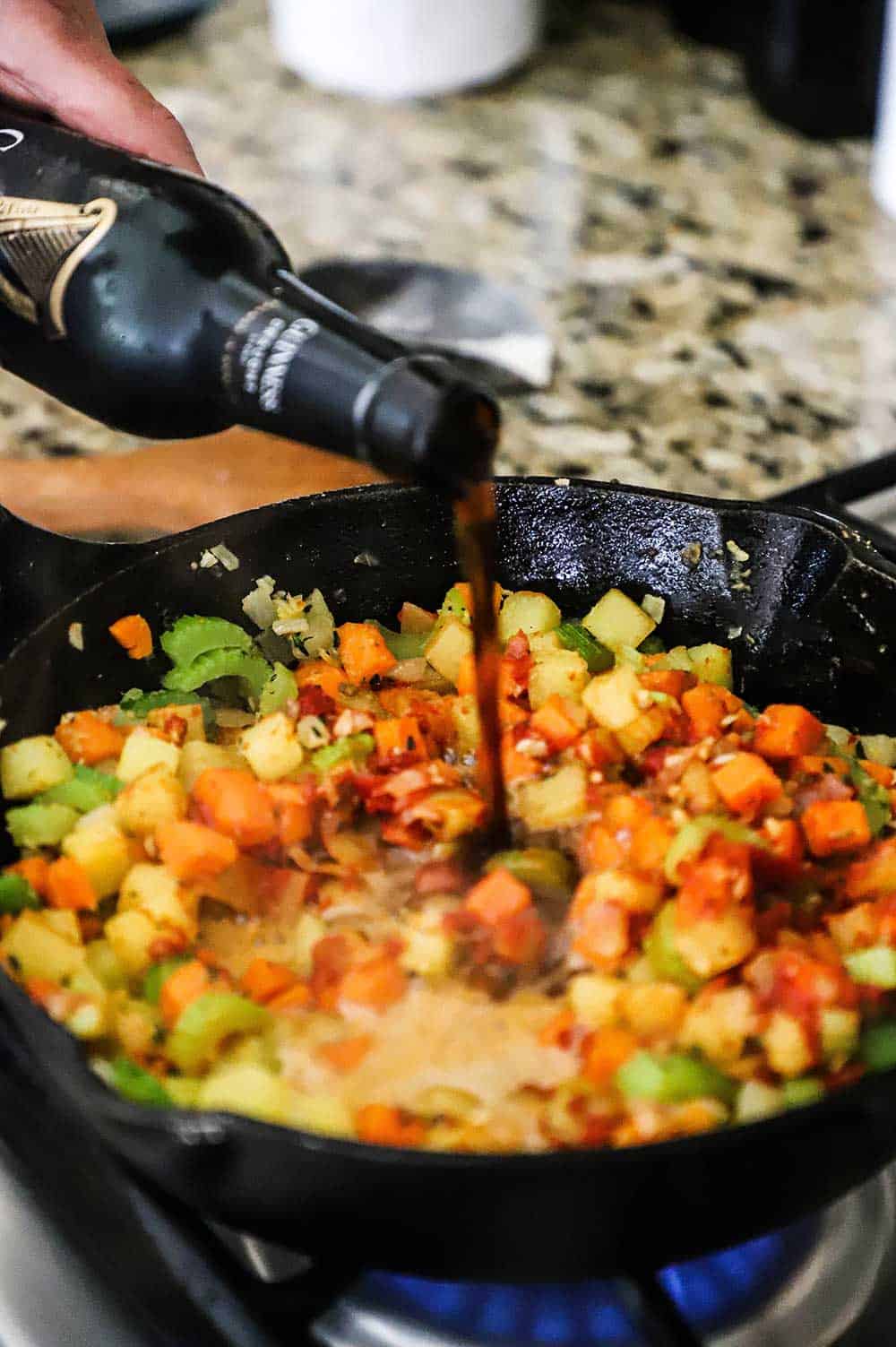 Ground Beef Pot Pie FAQs
Can I use a different type of meat? Beef is really a wonderful match to the stout beer. Roughly chopped pot roast or brisket (fully cooked) is wonderful in this pie. Ground turkey is a wonderful option, too! Ground lamb would be classic, too. And to get even healthier, go with plant-based protein! All fantastic choices!
I don't have a cast-iron skillet, what else can I use? Cook the beef and vegetables in a skillet and then use a 9-inch pie dish to bake the pot pie. You could also use mini-casserole dishes or mini cast-iron skillets. You'll just need to roll out the dough into smaller shapes.
Can the pot pie be made in advance? Absolutely. Assemble the entire pie and then gently wrap it in plastic wrap. Keep in the fridge until ready to bake.
EXPERT TIP: Roll the dough out to about 10 to 11 inches on a lightly floured surface. Fold the dough in half and gently transfer it to the top of the skillet. Press the edges along the side of the pan, using your fingers to pinch the dough to make a simple fluted design, if desired.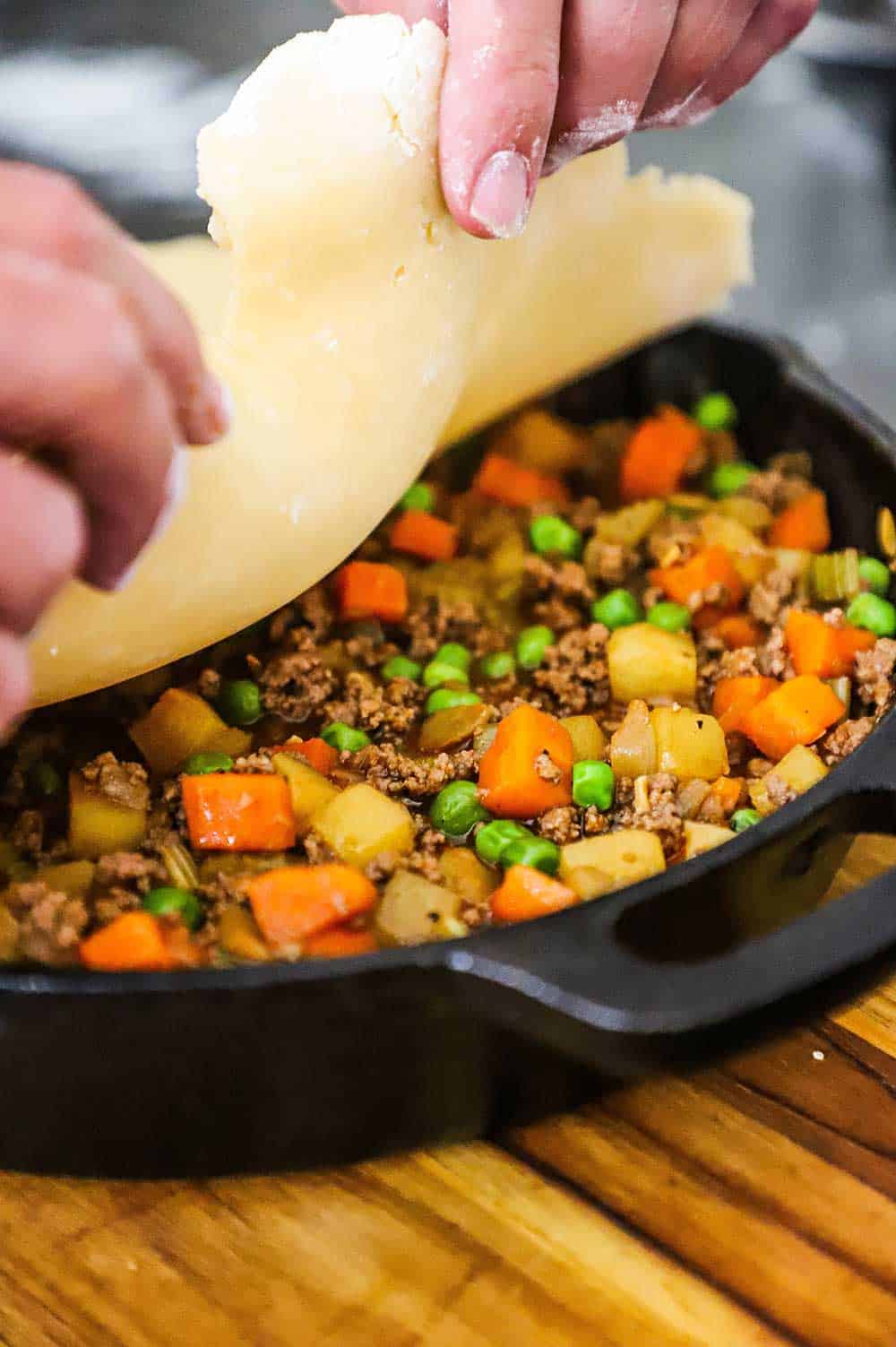 How To Serve and Store
This beef pot pie is definitely served piping hot right from the oven. However, it reheats beautifully in your microwave or in the oven.
It is truly a full meal in one skillet.
Leftovers will keep, covered, in the fridge for up to 5 to 7 days.
Cutting into the pot pie right out of the oven is truly a spectacular experience.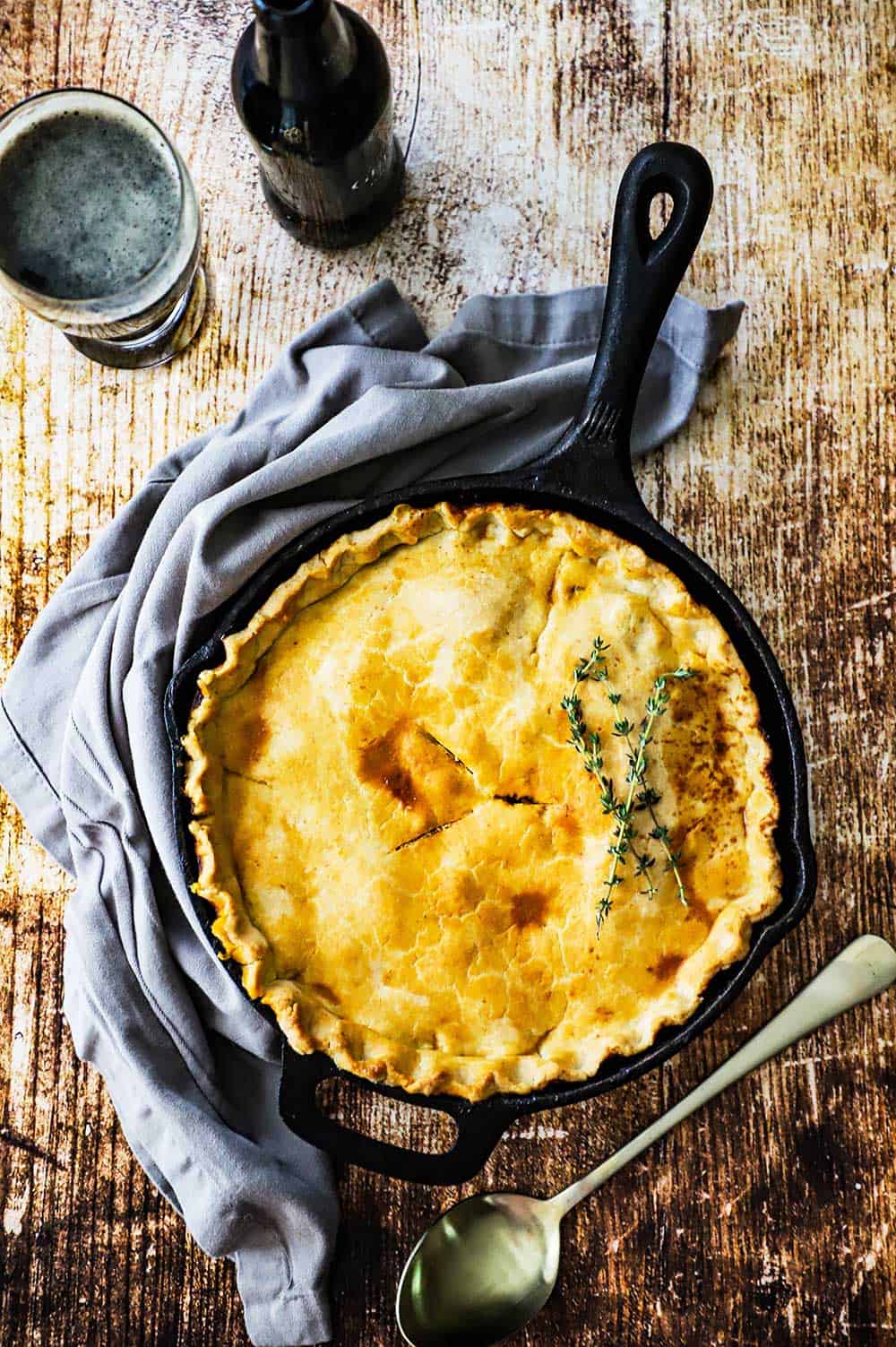 Other Beef Comfort Food Recipes
Pub-Style Brisket Pot Pie
Best-Ever Meatloaf with Mushroom Gravy
Slammin' Sloppy Joes
Smothered Burritos with Chili Con Carne
Gourmet Beef Stroganoff
Texas-Style Chili
EXPERT TIP: Make an egg wash by stirring together one egg and 1 tbsp of water. Brush it all over the top of the dough. This will produce a beautiful golden crust. Also, make several slits on the top of the dough with a sharp knife. This helps steam from escaping as the pie bakes.
This pot pie is approachable and truly the ultimate in comfort food.
You have options for how much effort you want to put into it.
Make it a fun weekend project and do it all with fresh ingredients and a homemade crust. Or, make it a fun weeknight meal with frozen veggies and store-bought dough.
Either way, it will be amazingly delicious!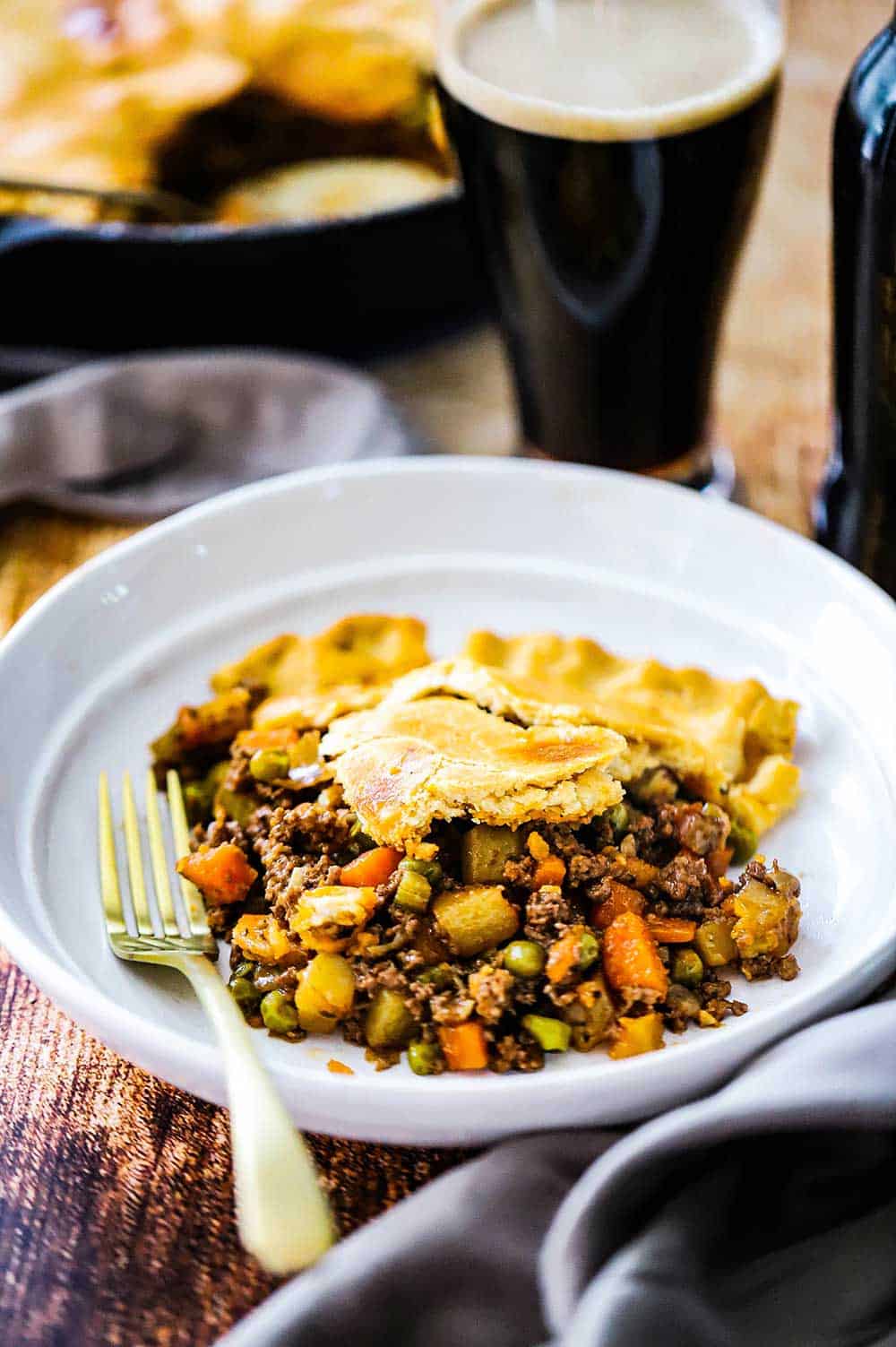 Ready to make the most comforting dish in the land? Go for it!
And when you do, be sure to take a photo of it, post it on Instagram, and tag @HowToFeedaLoon and hashtag #HowToFeedaLoon!
Guinness Ground Beef Pot Pie
Guinness Ground Beef Pot Pie is the ultimate comfort food. If using frozen veggies, don't add them until the very end of the cooking process along with the pies.
Print
Pin
Rate
Servings: 6
Calories: 465kcal
Equipment
1 9.5" cast-iron skillet or pie dish
Ingredients
1 lb ground beef lean
1½ tsp Kosher salt divided
1 tsp black pepper
2 tbsp olive oil
1 medium onion chopped
3 cloves garlic minced
1 tbsp thyme fresh, chopped
3 medium carrots peeled and chopped
3 celery stalks chopped
1 cup gold potatoes peeled and cubed, usually 1 large potato
2 tbsp all-purpose flour
1 tbsp tomato paste
1 tbsp Worcestershire sauce
11.2 fl. oz. Guinness beer stout
1 cup beef broth
1 cup sweet peas frozen
1 large egg plus 1 tbsp water
Instructions
Preheat oven to 375°F.

In a 9.5-inch cast-iron skillet, cook the beef until no longer pink. If excess grease has accumulated, then drain off with a spoon. Season the beef with ½ tsp salt and pepper, each. Transfer to a separate bowl and set aside.

In the same skillet, heat the oil over medium heat. Add the onions and sauté until soft, about 4 minutes. Add the garlic and thyme and cook for another 30 seconds, stirring often.

Add the carrots, celery, and potatoes, and cook for 10 minutes, stirring often.

Sprinkle the flour on and cook for another 1 minute.

Add the tomato paste, Worcestershire sauce, beef broth, and beer. Bring to a boil, then lower the heat and simmer for 10 minutes, stirring occasionally.

Stir in 1 tsp salt, ½ tsp pepper, and the peas. Stir in the ground beef. Stir until fully combined. Simmer another 5 minutes.

Meanwhile, roll out the dough on a lightly floured surface, to a 10-inch diameter. Remove the skillet from the heat. Carefully place the dough over the top of the skillet. Crimp the edges along the side of the pan.

In a small bowl, combine 1 egg with 1 tbsp water. Stir with a fork to fully combine. Brush the egg wash over the top of the dough. Use a sharp knife to make 3 slits in the center portion of the dough.

Bake for 40 to 50 minutes, until the crust is golden and the inside is bubbly. Remove from the oven and let rest for 5 to 10 minutes.
Notes
See the video near the top of the blog post for visual guidance. If you liked the video, please subscribe to our YouTube channel.
Store-bough pie dough and frozen veggies can be substituted for this recipe. If using frozen, don't add them in until the end of the cooking process, along with the peas.
If you don't have a cast-iron skillet, cook the filling in a separate pan, and then use a pie dish or 8"x8" baking dish to put together the pot pie.
If you don't want to cook with beer, increase the beef broth by 1 cup.
Leftovers will keep covered in the fridge for up to 5 days. Reheat leftovers in the microwave or in a 300°F. oven. You can also freeze the pot pie before baking for up to 2 months.
Nutrition
Calories: 465kcal | Carbohydrates: 31g | Protein: 18g | Fat: 24g | Saturated Fat: 7g | Polyunsaturated Fat: 2g | Monounsaturated Fat: 8g | Trans Fat: 1g | Cholesterol: 85mg | Sodium: 993mg | Potassium: 630mg | Fiber: 3g | Sugar: 3g | Vitamin A: 5251IU | Vitamin C: 14mg | Calcium: 60mg | Iron: 3mg