Boy, oh boy…I would have a hard time finding a better sandwich than this one.  A lot has to do with the fact that I used Wagyu Cured Beef from the incredible www.FoodShedExchange.com.  Really, this is worth the purchase.  The taste of the cured beef in this sandwich, along with the perfect homemade Russian dressing, sauerkraut, grilled to perfection on Jewish marbled Rye / Pumpernickel is something to behold.   Of course, if you don't order the Wagyu, you can still get great corned beef from your butcher, or local deli!  Okay, let's get to it…150% Loon Approved!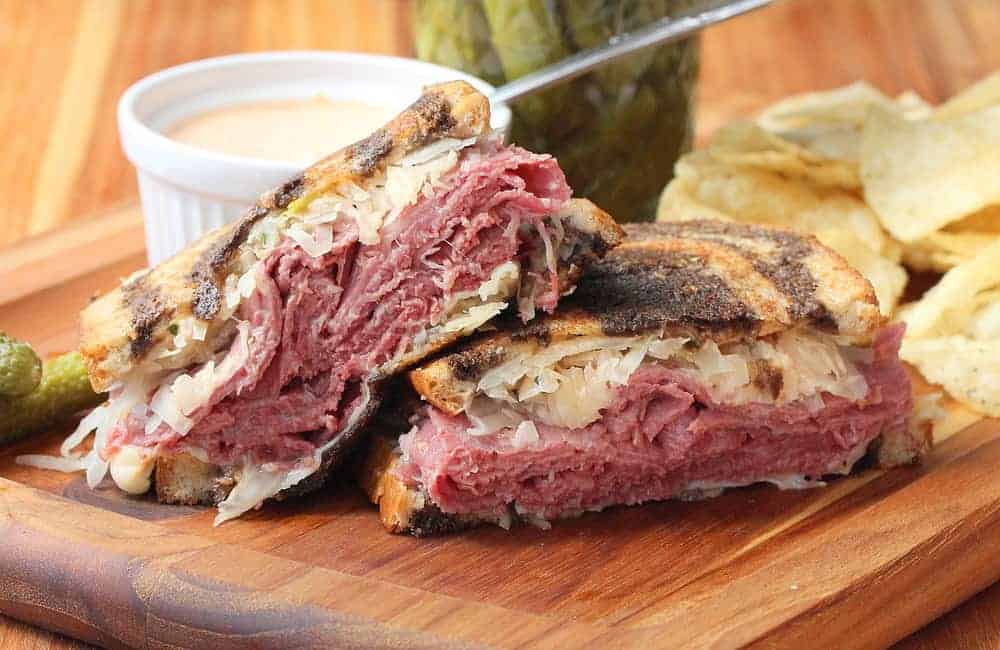 Classic Reuben Sandwich
This Classic Reuben Sandwich has been a deli favorite for decades in the U.S. Take it to new gastronomical heights by ordering Wagyu Corned Beef from www.FoodShedExhange.com. Make the
Russian Dressing
from scratch, add sauerkraut, Swiss cheese...and brace yourself. This is good. Really good.
Print
Pin
Rate
Prep Time: 15 minutes
Cook Time: 15 minutes
Total Time: 30 minutes
Servings: 4 people
Calories: 346kcal
Ingredients
6 slices of Jewish marbled Rye and Pumpernickel bread Pepperidge Farm has a nice version, or Dark Pumpernickel.
2 -3 tbsp unsalted butter softened, for outside of bread slices
Classic Russian Dressing for spreading
Approx. 1 & 1/4 lbs thinly sliced lean corned beef
12 oz sauerkraut drained
6 - 8 slices Swiss Cheese
Instructions
Butter one side of the bread slices

Heat a large, non-stick skillet over medium-high heat

Place a bread slice in the skillet, buttered-side down (place two slices in the skillet, if room, if not, you'll need to keep the cooked sandwiches in a warm oven, until they are all ready for serving).

Add about a tablespoon of Russian dressing to the bread slice(s).

Next add a nice heaping handful of the corned beef.

On top of this, add a layer of the sauerkraut

On top of the kraut, add cheese slices.

Add another layer of Russian dressing.

Top with bread slice, buttered-side on top.

Once lightly browned, carefully flip the sandwich, and grill the other side until nicely browned.

Remove and serve at once!
Nutrition
Calories: 346kcal