This sandwich brings together a true taste sensation that makes it such a classic. And it may not actually be Irish in origin, but many of the components are. The perfect St. Patrick's Day sammie!
The ingredients are simple: thinly sliced corned beef, sauerkraut, cheese, rye bread, and homemade Russian dressing! Grilled to perfection!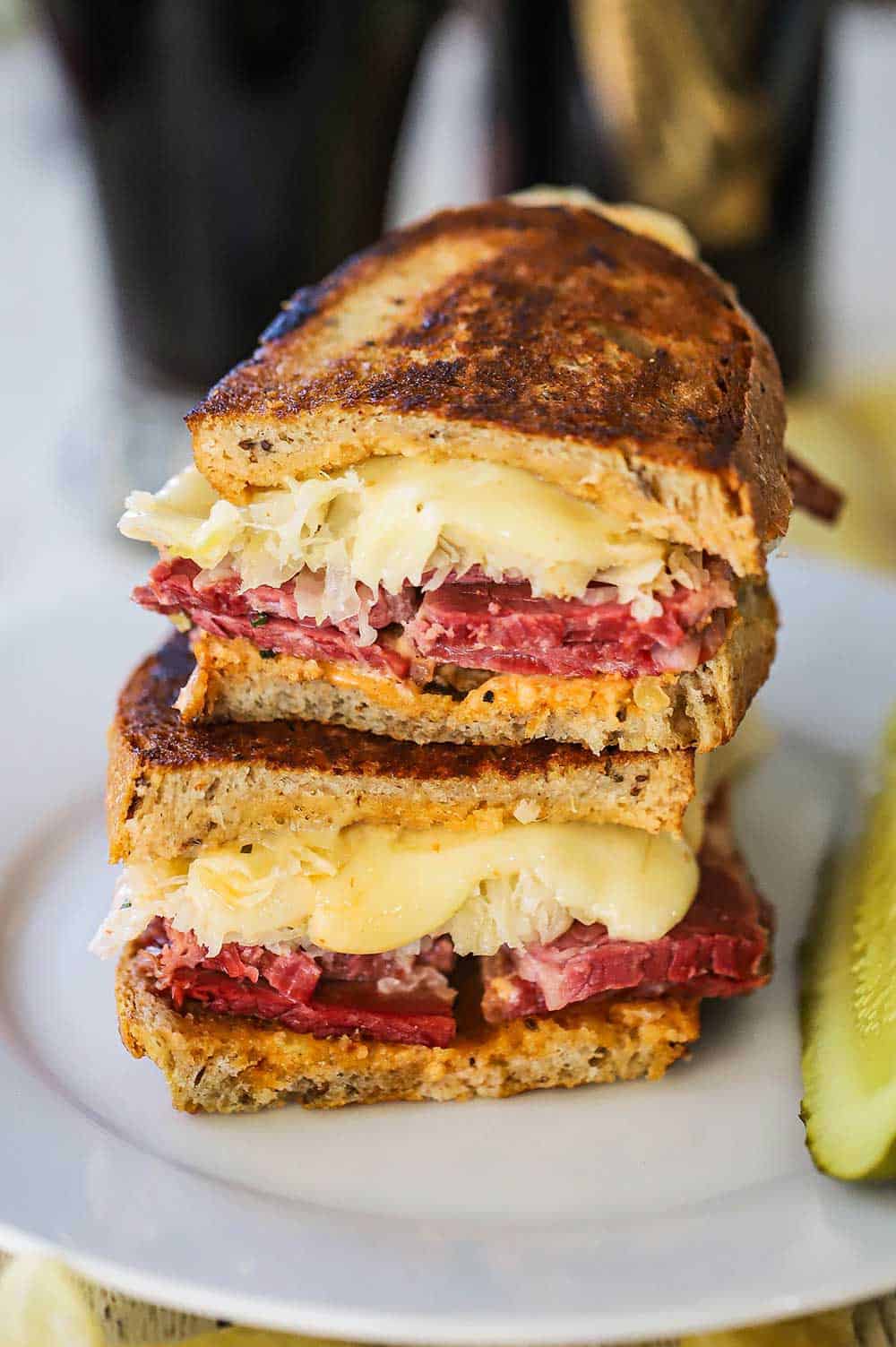 How To Make a Rueben Sandwich
This is one of those sandwiches where the sum is greater than the parts.
Each component comes together to make a classic and epic taste sensation.
And they are so much fun to prepare!
The Key Ingredients
We've got to say, a Rueben sandwich is really only as good as the corned beef. What is corned beef you may ask? Read more here.
We order incredible corned beef from Katz Delicatessen in New York City.
The homemade Russian dressing (with a Loon twist) adds amazing taste. More on that in a moment.
Seek out top-notch sauerkraut, Swiss cheese, and deli rye bread to create the perfect sandwich.
EXPERT TIP: You can find delicious corned beef at almost any decent deli, even at most quality supermarkets. We love our corned beef cut nice and thick, but it is also extremely delicious when cut very thin. You decide what looks best to you and have the deli person slice it for you accordingly. Place the meat in a heat proof bag and steam in simmering water for about 5 minutes.
Russian Dressing vs. Thousand Island Dressing
Russian Dressing and Thousand Island Dressing are very similar.
We combine the main components of each to make what we think is one of the best condiments you'll ever have or serves. Here are the ingredients you'll need:
Mayonnaise
Sour cream
Chili sauce
Worcestershire sauce
Prepare horseradish sauce
White onion, grated
Dill (or sweet) pickles, finely chopped
Fresh parsley, chopped
Fresh lemon juice
Salt and pepper
EXPERT TIP: Chili sauce can usually be found in the condiment section of most supermarkets. Heinz makes a great chili sauce. We like dill pickles, but sweet pickles are tasty, too. After you mix it all together, store it in the fridge to deepen the flavor.
Building the Perfect Reuben Sandwich
The sandwich needs to be treated almost like a grilled cheese sandwich.
Smear on a generous amount of softened butter to one side of each slice of bread. Slather on a layer of the dressing. Place in a medium-hot non-stick skillet.
Add the corned beef, then sauerkraut, cheese slices, and another slice of bread with dressing on one side and butter on the other. Cook until golden brown on the underside.
Flip and continue on the other side.
When and How To Serve a Reuben Sandwich
This Reuben sandwich is classic any time of the year. We love to celebrate St. Patrick's Day by fixing them pile-high for lunch.
However, these are also so much fun to serve to family and friends.
After you've warmed the corned beef, then set us an assembly line using an electric griddle or a large non-stick skillet, such as our beloved Sardel.
Other Epic Sandwiches
We are absolutely crazy for a great sandwich. And here are some of our all-time favorites:
In the meantime, aren't you just dying to make this epic sammie?
Folks, there are sandwiches, and then the are epic sandwiches.
This is undoubtedly one of them. It's possibly the best sandwich we've ever made.
The combination of the flavors is comfort food at its very best. One bite, and we think you'll 100% agree.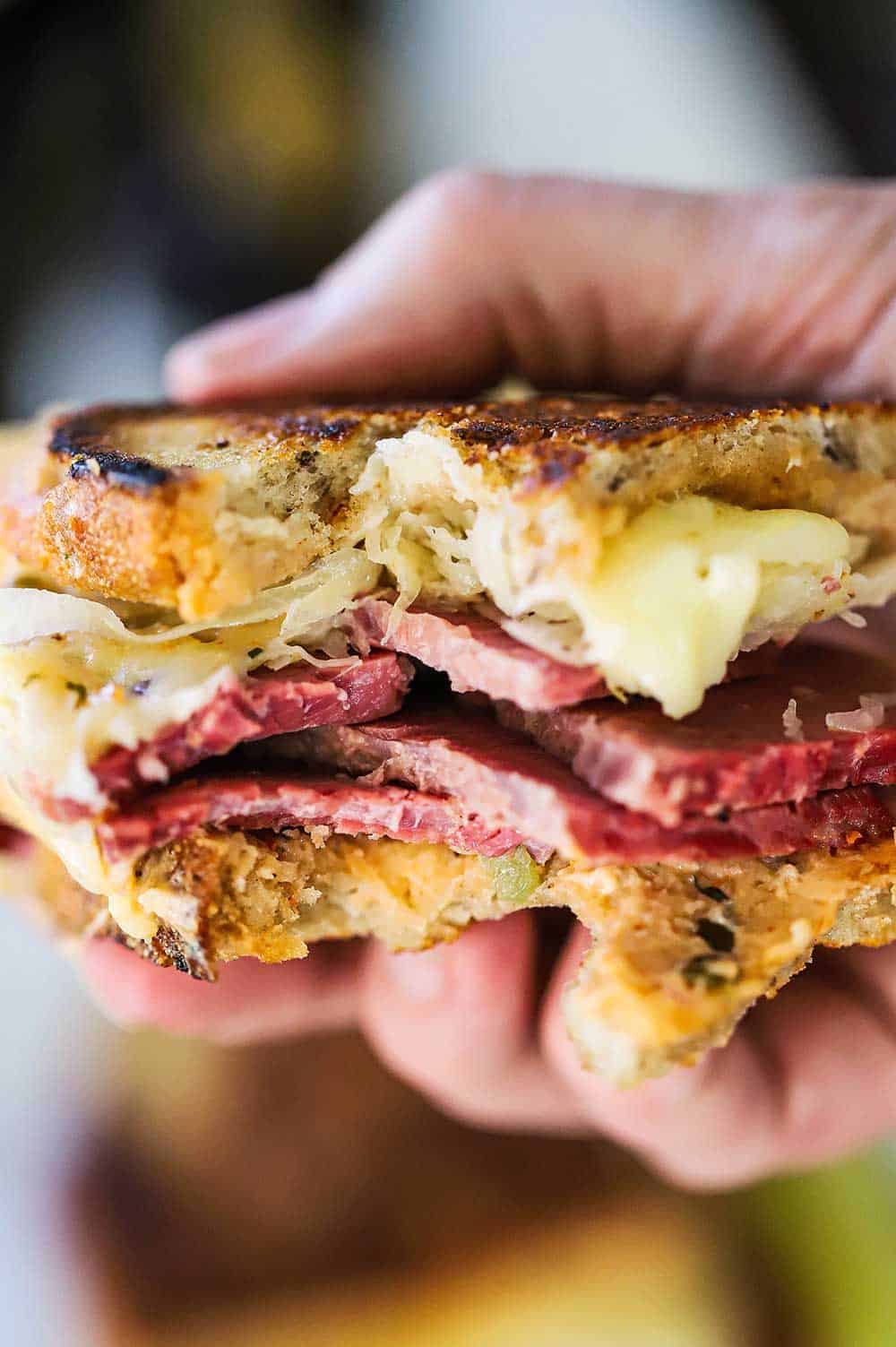 Ready to make the best sandwich this side of…ANYWHERE? Go for it!
And when you do, be sure to take a picture of it, post it on Instagram, and tag @HowToFeedaLoon and #HowToFeedaLoon!
Reuben Sandwich
Reuben Sandwich has been a deli favorite for decades in the U.S. Be sure to seek out top-notch ingredients and make the Russian (1,000 Island) dressing from scratch. It's easy and can be made several days in advance.
Print
Pin
Rate
Servings: 4 people
Calories: 719kcal
Equipment
A large non-stick skillet or griddle
Ingredients
8 slices rye bread
4 tbsp unsalted butter softened, for outside of bread slices
¼ cup Classic Russian Dressing for spreading
1½ lb corned beef thinly sliced
12 oz sauerkraut drained
6 slices Swiss Cheese
Instructions
Butter one side of each bread slice.

Heat a large, non-stick skillet (or griddle)over medium-high heat.

Place a bread slice in the skillet, buttered-side down (place two slices in the skillet, if room, if not, you'll need to keep the cooked sandwiches in a warm oven, until they are all ready for serving).

Add about a tablespoon of Russian dressing to the bread slice(s).

Next add a nice heaping handful of the corned beef.

On top of this, add a layer of the sauerkraut.

On top of the kraut, add cheese slices.

Add another layer of Russian dressing.

Top with bread slice, buttered-side on top.

Once lightly browned, carefully flip the sandwich, and grill the other side until nicely browned.

Remove, slice, and serve at once!
Notes
See the video near the top of the blog post for visual guidance. If you liked the video, please subscribe to our YouTube channel.
We order our corned beef from Katz Deli in NYC, but you can find excellent corned beef at any decent deli. It's up to you if you prefer thick-cut vs. thin-cut.
We love to gently heat the corned beef in a heat-proof bag in simmering water for about 5 minutes. Most quality freezer/storage bags would work just fine.
The corned beef and prepared Russian dressing will keep in the fridge for up to 5 days.
Nutrition
Calories: 719kcal | Carbohydrates: 35g | Protein: 38g | Fat: 34g | Saturated Fat: 12g | Polyunsaturated Fat: 2g | Monounsaturated Fat: 18g | Trans Fat: 1g | Cholesterol: 146mg | Sodium: 2307mg | Potassium: 777mg | Fiber: 6g | Sugar: 4g | Vitamin A: 581IU | Vitamin C: 59mg | Calcium: 314mg | Iron: 6mg
POST UPDATE: This recipe was originally published in June 2015 but was updated with improved tweaks to the recipe with new tips and photography and a fabulous new video in March 2022!