This Balsamic Grilled Pork Chops recipe is just so delicious; especially if you make it with roasted glazed Brussels sprouts and carrots.
We love getting nice thick center-cut pork chops, and starting them off on a hot grill, then transferring to an oven to finish the cooking. Amazing!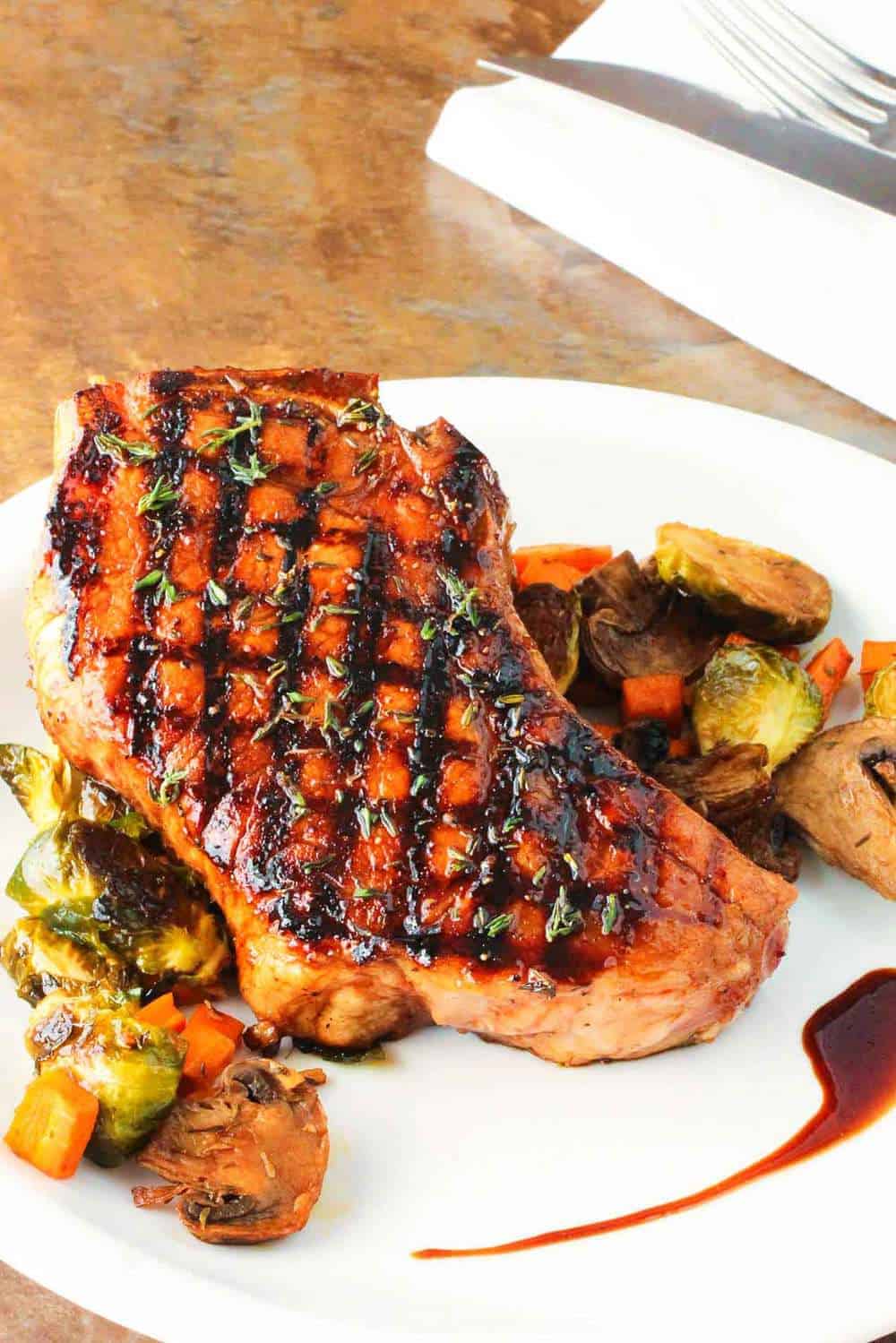 HOW TO MAKE BALSAMIC GRILLED PORK CHOPS
We absolutely love using my Cast Iron Grill Iron for making these chops, and when you can't get out to your outside grill, this work-horse does the job perfectly every single time.
They are so easy to order, too, not to mention they are super durable and very affordable.
Just look at that chop! Delicious!

QUALITY INGREDIENTS MAKE ALL THE DIFFERENCE
A good quality balsamic is just heavenly, but when you make a nice reduction, it makes for the perfect glaze. And that's really part of what makes this dish come to life, is the incredible glaze for the chops and vegetables!
Pure maple syrup takes this over the top and the roasted veggies call for a similar balsamic sauce for baking. Perfection!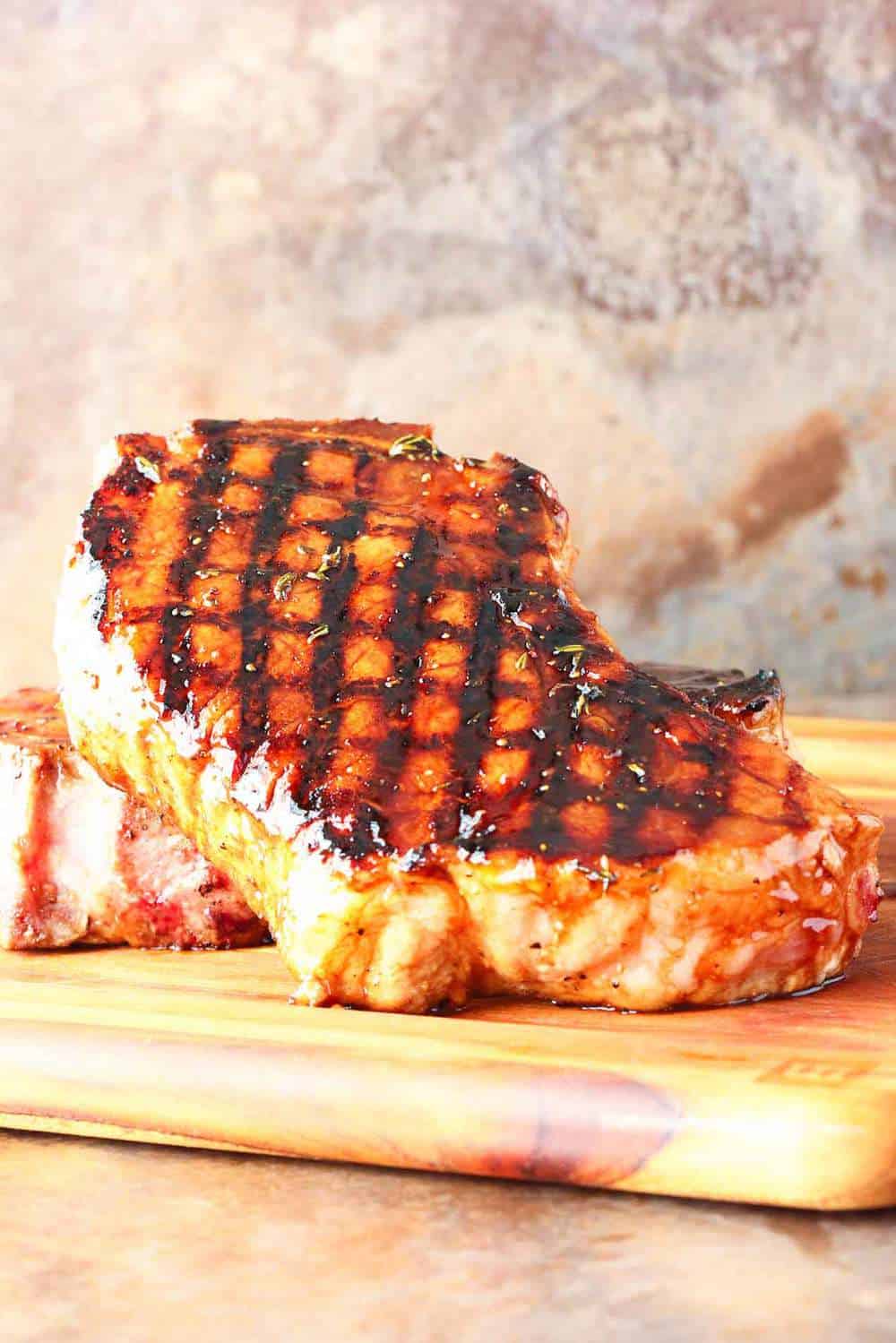 Okay! I think it's time to make this amazing Balsamic Grilled Pork Chops recipe! And let's do some roasted glazed Brussels sprouts and carrots, too!
Why not? 140% Loon Approved!
Balsamic Grilled Pork Chops
This Balsamic Grilled Pork Chops recipe is just through-the-roof delicious. Start the chops off on the grill and finish them up in the oven. And bake some incredible Brussels sprouts and carrots with the sauce, too. Both recipes are included! Woo hoo!
Print
Pin
Rate
Servings: 2
Calories: 708kcal
Ingredients
FOR THE PORK CHOPS
2 pork chops bone-in center-cut, about 1 1/2 inches thick
Kosher salt and fresh ground black pepper
⅓ cup balsamic vinegar
2 tbsp maple syrup
3 tbsp unsalted butter
1 tsp fresh thyme chopped
FOR THE ROASTED VEGGIES
2 tbsp balsamic vinegar
1 tbsp olive oil
1 tbsp maple syrup
1 tsp fresh thyme chopped
2 garlic cloves minced
1 lb Brussels sprouts halved
4 carrots roughly chopped
Kosher salt and freshly ground black pepper
Instructions
PREPARE THE PORK CHOPS
Pre-heat oven to 325°F.

Generously season the chops with salt and pepper and let sit at room temperature for 30 minutes before grilling.

Mix together balsamic vinegar and maple syrup in a small saucepan and cook over medium heat until thickens and reduces to about 1/4 cup, about 15 to 20 minutes.

Stir in butter and thyme.

Heat your grill to medium-high heat.

One grill is good and hot, place chops on the grates and brush on some of the balsamic reduction.

Grill for about 6 to 8 minutes and then turn, basting again and cooking for another 6 to 8 minutes.

Place grilled chops on a baking sheet and bake until cooked through to 145°F, about 15 to 20 minutes.
MAKE THE ROASTED BRUSSELS SPROUTS AND CARROTS
Pre-heat oven to 325°F (if haven't already done so for the pork chops)

Lightly oil a baking sheet.

In a small bowl, whisk together the vinegar, olive oil, and maple syrup. Set aside.

Place Brussels sprouts and carrots on the prepared baking sheets and pour the balsamic mixture over it, topping with the chopped thyme, garlic and healthy pinches of salt and pepper.

Gently stir to coat.

Place in oven a bake until brown and tender, about 25 minutes.

Serve immediately with pork chops.
Nutrition
Calories: 708kcal | Carbohydrates: 63g | Protein: 38g | Fat: 24g | Saturated Fat: 9g | Cholesterol: 136mg | Sodium: 224mg | Potassium: 1905mg | Fiber: 12g | Sugar: 38g | Vitamin A: 22624IU | Vitamin C: 202mg | Calcium: 200mg | Iron: 5mg