This truly is a spectacular dish. It's especially wonderful during the spring when English peas are at their freshest.
This Italian rice dish is loaded with so much flavor. It's similar to risotto, but not quite as creamy. And the shelled English peas are the true star of the dish. A burst of freshness with every bit. And it's easy to make!
How To Make Risi e Bisi
We had ever heard of Risi e Bisi as kids. Actually, it wasn't until we moved to NYC and learned of it from a good friend whose Italian mother made it all the time.
The first time we made it, we were hooked.
And it's surprisingly easy to prepare!
Start building the flavor profile by sautéing chopped onions and diced pancetta in a large skillet over medium heat with some good-quality olive oil.
Cook until the pancetta is crisp and the onion is translucent.
EXPERT TIP: To make this dish completely vegetarian, omit the pancetta and use vegetable broth instead of chicken broth.
The Best Rice to Use
As mentioned, this dish is very similar to traditional risotto, and you'll want to follow the same steps and techniques to make a perfect consistency.
Before you get started, be sure to heat the broth/stock in a large pan and bring it to a simmer. Adding the heated liquid will keep the rice from cooling down and allow it to absorb the stock better.
The best rice to use for Risi e Bisi is arborio or carnaroli, which are Italian short-grained rice. Arborio can be found in the rice section of most well-stocked supermarkets, and either arborio or carnaroli can also easily be ordered online.
EXPERT TIP: After you've cooked the rice in the sautéd onion and pancetta until lightly toasted (about 2 minutes), you'll need to add the hot broth in stages. Add about ½ to 1 cup at a time. Stir frequently with a wooden spoon. Once all the liquid is absorbed, add more broth. Continue this process until the rice is barely al dente and has just a tiny bit of bite to it. You'll use 6 (of the 7) cups of broth and it will take about 22 to 25 minutes.
Where to Find Shelled English Peas
English peas are beautiful sweet-flavored peas that can be found at vegetable markets or in the produce section of well-stocked supermarkets.
You can shell them yourselves, or buy them already shelled.
EXPERT TIP: Once shelled, English peas don't have a long shelf life, so we recommend waiting to shell the peas until just before cooking with them. We find packaged shelled English peas at our local supermarket and they work perfectly. They also freeze wonderfully, too. If you can't find fresh English peas, then you can substitute frozen sweet peas. But, we really encourage you to seek out the fresh shelled English peas. They really elevate the taste and texture of the dish tremendously.
Add the peas, along with the parsley, 1½ teaspoons Kosher salt, and ½ ground black pepper. Stir and cook for 1 to 2 minutes.
Finishing Off the Dish
At this point, try a small spoonful of the rice. It should be tender and almost ready.
Add in the remaining 1 cup of broth/stock and stir for another 2 minutes. Taste again. Add more salt, if desired. The consistency should creamy, but not too thick. If you prefer your Risi e Bisi to be thinner, then add more broth/stock.
EXPERT TIP: Grated parmesan, lemon zest, and butter elevate the flavor of the dish tremendously. Turn the heat off and stir in the cheese, zest, and butter. Do one more taste test and add more salt, if desired. The dish is best served right off the stove. If not serving immediately, then gently reheat over low heat and add another cup of warm broth.
When To Serve and How To Store
This amazing dish is very popular in Venice, Vicenza, and Verona – Italy! Read more about its history here.
It makes a wonderful entree but is a spectacular pre-dinner dish, too. It's ideal for serving guests at a lovely dinner party, or a brunch, or a baby and/or wedding shower.
We love garnishing each plated dish with a small handful of pea shoots. Alphalpha sprouts or even mung bean sprouts are great options, as well. They are completely optional, but it adds a nice depth of taste, texture, and is visually beautiful.
EXPERT TIP: As mentioned, the dish is best served right from the stove. However, you can prepare it up to several hours in advance. Just before serving, reheat over medium-low heat and add another cup of broth. Stir until heated through. If serving buffet style, be sure to keep an eye on the dish, stirring every now and then, adding more liquid if it starts to appear dry.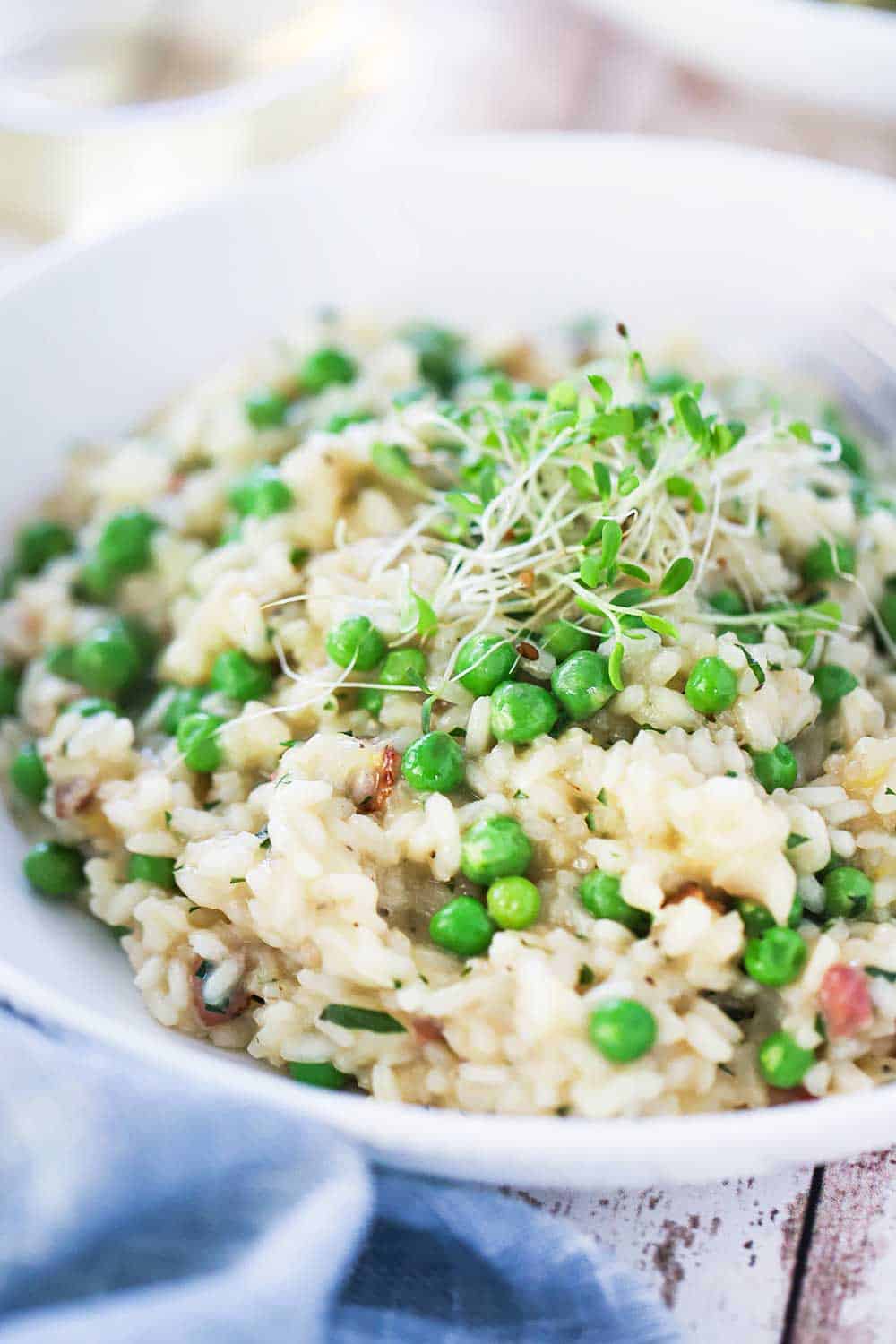 As you can see, making this dish is not hard to do. Just be sure to use Italian short-grain rice such as arborio or carnaroli.
Homemade chicken broth is always a great option, although quality store-bought works just fine, too.
After just one bite, you'll be so glad you made this deeply flavorful dish. It truly is something that is special and you'll want to prepare time and time again.
Ready to make the most delicious rice dish this side of Venice? Go for it!
And when you do, be sure to take a photo of it, post it on Instagram, and tag @HowToFeedaLoon and hashtag #HowToFeedaLoon!
Risi e Bisi
Risi e Bisi is traditional Italian at its best. So good, and tastes like Spring! Seek out shelled English peas! They are so good and this dish is as beautiful in appearance as it is delicious in taste!
Print
Pin
Rate
Servings: 6 people
Calories: 570kcal
Equipment
Large saucepan with separate pot for heating the stock.
Ingredients
7 cups chicken stock heated on the stove
¼ cup olive oil
1 cup onion chopped
2 oz pancetta diced
2 cups arborio rice
2 cups English peas shelled
3 tbsp parsley chopped
1½ tsp Kosher salt
½ tsp black pepper freshly ground
1 tbsp lemon zest from 1 lemon
½ cup Parmesan cheese grated
4 tbsp unsalted butter
4 oz snow peas shoots or alfalfa sprouts, optional, for garnish
Instructions
Bring the broth to a low simmer in a medium-sized pot. Keep warm during the entire cooking process.

Heat oil over medium heat in a large saucepan. Once shimmering, add the onion and pancetta and cook until the onion is translucent and pancetta is slightly crisp.

Add 1 cup of the hot broth. Use a wooden spoon to stir the rice around in the broth. Continue this process until the liquid has been absorbed. Repeat in ½ to 1 cup broth increments. Continue until rice and almost completely soft to the bite, and you've used 6 (of the 7) cups of the broth. This process should take 22 to 25 minutes.

Stir in the peas, parsley, salt, and pepper. Stir and cook for 1 minute.

Add the last cup of broth and cook until the rice is very tender to the bite, about 2 more minutes.

Turn off the heat and stir in the Parmesan cheese, lemon zest, and butter. Stir until butter has melted. If too thick, add a little more broth. Taste and add more salt, if desired. Serve at once, garnished with snow pea shoots, if using.
Notes
Be sure to heat your broth before starting. To make the dish vegetarian, omit the pancetta and use vegetable broth in place of the chicken broth. Shelled English peas can often be found packaged in the produce section of most well-stocked supermarkets, or at produce markets. Frozen sweet petite peas can be substituted in a pinch. Keep an extra cup or two of the broth handy. You may need to add more if not serving immediately, or if the rice mixture feels too thick. Rise e bisi is best served right from the stove, but can easily be reheated over medium heat with another cup of broth (or water) stirred in. Simmer over low heat until heated through. Leftovers can keep in the fridge for up to 1 week. It can also be frozen for up 2 months, but the texture will be somewhat compromised when thawed and reheated.
Nutrition
Calories: 570kcal | Carbohydrates: 66g | Protein: 16g | Fat: 18g | Saturated Fat: 8g | Trans Fat: 1g | Cholesterol: 40mg | Sodium: 1182mg | Potassium: 427mg | Fiber: 3g | Sugar: 6g | Vitamin A: 481IU | Vitamin C: 6mg | Calcium: 123mg | Iron: 4mg
POST UPDATE: This recipe was originally published in June 2014, but was updated with improved tweaks to the recipe, with new tips and photography, and a fabulous new video in April 2021.