Queso is one of those savory dips that is loved by so many from practically every corner of the globe.
Our Classic Tex-Mex Queso is one of our most popular recipes on the blog, and we are somewhat partial to it. This particular queso is perfect in its simplicity. It's all about the cheese, and of course, flavorful savory Mexican sausage. All that's needed is a warm flour tortilla. Appetizer perfection!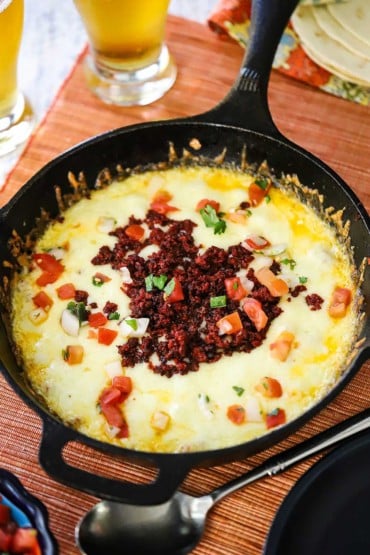 How To Make Queso Fundido with Chorizo
This is one of the easiest appetizers you will ever make.
But it will also be one of the most delicious, too.
Get ready for lots of "oohs" and "ahs."
NOTE: If you liked this video, please subscribe to our YouTube channel. Remember to click the 'bell' icon so you'll never miss a new video. Thank you!
The Ingredients You Will Need
There are only 2 main ingredients in this dish, but it's important to go with the right ones.
First, let's talk cheese. You need a good melting cheese for queso fundido. Here are our favorites:
Monterey Jack – Pick up a block from your supermarket
Queso Chihuahua – Easily found at your local Hispanic market
Queso Asadero – Available at some well-stocked supermarkets or at Hispanic markets
We love using a combination of Monterey Jack and Chihuahua. Whether you do a combination of stick with just one kind, you'll need a whopping 1 lb of cheese!
For the sausage, you'll definitely want to go with fresh Mexican chorizo. Spanish chorizo is cured and fully cooked.
EXPERT TIP: Mexican chorizo can be found in the meat department of many well-stocked markets or in Hispanic markets. You'll need about ¾ lb (12 oz) which you can get either in bulk or cased in links. If buying links, you'll need to remove the casing and crumble the sausage into your skillet. You'll need the sausage from 3 links.
Tips for Perfect Queso Fundido
Drain the Grease – Mexican chorizo typically renders a decent amount of grease. In fact, authentic Mexican chorizo has pork fat added. Don't worry, this adds a ton of flavor, but you probably don't need that much fat in your queso. After cooking the sausage, simply tilt the skillet to the side and use a large spoon to remove most of the grease. Discard safely.
Shred the Cheese – We love using Monterey Jack cheese for the fundido. It melts perfectly. We purchase in block form and then use the shredder attachment on our food processor to shred it. A box grate works, too. As mentioned, a combination of cheeses is great, but only using Monterey Jack works wonderfully, as well.
Serve at Once – This is definitely best served right out of the oven. Once the cheese begins to set and harden, it's not as enjoyable.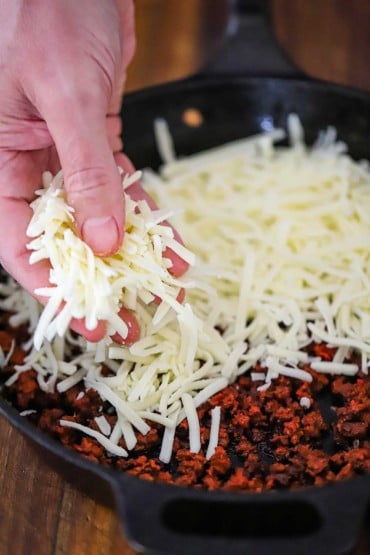 How To Serve
As mentioned, this dish is best served piping hot right out of the oven.
When served at restaurants, it is plated tableside. The server will stir the melty cheese into the chorizo for an amazing presentation.
EXPERT TIP: You'll absolutely want to serve the fundido with warm flour tortillas. You want them to be very soft and pliable. We wrap the tortillas in paper towels or light linen, dampen the cloth with water, and then microwave for about 10 to 15 seconds. This keeps them very soft and the perfect vessel for the gooey cheese and chorizo.
Other Classic Appetizers to Try
We just love all kinds of appetizers. We love them so much, we often will make a bunch of appetizers and make a full meal out of them! Here are some of our favorites that you will enjoy making, too!
Homemade Jalapeno Poppers
Classic Tex-Mex Queso
Loaded Potato Skins
Best-Ever Classic Nachos
Grilled Buffalo Wings with Blue Cheese Dressing
Sausage-Stuffed Mushrooms
Homemade Egg Rolls with Easy Duck Sauce
In the meantime, aren't you craving a big serving of this?
Queso Fundido is truly impressive. It may seem like you're adding entirely too much cheese.
When you pull the dish from the oven and you see that ocean of hot, bubbly cheese, you'll know it's just right.
EXPERT TIP: If you can't find Mexican chorizo, or want a substitute, standard taco meat is a great option, too. It won't be fundido, but it will still be delicious!
Ready to make the best queso this side of the Rio Grande? Go for it!
And when you do, be sure to take a photo of it, post it on Instagram, and tag @HowToFeedaLoon and hashtag #HowToFeedaLoon!
Queso Fundido with Chorizo
Queso Fundido with Chorizo is ooey gooey cheesy and a little decadent. But so good! Be sure to have plenty of warm, soft flour tortillas available to serve with the dip.
Print
Pin
Rate
Servings: 8
Calories: 471kcal
Equipment
1 9-inch cast-iron skillet or oven safe baking dish
Ingredients
¾ lb chorizo Mexican, casings removed if using links
1 lb Monterey Jack shredded, or a combination of other types (see NOTES)
12 flour tortillas fajita size, warmed
pico de gallo for garnish, optional
Instructions
Preheat oven to 400°F.

Cook the chorizo in the skillet until fully cooked. If excess grease has rendered, carefully tilt the skillet to one side and spoon out most of the fat. Discard safely.

Remove about ½ to 1 cup of the cooked chorizo. Set aside.

Spread the remaining chorizo evenly across the skillet. Sprinkle all of the cheese over the top of the chorizo. Bake for 15 to 20 minutes.

Remove from the oven and place the reserved chorizo on the cheese in the middle of the skillet. Return to the oven and cook until cheese is fully melted, bubbly, and beginning to brown, just a little.

Remove and serve at once, using two forks to mix the melted cheese into the chorizo. Serve with warmed tortillas and pico de gallo, if desired.
Notes
See the video near the top of the blog post for visual guidance. If you liked the video, please subscribe to our YouTube channel.
Monterey Jack is a great choice for cheese. Other wonderful Mexican melting cheeses include Queso Chihuahua, Queso Oaxaca, and Queso Asadero. Mild cheddar will work, but the white melting cheese is best.
Leftovers can be reheated in a 350°F oven until melty and bubbly.
Nutrition
Calories: 471kcal | Carbohydrates: 23g | Protein: 24g | Fat: 28g | Saturated Fat: 11g | Polyunsaturated Fat: 2g | Monounsaturated Fat: 6g | Cholesterol: 77mg | Sodium: 1180mg | Potassium: 102mg | Fiber: 2g | Sugar: 2g | Vitamin A: 588IU | Calcium: 489mg | Iron: 3mg