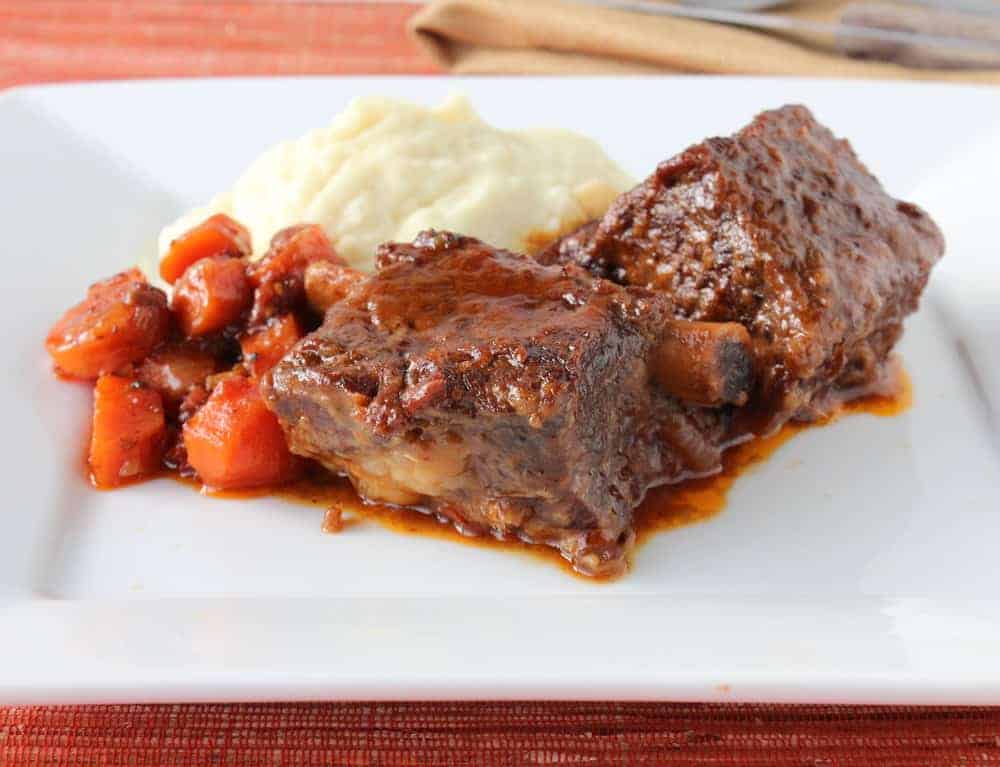 Braised short ribs are simply incredible.   Fall off the bone tender.  And so much flavor.  The Loon says it's about as good as it gets when it comes to eating meat.  And Lord, he should know.   Get some nice, beefy short ribs from your butcher, or somewhere you trust.   This is a special meal.   You won't believe how wonderful your house smells as the ribs slowly cook in all their goodness.   Just amazing.
Braised Short Ribs
The braised short ribs have an Italian flare to them, and wow, oh wow, are they good. Fall off the bone delicious. Amazing!
Author: Kris Longwell
Recipe type: Italian
Cuisine: Italian
Serves: 6
Ingredients
3 tablespoon of all-purpose flour
1 teaspoon of salt, plus more to taste
½ teaspoon of ground black pepper, plus more to taste
5 to 6 beef short ribs
½ cup olive oil
¼ cup of pancetta, chopped
2 yellow medium onions, chopped
4 garlic cloves, minced
1 teaspoon of red pepper flakes
2 carrots, chopped
2 tablespoons of tomato paste
1 tablespoon sugar
1 cup of dry red wine
1 can (14½ oz) diced plum tomatoes
1 cup of beef stock
½ cup balsamic vinegar
2 bay leaves
2 sprigs fresh rosemary
2 sprigs fresh thyme
1 tablespoon dried oregano
Instructions
Pre-heat the oven to 350 F
On a platter, stir together the flour, 1 teaspoon of salt, and ½ teaspoon pepper.
Turn the ribs in the seasoned flour, shaking off any excess.
In a Dutch oven (or large pot), over medium-high heat, warm the olive oil.
Working in batches, cook the ribs, turning occasionally, until evenly browned, about 10 minutes.
Remove from the pan and set aside.
Add the pancetta to the pan and saute, stirring often, about 5 minutes.
Add the onions and saute until beginning to soften, abut 3 minutes.
Stir in the garlic and red pepper flakes and saute until fragrant, about 1 minute.
Add the carrots, tomato paste, and sugar and cook, stirring until well blended, about 1 minute.
Add the wine and deglaze the pan, stirring and scraping up the browned bits on the bottom of the pan (so yummy!).
Bring to a boil.
Stir in the tomatoes, stock, and vinegar, and return to a boil.
Add back in the ribs, plus the bay leaves, rosemary and thyme sprigs and oregano.
Cover and place in oven.
Cook for about 2 hours.
When the ribs are done (they will be super tender), use a large, shallow spoon, or ladle to skim as much fat as possible from the surface of the liquid.
Season to taste with a little more salt and pepper.
Transfer the ribs to warmed plates, and then spoon the juices and veggies over and around them.
Serve and rejoice!