This post is kindly sponsored by Lucky's Noble Fire + Smoke, but the photography, video, and opinions are 100% ours.
If you love amazing smoked BBQ, then you need to look no further. You're about to be introduced to beef that has been taken to culinary genius.
We are over-the-moon excited to have partnered with acclaimed chefs Jimmy Schmidt and Brian Recor, the masterminds behind Lucky's Noble Fire + Smoke, to share with you some of the most amazing beef you will ever try in your life. And you don't have to do much more than turn on your oven (real low) to prepare these extraordinary Wagyu chuck beef short ribs.
Sadly, like so many businesses, especially in the restaurant industry, Lucky's fell victim to the unrelenting devastation of Covid-19 and had to close their doors in 2020. Construction was even halted on locations being built in Louisiana, Texas, and Las Vegas. Ever the visionary, Chef Schmidt and his core team are able to still offer their incredible Wagyu beef products to the public. We encourage you to consider not only supporting this innovative business – but also getting your hands on some of the best (if not THE BEST), Wagyu beef in the world.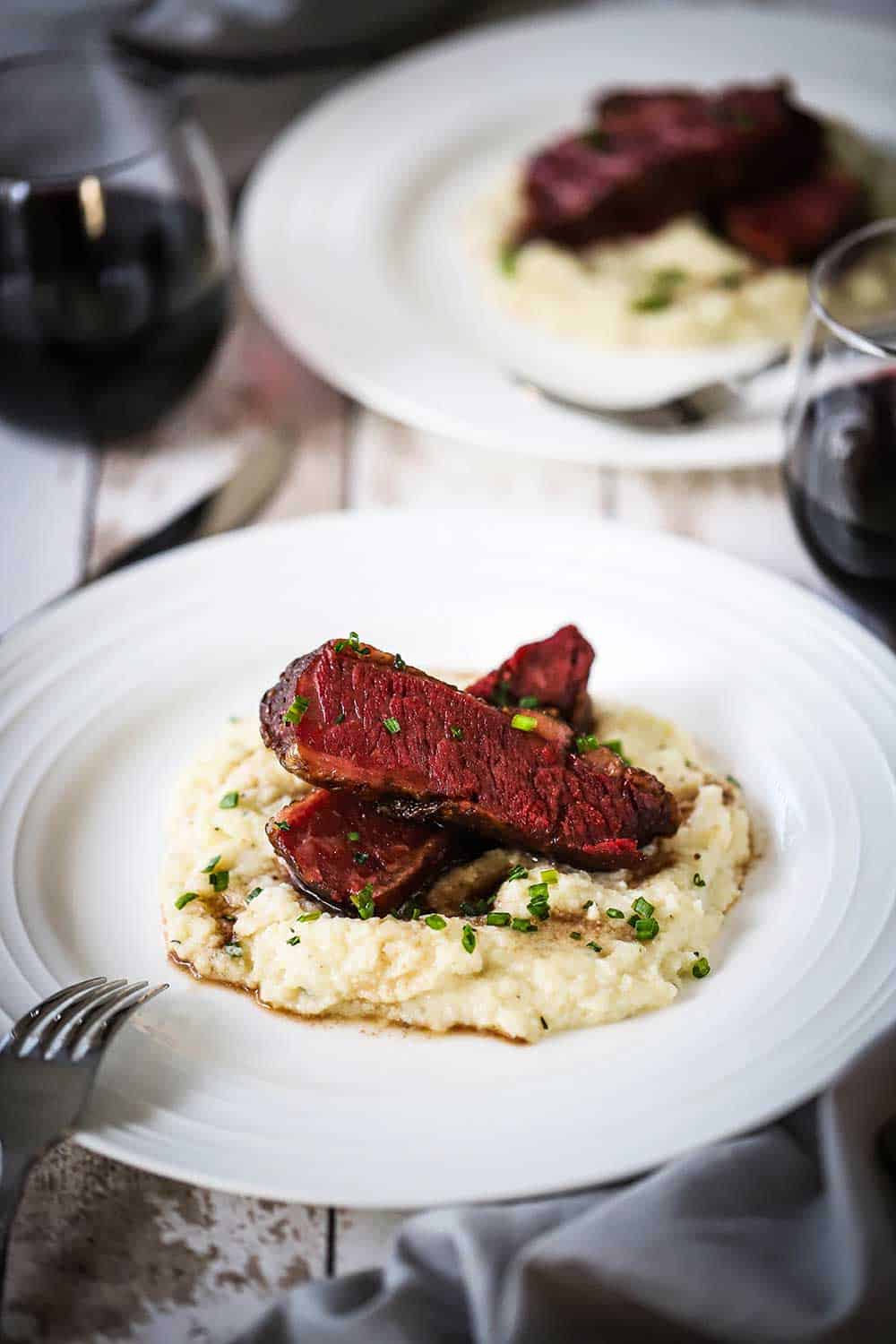 The Best of the Best
Lucky's Wagyu beef chuck short ribs are boneless and come primarily from the chuck portion of the steer, but they may include Short Ribs as they extend into the Short Plate Region.
What does this mean? Lucky's Wagyu Chuck Short Ribs are extremely well marbled with a thinner fat cap than the Short Plate Short Ribs.
Schmidt, a James Beard award-winning chef, ensures the ribs are smoked nice and slow with a secret ancient red spice cure that completes the protein molecule thus trapping in more flavor, more nutrition, and the beautiful red color.
Serve at Home with Ease
Let Chefs Jimmy, Brian, and their esteemed culinary team do all the heavy lifting for you.
Once you place an order for these exceptional ribs, they are flash-frozen and are sent to you via expedited delivery.
You'll receive 1 to 2 jumbo packages of ribs that are flawlessly vacuum-packed and will be frozen, or partially frozen. Each cut of boneless ribs easily feeds 2 to 4 people.
EXPERT TIP: Once you unpack your ribs, you have several options: Either place the ribs into your freezer to hold until you are ready to cook. No need for further wrapping. Or, you can place the ribs in your fridge to defrost, allowing 24 hours or so to be thawed to cook. Or, for a quicker thaw, you can place the ribs in a large bowl or pot of cold water in your sink at room temperature. It takes about 30 minutes per pound to defrost with this method.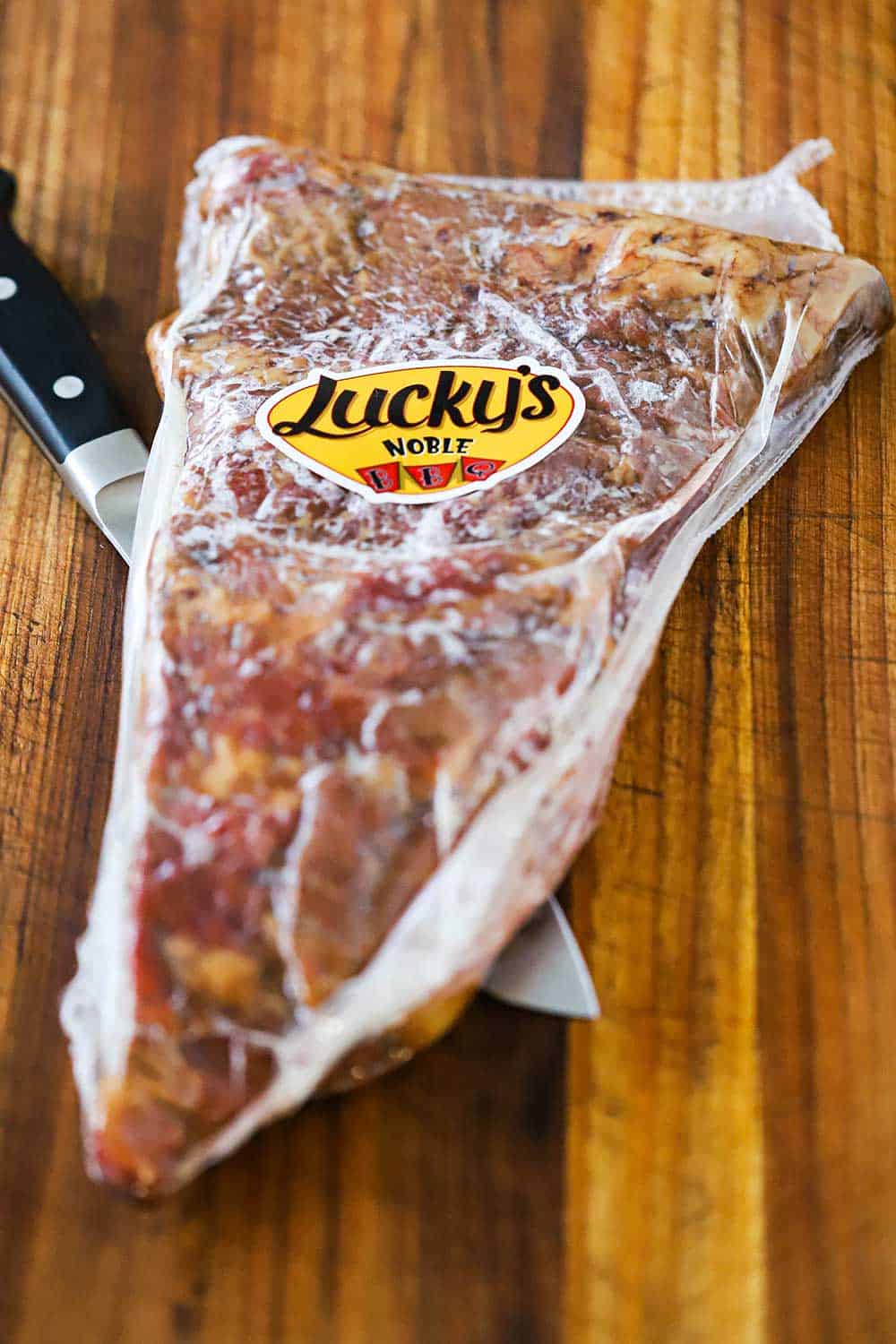 Now, here's something to remember: You need time to heat these in a very low-temp oven. A lot of time.
We're talking 12 to 15 hours. But no big deal, right?
Place them in the oven in the morning, and you'll have the best ribs on the planet that evening.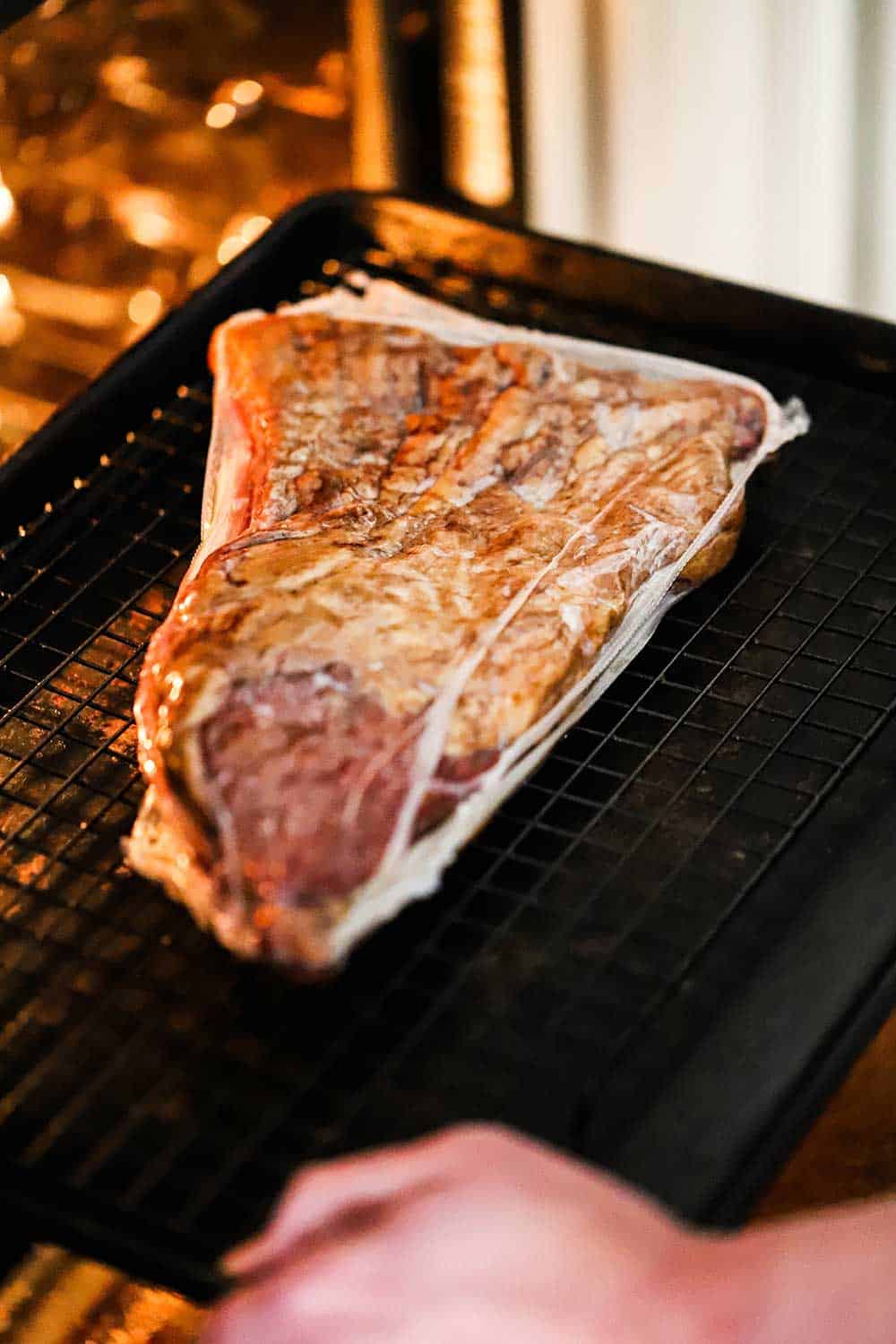 What Makes These Wagyu Chuck Short Ribs So Special?
It all starts with the Lucky Noble's Wagyu beef. Unmatched with incredible flavor and marbling. Wagyu, by the way, is higher in Omega fatty acids, which are the good ones! So, there's that, and then, of course, an ingenious process.
First comes the cure, the secret blend of Lucky's Famous Red Spices with all the fixings that takes the wonderful Wagyu Beef to the next world of flavor sensation that everyone loves.
Next comes the low and slow hickory wood smoke. The Wagyu cured cuts are hung to expose all surfaces to the subtle scent of the flavorful smoke, for hours and hours. Gently merging the rich flavors of the Red Spice Cure surrounded by wisps of Hickory Smoke.
Finally, and this is where YOU step in…the slow-and-low cooking for 12 to 24 hours that produces rich Umami flavor and silky fork tenderness. By the way,
EXPERT TIP: Be sure to not remove the ribs from the packaging. You can remove the labeling if you prefer, but even that's not necessary. Once you remove the ribs (still in the package), you'll see beautiful juice that has collected in the bag and around the ribs. The ribs will be a beautiful bright red color, which comes from the incredible red spice cure.
As mentioned, you'll see a lot of juice that has collected in the bag during the slow-cooking process.
This is loaded with flavor and we'll show you how to make an easy (but super delicious) au jus sauce in just a moment.
Hold the ribs (in the package) over a medium-sized bowl, and use a knife to puncture a hole in the wrapper. Allow the juice to empty in the bowl and set aside.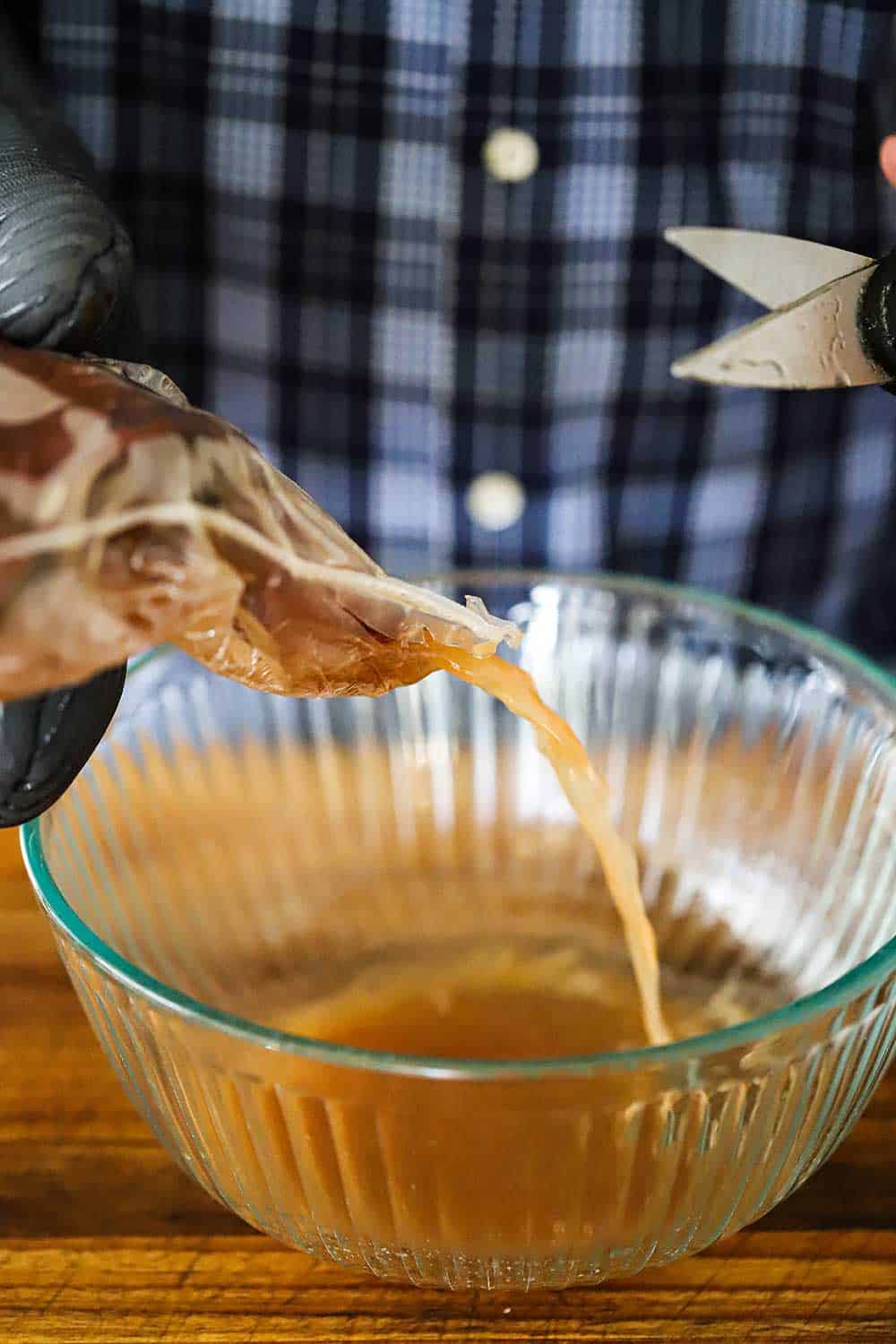 Before you make the quick and easy au jus sauce, you'll want to keep the ribs warm by placing them on a cutting board and loosely tenting with a piece of foil.
Take note of the beautiful red color of the ribs.
Once you cut open the vacuum-packed bag, just wait for the incredible smokey Wagyu smell to envelop your senses. Heavenly!
How To Make Au Jus
These ribs are simply divine by themselves.
But even perfection can be made better with a little sauce. Right? Bring on the au jus with Wagyu beef drippings. Yes, please!
EXPERT TIP: In a large saucepan, heat ¼ cup of red wine and 1 tbsp of Worcestershire sauce. Stir in the collected juices and ½ cup of beef stock. Simmer until reduced in half, about 10 minutes.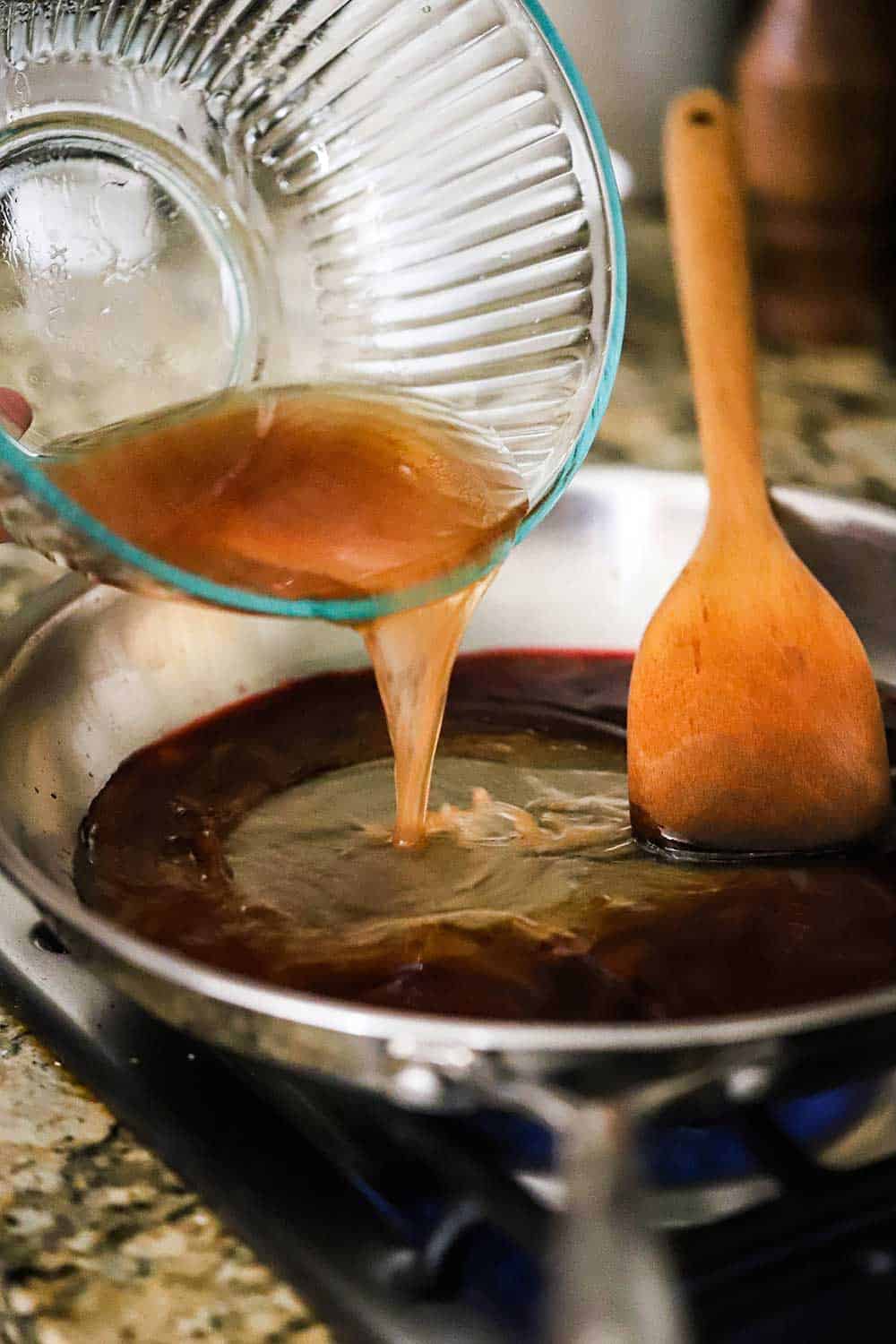 Ladies and gentlemen, once you slice into the short ribs, you'll understand our excitement.
Unbelievably tender and juicy.
And just wait for that first bite.
How To Get Lucky's Noble Wagyu Chuck Short Ribs Delivered To You
Getting these ribs delivered directly to your home couldn't be easier. Simply click here and place your order.
DISCOUNT FOR OUR READERS: Enter 'LOON' in the Promo Code box and get $10.00 off your order, plus FREE shipping! (Includes Expedited Delivery).
NOTE: Currently, Lucky's Noble Wagyu Chuck Short Ribs can only be shipped to addresses in the continental United States.
We place a couple of strips of the short ribs over our incredible Mashed Cauliflower with Roasted Garlic and then a drizzle of the au jus sauce over the top. Epic.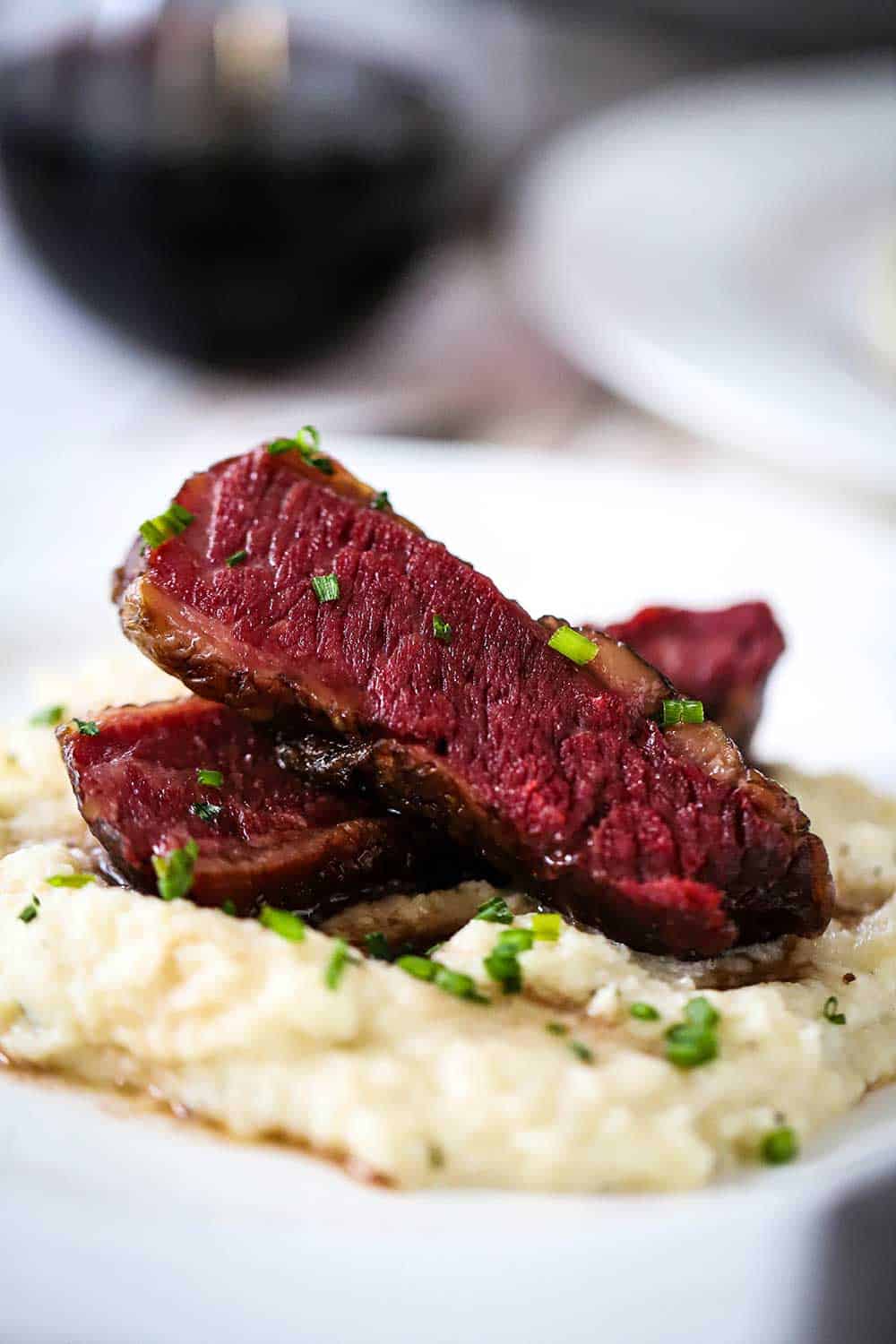 Talk about a show-stopper of a 'special occasion' meal.
Perfect for a romantic Valentine's feast. In addition to the mashed cauliflower with roasted garlic, we serve these phenomenal ribs with a lovely red wine, such as Boudreaux or Pinot Noir. For dessert, Chocolate Ganash Mousse Cake is the perfect ending to a unmatched celebration of culinary excellence.
Folks, we wouldn't steer you wrong with these beef ribs. Get it? Seriously though, with one bite, you're likely to proclaim: "Holy Cow! That is AMAZING beef!"
Ready to make one of the most unforgettable 'special occasion' meals of all time? Go for it!
And when you do, be sure to take a picture, post it on Instagram, and tag @HowToFeedaLoon and hashtag #HowToFeedaLoon!
Wagyu Chuck Short Ribs
These ribs are nothing short of incredible. Be sure to plan ahead as they need about 12 hours for low-and-slow cooking. Save the juices to make the au jus!
Print
Pin
Rate
Servings: 4
Calories: 805kcal
Equipment
Low-temp oven (165 - 170°F) and a baking sheet
Ingredients
4 lbs boneless short ribs boneless
For the Au Jus
Juice from the cooked short ribs
¼ cup red wine
1 tbsp Worcestershire sauce
½ cup beef stock
Instructions
Slow-Cook the Boneless Short Ribs
Preheat oven to 165°F or 170°F (some ovens can't hold heat below 170°F).

Place short ribs, still in the package, on a baking sheet. Bake, uninterrupted, for 12 hours.

Remove from oven. Hold the ribs over a medium-sized bowl and puncture the bag in order to allow the juices to flow into the bowl. Set aside.
Make the Au Jus
Take the short ribs from the package and loosely cover with foil while you quickly prepare the au jus.

In a large saucepan, heat the wine and Worcestershire over medium heat and bring to a simmer. Add the reserved short ribs juice and the beef stock. Simmer on medium-high until reduced by nearly in half, about 10 minutes.

Slice the short ribs into 1-inch strips and serve with au jus on the side.
Notes
The ribs need a minimum of 12 hours in the low-temperature oven. However, they can be kept in the low-temp oven for up to 15 hours. The ribs can be reheated in a 350°F oven for 15 to 20 minutes. We recommend cutting the cut of meat into 1 to 2-inch slices. We love serving them atop our mashed cauliflower with roasted garlic with the au just sauce drizzled over the top. See Blog Post for storing the short ribs once delivered.
Nutrition
Calories: 805kcal | Carbohydrates: 2g | Protein: 87g | Fat: 28g | Saturated Fat: 12g | Cholesterol: 268mg | Sodium: 396mg | Potassium: 1728mg | Sugar: 1g | Vitamin A: 4IU | Vitamin C: 1mg | Calcium: 44mg | Iron: 10mg