Asian Braised Short Ribs are seriously finger-licking good. The Asian influences are Chinese, Japanese, Thai and Korean. They are literally fall-off-the-bone good.
And talk about flavor. Insanely delicious.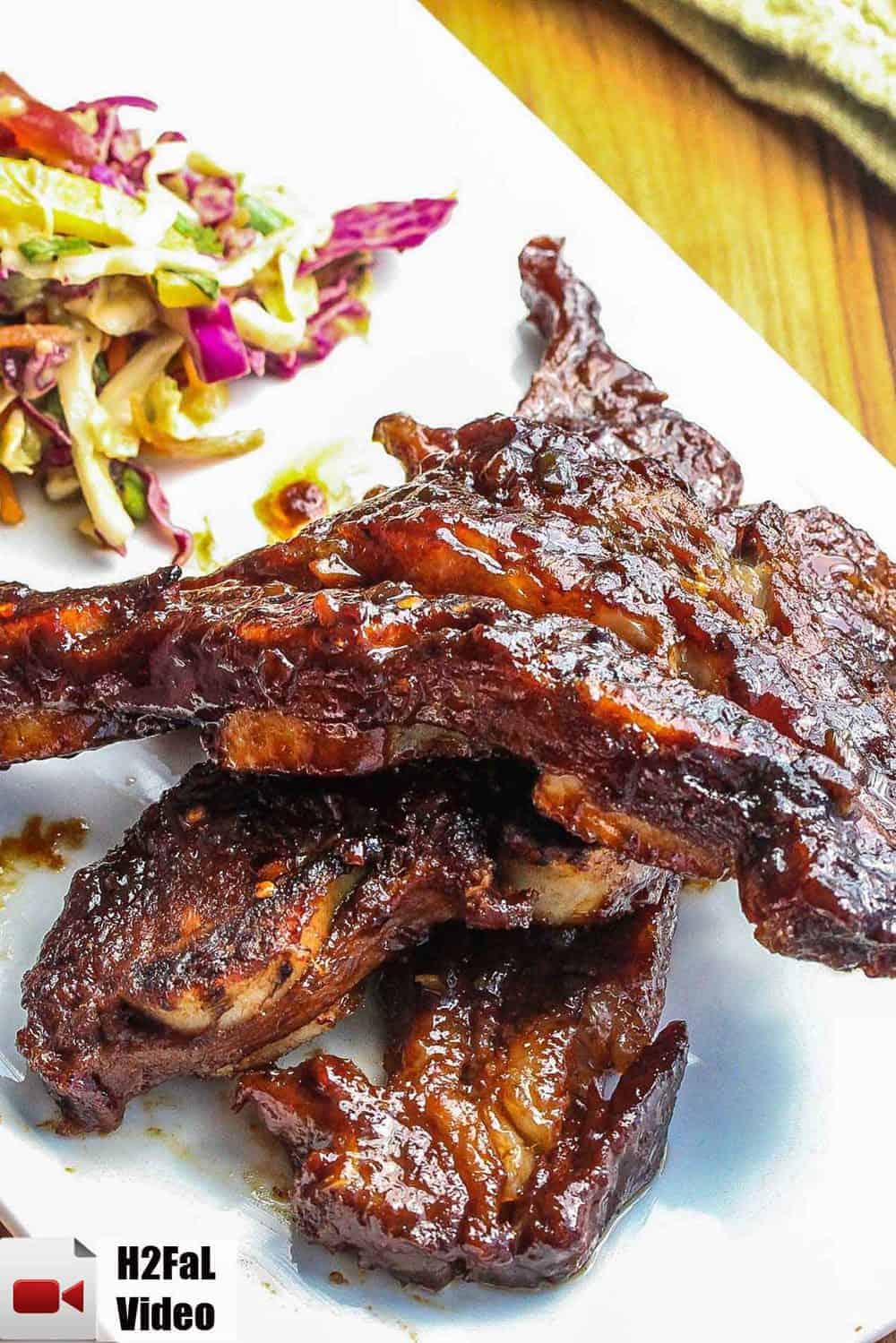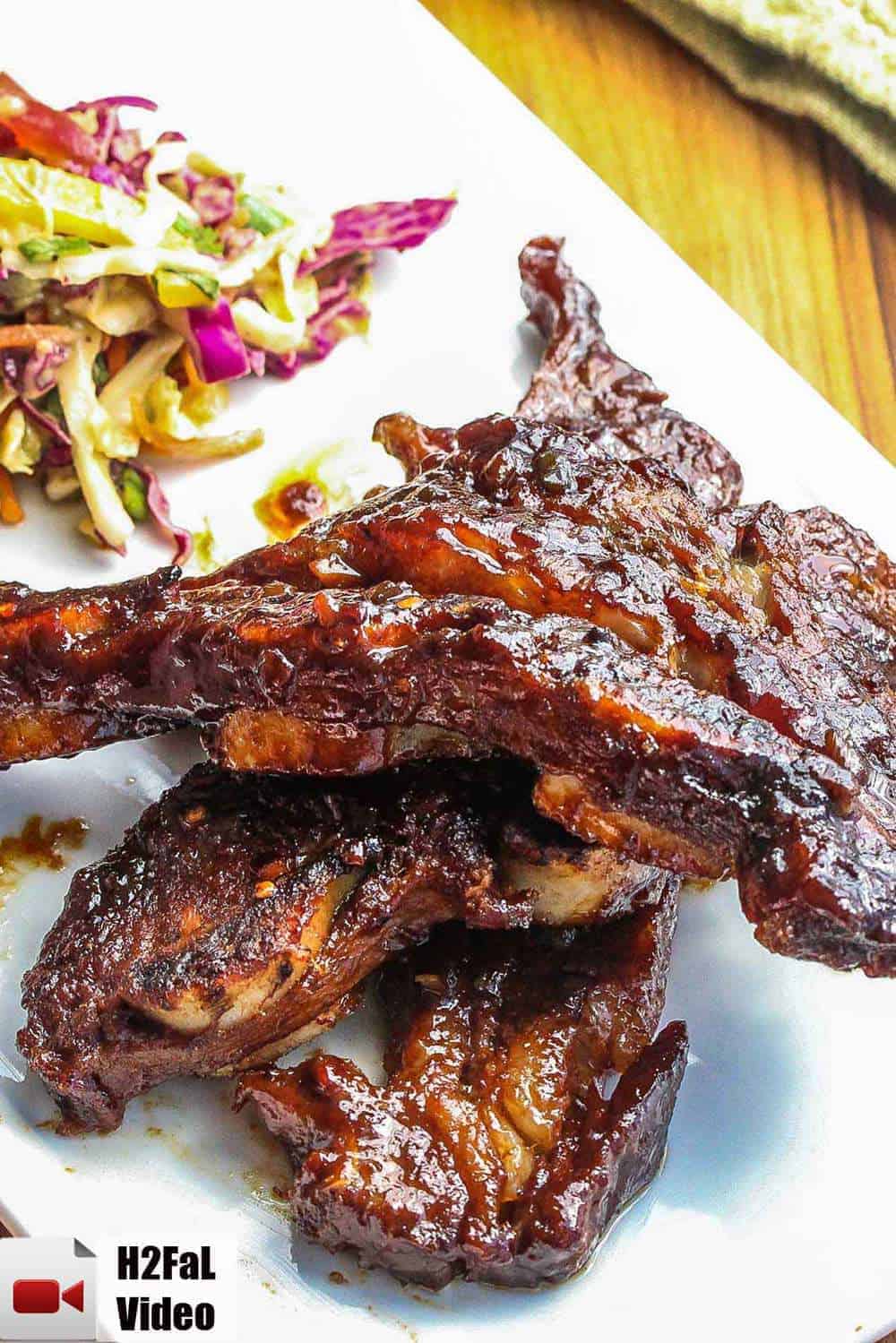 ASIAN BRAISED SHORT RIBS ARE EASY TO MAKE AT HOME
Of course, it's all about the incredible meaty short ribs. Nice and marbled.
Watch us show you how easy it is to make these amazing Asian Braised Short Ribs in your own kitchen!
Be sure to tell the butcher you want your beef short ribs "flanken-style"…you'll get half-inch slices of ribs with three little bones per rib. This is also what is called "Korean style."
Beef short ribs are available in most major super markets. If you don't see them, ask the butcher, he/she can order you some.
Dredging the ribs in flour helps the sauce to stick to the ribs and creates this incredible sticky crust on the meat that is distinctly Asian.
And you won't believe the smell in your kitchen as the slowly braise.
CRISP AND FLAVORFUL SLAW IS THE PERFECT SIDE FOR THESE RIBS
The perfect side dish for these bold ribs is a wonderful Asian slaw.
The cool, crunchy slaw matches amazingly well against the tender, fall-off-the bone ribs.
Oh, it's so good.
We absolutely love this Asian Short Ribs recipe so much!
Short ribs are amazing because they adapt to so many types of flavors and cuisines. Adding an Asian-fusion twist to them is about as good as you'll find.
It's great to serve these on a big platter and just let folks dig in, or pick at them however they like. They are so tender, don't worry if they fall apart a bit as you transfer them to serving dishes. It's okay…these are meant to be a little messy.
This has become an absolute Loon favorite. Perfect anytime of the year. You'll also love our Braised Short Ribs. All of these are wonderful served with a side of our Kickin' Roasted Broccoli!
Now, it's time to get you some "flanken style" beef short ribs, and make this incredible Asian Short Ribs and Slaw recipe!
Asian Braised Short Ribs
These Asian Braised Short Ribs are incredible. Slow cooked with classic Asian flavors, they are fall-off-the-bone amazing. They're a little messy, but absolutely one of the best things you'll taste. Incredible!
Print
Pin
Rate
Servings: 6 people
Calories: 425kcal
Ingredients
3 tbsp all-purpose flour
Salt and pepper
5 - 6 lbs beef short ribs flanken style (Korean style)
1/4 cup canola oil
4 garlic cloves minced
4 green onions scallions, white and pale green parts, thinly sliced
2 tbsp minced fresh ginger
1 tsp red pepper flakes
1 cup beef stock
1/2 cup soy sauce
1/2 cup hoisin sauce*
1/2 cup rice vinegar*
1/2 cup firmly packed dark brown sugar
1/4 cup chile-garlic sauce...Sriracha works perfectly
*Available in many major superamarkets or specialty markets like Whole Foods, or Asian markets
Instructions
Pre-heat the oven to 350 F.

On a large plate, stir together the flour, 1 teaspoon salt, and 1/2 teaspoon of pepper.

Turn the short ribs in the seasoned flour, shaking off any excess.

In a large frying pan over medium-high heat, warm the canola oil.

Working in batches, if necessary, cook the ribs, turning occasionally, until evenly brown, about 12 - 14 minutes.

Remove from the pan and set aside.

Pour off all but about 2 tablespoons of the oil in the skillet.

Over medium high-heat in the same skillet, add the garlic, green onions, ginger, and red pepper flakes, and sauté for 3 minutes.

Pour in the stock and deglaze the pan, stirring and scraping up the browned bits on the bottom of the pan with a wooden spoon.

Stir in the soy sauce, hoisin sauce, vinegar, brown sugar, and chile-garlic sauce...bring to a boil.

Transfer the ribs to a large Dutch oven and then add the sauce mixture.

Cover and cook until the ribs are very tender, about 2 hours.

When the short ribs are done, use a large spoon or ladle to skim as much as possible from the surface of the sauce.

Transfer the ribs to serving dishes or platter.

Spoon the sauce over the ribs.
Nutrition
Calories: 425kcal