Seared Pork Chops in Caper Sauce is truly one of those dishes that looks gorgeous, and is equally as delicious.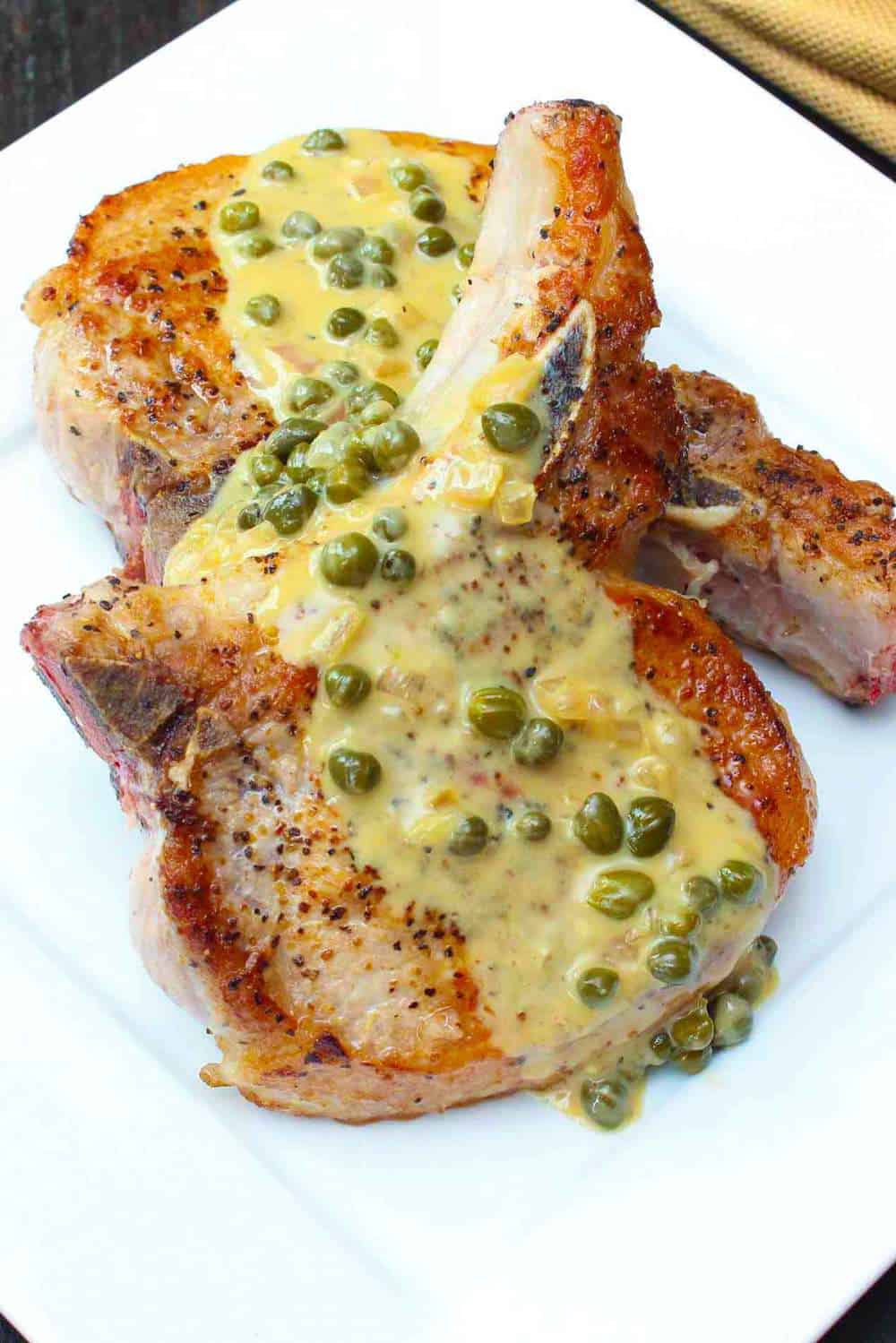 We just love the tangy taste of capers, combined with the top notch Sherry vinegar, Dijon mustard, shallots and garlic.  
And of course, beautifully seared center-cut pork loin chops.   It all comes together for something divine.
This one is definitely a keeper.  140% Loon Approved.

Seared Pork Chops in Caper Sauce
These Seared Pork Chops in Caper Sauce are incredible. If you can, get your butcher to cut you some excellent 1-inch (to 1½-inch) center-cut pork loin chops. Sear them to perfection, Then top with the simple, yet luxurious sauce. Doesn't get much better than this dish!
Author: Kris Longwell
Recipe type: Entree
Cuisine: American
Serves: 4
Ingredients
4 center-cut pork loin chops, about 1-inch thick
Kosher salt and freshly ground black pepper, to taste (plus ¼ teaspoon salt for the sauce)
1½ tablespoons quality olive oil
1 shallot, finely diced
2 teaspoons garlic, chopped
⅓ cup capers, drained
2 tablespoons quality Sherry vinegar
¼ cup chicken stock
1½ tablespoons Dijon mustard
2 tablespoons heavy cream
Instructions
Pre-heat oven to 200 F.
Let chops sit at room temp for 30 minutes, then pat dry with a paper towel.
Generously sprinkle both sides of the chops with salt and pepper.
In a large skillet, heat the oil over medium-high heat.
Add the chops and sear on one side for about 4 to 5 minutes, until golden brown on the bottoms. Flip the chops over and sear the other sides for another 4 to 5 minutes. (The chops should be firm to the touch, but still have a little give).
Transfer the chops to the oven to keep warm while preparing the sauce.
Pour all but about 1 teaspoon of oil from the pan and reduce the heat to medium.
Add the shallot and garlic and cook until soft, about 2 to 3 minutes.
Add the capers and cook for 30 seconds.
Add the vinegar and cook down for about 2 minutes.
Add the stock, mustard and ¼ teaspoon of salt and pinch of pepper. Cook until slightly thickened, about 2 - 3 minutes.
Stir in the cream.
Taste and adjust seasonings.
Place chops on plate or platter and pour sauce over them. Pass remaining sauce at table.
Enjoy!