If there was ever the ultimate comfort soup, this bowl of deliciousness would be a serious contender.
We go with a combination of fresh tomatoes and canned crushed tomatoes for the perfect taste and texture. The fresh basil and stock are just the right amount of balance to the soup. The cream adds depth and luxuriousness. And, once you've roasted the tomatoes, the soup comes together in about 30 minutes!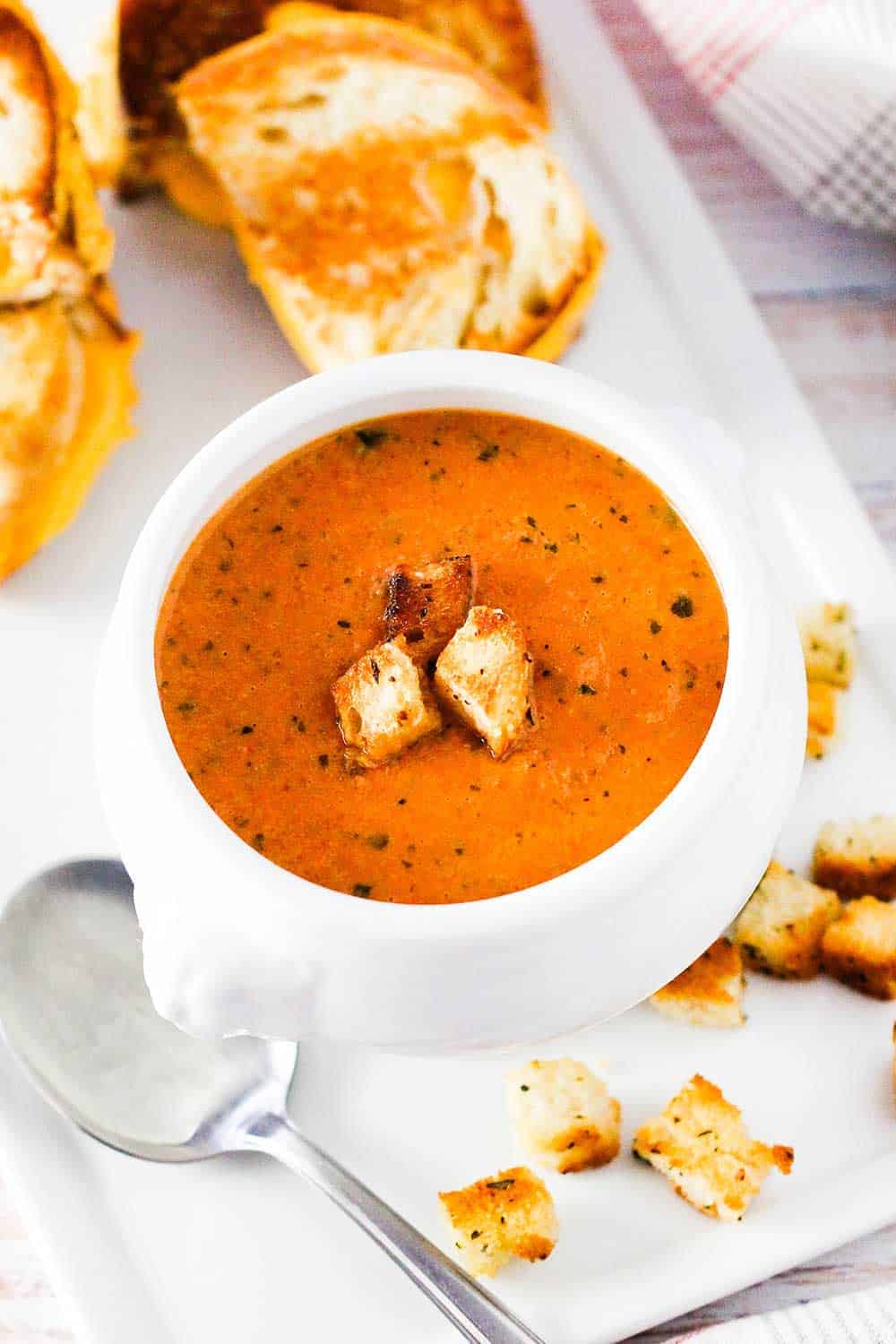 HOW TO MAKE ROASTED TOMATO SOUP
Roasting the tomatoes for this easy tomato basil soup delivers a deeply satisfying taste for the soup.
You can really go with any type of tomato here, but we find Roma tomatoes work best. And, they are typically available all year.
ROASTING THE TOMATOES IS EASY
Simply preheat your oven to 375°F, line a large baking sheet with foil, and slice the tomatoes in half.
If using whole tomatoes, then cut them into thick (1/2-inch) slices. Drizzle with olive oil and then sprinkle them with salt and pepper. After baking for 1 hour, they will be tender and perfectly cooked.
EXPERT TIP: The tomatoes can be roasted in advance, up to 24 hours. Once the pan is cool enough to handle, cover the tomatoes with either kitchen towels (not pressing down on them), or with plastic wrap. When ready to use, carefully transfer the roasted tomatoes with a spatula (or your hands) from the baking sheet to the pot.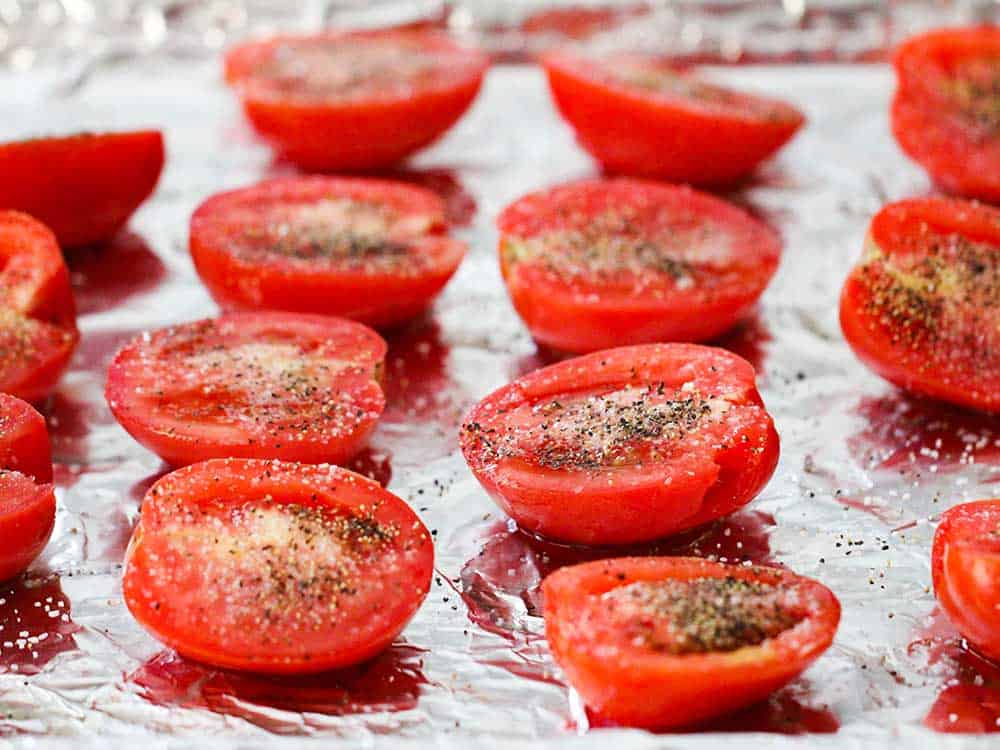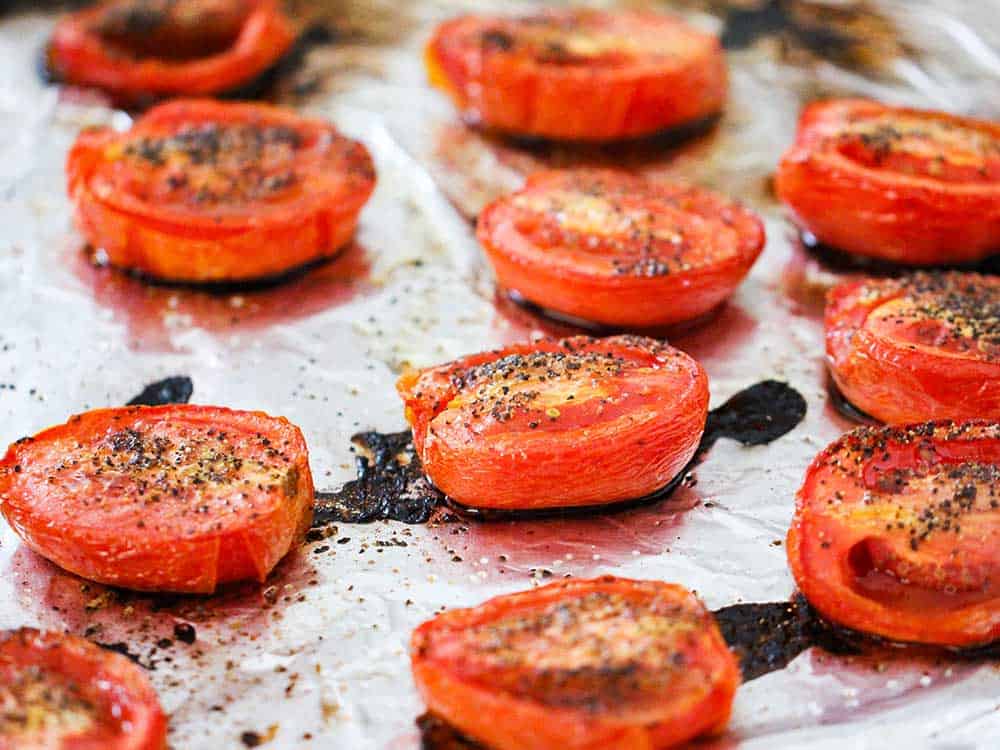 After sautéing chopped onions in olive oil, throw in 4 minced cloves of garlic along with some chopped fresh thyme.
Next goes in a large can (28 oz) of crushed tomatoes and the fresh basil.
Season with salt and pepper and let simmer for just 10 minutes.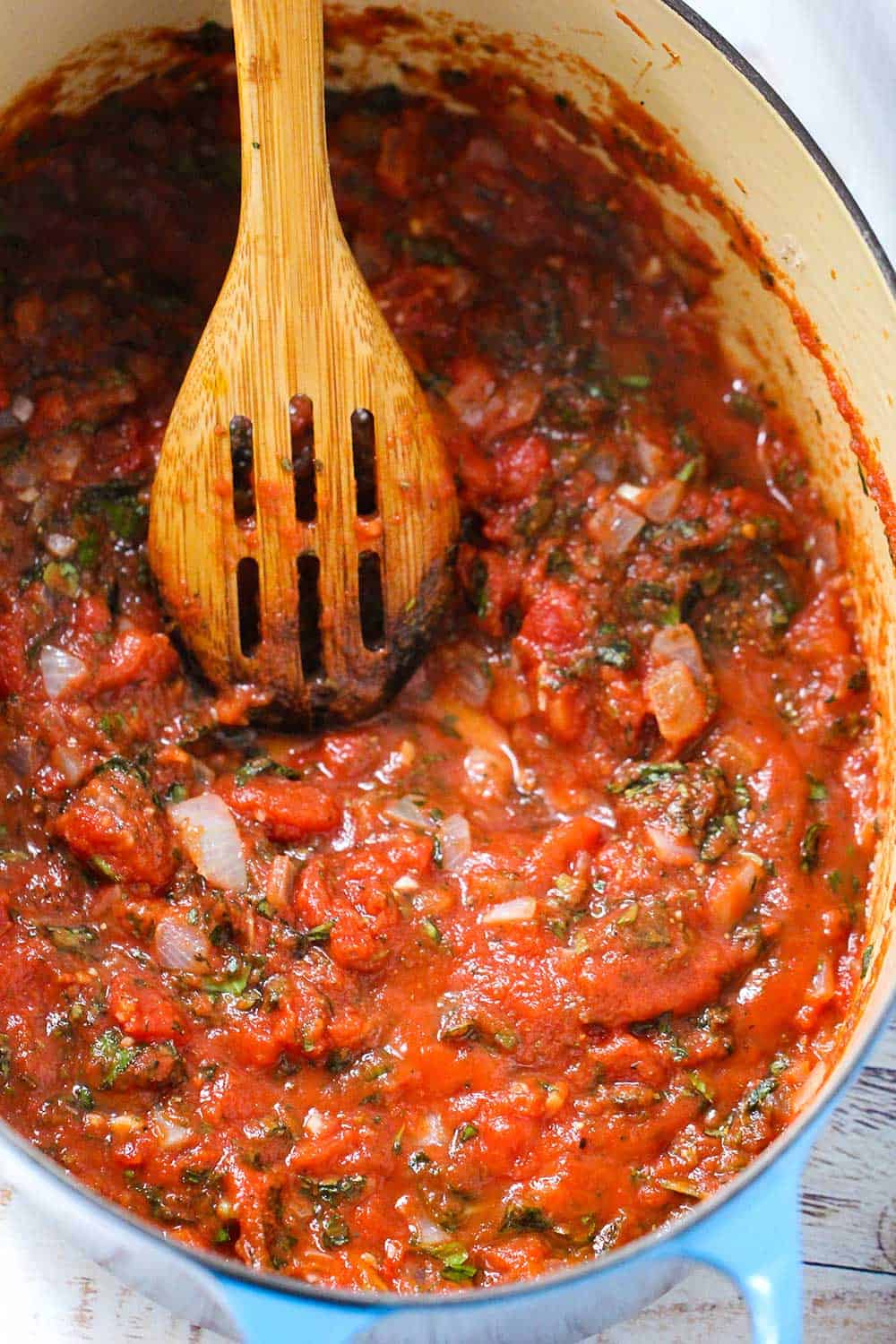 FRESH TOMATO BASIL SOUP IN ABOUT 30 MINUTES
Once the canned tomatoes have simmered with the basil, it's time to add in the roasted tomatoes.
Add the stock and let simmer on low for 20 to 30 minutes.
We're getting close, folks!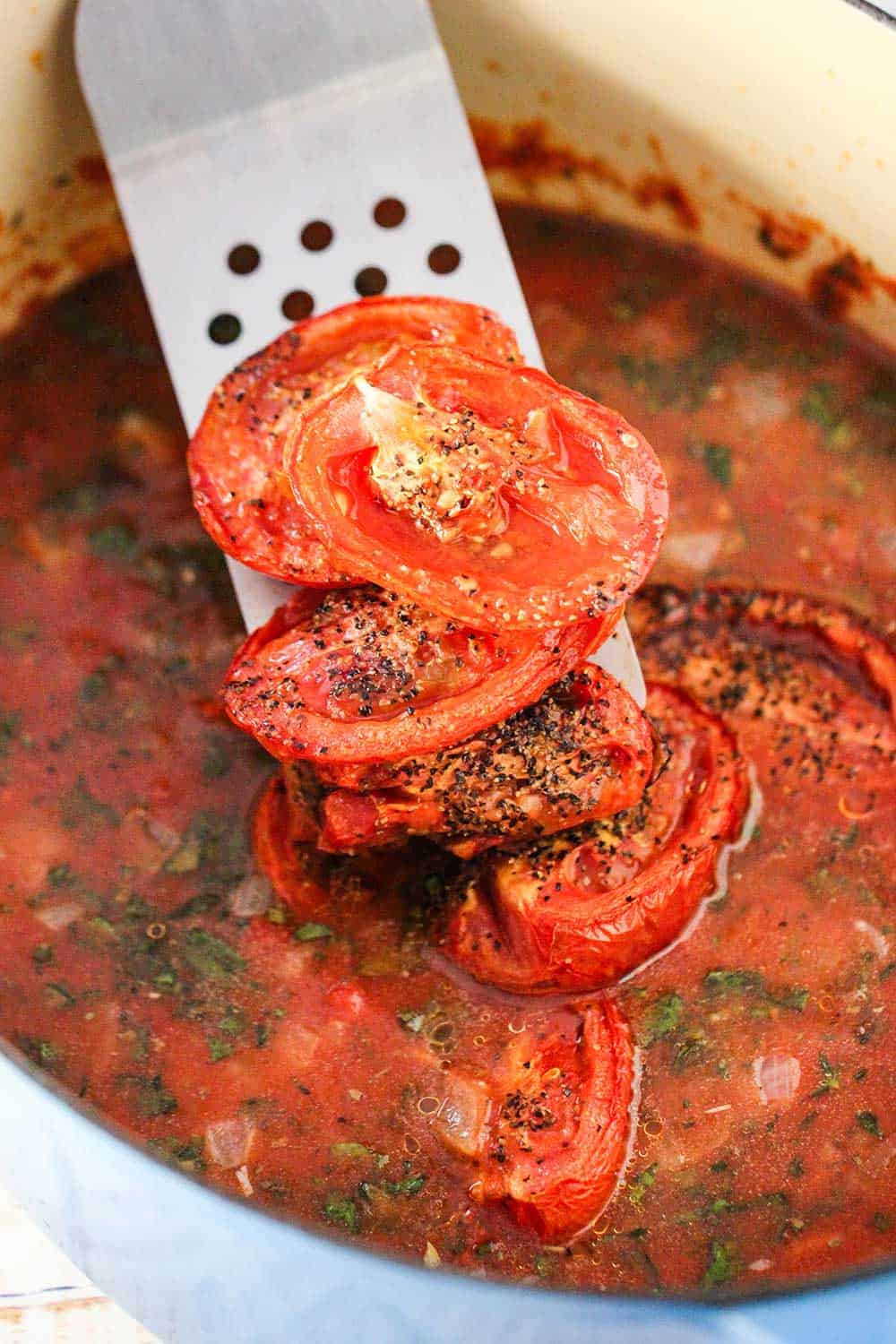 To reach the right consistency, we use our immersion blender.
EXPERT TIP: You could also purée the soup in a blender or even a food processor. Using either of these appliances will give you a very smooth texture. The immersion blender allows you to make the soup as smooth, or textured, as you desire. Whichever method you opt for, use caution. The soup is hot and can splatter and cause a burn if it reaches your skin.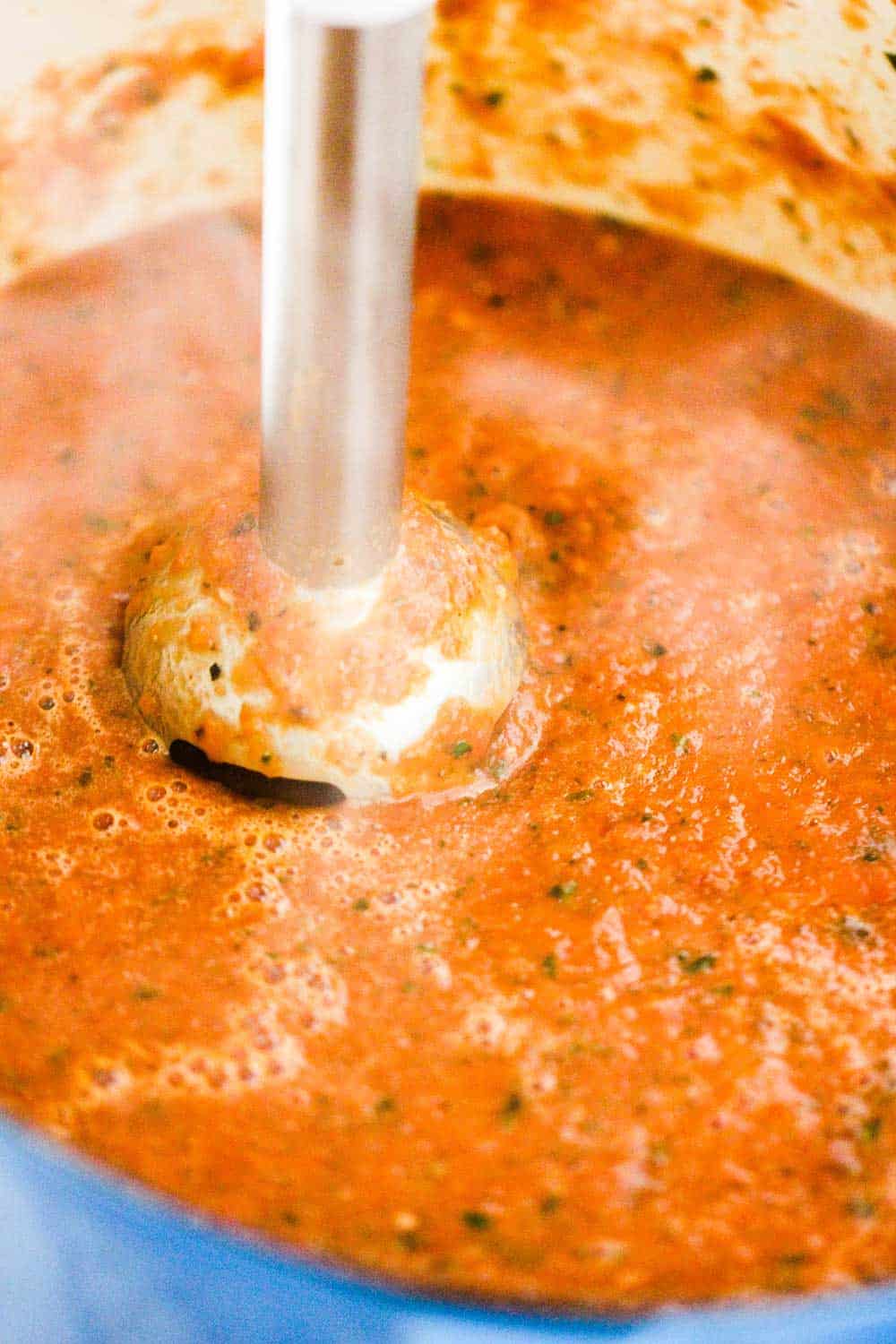 A final addition of heavy cream adds a depth of silkiness and taste that makes this the best-ever creamy tomato basil soup recipe on the planet.
The soup is now ready to eat, or you can keep it at a low simmer until ready to serve.
EXPERT TIP: You can substitute whole milk or half-and-half in place of the heavy cream. The finished soup will not be as silky, and the cream does add a layer of taste that we think is wonderful, but the other options are fantastic, too. For a completely dairy-free version, don't add the cream or milk at all.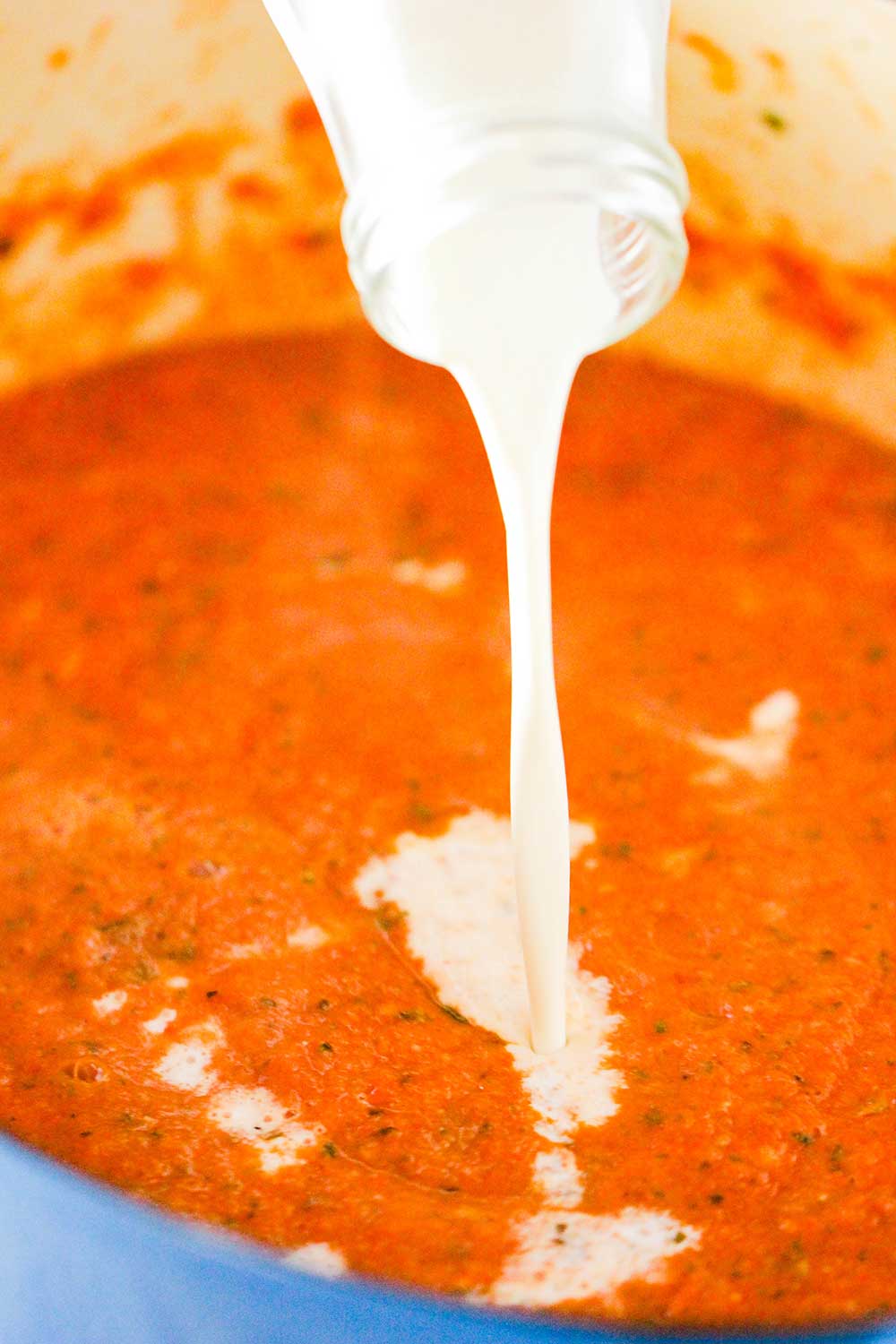 THE PERFECT SOUP FOR ENTERTAINING
This soup is so satisfying and always gets rave reviews when we serve it to guests.
Silky, cream, and layers upon layers of taste.
And it's so easy to prepare!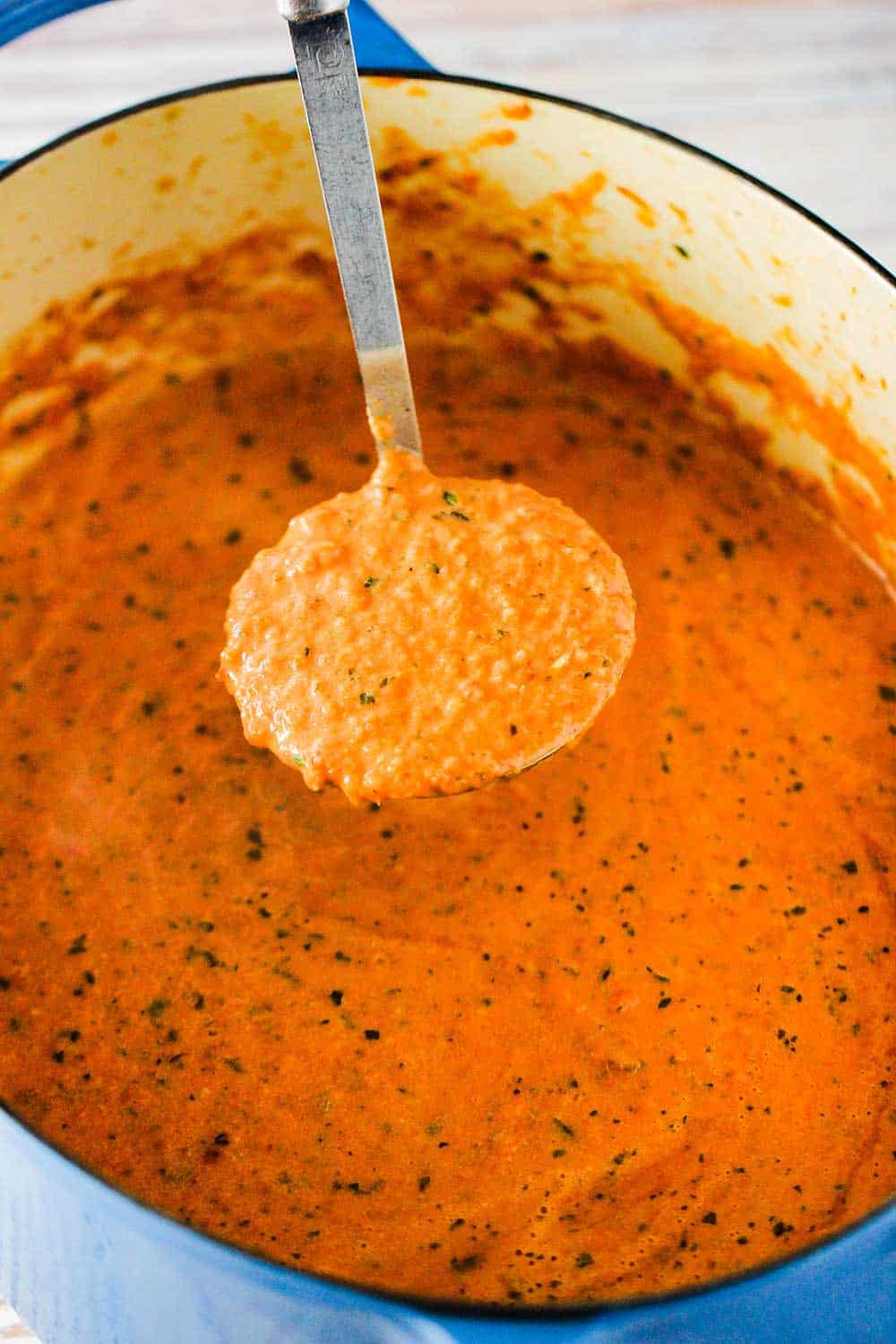 ROASTED TOMATO BASIL SOUP FAQs
Can I use only canned tomatoes? Yes, but you won't get the deep roasted taste from roasting fresh tomatoes. If using only canned, skip the roasting steps of the recipe and go with two 28 oz. cans of tomatoes, we recommend one can of crushed tomatoes, and one can of whole tomatoes, preferably San Marzano (make sure the can is labeled "certified").
What about dried herbs, can I use them? For the thyme, absolutely, go with 1½ teaspoons of dried. For the basil, you won't get those beautiful specs of basil, and the flavor won't be as robust, but in a pinch, you could go with ¼ cup of dried basil.
How do you make those delicious looking croutons? Cut a loaf of bread into thin slices. Cube the slices (2 or 3) and place them in a bowl. Add 1 tablespoon of olive oil, 1 minced garlic clove, and a pinch of salt and pepper. Preheat oven to 400°F and bake until golden, flipping once – about 8 minutes.
How long will the soup keep? As with so many soups and stews, this gets even better the next day. It will keep in an air-tight container in the refrigerator for up to 1 week and freezes beautifully for up to 2 months.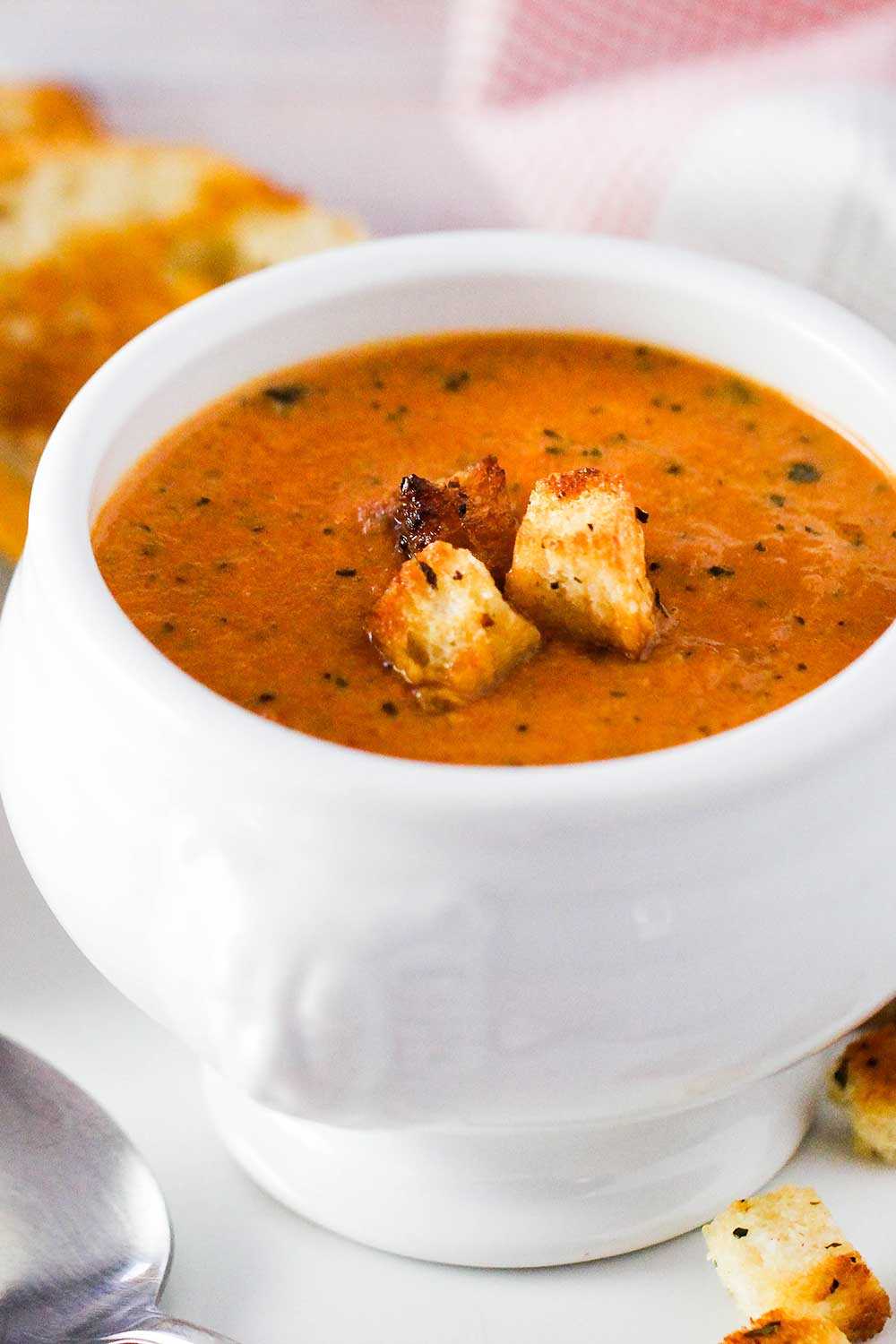 THE PERFECT DUNKING SOUP
You and your loved ones will flip when you serve this amazing soup. Other favorite soup recipes are our:
Rustic Lentil Soup
Broccoli Cheddar Soup
Roasted Butternut Squash Soup
Classic French Onion Soup
Homemade Chicken and Dumplings
But in the meantime, make this amazing Roasted Tomato Basil Soup! The PERFECT soup for grilled cheese sandwich dunking!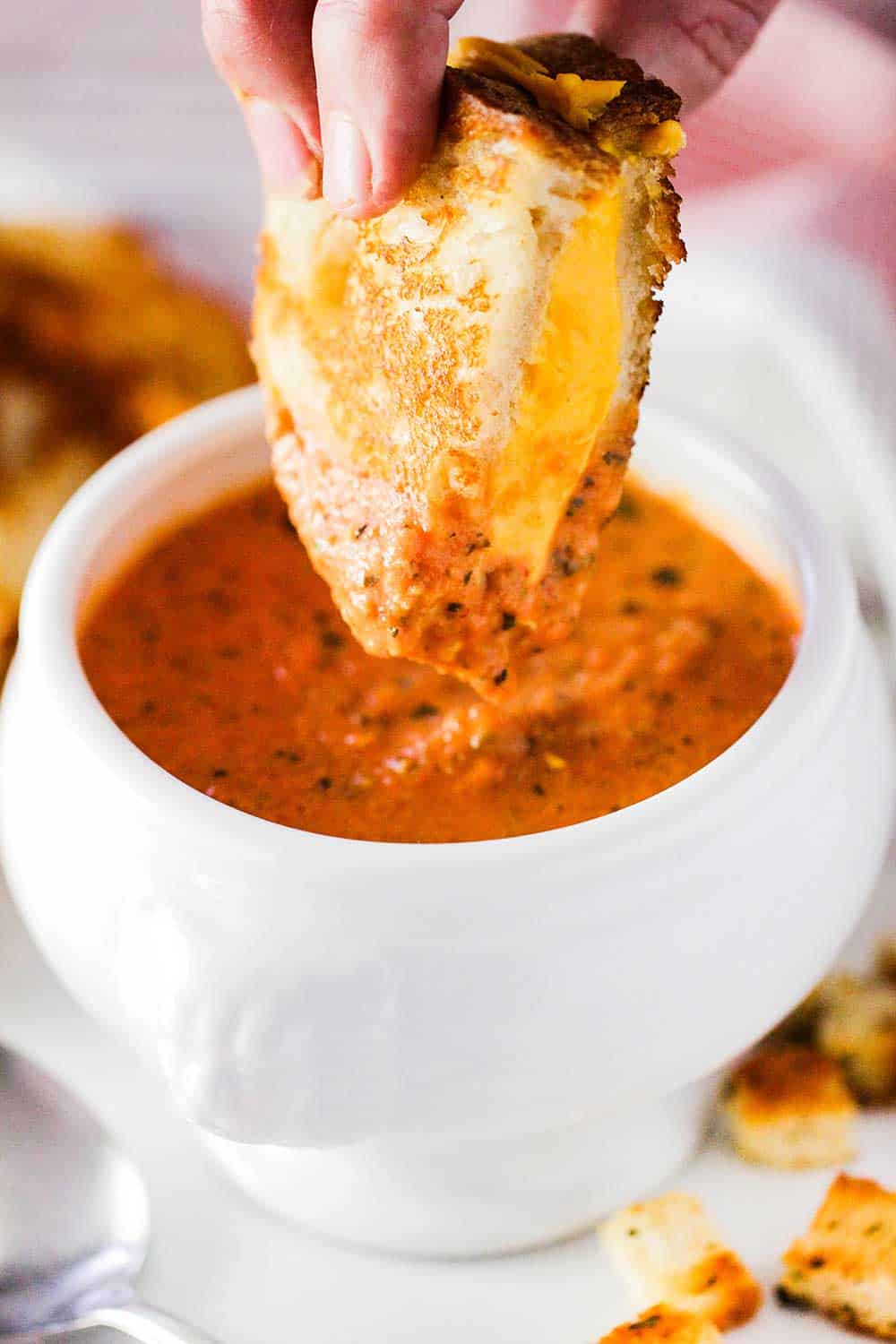 Ready to make the best tomato basil soup in the world? Go for it!
And when you do, be sure to take a picture, post it on Instagram, and tag @howtofeedaloon and hashtag #howtofeedaloon!
Roasted Tomato Basil Soup
This Roasted Tomato Basil Soup is the ultimate in comfort. Roasting the tomatoes gives the soup a deep, rich flavor. And over-the-top good with grilled cheese sandwiches.
Print
Pin
Rate
Servings: 8 people
Calories: 190kcal
Equipment
Large Dutch oven, or soup pot
Ingredients
9 Roma tomatoes sliced lengthwise
3 tbsp extra virgin olive oil
2 tbsp unsalted butter
1 yellow onion diced
4 garlic cloves minced
1 tbsp fresh thyme minced
1 tsp Kosher salt
½ tsp ground black pepper
1 28 oz. can San Marzano tomatoes crushed
1 cup basil fresh, roughly chopped
1 tbsp sugar
2 cups chicken stock
2/3 cup heavy cream
Instructions
Preheat oven to 375°F.

Spread tomato halves on a baking sheet. Drizzle with olive oil, and then sprinkle with salt and black pepper.

Roast tomatoes for 1 hour. Remove from oven and set aside.

Heat 2 tbsp oil, or butter, in a large pot (or Dutch oven) over medium-high heat.

Add onion, and saute for about 5 minutes.

Stir in the garlic, thyme, salt, and pepper. Sauté for another minute.

Add crushed tomatoes, basil, and sugar to the pot. Lower the heat and simmer for about 10 minutes.

Add the stock and the roasted tomatoes into the pot. Simmer for 30 minutes, stirring every now and then.

Use an immersion blender to purée the soup, or very carefully transfer to a blender or food processor to purée. This would most likely need to be done in a couple batches. Return the soup to the pot.

Stir in the cream.

To make the mini croutons: Cut a few small pieces of bread in small cubes, add a little oil, diced garlic and basil...bake at 400 for about 7 minutes... these make wonderful croutons!

Add the croutons to the top of the served soup. Serve at once!
Notes
We find fresh Roma tomatoes are perfect for roasting, but most tomatoes will work. Thick slices are best. Be sure to cut away any brown spots, especially on the top of the tomato. The roasted tomatoes can be made up 1 day in advance, but we think using them within a couple of hours or roasting is best. Fresh thyme and basil is always best, but if using dried, then reduce the thyme to 1½ teaspoons and ¼ cup of dried basil. Whole milk, or half-and-half can be substituted for the cream, although the soup won't be as silky and the taste not as rich, but will still be delicious. Substitute vegetable stock/broth for the chicken stock to make the soup 100% vegetarian. The soup will keep in the fridge for up to 1 week and freezes beautifully for up to 2 months.
Nutrition
Calories: 190kcal | Carbohydrates: 9g | Protein: 3g | Fat: 12g | Saturated Fat: 5g | Cholesterol: 37mg | Sodium: 389mg | Potassium: 283mg | Fiber: 1g | Sugar: 5g | Vitamin A: 1161IU | Vitamin C: 13mg | Calcium: 36mg | Iron: 1mg
POST UPDATE: This recipe was originally published in March 2014, but was updated with improved tweaks to the recipe, new tips, photography, and a brand-new fabulous video in March 2020!