Oh, this German Schnitzel with Mushroom Gravy is just so satisfying. Back in the mid-90s, I performed in the musical "Cats" in Hamburg, Germany for well over a year. The Loon came over and stayed with me.
We had the time of our lives, and certainly enjoyed a lot of Schnitzel.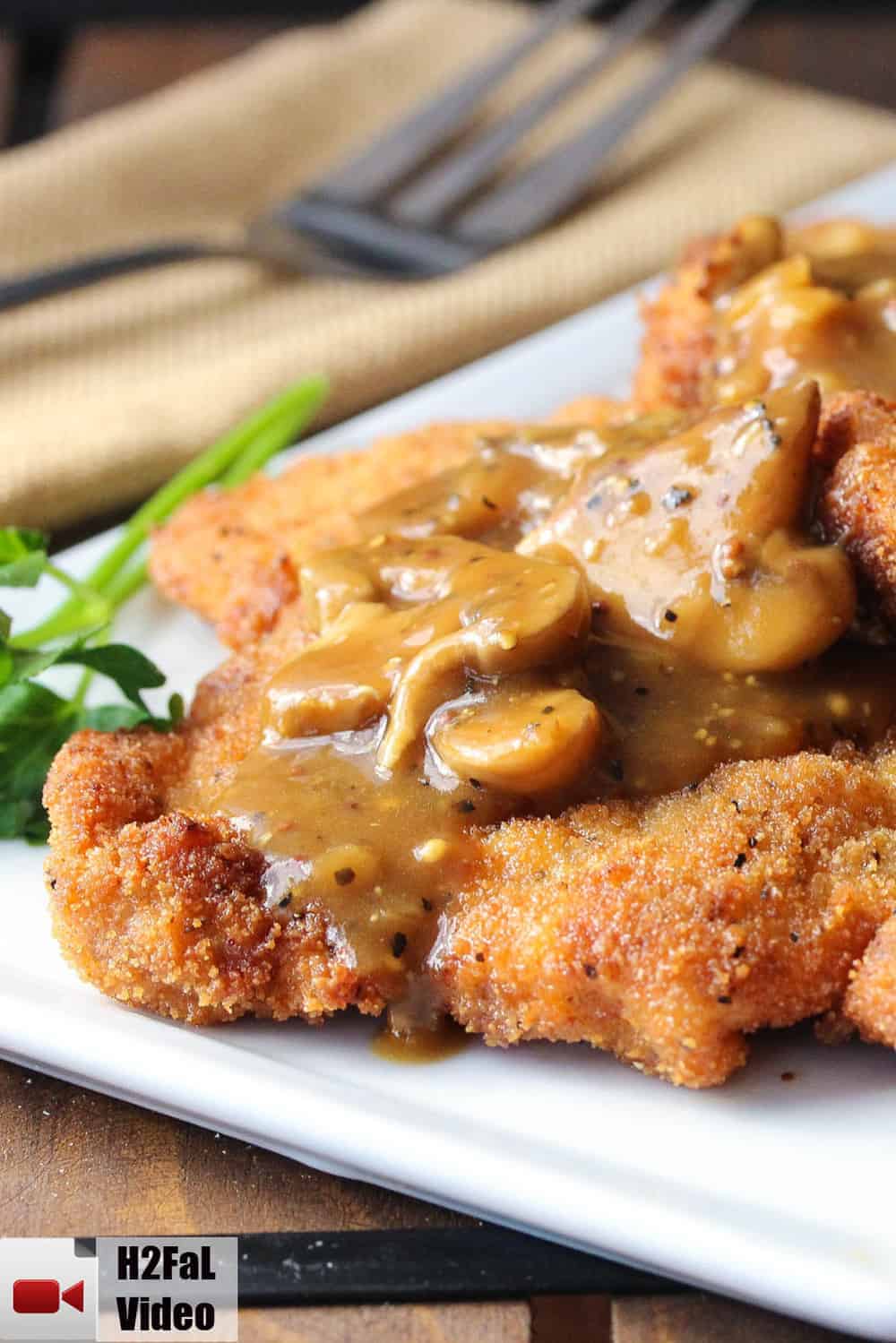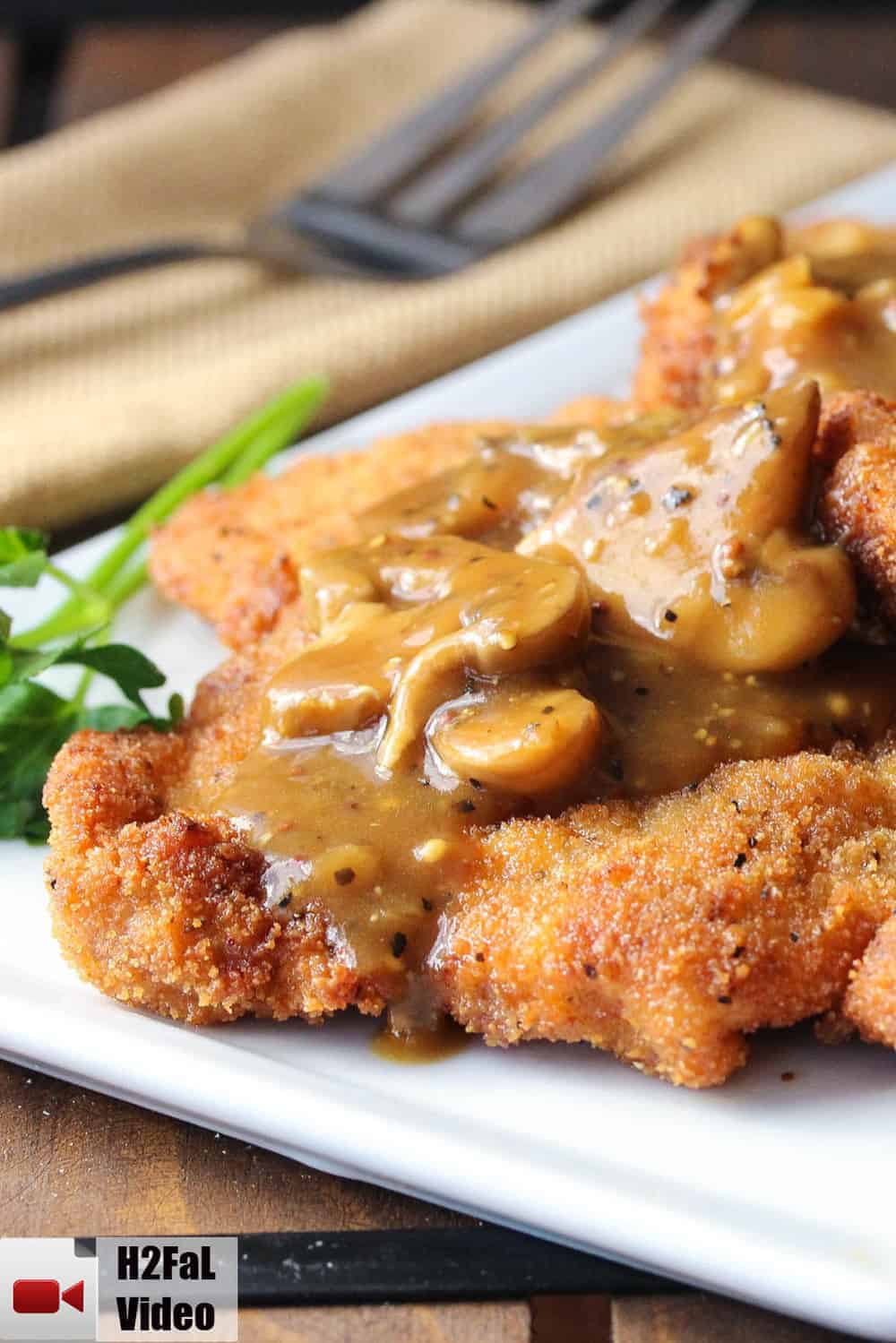 HOW TO MAKE SCHNITZEL AT HOME
This German Schnitzel with Mushroom Gravy is so comforting, and really simple to make at home.
Watch us show you how to make this amazing dish!
We get a lot of comments from folks reminding us that schnitzel originated in Austria and authentic Weiner Schnitzel (from Vienna) is made with veal. We know that! But, we love it also with chicken or pork.
USE VEAL, CHICKEN OR PORK FOR CLASSIC SCHNITZEL
For this version, I took a nice boneless pork chop, and pounded it down to a thin 1/4″ cutlet.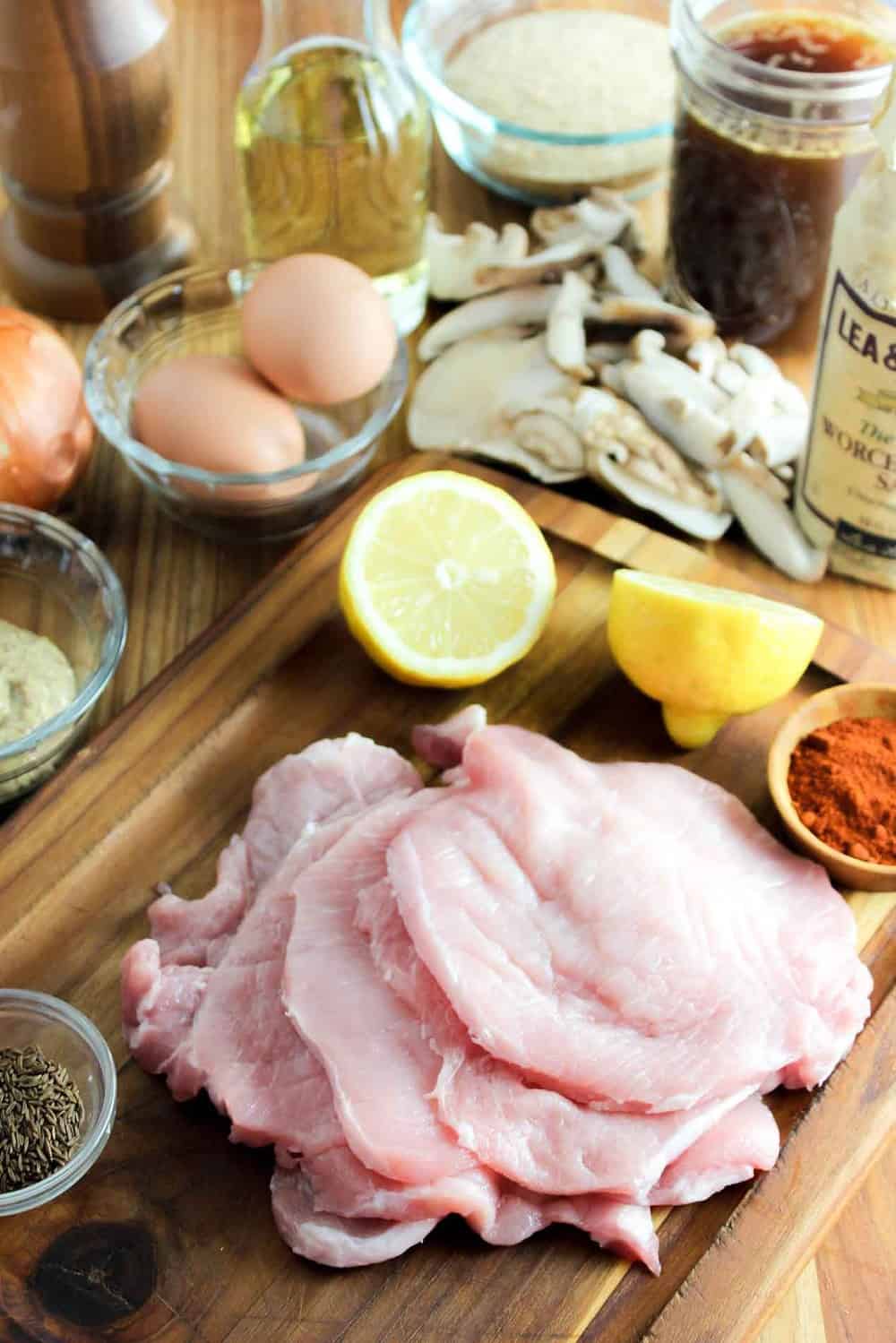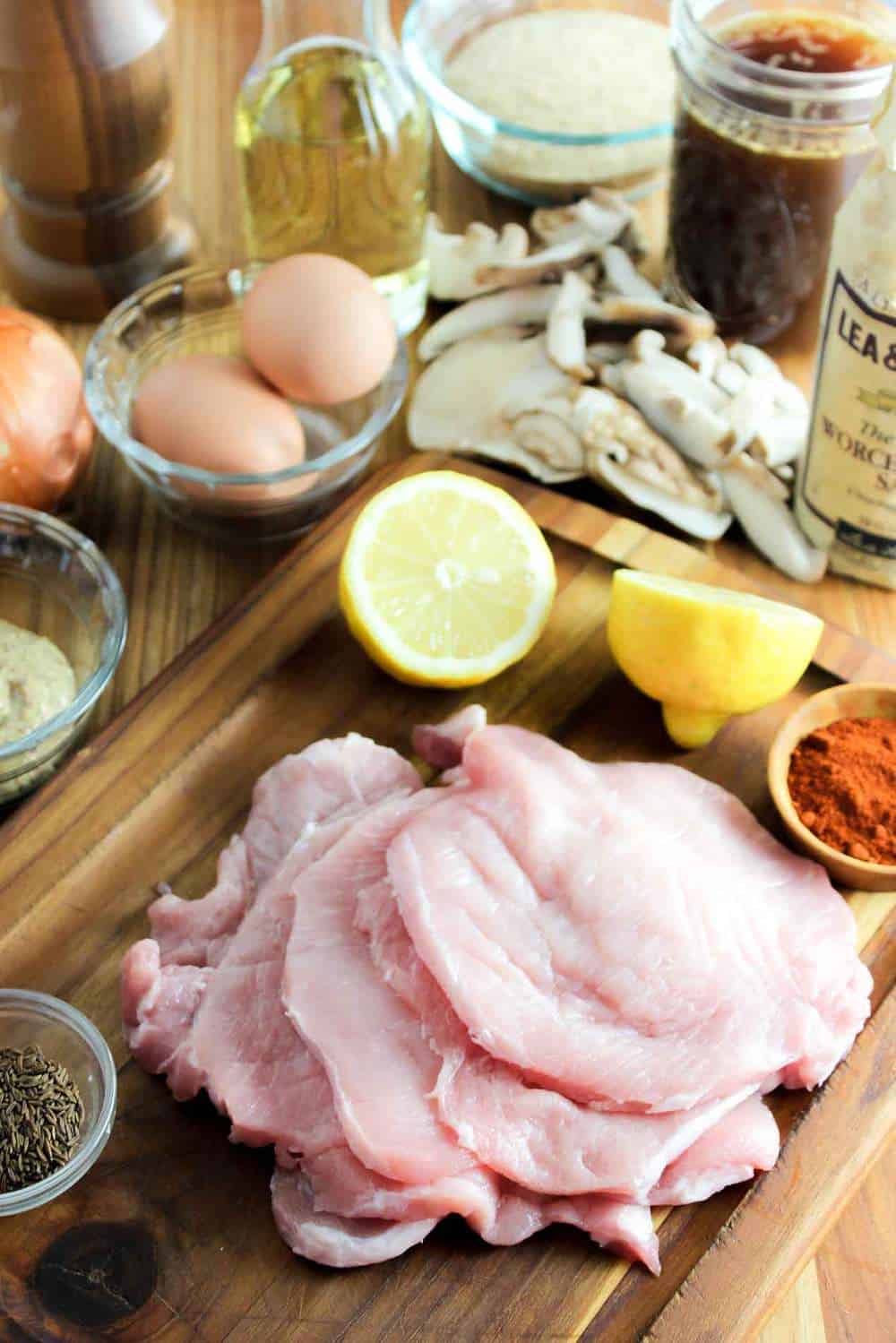 After seasoning the chop with salt and pepper, it goes through a simple dredging process of first in flour, then a quick egg batch, and then into the lightly seasoned bread crumbs.
So simple yet so perfect.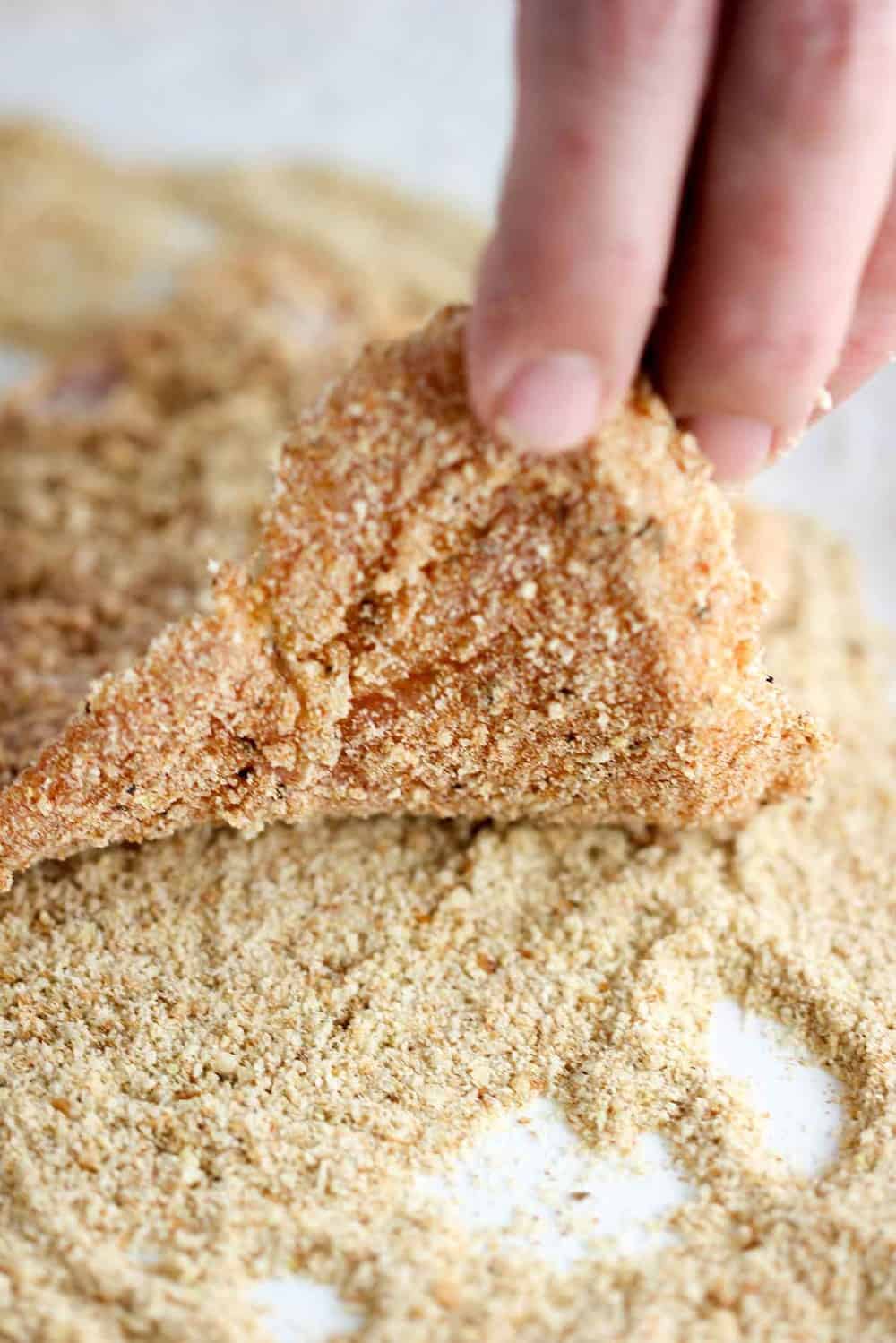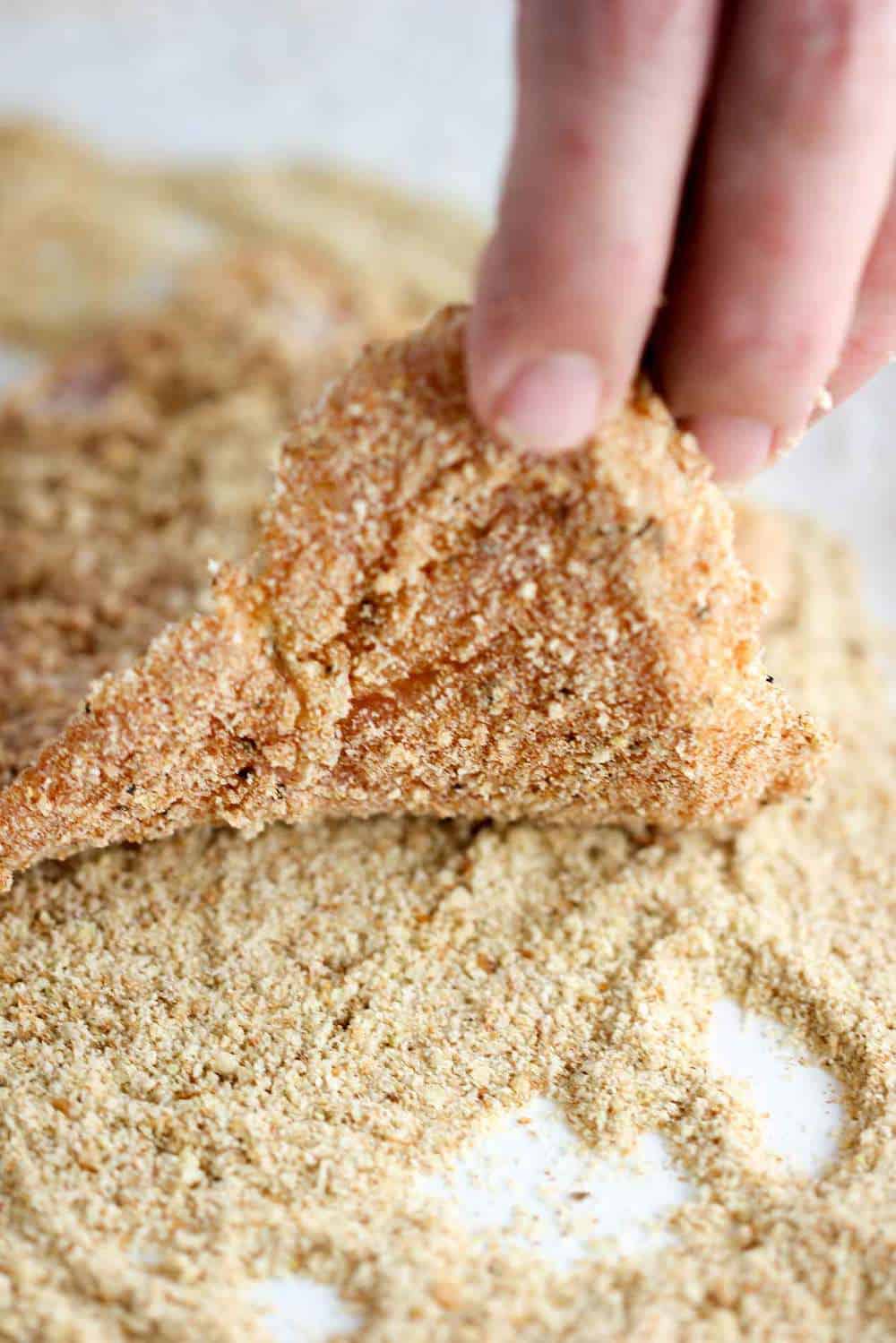 There is just something so tempting and satisfying about a perfectly cooked chop. Thin and crispy on the outsides and flavorful on the inside.
These cutlets are absolutely wonderful as they are. But you know us, we couldn't just stop there…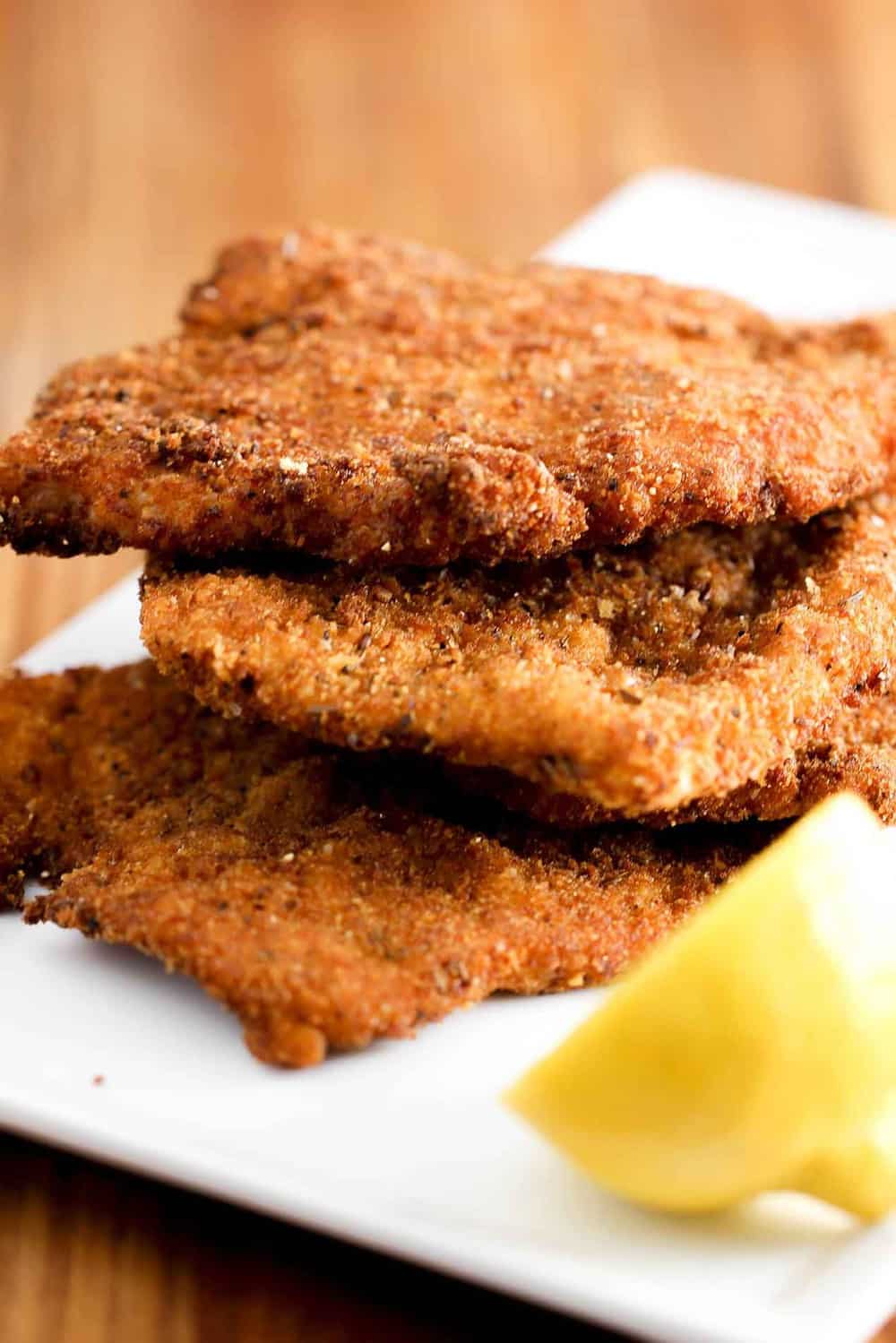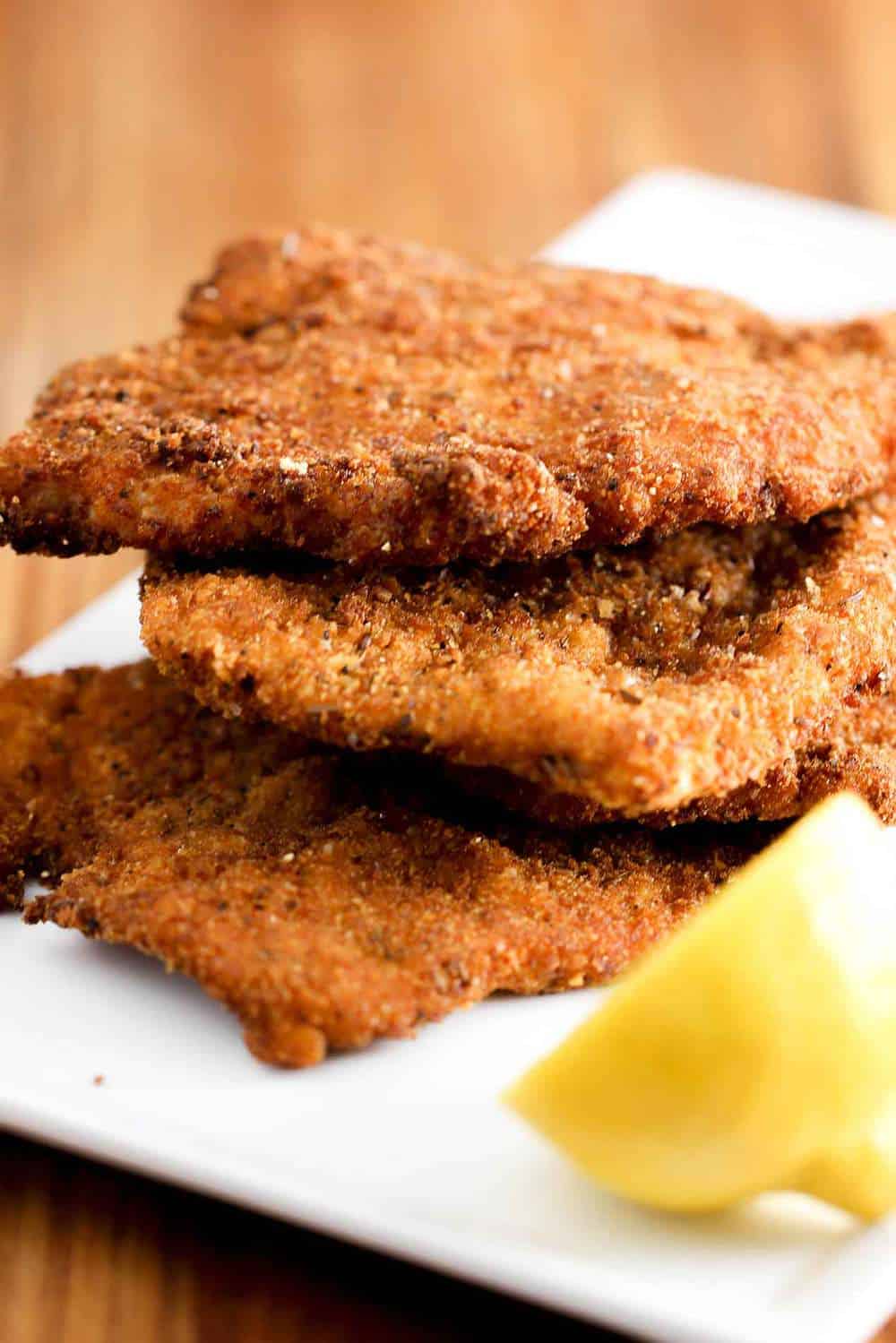 THE JAEGER SAUCE IS WHAT MAKES THIS DISH GERMAN
As with almost any dish, it's even better with a sauce. So, I added a lovely brown sauce with sauteed mushrooms, beef stock and whole grain mustard.
This is a classic German mushroom sauce called a Jaeger sauce, which means "Hunter Sauce." Schnitzel, of course, originated in Austria, actually in Italy, which would become Austria. As this German version (which includes the German gravy), there are many different variations.
All we know is that it truly is wunderbar!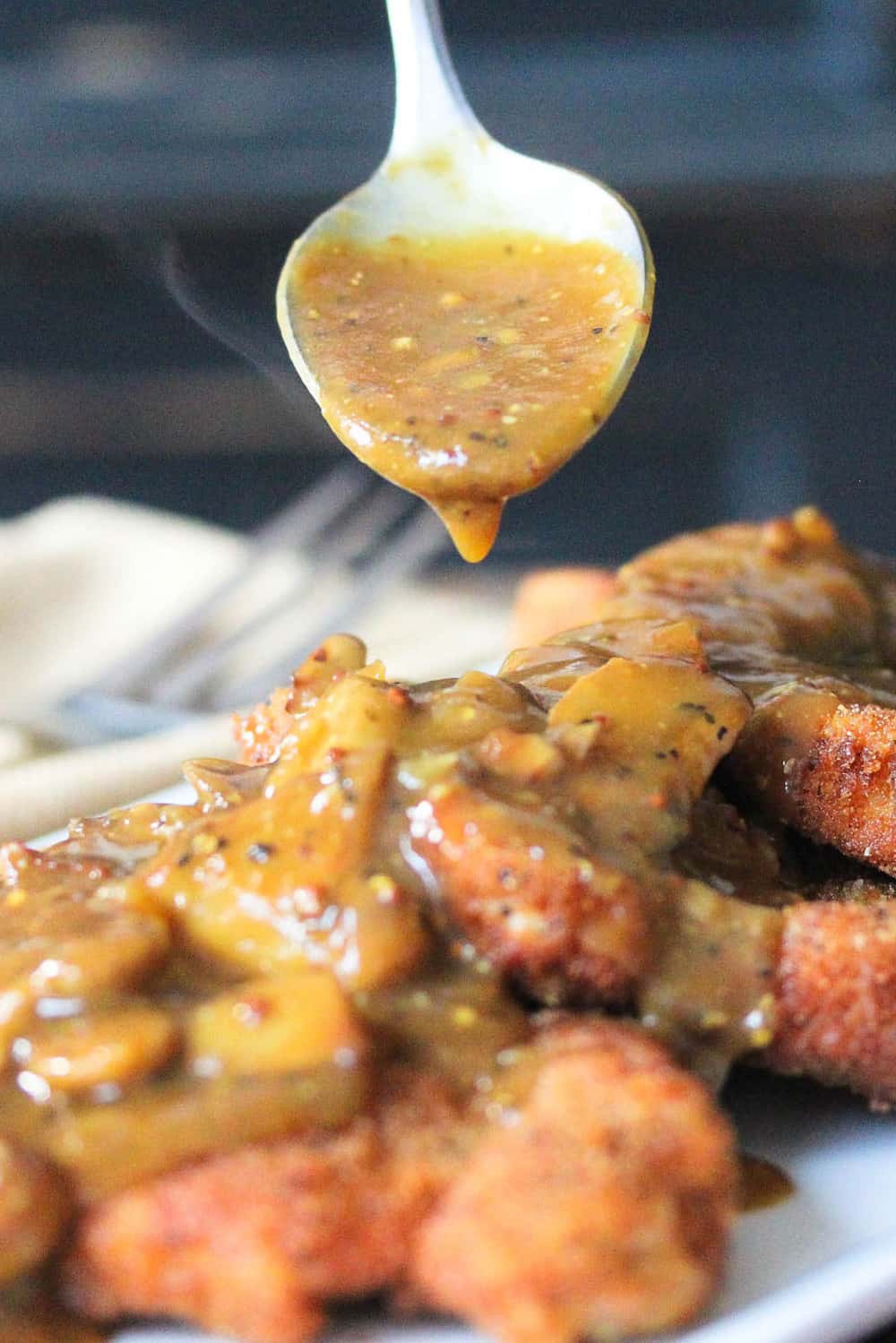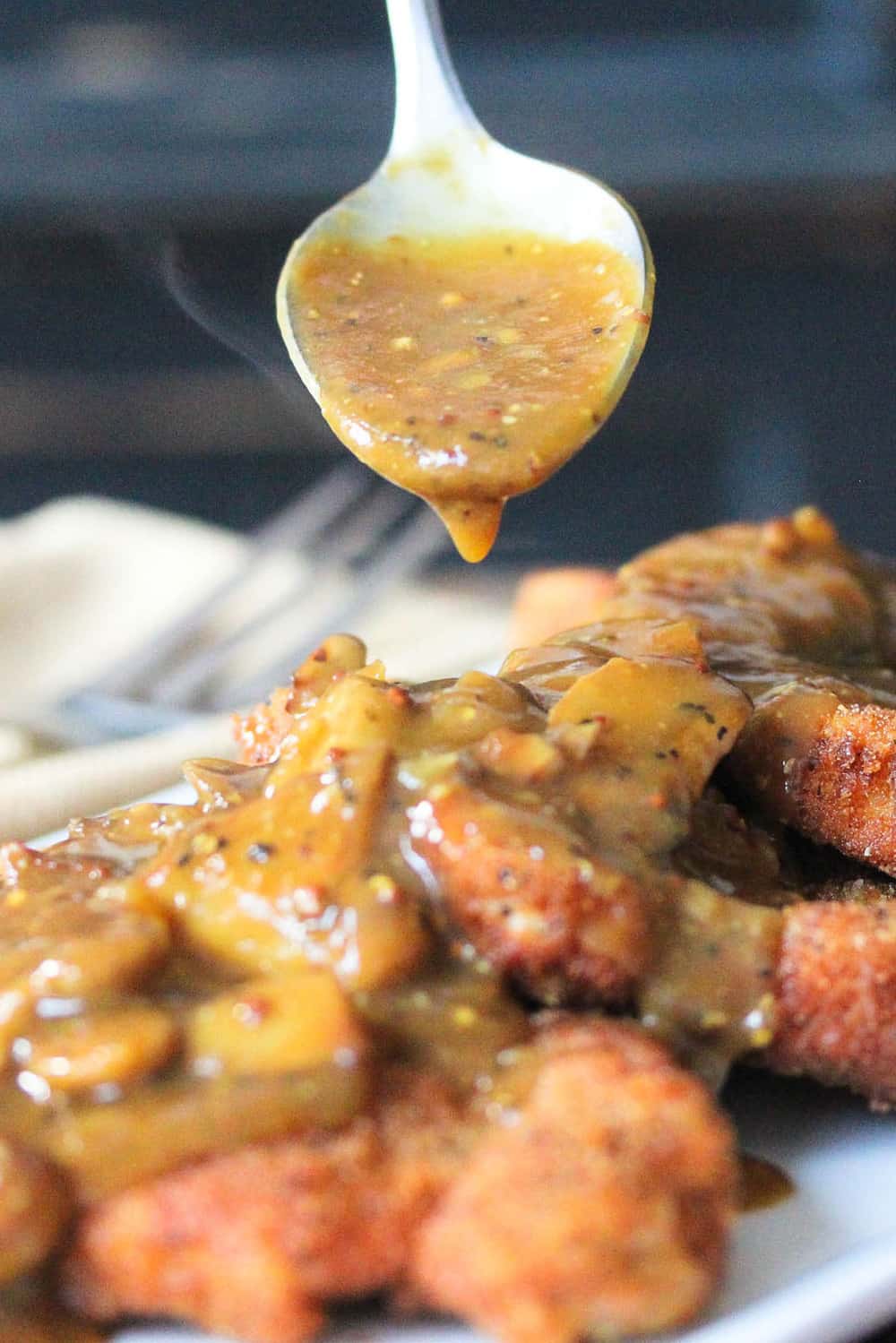 SCHNITZEL WITH MUSHROOM GRAVY IS PURE COMFORT FOOD
By the way, if you like this German Schnitzel with German Gravy as much as we think you will, you would probably also really like our Pork Milanese as well as our Chicken Francese.
And beside amazing taste, the other great thing about the dish is how easy it is to prepare. It's elegant enough for a nice dinner party, but easiest to whip up for a delicious weeknight family dinner.
I mean, just look at this dish!!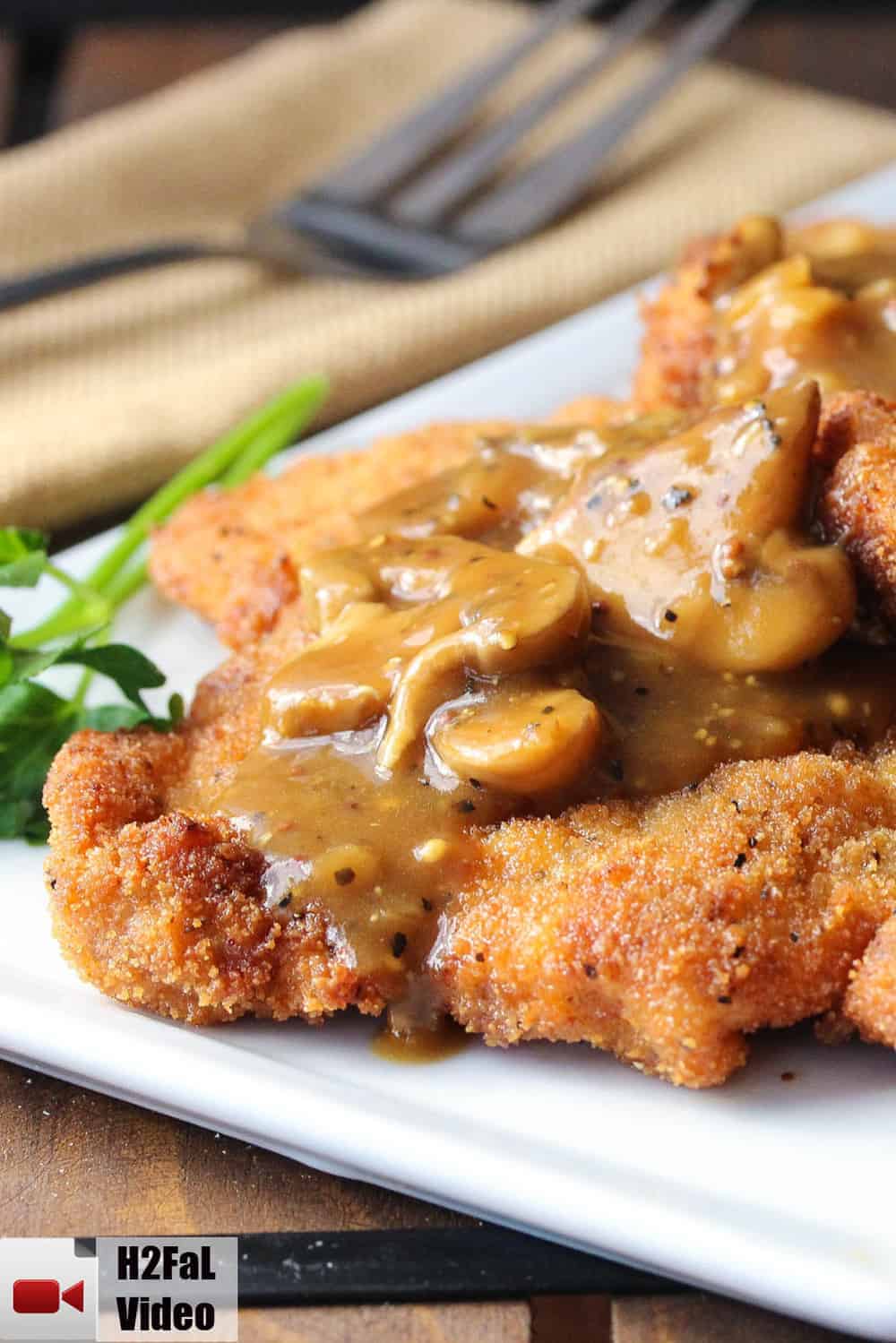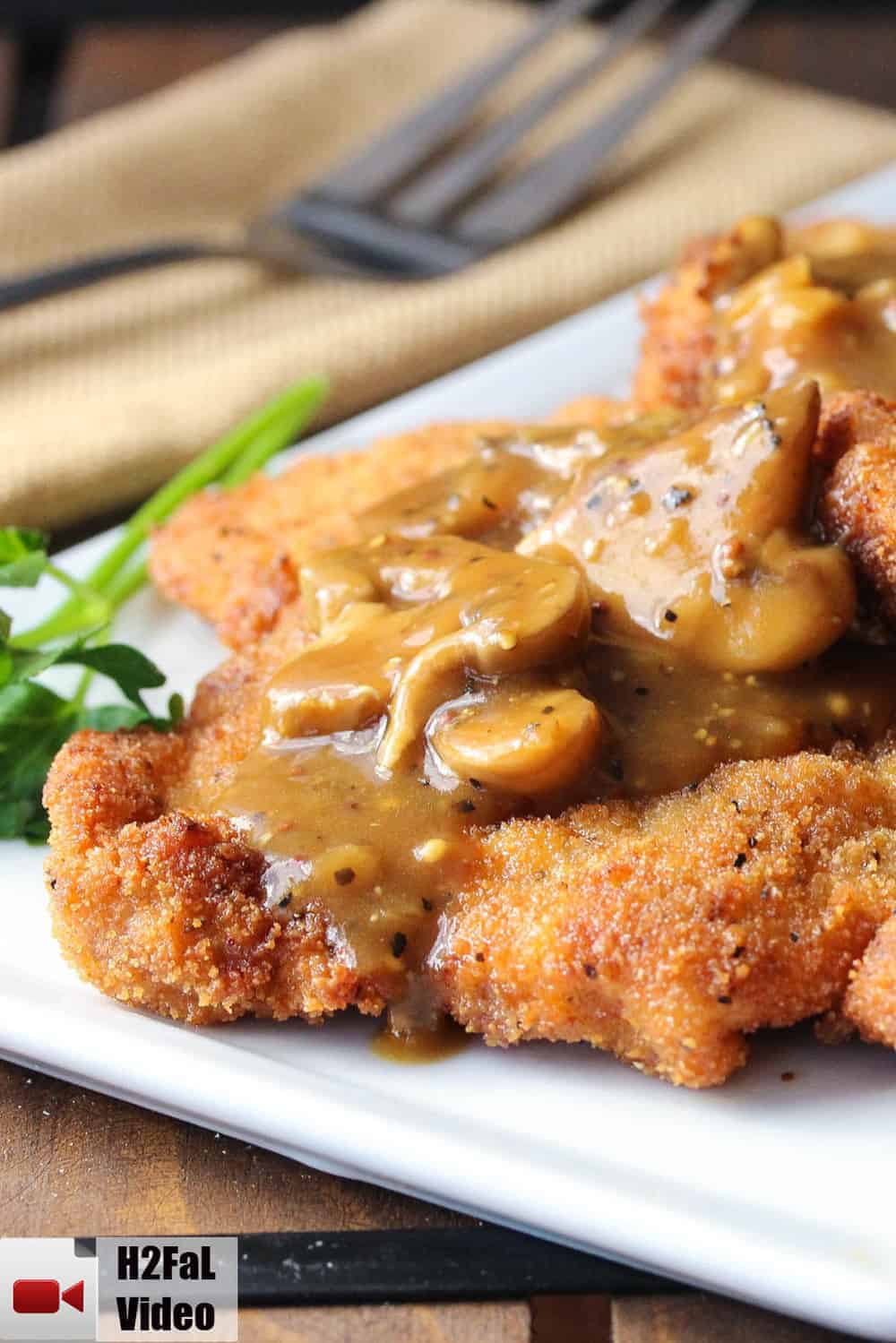 OTHER AMAZING GERMAN RECIPES TO TRY
German Spaetzle and Cheese
Ale-Braised Bratwurst
Glühwein (Warm Spiced Wine)
Now, go forth and make this amazing German Schnitzel with Mushroom Gravy recipe!
German Schnitzel with Mushroom Gravy
This German Schnitzel with Mushroom Gravy is so flavorful and easy to make, even on a busy weeknight. Use veal, pork, or chicken...pound the cutlet out thin...bread, whip up the sauce, quick fry...and you are set! So delicious!
Print
Pin
Rate
Servings: 4 people
Calories: 385kcal
Ingredients
MUSHROOM GRAVY
2 tbsp olive oil
2 tbsp unsalted butter
1/2 onion, chopped
1 clove garlic, minced
8 oz. cremeni mushrooms sliced
1/4 cup all-purpose flour
1/2 cup white wine
2 1/2 cups beef stock
1 tbsp whole grain mustard
1 tbsp Worcestershire sauce
Salt and pepper to taste (about 1/4 teaspoon each)
SCHNITZEL
Vegetable oil for pan frying (about 2 cups)
4 boneless pork chops about 16 ounces, total
1 cup all-purpose flour
2 large eggs plus two tablespoons of water
1 cup dried bread crumbs not seasoned
1 tsp Kosher salt
1 tsp freshly ground black pepper
1 tsp smoked paprika
1/2 tsp caraway seeds
Lemon wedges, for garnish
Flat-leaf parsley, chopped, for garnish
Instructions
MUSHROOM GRAVY
Heat the olive oil over medium-high heat in a medium skillet

Add the butter

Add the garlic and saute for about 1 minute.

Add the onion and cook for another 4 minutes, or until translucent.

Add the mushrooms and cook until they start to release liquid, about 4 minutes.

Add the flour and stir to incorporate.

Add the wine, stirring to combine. Cook until the wine reduces down, about 4 minutes.

Add the stock, and stir frequently . The sauce will start to thicken over the next 5 minutes.

Stir in the mustard, Worcestershire sauce.

Season with salt and pepper.

Keep warm:
SCHNITZEL
Heat the oil in a large, sturdy skillet over medium-high heat.

Pound the cutlet between wax paper, or in a large freezer bag, by using the side of a meat tenderizer. Pound down to about 1/8". Trim any jagged sides, and/or excess fat.

Place the flour in one medium-sized bowl.

Place the eggs in another bowl and gently mix together. Mix in another 2 tablespoons of water.

In a third bowl, mix together the bread crumbs, salt, pepper, paprika and caraway seeds.

Dredge each cutlet in the flour, then dip in the egg wash (shake off excess), then dredge in the bread crumb mixture.

Fry each cutlet (don't overcrowd the pan) for about 4 minutes per side, or until golden brown.

Serve with gravy poured over top and garnished with lemon wedges and parsley.
Nutrition
Serving: 320grams | Calories: 385kcal