This dish is a staple at imbess food stands ("imbess" in German translates to "snack") and has reached iconic status. Once you taste it, you'll understand why.
It's really quite a simple recipe, but there are several very important tips and ingredients that make this dish as authentic as possible. First and foremost is getting your hands on the right German sausage. We'll talk more about that later. Preparing the sausage and the curry ketchup sauce is critical, too. When it all comes together, it is truly spectacular. Serving them homemade fries truly puts it over the top.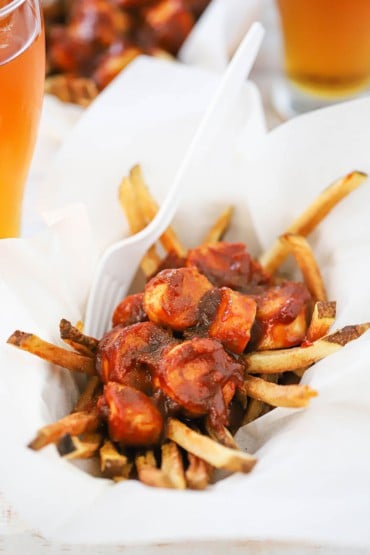 How To Make German Currywurst
We've studied this recipe for quite some time, and we feel this is about as close to making currywurst outside of Berlin as authentic as you can.
The origins of the dish are humble, yet very interesting. Learn more here.
Seek out the very best ingredients, make the double-fried fries from scratch, and you and your guests will be very happy.
NOTE: If you liked this video, please subscribe to our YouTube channel. Remember to click the little 'bell' icon so you'll never miss a new video. Thank you!
The Ingredients You Will Need
As mentioned, to make this dish as authentic as possible, you need to get the right kind of German sausage. You'll want a finely ground pork, or pork and veal sausage, preferably that is fully cooked. We order ours from an amazing German sausage company out of Illinois called Stiglmeier Sausage Company. Their Bavarian Bratwurst is heavenly and perfect for this dish.
Here's What You'll Need to Have on Hand
German sausage – We go with Bavarian bratwurst, but knackwurst (aka as knockwurst) and weisswurst (bockwurst with parsley) are both excellent choices.
Oil – Olive oil or vegetable
Onions – Chopped
Garlic – Minced
Curry powder – Making it from scratch is easier than you might think!
Ketchup – Or tomato sauce, but we find quality ketchup delivers the best consistency and flavor
Vinegar – White wine or apple cider are best
Brown sugar – We like dark, but light will work, too
Worcestershire sauce – For an added depth of flavor
Paprika – Smoked is excellent, but regular will work
Salt – Kosher
Mustard – Either dried (powder) or prepared yellow mustard
French fries – Or German bread (Brötchen)
EXPERT TIP: You'll want to get the skin of the sausages as crisp as possible without bursting the casings too much. We find grilling them until lightly browned work best. But, it is also traditional to quickly fry the links in a little vegetable oil. We tried this and the skins burst open. If frying, turn them frequently and keep the oil around 325°F.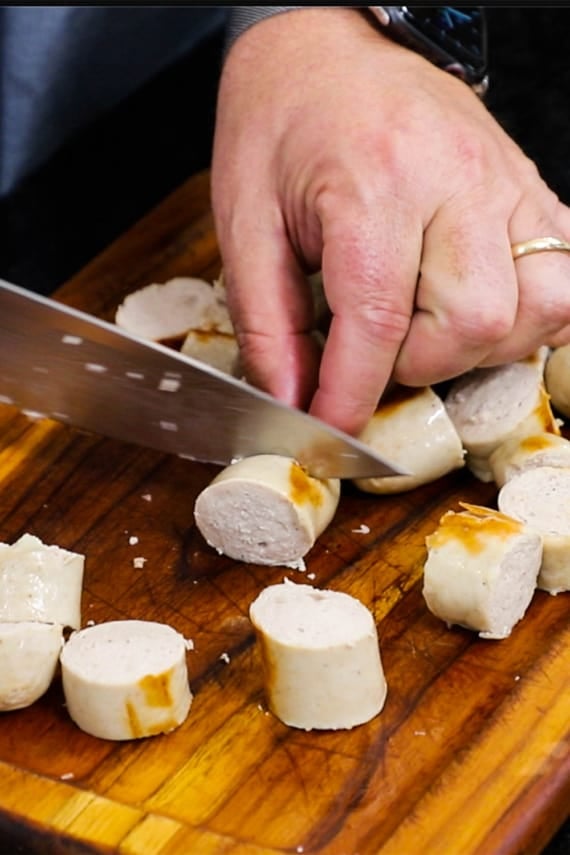 Tips for Perfect German Currywurst
Get the Right Kind of Sausage – We can't express this enough. Check with your local butcher. He/she very well may have a fine ground bratwurst available for you. If not, we strongly recommend ordering them from a reputable sausage maker. If you get sausage that is not pre-cooked, you'll need to simmer it in lightly boiling water for about 20 minutes, or until fully cooked. Then either grill or pan-fry as directed.
Don't Overcook the Sauce – You want to simmer the sauce just long enough until it starts to thicken. This generally only takes about 5 minutes once all of the ingredients have been added. You can reheat over medium-low heat, if necessary. if the sauce is too thick, and almost like a paste, thin it with a little water.
Go Easy on the Curry Powder – Yellow curry powder is a prominent flavor and can quickly overpower the taste of the dish. Two tablespoons give it that distinctive currywurst taste and then just a very light dusting just before serving is perfect.
EXPERT TIP: We like our curry tomato sauce to be fairly smooth. So, we use an immersion blender to purée most of the cooked onions and garlic. It's not 100% necessary and even when we use our immersion blender, we still leave a little bit of the chunkiness from the onions. You could even omit the onions and garlic completely, but we really like the flavor they provide.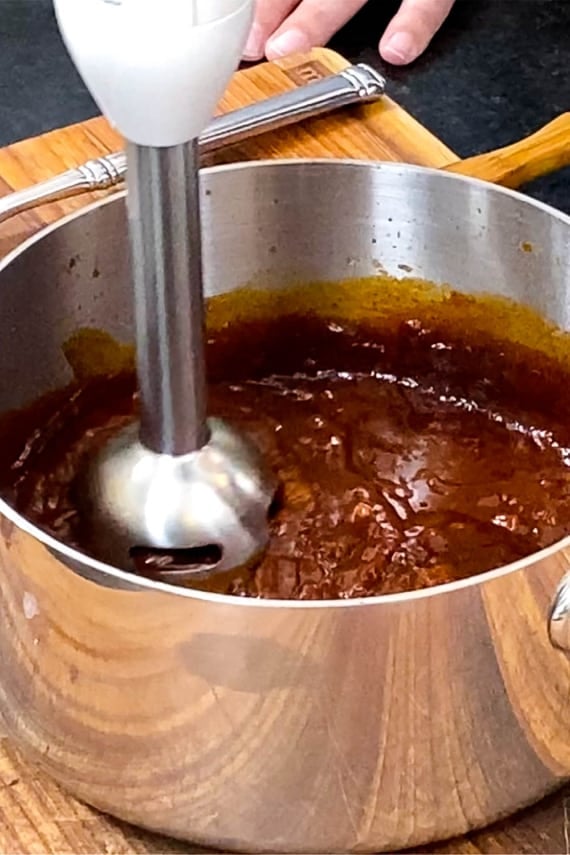 How To Serve
In Berlin, it is customary to toss the sliced sausage in the sauce until coated and then serve it in a basket (usually paper) with either fries or German bread rolls (Brötchen).
We love the homemade fries because they really soak up the amazing sauce. In Germany, the fries are often served with mayonnaise mixed with curry powder and lemon juice or frites sauce. It's delicious, but again, the sauce from the currywurst is amazing on its own.
EXPERT TIP: The fries can be made about an hour in advance. We heat them up in a 275°F oven on a baking sheet lined with a silicon mat or parchment paper. They will lose some of their crispiness, but will still be good. For crispy fries, try and coordinate the currywurst being ready around the same time the fries are finished. This takes a little planning but is very doable.
Other Classic German Recipes To Try
We just love German food, and here are some of our favorites that we think you'll love, too!
German Schnitzel with Mushroom (Jaeger) Sauce
Ale-Braised Bratwurst and Sauerkraut
Classic Spaetzle and Cheese
German Soft Pretzels
Bratwurst Sliders with Beer Cheese Sauce
But in the meantime, isn't this Berliner Currywurst calling your name?
There are many variations of this dish in Berlin and across Germany. We think this version is simply amazing. We're not German, but we've learned from a lot of amazing German cooks and historians.
To make it as authentic as possible, you'll need to seek out a solid German bratwurst (pre-cooked, finely ground is optimal).
And it all comes together in a matter of minutes. Homemade fries are awesome, but store-bought will work, too.
Ready to make the best Berlin street food this side of, well…Berlin? Go for it!
And when you do, be sure to take a photo of it, post it on Instagram, and tag @HowToFeedaLoon and hashtag #HowToFeedaLoon!
German Currywurst
This iconic street food originated in Berlin and is wildly popular across Germany. Seek out finely ground pork German bratwurst (preferably pre-cooked) for the most authentic taste and texture. The curry ketchup can be made up to several days in advance.
Print
Pin
Rate
Servings: 4
Calories: 462kcal
Equipment
Gas, electric, or charcoal grill or skillet for frying
Ingredients
4 Bavarian bratwurst finely ground, preferably pre-cooked
2 tbsp olive oil
1 cup onion chopped
2 cloves garlic minced
1 cup ketchup
2 tbsp yellow curry plus extra for dusting
¼ cup white wine vinegar or apple cider vinegar
½ cup brown sugar
2 tsp Worcestershire sauce
2 tsp smoked paprika
2 tsp Kosher salt
1 tsp dried mustard
Instructions
Turn your grill to medium-hot. Place the brats over direct heat and turn them frequently. Cook until lightly browned all over. Remove from grill.

4 Bavarian bratwurst

Meanwhile, in a medium-sized saucepan, heat the olive oil over medium heat. Add the onions and sauté them until they are softened, about 4 to 5 minutes.

2 tbsp olive oil, 1 cup onion

Add the garlic and sauté until soft and aromatic, about 30 seconds longer.

2 cloves garlic

Stir in the ketchup and bring to a slight simmer.

1 cup ketchup

Add the curry powder, white wine vinegar, brown sugar, Worcestershire sauce, paprika, salt, and mustard. Let simmer for about 5 minutes, the sauce should thicken slightly. Remove from heat, and if desired, purée the sauce with an immersion blender.

2 tbsp yellow curry, ¼ cup white wine vinegar, ½ cup brown sugar, 2 tsp Worcestershire sauce, 2 tsp smoked paprika, 2 tsp Kosher salt, 1 tsp dried mustard

Slice each bratwurst into 6 to 8 bite-size pieces. Stir the cut bratwurst into the curry ketchup.

Place the french fries in a small basket or bowl (lined with parchment paper, if desired), and then spoon about 1 cup of the currywurst over the fries. Dust with a small amount of curry powder. Serve at once.

French fries
Notes
See the video near the top of the blog post for visual guidance. If you liked the video, please subscribe to our YouTube channel.
Finding the right sausage is critical in achieving authentic currywurst. We purchase ours from Stiglmeier and they are simply incredible. Check with your local butcher, chances are he/she will carry it. Remember, finely ground and pre-cooked is best.
You can make the French fries ahead of time (but not too many hours in advance). Keep them warm in a 275°F oven.
The curry ketchup sauce can be made several days in advance. Reheat over medium heat until simmering. If the sauce is too thick (it should be slightly thicker than ketchup), thin it with a little water.
Leftovers will keep covered in the fridge for up to 5 days.
Nutrition
Calories: 462kcal | Carbohydrates: 49g | Protein: 9g | Fat: 16g | Saturated Fat: 3g | Polyunsaturated Fat: 1g | Monounsaturated Fat: 5g | Sodium: 1042mg | Potassium: 323mg | Fiber: 2g | Sugar: 42g | Vitamin A: 1985IU | Vitamin C: 7mg | Calcium: 61mg | Iron: 1mg
NOTE: The development of the recipe required extensive research and testing. It is mostly adapted from The German Cookbook by Alfons Schuhbeck.