Classic Tequila Sunrise is just that: Classic.
Gorgeous as it is delicious, this drink has stood the test of time, and we just love it.
Tequila is the perfect match for the fresh orange juice and the sweetness of the grenadine.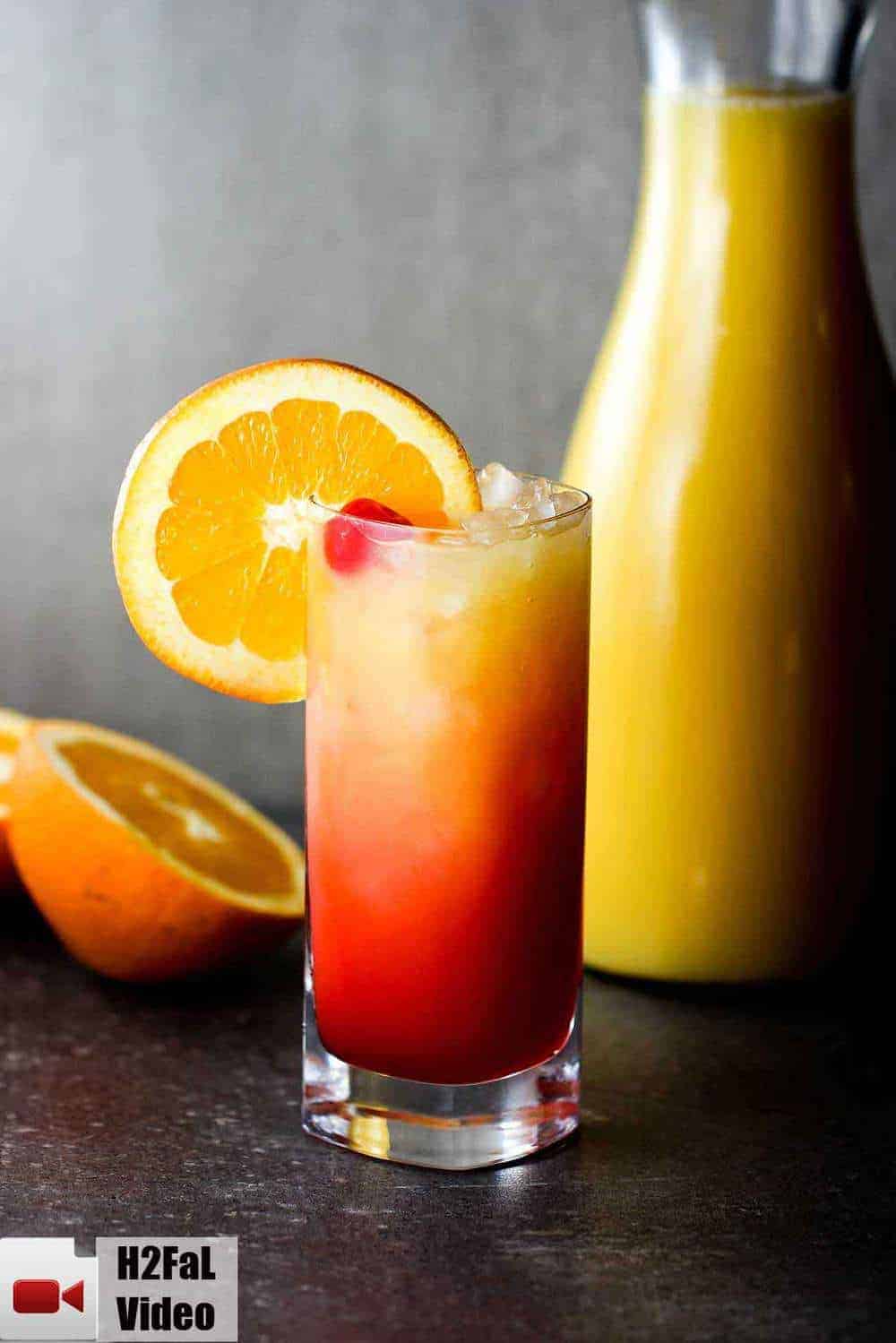 HOW TO MAKE A CLASSIC TEQUILA SUNRISE
Every time I order this tasty libation, I can't help but start singing the classic Eagles song by the same name.
Want to see how easy it is to make this amazing drink?
Watch The Loon whip one of these up for Kris…and then make one (or 2) for yourself and loved one.
GO WITH QUALITY TEQUILA FOR A CLASSIC TEQUILA SUNRISE
We love to go with a good quality white (blanco) tequila when making this Classic Tequila Sunrise. Quality always makes a better drink.
This is a nice alternative to a Classic Margarita when you're serving Mexican food.
This drink is perfect for serving poolside, too.
When was the last time you had a classic cocktail this yummy?
You know, a tequila sunrise has been around for a long time. And as you would expect, it's got quite the long history. Learn more here!
I think it's time to pull out that top-notch bottle of tequila, grab some fresh orange juice and grenadine…and make this beautifully delicious cocktail.
Classic Tequila Sunrise
This Classic Tequila Sunrise really is classic. It's been around for a long time and it's timeless in its delicious taste and beautiful presentation. Go with a good quality tequila and freshly squeezed orange juice, and you will be very happy with the results! Tequila!
Print
Pin
Rate
Servings: 1 person
Calories: 196kcal
Ingredients
3 oz freshly squeezed orange juice
1.5 oz white tequila tequila blanco
0.5 oz grenadine syrup
1 orange slice, for garnish
maraschino cherry for garnish
Instructions
Fill a tall glass with crushed ice and add the tequila.

Pour in the orange juice and then slowly pour in the grenadine.

Garnish with orange slice (or wheel) and a maraschino cherry.
Nutrition
Calories: 196kcal