The Classic Manhattan Cocktail is just that: Classic. Perfect for sipping pre, during, or post a nice meal with friends and loved ones. Or, just when you're looking for a special drink for a special occasion.
You can't go wrong with the perennial favorite Classic Manhattan Cocktail.
It's so delicious and absolutely perfect for sipping. We love making a batch around the holiday season, but we do enjoy it year-round!
HOW TO MAKE A CLASSIC MANHATTAN COCKTAIL
Now, if you want to see how easy it is to make this Classic Manhattan Cocktail recipe…then you are in luck!
Sit back, watch, laugh…and then go make this Manhattan Cocktail!
THE HISTORY OF THE CLASSIC MANHATTAN COCKTAIL
The Manhattan Cocktail has been around for generations.
Legend has it that the drink was first served at the Manhattan Club in New York City in the early 1870's. It was reportedly served at a banquet for then-presidential candidate Samuel J. Tilden thrown by the mother of Winston Churchill.
Rumor has it the drink was so popular that people starting requesting the drink and calling it the name of the establishment in which it was served: The Manhattan. The fact that Lady Churchill was actually pregnant and in France makes the story suspect, but still…it's a story fitting of the infamous drink.
More than likely, the libation was developed by a bartender in NYC in the 1800s and named after the city of its origin.
Read more about the history of this iconic drink from TASTE Cocktails.
Some purists say an American Rye Whiskey is the key ingredient in this Classic Manhattan Cocktail. But, a good bourbon is commonly used. This iss our spirit of choice when making this delicious drink.
It is steeped in history and the result is a wonderful drink that is perfect for sipping with friends and loved ones for a special occasion.
We love a good Manhattan Cocktail. And so will you!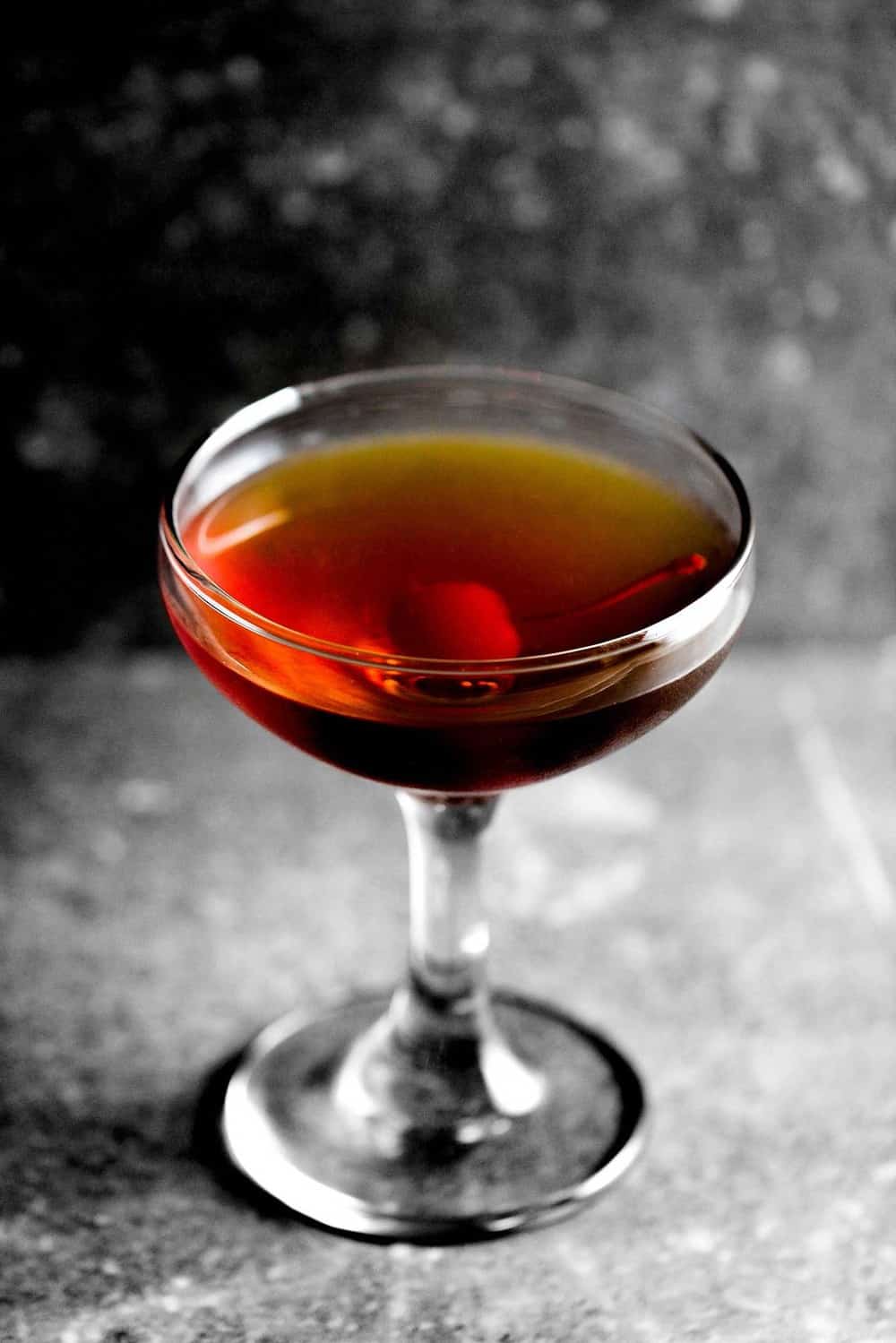 Classic Manhattan Cocktail
This Classic Manhattan Cocktail recipe has been around for generations and is steeped in history and taste. Perfect for sipping with friends on that really special occasion.
Print
Pin
Rate
Servings: 1
Calories: 139kcal
Ingredients
2 oz bourbon
1 oz sweet vermouth
Few dashes Angostura bitters
1 maraschino cherry (for garnish)
Instructions
Stir bourbon, vermouth, and bitters in shaker filled with ice.

Strain into martini glass.

Garnish with maraschino cherry.
Nutrition
Calories: 139kcal | Carbohydrates: 2g | Protein: 1g | Fat: 1g | Sodium: 1mg | Sugar: 2g