This concoction is one of our favorite culinary items in the world.
I grew up eating (and still do) Velveeta and Ro-tel with corn tortilla chips. Don't get me wrong…it's wonderful and both Wesley and I love it. But there is something special about ordering a bowl of warm, silky, authentic Mexican cheese dip from a good Tex-Mex restaurant. We've played around with a number of ways of making the perfect bowl of queso, and we are thrilled to share with you what we think is the best in town.
The Secret to This Authentic Queso Recipe
There are a few tricks to making a queso dip that is just like (or even better) that you get at your favorite Mexican restaurant.
Once you try this queso, you'll never want it any other way!
NOTE: If you liked this video, please subscribe to our YouTube channel. Remember to click the little 'bell' so you'll never miss a new video. Thank you!
The Best Cheese for Queso
There are a couple of tricks to making restaurant-quality queso. First, when you add cornstarch to evaporated milk, it thickens the cheese dip just enough so when you add the cheese, you get a perfect consistency that won't become hard or too thick once cooled.
We think the mellow and perfectly melty American cheese is the perfect cheese for this recipe.
I love using a combination of yellow and white American cheese. We get a half-pound block of each and then shred them with our food processor (or you could just a box grater).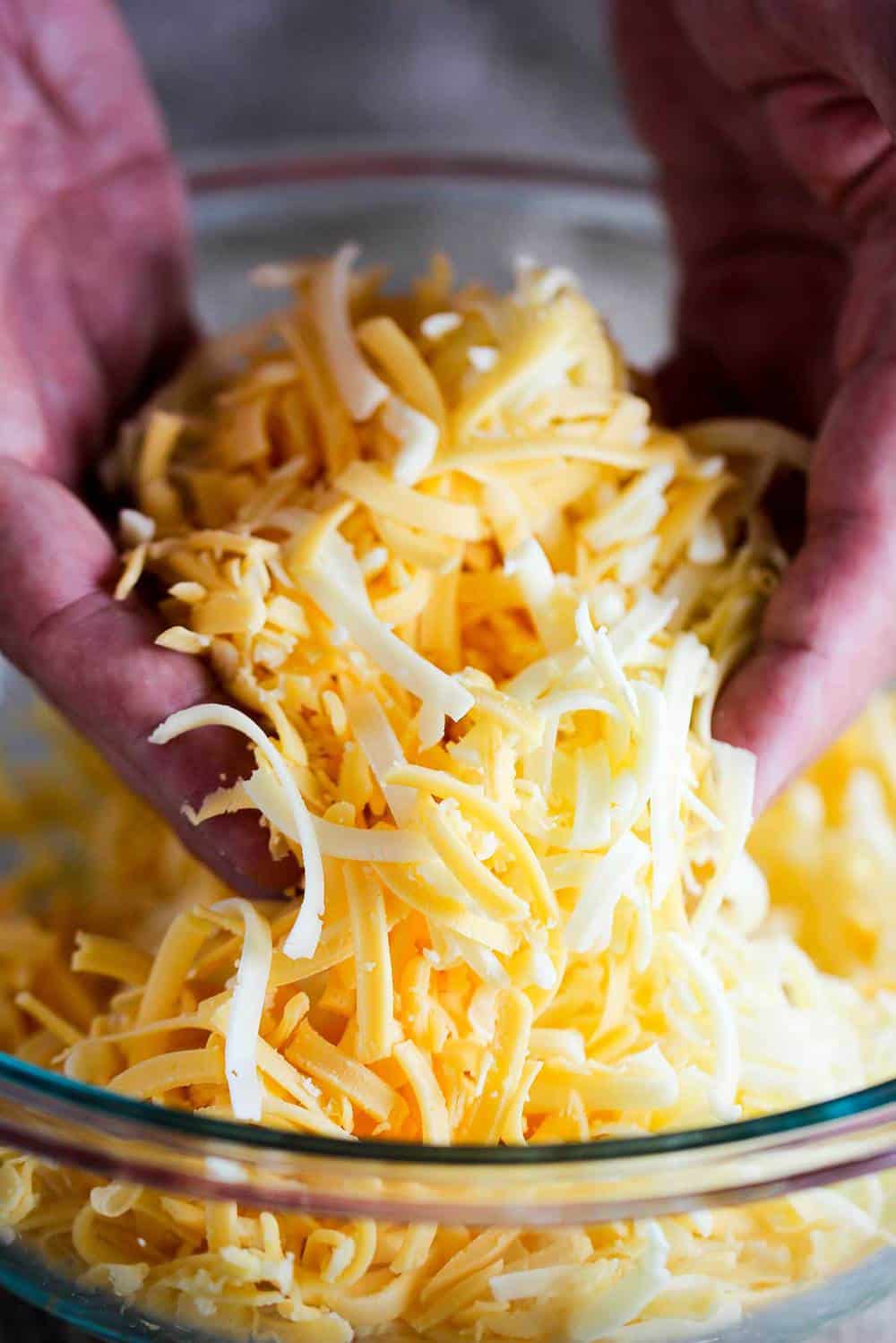 The Perfect Start to a Stellar Tex-Mex Meal
If you like your queso to be mild with very little heat, you can go with only 1 diced jalapeño, or even just a half. You can also omit the Serrano peppers, too.
You can top the queso with some homemade pico de Gallo for even more flavor.
This is about as comforting and delicious as you will ever find.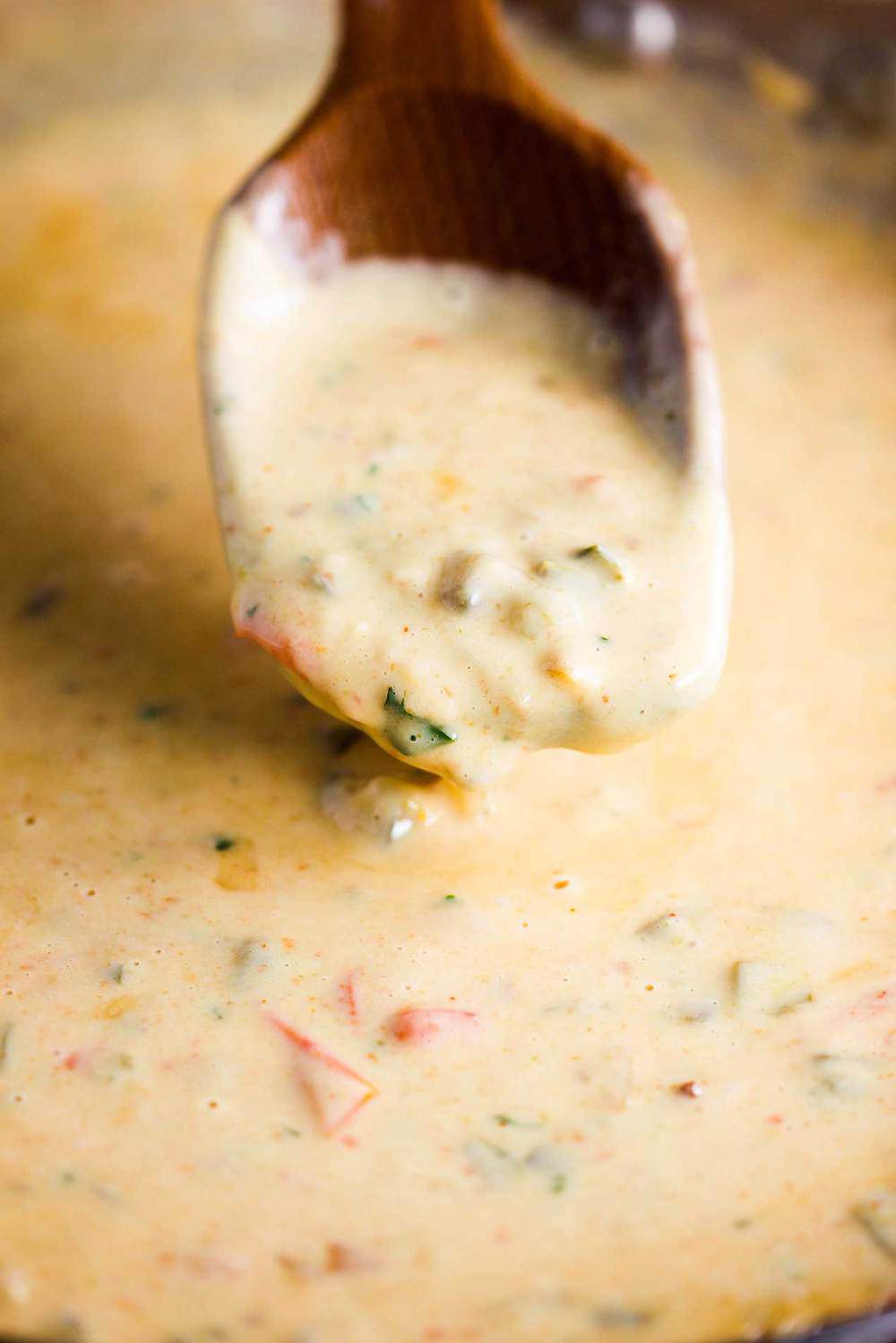 Wesley always says I fill up on chips, salsa, and queso every time we dine at a Tex-Mex or Mexican restaurant. And there is some truth to that.
But, even before I order my favorite combination of Tex-Mex Beef Tacos or Classic Enchiladas, I simply must order a bowl of queso.
I mean how else would I enjoy my chips, salsa, and margarita if we didn't also have a spectacular bowl of queso? And don't worry…I still find room for my favorite Tex-Mex dishes.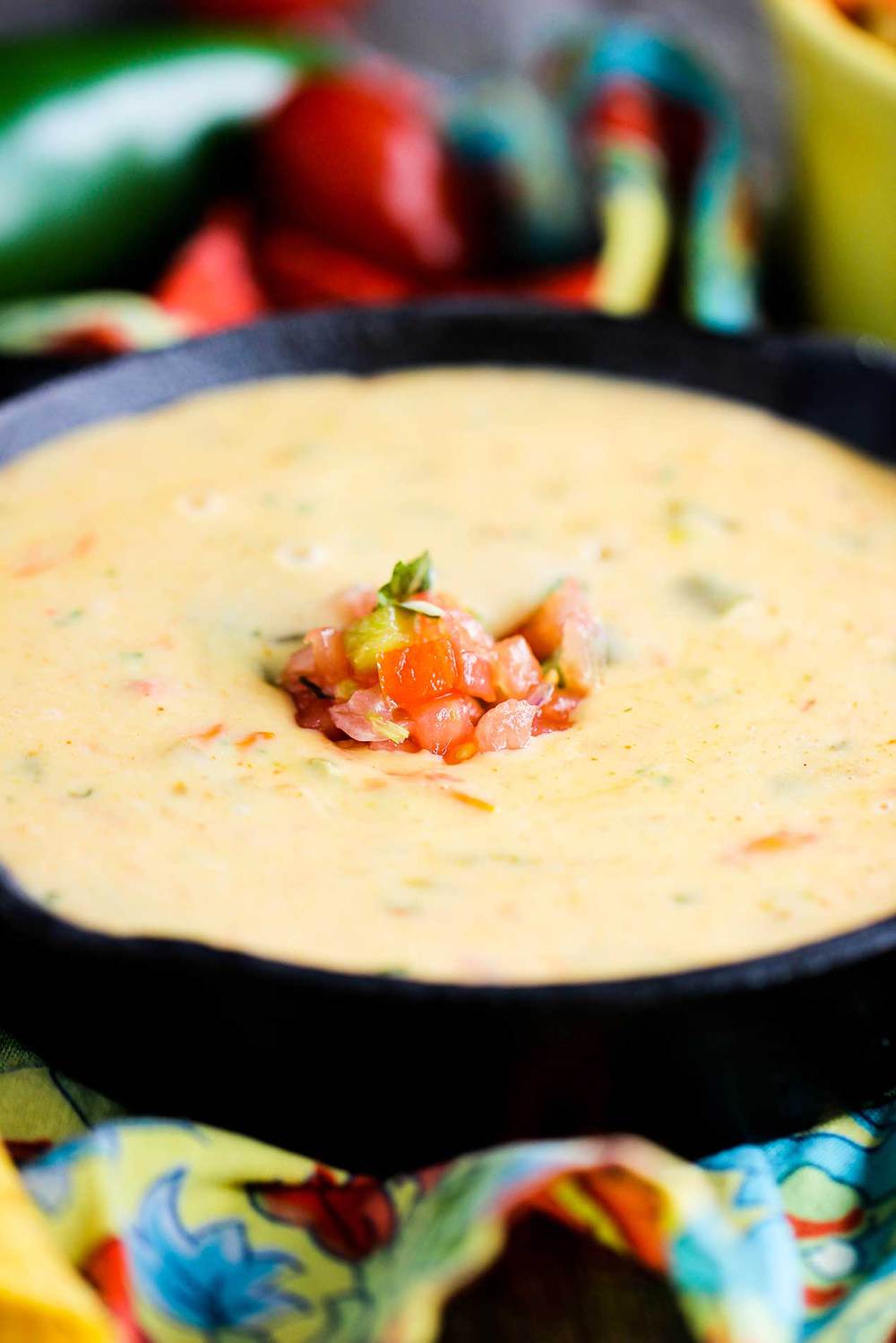 When and How to Serve
You can easily prepare this in advance and then reheat it before serving.
It's fantastic for parties, showers, or any kind of gathering of friends, co-workers, and/or family.
You can keep the dip warm in a small slow-cooker on low, or a heated serving dish. Or, just reheat it (if desired) in the microwave from time to time (if it lasts that long).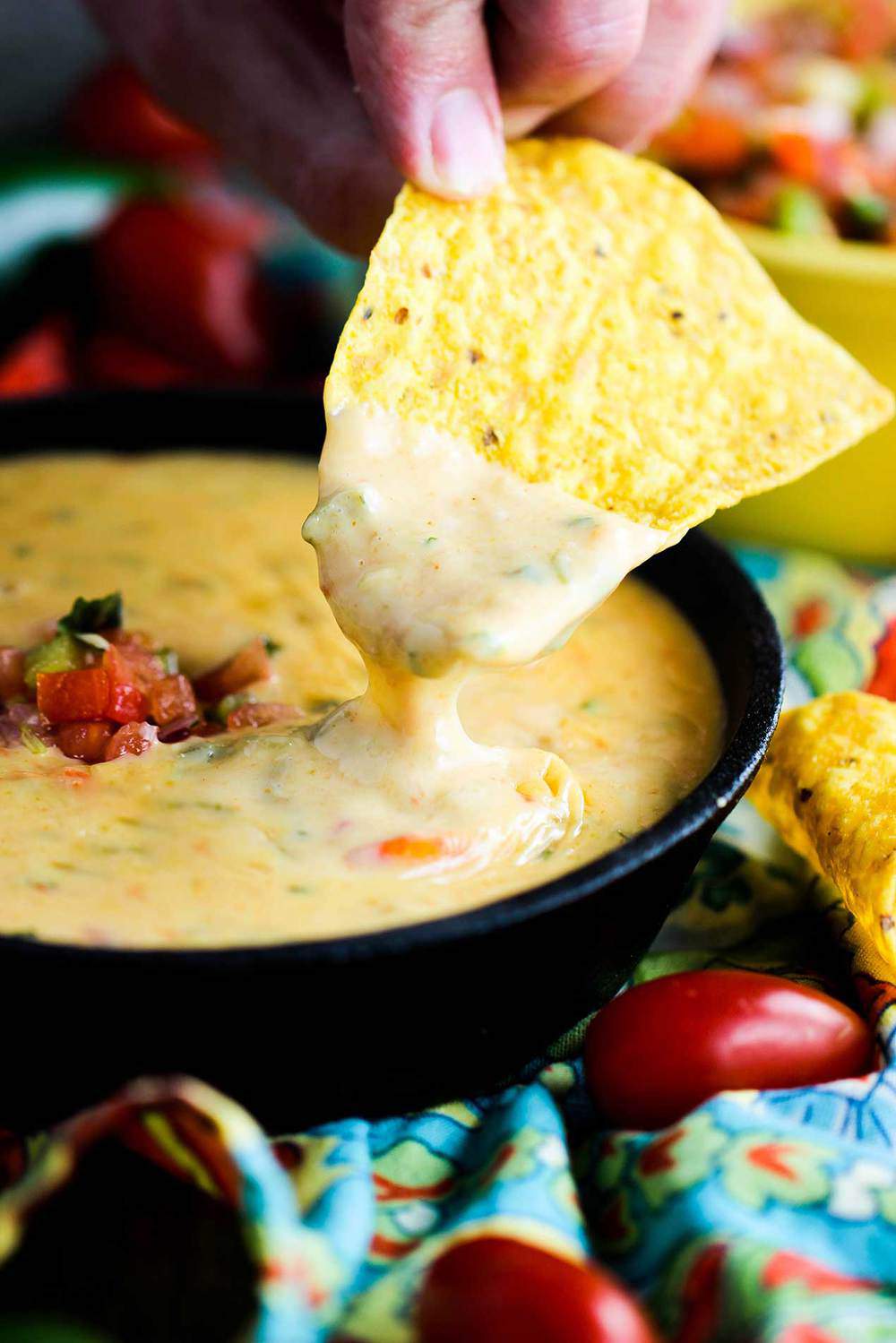 I still love the occasional bowl of melted Velveeta with Ro-tel. It's undeniably yummy and so easy to make.
But it's so worth it to go the extra distance and make this incredible dip from scratch. It's not hard and the results are so delicious and wonderful.
It just doesn't get much better than homemade Tex-Mex queso.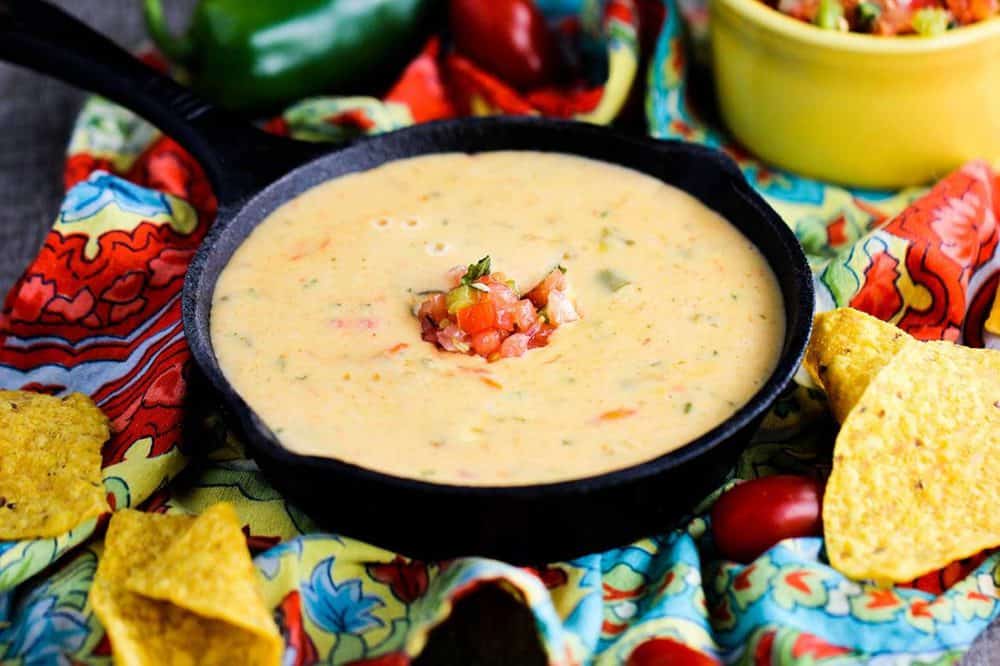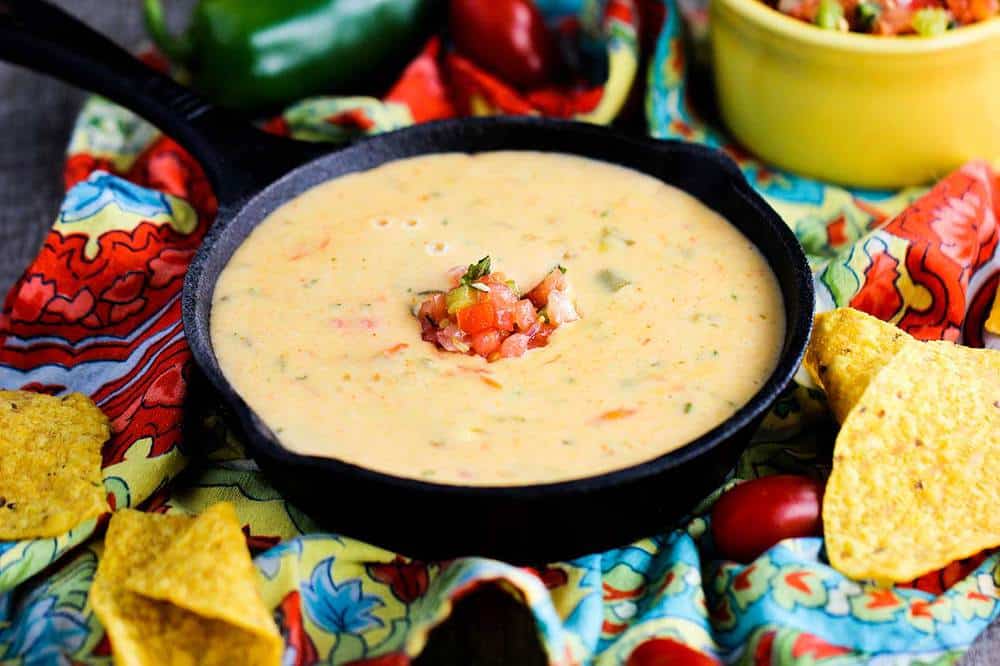 Ready to make the best Mexican cheese dip this side of the Rio Grande? Go for it!
And when you do, be sure to take a photo of it, post it on Instagram, and tag @HowToFeedaLoon and hashtag #HowToFeedaLoon
Classic Tex-Mex Queso (Cheese Dip)
This Classic Tex-Mex Queso recipe is as good as you will find at your favorite Tex-Mex restaurant. Creamy, silky, and with just enough heat to make it practically addictive. Adjust the peppers and seasonings to your own tastes. As written, this queso is close to medium heat.
Print
Pin
Rate
Servings: 12 people
Calories: 170kcal
Ingredients
2 tbsp unsalted butter
½ medium onion chopped, about ½ cup
2 jalapeños fresh, seeded and chopped (removing the seeds and ribs decreases the heat significantly)
3 cloves garlic minced
1 tbsp Serrano chiles pickled, (optional)
1 cup cherry tomatoes halved
1 13 oz. can evaporated milk
2 tbsp corn starch
1 cup water
½ lb American cheese yellow, grated
½ lb American cheese white, grated
1 tsp ground cumin
¼ tsp onion powder
¼ tsp black pepper freshly ground
½ tsp Kosher salt
1 4.5 oz can green chiles
1 tbsp cilantro fresh, chopped
Pico de Gallo for garnish
Tortilla chips for dipping
Instructions
Heat the butter in a large skillet over medium heat.

Add the onion, jalapeños, and garlic and cook until softened, about 3 minutes.

Add the pickled Serrano peppers (if using) and tomatoes, and cook just until tomatoes begin to break down, about 3 more minutes.

In a medium bowl, add the corn starch to the evaporated milk, and whisk until dissolved and incorporated. Whisk in the water and add to the veggies in the skillet.

Stir with a wooden spoon until just starting to thicken.

Add in the cheese and stir until completely melted.

Stir in the cumin, onion powder, pepper, salt, green chilies, and cilantro. Bring to just a simmer and let cook for a couple of minutes.

Transfer to a warmed bowl, or small slow-cooker, and top with Fresh Pico de Gallo and warmed tortilla chips.
Nutrition
Calories: 170kcal | Carbohydrates: 4g | Protein: 7g | Fat: 14g | Saturated Fat: 8g | Cholesterol: 43mg | Sodium: 732mg | Potassium: 99mg | Fiber: 1g | Sugar: 2g | Vitamin A: 514IU | Vitamin C: 7mg | Calcium: 400mg | Iron: 1mg