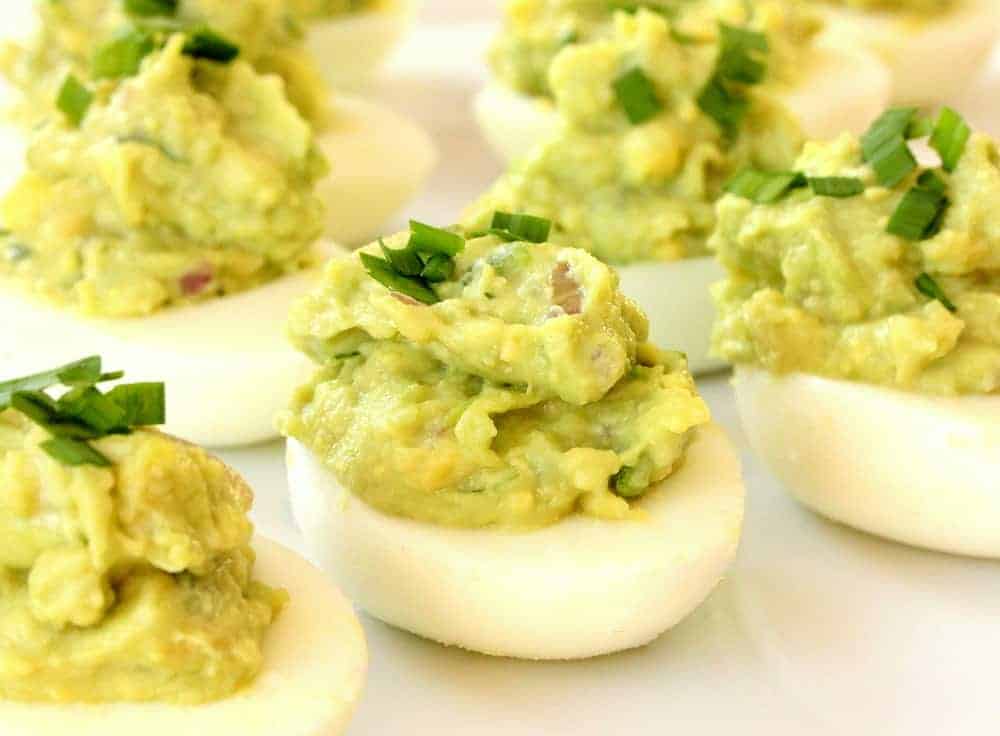 So, I've been seeing different versions of this Avocado Deviled Eggs all over Pinterest.   A friend sent me the recipe, and I decided to make my own version.  These are easy to make and truly delectable.  And they really are a crowd pleasing platter of deliciousness!!
Avocado Deviled Eggs
These avocado deviled eggs are devishly delicious. They are very popular right now, and for good reason. This is my version. The Loon loves to pop these in his mouth. So easy to make and even easier to eat! 100% Loon Approved!
Author: Kris Longwell
Recipe type: Appetizer
Cuisine: Appetizer
Serves: 4 - 6
Ingredients
6 hard boiled eggs
2 ripe avocados
Juice of one lime
2 tablespoons shallot or red onion, diced
Two or three dashes of hot sauce (like Tobasco)
½ teaspoon Worcestershire sauce
½ teaspoon Kosher salt
1 tablespoon mayonnaise
1 tablespoon cilantro, chopped
1 jalapeno, seeded and finely chopped (use just ½ the jalapeno for less heat)
1 tablespoon chives, chopped, for garnish
Instructions
MAKE THE HARD BOILED EGGS:
Place the eggs in a large pot and cover with water.
Bring to a boil, then turn off heat and cover for 12 minutes.
MAKE THE AVOCADO DEVILED EGGS:
Peel the hard boiled eggs and cut them in half, lengthwise.
Using a spoon, scoop out the yolks and set aside.
Cut the avocados in half and remove the pits.
Scoop out the avocado flesh and place in a large bowl.
Add 4 halves of the egg yolks (that's yolks from 2 whole eggs...about 2 tablespoons). Use the remaining yolks for a different use).
Add remaining ingredients and stir and roughly mash with the back of a fork.
Scoop about a heaping tablespoon of the avocado mixture into each of the egg whites.
Top with a sprinkle with chopped chives.