We love making yummy dishes with our awesome spiralizer!!
If you don't have a spiralizer, you can find veggies that have been 'spiralized' at most supermarkets and well-stocked gourmet markets. Spiralized vegetables are so much fun to cook with and the results are delicious and very healthy!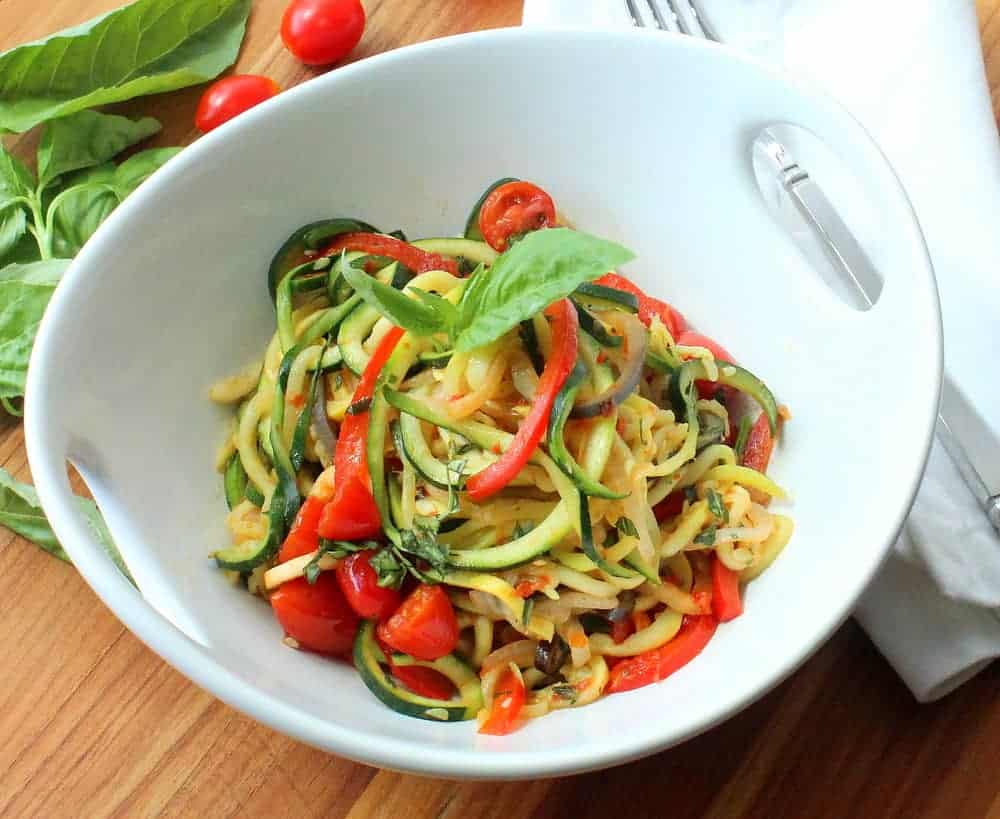 HOW TO MAKE SPIRALIZED RATATOUILLE
Ratatouille is a French recipe that has been made in kitchens around the world for generations.
It is especially popular in the summertime when fresh vegetables are in abundance.
We love using fresh zucchini and yellow squash for our Spiralized Ratatouille, but you are free to use whatever you have on hand!
With the use of our trusty spiralizer attachment, we crank about the long strands of veggies!
SIMILAR TO A PASTA DISH
This dish will feel like you are preparing an amazing pasta dish. Sort of like our Pappardelle Bolognese.
But here's the great thing, you getting an even healthier dish but still maintain excellent taste and texture.
A fresh tomato sauce will dress the spiralized ratatouille perfectly. The sauce can be made up to 1 week in advance and gently reheated before serving.
FINISHING OFF THE DISH
Now, all that's needed is to bring it all together in a large skillet.
Cook it all together until the liquid reduces down a little.
Oh, this is the good stuff!
Ready to make the best, and healthiest, ratatouille this side of Paris? Go for it!
And when you do, be sure to take a photo, post it on Instagram, and tag @howtofeedaloon and hashtag #howtofeedaloon!
Spiralized Ratatouille
This Spiralized Ratatouille is so amazingly delicious. If you don't have a spiralizer, you can find already spiralized veggie at most well-stocked markets now days. You can juillene the veggies yourself with a sharp knife, too. This is so healthy, but does not compromise fresh delicious flavor at all!
Print
Pin
Rate
Servings: 6
Calories: 213kcal
Equipment
Spiralizer, or purchased pre-spiralized vegetables
Ingredients
FOR THE DRESSING
¼ cup olive oil
2 tbsp champagne vinegar
¼ cup grape tomatoes halved
2 tbsp oil-packed sun-dried tomatoes drained and coarsely chopped
½ tsp Kosher salt
FOR THE RATATOUILLE
2 medium zucchini spiralized
2 medium yellow squash spiralized
1 medium eggplant spiralized
1 medium yellow onion spiralized (or chopped)
3 tbsp olive oil divided
1 red bell pepper cored, seeded and thinly sliced
1 cup grape tomatoes halved
1 tsp fresh thyme leaves
1 tsp Kosher salt
¼ cup thinly sliced basil leaves
Instructions
MAKE THE DRESSING
Place olive oil, vinegar, grape tomatoes, sun-dried tomatoes and salt in a blender or food processor and blend/process until smooth. Set aside.
MAKE THE RATATOUILLE
Heat 2 teaspoons olive oil in a large skillet over medium-high heat and add the onions. Cook 1 to 2 minutes until softened.

Remove onions from pan and cover to keep warm.

Repeat with each of the remaining vegetables (zucchini, squash and eggplant); adding oil, as needed, in 2 teaspoon increments, and cooking until just tender.

Return all cooked vegetables to the pan and add tomatoes, thyme and salt.

Cook 1 minute, or until heated through.

Remove from heat and gently toss with the dressing.

Plate and garnish with basil.
Nutrition
Calories: 213kcal | Carbohydrates: 14g | Protein: 3g | Fat: 8g | Saturated Fat: 1g | Sodium: 606mg | Potassium: 736mg | Fiber: 5g | Sugar: 8g | Vitamin A: 1238IU | Vitamin C: 61mg | Calcium: 36mg | Iron: 1mg