It's Instant Pot Thursday! And this week's Recipe of the Week is an amazing Instant Pot Butter Chicken! The Loon and I have been a huge fan of this dish for years. It is just so satisfying and truly warms you to the core. And so easy in the Instant Pot!


Back when Wesley and I lived in New York City, there was an Indian restaurant that served the most amazing butter chicken dish called Chicken Mahkani. We always said on our next visit (which was usually at least once a month), we would try something else on the menu. But, alas, I don't think we ever did. We just loved this Butter Chicken dish so much, we never tried anything else!
The ingredients come together to make one of the most satisfying dishes we've ever experienced. If you can't find garam masala at your local market, you can easily order it by clicking here.

The beauty of this dish is that it is steeped in flavor, but not overly spicy at all. I know many folks are concerned that Indian cuisine is super spicy, and sometimes it can be. But this dish has just a nice warmth to it. Serve it with basmati rice and some traditional Indian bread called Naan, and you will be so very happy! Oh, and the other beauty of this recipe, thanks to Instant Pot, it's on the table in about 30 minutes!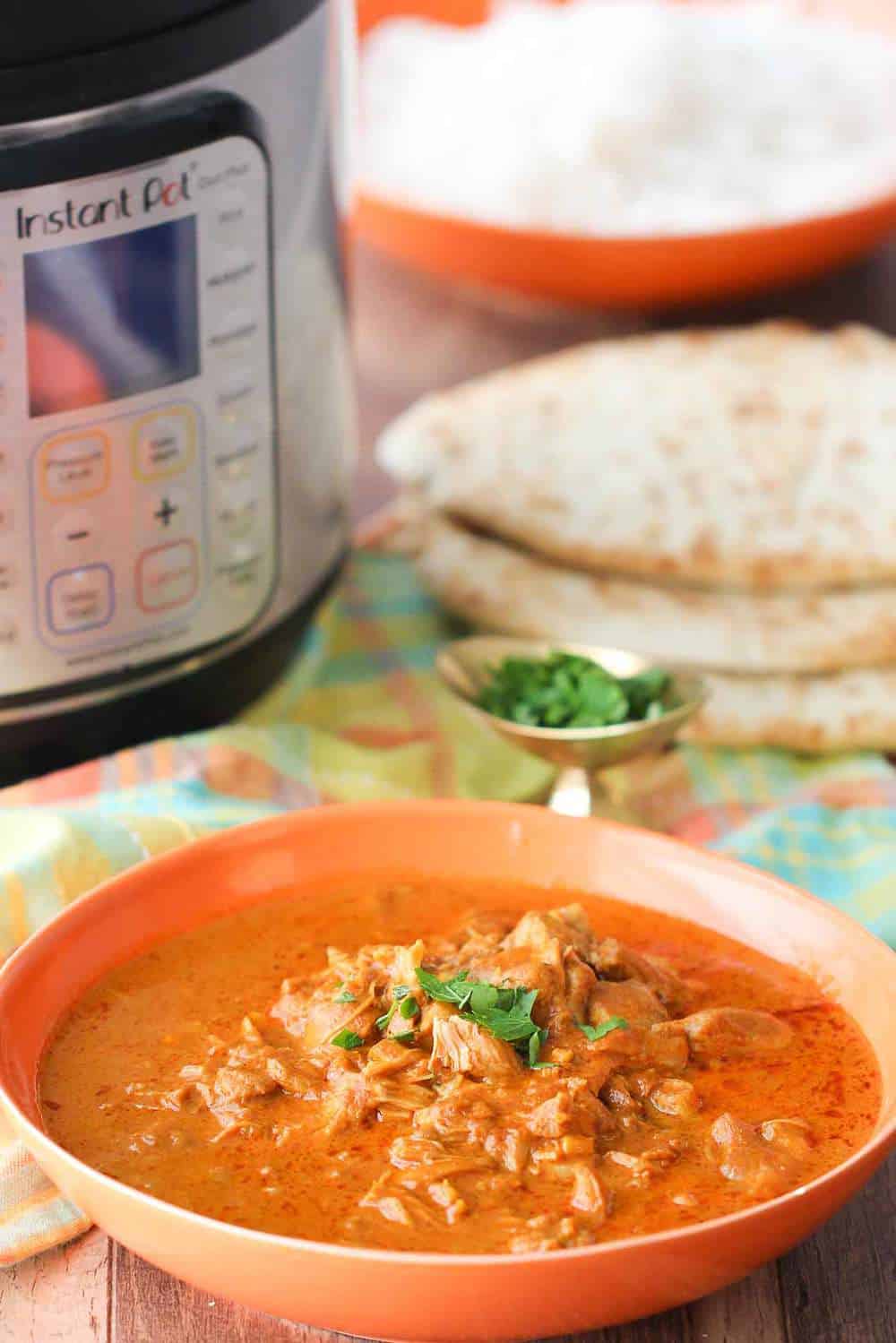 Now, go ahead and make this incredible Instant Pot Butter Chicken recipe!
Instant Pot Butter Chicken
This Instant Pot Butter Chicken is one of our most favorite dishes in the world. So comforting and steeped in flavor. And thanks to Instant Pot, can be on your table in about half an hour!
Print
Pin
Rate
Servings: 4 people
Calories: 468kcal
Ingredients
5 tbsp unsalted butter
6 garlic cloves minced
2 tsp fresh ginger minced
1 cup tomato sauce
2 tbsp tomato paste
3 tsp Garam Masala
1 tbsp smoked paprika
1 tsp ground coriander
1 tsp ground turmeric
1 tsp ground cumin
1 tsp Kosher salt
2 1/2 lbs boneless skinless chicken thighs
1 cup chicken stock
1 cup unsweetened coconut milk
2 tsp fresh parsley chopped, for garnish
3 cups cooked basmati rice instructions below
Instructions
Turn your Instant Pot to Saute.

Add the butter and cook until melted and starting to foam.

Add the garlic and ginger and saute for 2 minutes.

Add the tomato sauce and tomato paste and stir to mix.

Add the garam masala, paprika, coriander, turmeric, cumin, and salt. Stir and cook for 3 minutes.

Add the chicken thighs and stock and stir to coat the chicken.

Close the lid and turn the valve on top to Sealing.

Hit Cancel and then select Poultry or Meat/Stew. Set the timer for 5 minutes on High Pressure.

Once cooking is complete, let naturally release for 10 minutes, then move to Quick Release.

Remove the lid (once the Release is complete) and hit Cancel and then select Saute.

Add the coconut milk and cook for 5 minutes, stirring often, until the sauce thickens a little.

Serve with basmati rice and garnish with chopped parsley.

Perfect Basmati Rice:

Add 2 cups basmati rice to a large bowl and cover with water.

Swirl the water around the rice for about a minute.

Carefully pour off the water into the sink, holding the rice back with your hand.

Repeat this process two more times.

Cover the rice with water and let sit for 15 minutes.

Drain the rice.

Put 3 cups water into medium-sized pan and add the rice.

Bring to a boil, then lower the heat to low, cover tightly and cook for 15 minutes.

Remove from heat and fluff with a fork.
Nutrition
Calories: 468kcal