If you're looking for the perfect, yet slightly unconventional, appetizer or dip to bring to your next party, look no further!
Texas Caviar is a type of salsa that is so fresh and so loaded with flavor, it is always a huge hit every time we serve it at parties. And it's so easy to prepare and can be made up to 2 days in advance!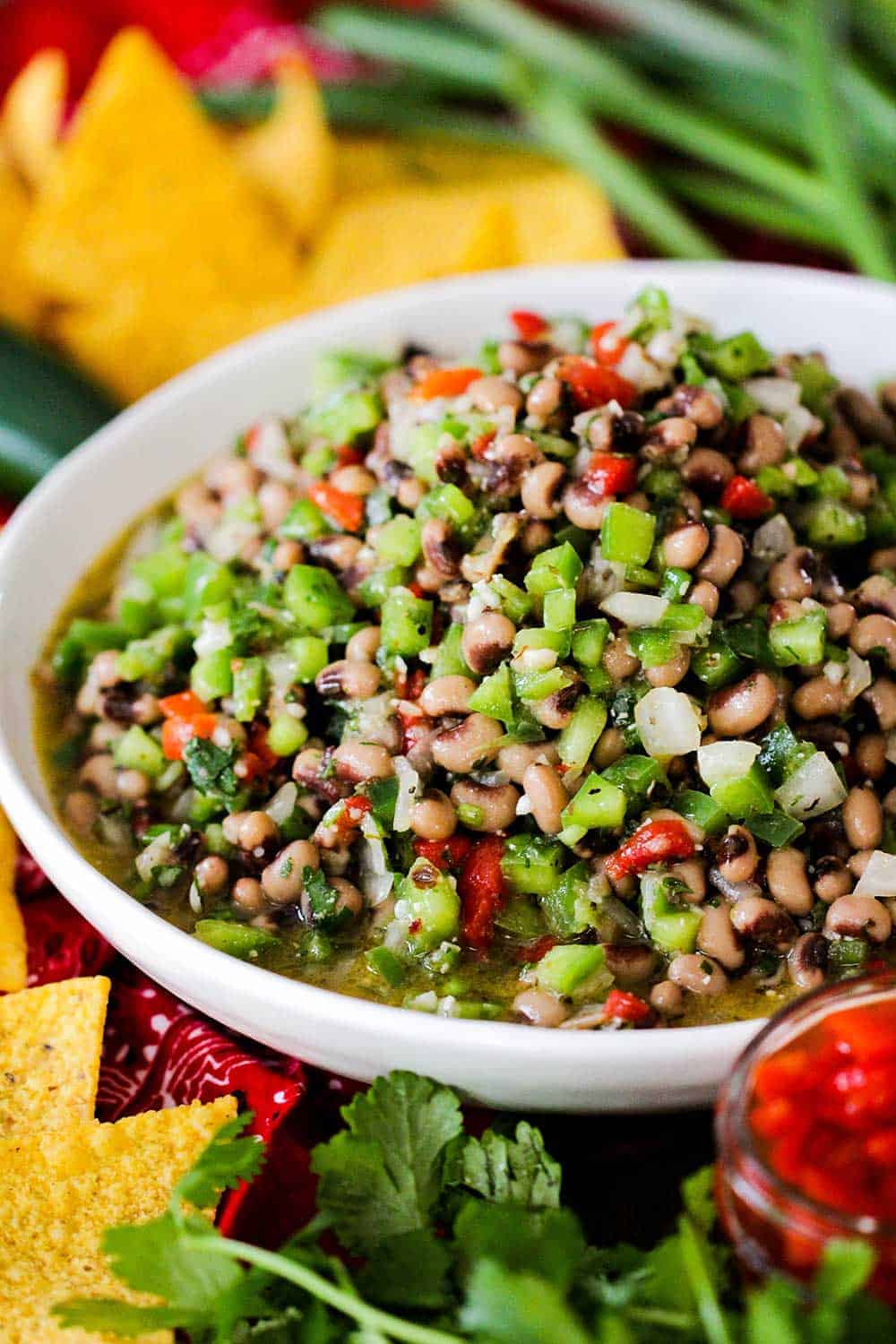 HOW TO MAKE TEXAS CAVIAR
Texas Caviar comes together very quickly.
Once you prep all the ingredients, you simply mix them together and then let the dip chill for a couple hours to deepen the flavors!
Watch us show you how simple it is to make this incredible black-eyed pea salsa!
Although no one ingredient outshines the other in this awesome dip, we think it's fair to say the black-eyed peas are the real star.
You can certainly use canned black-eyed peas and drain them and still get excellent taste and texture. If you start off with dried beans, that's great! See tip on how to prepare them.
EXPERT TIP: If using dried beans, start off by soaking them in water overnight (or at least 8 hours). Drain them and then add them to a pot with enough water to cover the peas. Bring to a boil and then reduce the heat and simmer until soft, about 45 minutes. Make sure to not overcook them! Let cool before proceeding with the recipe.
THE INGREDIENTS YOU'LL NEED
You may be wondering where the term Texas Caviar came from. If you are…read about its interesting history here.
As far as what you'll need to create Texas Caviar, here are the ingredients that bring it all together:
Black-Eyed Peas
Green Bell Pepper
White Onion
Green Onions
Jalapenos
Pickled Pimento
Garlic
Salt & Pepper
Hot Sauce
Homemade Italian Dressing
EXPERT TIP: If you don't have access to black-eyed peas, then you can substitute pinto beans, kidney bean, lima beans, or any combination of these. Some folks add corn kernels to the salsa, too.
HOMEMADE ITALIAN DRESSING IS PERFECT
For the dressing, you need a good quality vinaigrette.
We've used a nice balsamic vinaigrette before, but we think the flavors our Homemade Italian Dressing is the perfect match for the ingredients in this dip.
EXPERT TIP: The Homemade Italian Dressing can be made up to 2 days in advance. Give the sealed jar a good shake to emulsify the dressing again. Of course, in a pinch, 1 cup of quality purchased Italian dressing will work. But ours is so easy and so good. (You can even watch the video on how to make it from this link!)
A NEW YEAR'S TRADITION
In the Southern United States, black-eyed peas are considered to bring you good luck and a prosperous new year.
Who are we to argue with that? In fact, in addition to this amazing Texas Caviar, we also love serving as a main dish our Black-Eyed Pea Stew!
Folks, this Texas Caviar recipe is so simple, yet so deep in flavor! Perfect for New Year's celebrations and beyond!
Ready to ring in a healthy and prosperous new year? Or, simply make an appetizer that everyone will be talking about for days and weeks to come?
Go for it! And when you make it, don't forget to take a picture, post it to Instagram, and tag @howtofeedaloon and #howtofeedaloon!
Texas Caviar
This Texas Caviar is so wonderful for New Year's, and game day grub, and your next party! And it's good for you, too. Tons and tons of flavor! Serve with warm corn tortilla chips. And don't worry, this dip is only mildly spicy, the acid from the dressing decreases the heat.
Print
Pin
Rate
Servings: 10 people
Calories: 128kcal
Ingredients
1 lb black-eyed peas 3 15.5 oz cans drained and rinsed, if using dried, see Notes
2 cups green bell pepper finely chopped (stems and seeds removed)
1 cup onion white or yellow, finely chopped
1 3 oz. jar pimentos pickled, drained and roughly chopped
½ cup jalapenos Stems, seeds, and ribs removed, then finely chopped
1 cup green onions aka scallions, finely chopped
4 cloves garlic finely minced
1 tbsp hot sauce more or less, to taste
¼ cup fresh cilantro chopped
½ tsp Kosher salt
1 cup Italian dressing preferably homemade
Instructions
In a large bowl, mix all ingredients

Cover with plastic wrap and place in the fridge for at least a couple of hours.

Remove from the fridge and let it come to room temperature. Taste and add more salt, if desired. Stir and transfer to a serving dish. Serve with warmed tortilla chips.
Notes
If using dried beans, soak them overnight. Drain them and then add to a large saucepan and add enough water to cover them. Bring to a boil and then simmer for about 45 minutes. Drain and let cool. Rinsing the cooked beans with cool tap water expedites the cooling. Don't overcook the beans!
We highly recommend making the homemade Italian dressing. If you do go with store-bought, add either 1 tbsp of fresh lemon juice or fresh lime juice to the caviar mixture. The acid helps mellow all the flavors.
Taste before serving and add more salt, hot sauce, and/or cilantro, if desired.
The dip, made as written, is mild in spiciness. Removing the seeds and the ribs of the jalapenos ensures it won't be too spicy. If you want more heat, leave some of the seeds in and increase the amount of hot sauce. You can also use pickled jalapenos (nacho style) in place of the fresh.
The dip can be made up to 1 day in advance and kept in an air-tight container in the refrigerator. The dip can be frozen for up to 1 month, but we feel fresh is best, when it comes to Texas Caviar.
Happy New Year!
Nutrition
Calories: 128kcal | Carbohydrates: 17g | Protein: 4g | Fat: 5g | Saturated Fat: 1g | Sodium: 389mg | Potassium: 265mg | Fiber: 4g | Sugar: 6g | Vitamin A: 301IU | Vitamin C: 34mg | Calcium: 30mg | Iron: 2mg
POST UPDATE: This recipe was originally published in January 2016. The recipe was tweaked and new photography and a fabulous new video were added in December 2019.