This Amazing Chicken Quesadilla has got to be about one of the most comforting dishes we have ever encountered. I developed this recipe back in the 1990s in New York City, but don't worry, as a native Texan, I knew a thing or two about making an amazing chicken quesadilla.
I had no idea this recipe would eventually become one of our most popular recipes on the blog and one of our most favorite dishes to eat of all time.
It's really that good and we wouldn't lie about something this important.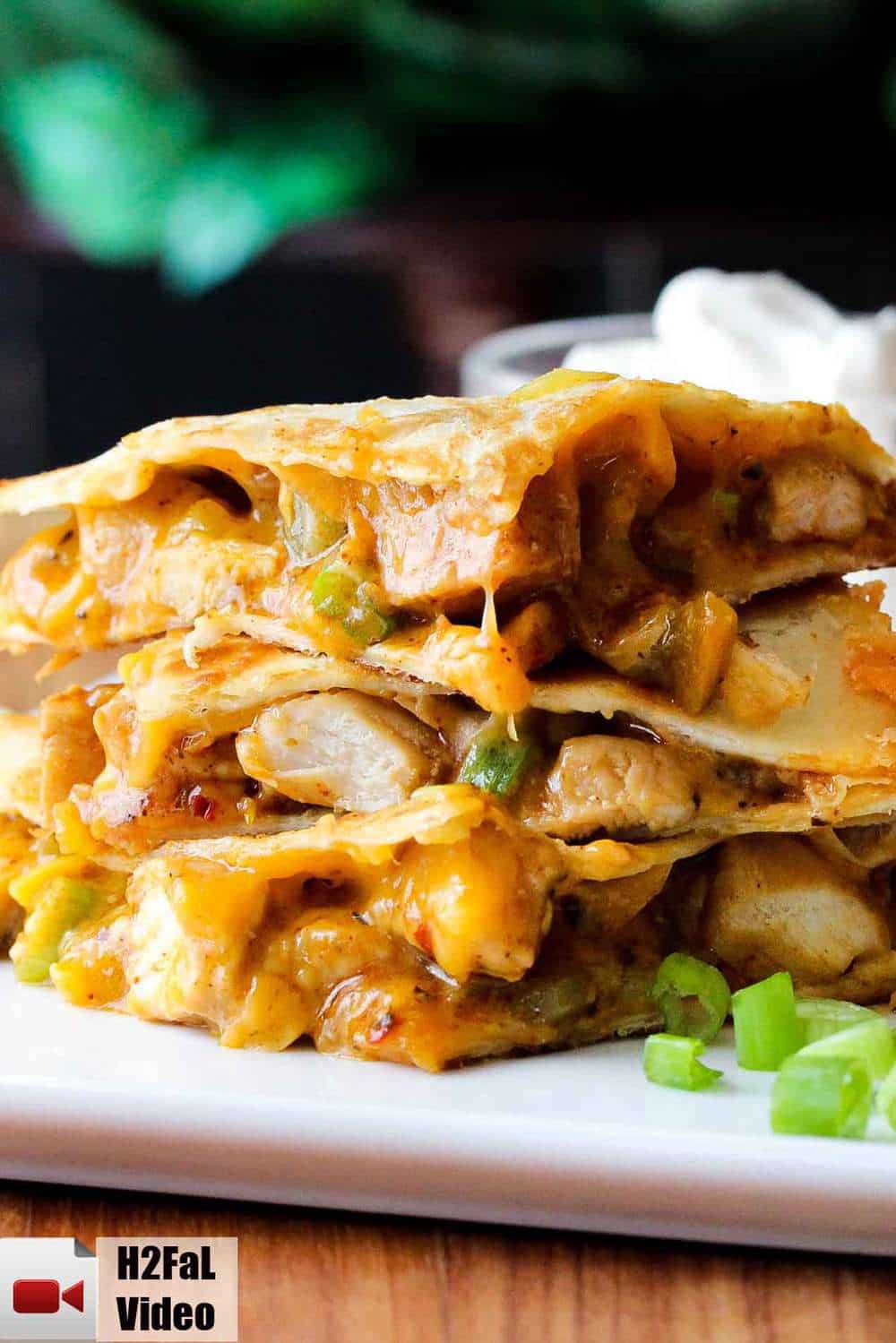 HOW TO MAKE THE WORLD'S BEST CHICKEN QUESADILLA
You won't believe how delicious this chicken quesadilla is. Seriously.
Watch us show you how to make this incredible dish, and then make it yourself!
Let's make the world's best chicken quesadilla!
WHAT MAKES A GOOD CHICKEN QUESADILLA?
A good chicken quesadilla needs to be well seasoned and it starts with an awesome taco seasoning.
Of course, you can go with the store-bought variety, but as always, going with a made-from-scratch seasoning will always produce even better results…especially if you use my taco seasoning recipe!
Let's season things up a bit, shall we?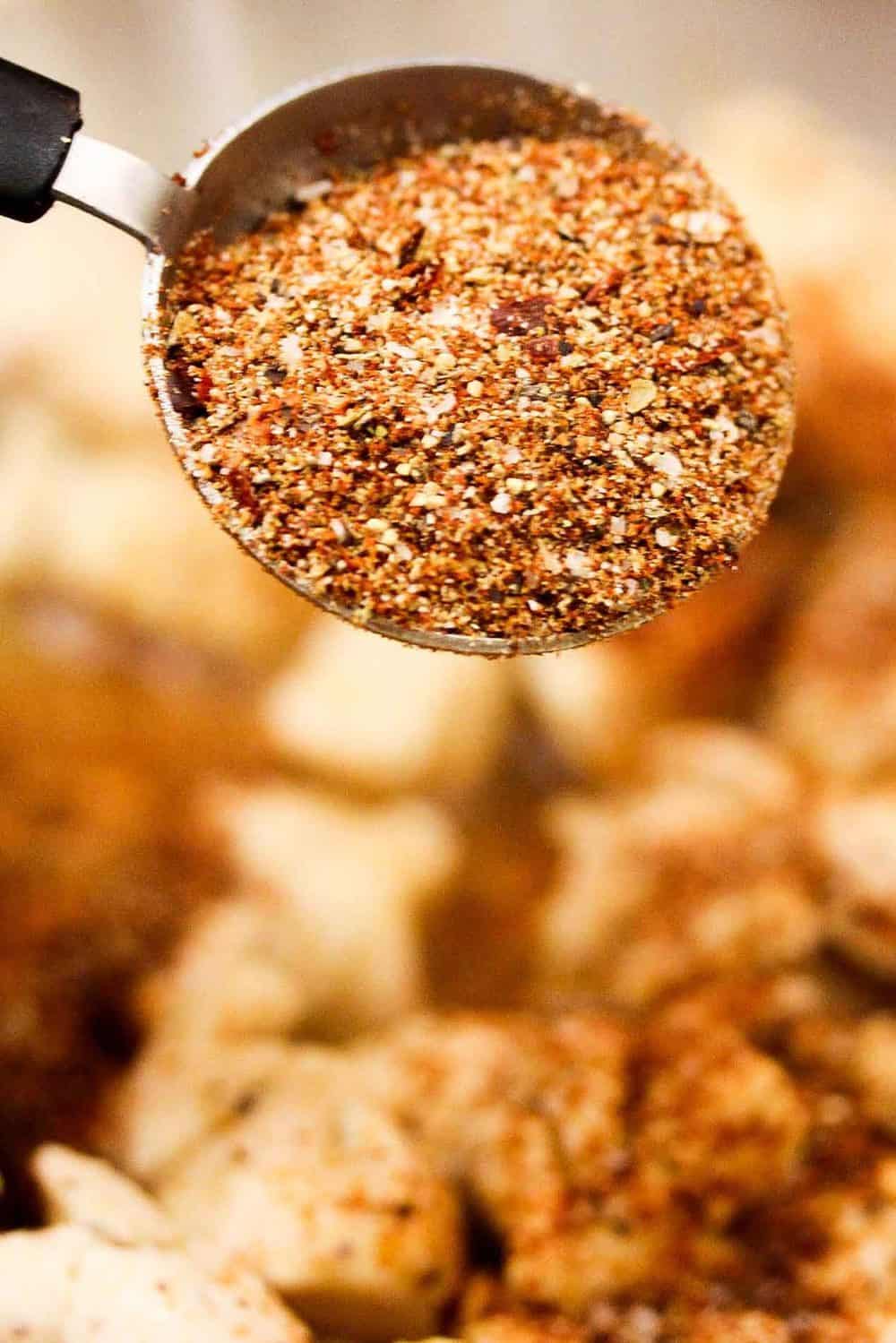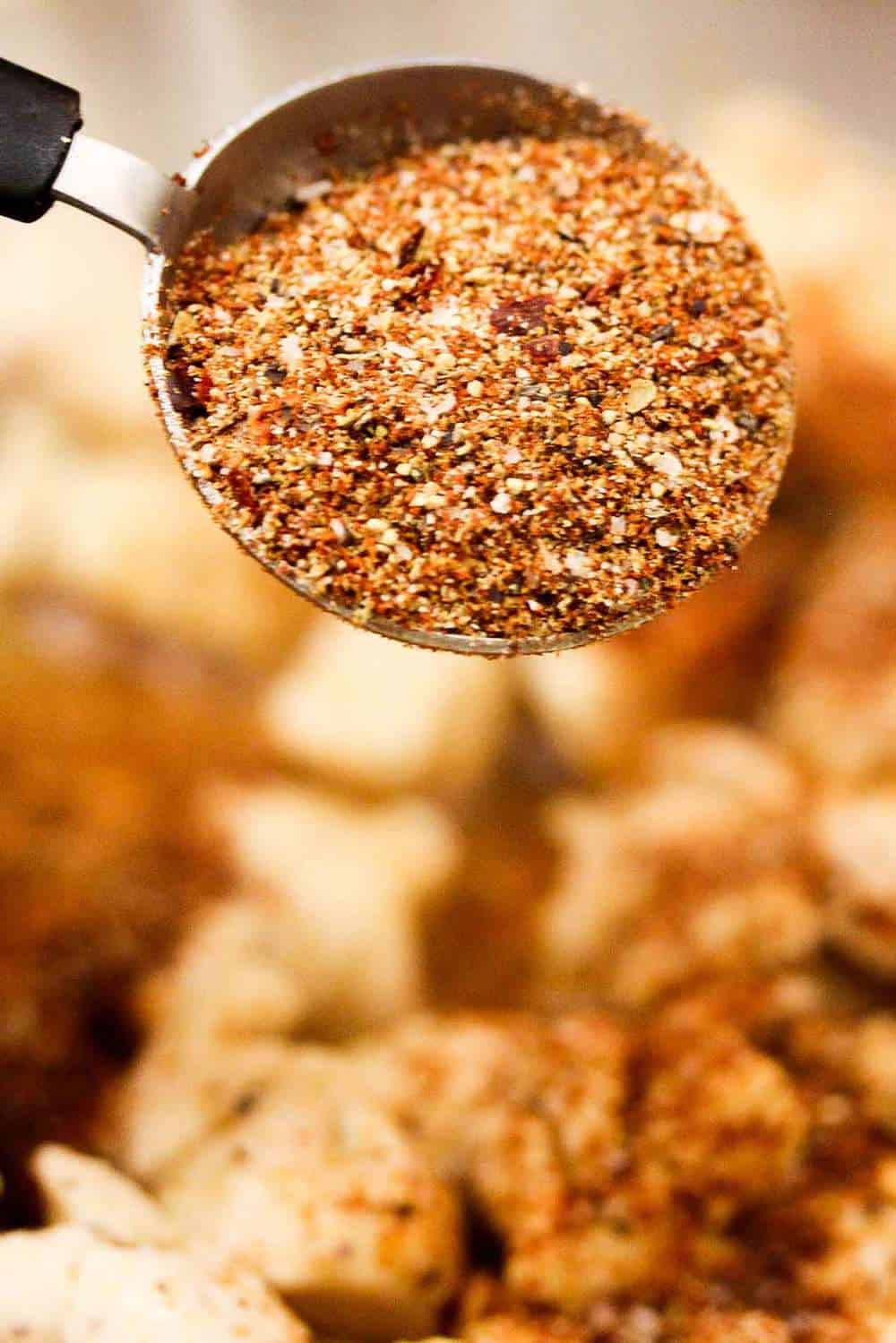 THE BEST TYPE OF CHICKEN FOR AN AMAZING CHICKEN QUESADILLA
You can use boneless skinless chicken thighs or breasts, but we really love the flavor from the dark meat of the chicken thighs, but chicken breast are wonderful, too!
Just cut them into bite-sized pieces and then be prepared to salivate as they simmer in the incredible sauce.
Simmering is a good thing and you will love the smells coming from your kitchen.
Once the chicken is cooked and the sauce has thickened a bit, it's time to build your chicken quesadilla by starting with a flour tortilla in a little oil over medium heat to get the party going.
You'll then layer with cheese, the prepared chicken, scallions, green chiles, sauce, and more cheese.
CHICKEN QUESADILLA IS A STAPLE OF MEXICAN CUISINE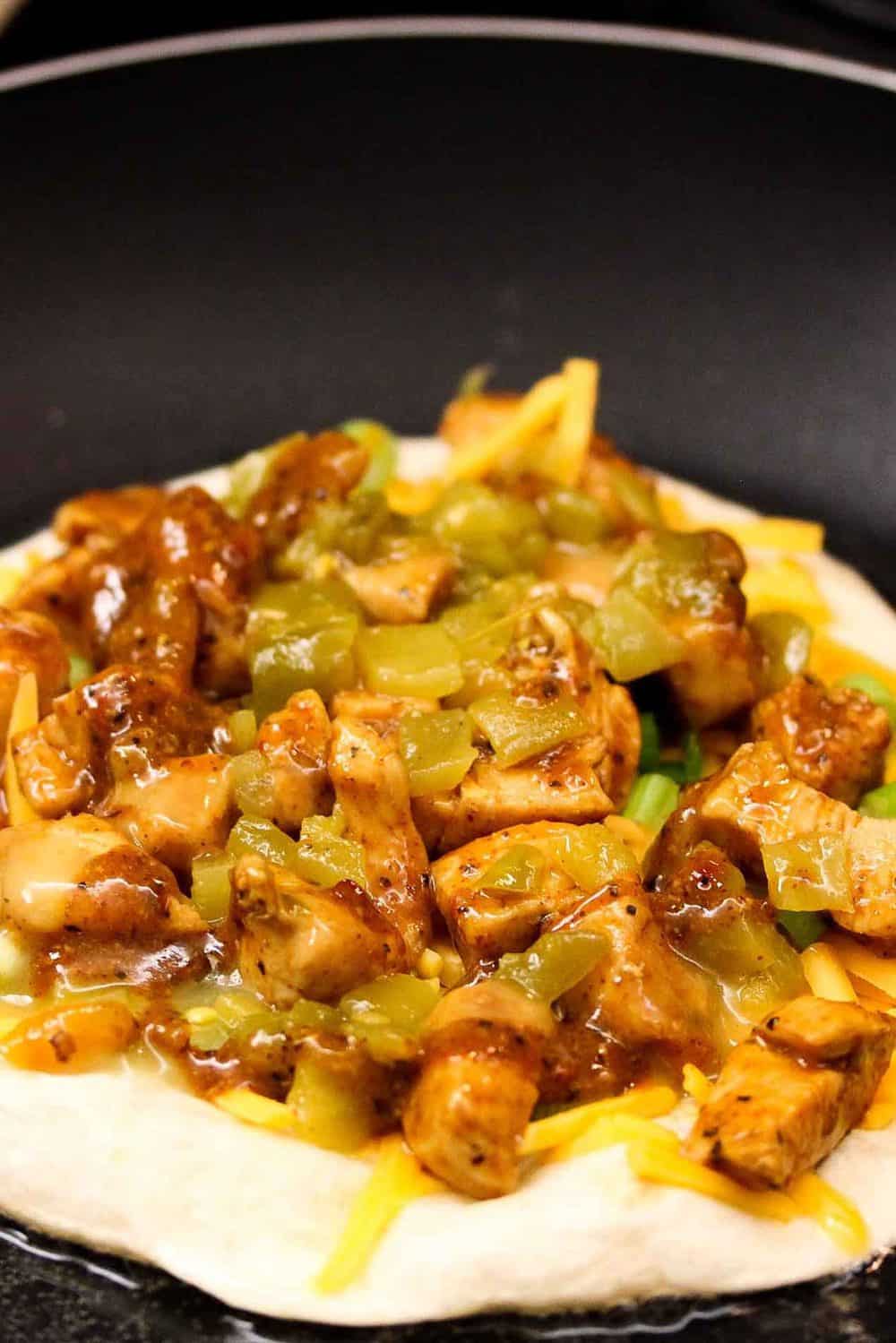 We think of this culinary dish as being Tex-Mex, and because of its familiarity in restaurants across the United States, it almost feels American.
But its true roots are Mexican. Read about the History of the Quesadilla in Mexico by Kudolife.
Once the flour tortilla on the bottom has gotten slightly crisp and starting to brown, it's time to add a tortilla to the top, and then flip!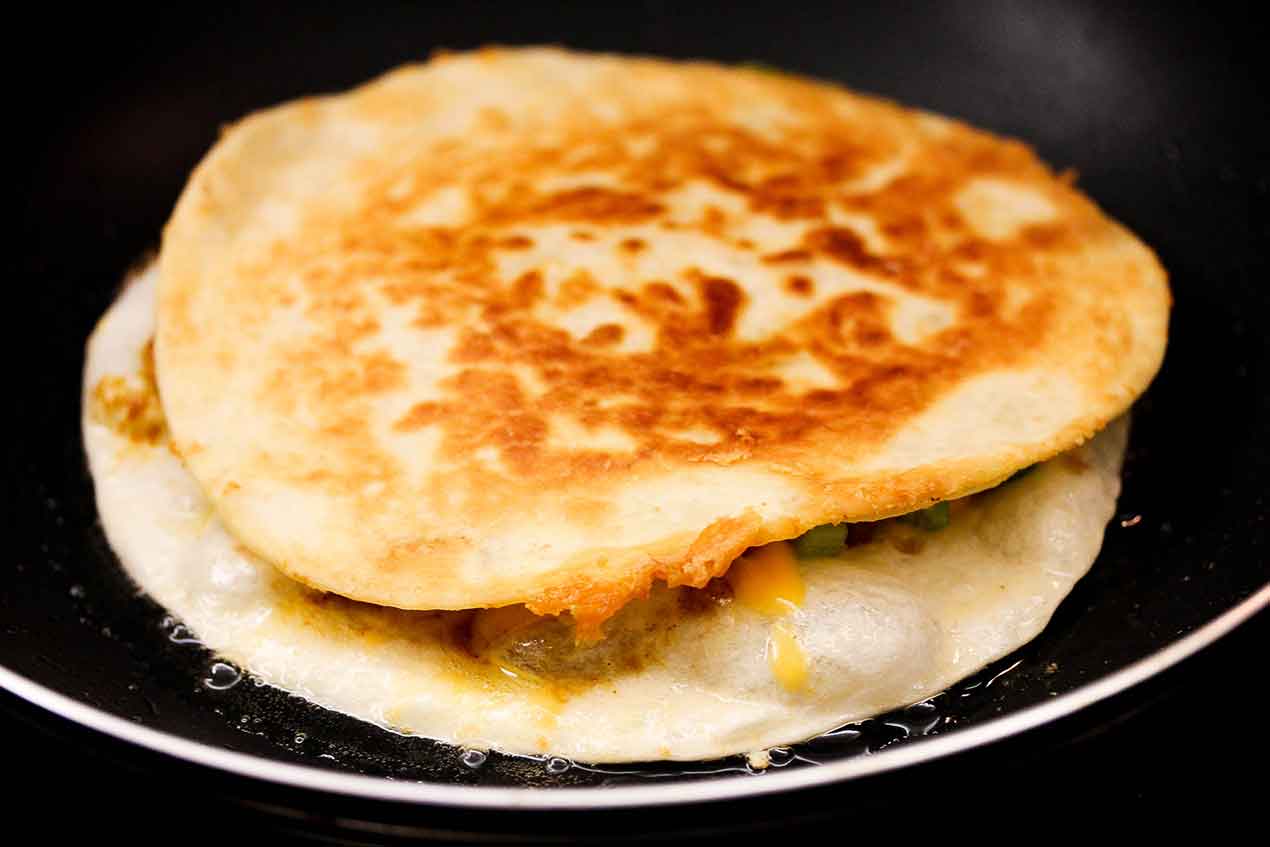 LAYERING THE PERFECT CHICKEN QUESADILLA
We love everything about this delicious dish. When I first started making this dish, we would literally have nearby friends calling on a regular basis and asking if I would make them it for them. Word spread pretty fast how delicious these babies are. Once you make them, you may find yourself in a similar situation. But hey, I can think of worse scenarios!
If you like this dish, you'd probably love our Tex-Mex Beef Tacos! And what about our crazy delicious Taco Quesadillas! They combine the best of both worlds!
Just look take a look at this and try not to get hungry!
IDEAL WHEN FEEDING A CROWD
We love to serve these with sour cream and my easy restaurant-quality salsa.
These are easy to prepare for a group, as well and you can make them and then keep the warm in a 200°F oven until ready to serve. I use a pizza cutter to quarter them and then place on a large platter for folks just to help themselves.
It doesn't get much better than these Amazing Chicken Quesadillas!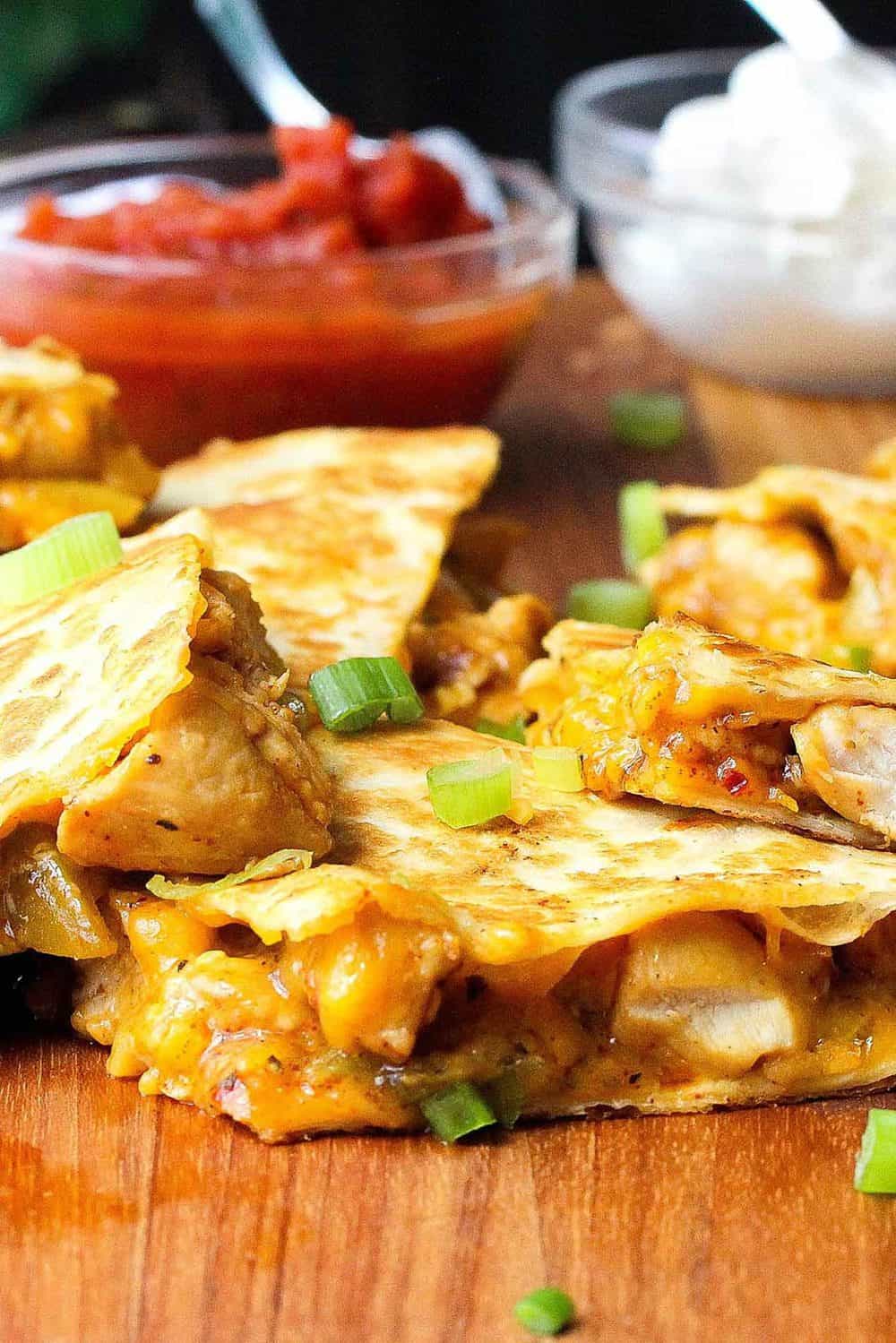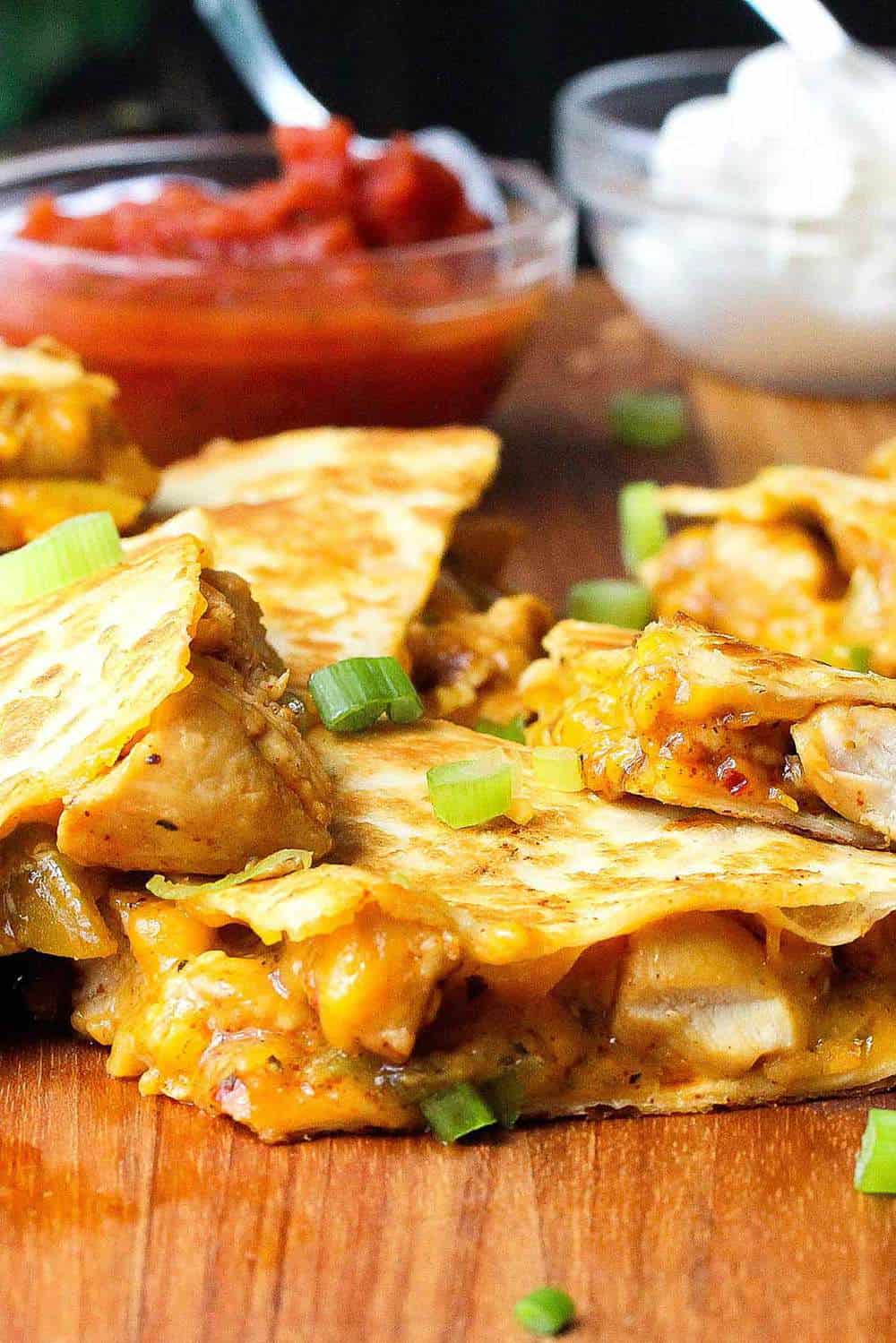 Amazing Chicken Quesadilla
This Amazing Chicken Quesadilla has been a favorite in our house for so many years. This is great for a week night meal, but it's also such a crowd pleaser, serve it at a Mexican-themed dinner party or at your next party. And go with the homemade taco seasoning, it's easy to make and is so good!
Print
Pin
Rate
Servings: 4 people
Calories: 375kcal
Ingredients
1 tbsp olive oil
3 lbs boneless, skinless chicken thighs or breasts, cut into bite-size pieces
Salt and pepper, to taste
4 tbsp taco seasoning
2 tbsp flour
1 cup chicken stock
3 to 4 tbsp vegetable oil
8 medium-sized flour tortillas
4 cups cheddar cheese, shredded
1 cup scallions (green onions), chopped
1 15 oz. can green enchilada sauce (optional)
1 4.5 oz. can chopped green chiles (we like Old El Paso)
4 garlic cloves, peeled (we prefer using a garlic press to add the garlic, if you don't have one, just mince the garlic)
Salsa and sour cream, for serving
Instructions
Pre-heat oven to 200°F.

Heat the olive oil in a large skillet over medium heat.

Lightly salt and pepper the chicken pieces.

Cook the chicken in the oil until no longer pink, about 8 minutes.

Add the chicken stock and simmer for about 8 minutes, or until slightly thickened.

Using a slotted spoon, remove the chicken from the skillet to a medium bowl, and pour the sauce into another bowl. Set both aside.

In a non-stick skillet, heat 1 teaspoon of the vegetable oil and when hot, add 1 tortilla.

To the tortilla add a handful of cheese, then a pinch of scallions, then about 1/2 cup cooked chicken.

Moving quickly, spoon over a couple spoonfuls of the cooked sauce and green enchilada sauce (if using).

Using a garlic press, press one garlic clove over the top, or if not using a garlic press, sprinkle about 1/4 teaspoon of the minced garlic over the top.

Top with another handful of cheese and top with another tortilla.

Using a spatula and carefully holding the top tortilla, flip the quesadilla.

Cook until nicely browned on both sides. Remove from skillet and place on a baking sheet and place in oven to keep warm.

Repeat the process for remaining 3 quesadillas.

Cut into fourths and serve with salsa and sour cream.
Nutrition
Calories: 375kcal