Apple Cider Doughnuts are the perfect fall sweet treat.
When fall arrives, so do those glorious apple-picking days. And big jugs of unfiltered apple cider are easy to come by. This technique is easy to follow and only takes about 30 minutes to make!
HOW TO MAKE APPLE CIDER DOUGHNUTS
Making apple cider doughnuts at home is really easier than you might think.
You don't need a deep-fryer, a sturdy pot with a candy thermometer will work just fine. But…a deep-fryer is great because it maintains the correct temperature as the doughnuts quickly cook.
Watch us show you how easy it is to make homemade apple cider doughnuts!
HOW TO ACHIEVE THE PERFECT CAKE DOUGHNUT
Apple cider doughnuts are cake doughnuts and should be moist, but a little more dense than regular "old fashioned" yeast doughnuts. There are so many types of doughnuts, and we love them all.
But there is something so satisfying about a cake doughnut. Combining the dry ingredients into the wet ingredients brings together the moist wonderful batter. Another favorite doughnut of ours are Jelly and Custard-Filled Doughnuts!
EXPERT TIP: Measure out the dry ingredients first in a small bowl, and then add them to your sifter to sift into a larger bowl. Sifting the dry ingredients makes them lighter and easier to mix into the wet ingredients, therefore, preventing your batter from being lumpy.
We use our stand mixer to incorporate the dry mixture into the wet, but you can certainly use an electric hand-mixer, or a non-electric hand mixer (with a lot of elbow grease!).
You'll need to first cream the softened butter with the sugar. That simply means to mix the two together until they are completely combined, and fluffy in texture, about 3 to 4 minutes.
With the motor running, add the flour mixture to the creamed butter and sugar.
The combination of egg yolks, apple cider, apple butter, and buttermilk result in a deliciously moist cake doughnut.
Simply add the wet ingredients to the mixture until you have a sticky batter.
EXPERT TIP: Once the batter has come together, you can chill the batter for up to 1 day before frying the doughnuts. If not frying immediately, let the batter return to room temperature before proceeding.
HOW TO SHAPE THE APPLE CIDER DOUGHNUTS
It's now time to make the doughnuts!
There are several ways you can do this. Using lightly oiled fingers, you can remove the dough from the bowl and roll it out on a lightly floured cool surface and then use a 2-1/2-inch cutter to cut out the doughnuts, and then use a bottle top to cut out the centers of the doughnuts.
Or..the way we do it, is just pull out about a 1/4 cup of the dough, and, again, with oiled fingers, slightly flatten the dough on your counter, and use your thumb to create a hole in the middle.
EXPERT TIP: Don't worry if your apple cider doughnut is not perfectly shaped. Just make sure you make a whole that's at least 3/4-inch to 1-inch in diameter. As the dough cooks, the doughnuts will expand and even crack a little. They're not meant to be perfectly circular in shape.
HOW TO COOK THE DOUGHNUTS
We think a quick fry in 350°F oil produces the best tasting doughnut. Again, you can do this in a deep-fryer or in a sturdy skillet or pot (a Dutch oven works very well). It's important that you the oil is the correct temperature.
If the oil is not hot enough, the doughnuts will absorb oil and not be pleasing in taste. If the oil is too hot, the outside will burn and the inside won't be cooked through.
Fry the doughnuts for only a 2 to 4 minutes, flipping halfway through. They will become somewhat dark in color, which is normal.
EXPERT TIP: Don't overcrowd the doughnuts in the oil! Fry the doughnuts in batches and let them rest on a rack placed on a baking sheet to slightly cool before proceeding.
The perfect apple cider doughnut has a delicious cinnamon-sugar coating all over it.
Simply take a medium-sized bowl and mix together 1 cup of sugar and 2 tablespoons of ground cinnamon.
We love to add in a teaspoon of pumpkin pie spice, but that's completely optional. After the doughnuts have cooled somewhat, just dredge them in the sugar mixture until beautifully coated.
APPLE CIDER DOUGHNUTS FAQs
What kind of oil is best for frying? Peanut oil is good, but vegetable oil works perfectly fine, as well. These fry at 350°F, which either of these oils can handle with no problem. Canola is another option. Don't use any type of fragrant oil, including olive oil, as it will impart that flavor to the doughnut.
Can I bake the doughnuts instead of frying? Yes. Place the formed doughnuts on a baking sheet and bake for about 25 minutes until golden. We can't guarantee they will still have that classic apple cider doughnut texture and taste, but they will still be yummy.
What if I can't find apple cider? No problem! In a pinch, you can substitute apple juice. The apple butter helps to bolster the apple taste, too.
How long do the doughnuts keep? Place the cooked (and cooled) doughnuts in an air-tight container, and they will stay delicious for up to 1 week! You can freeze them for up to 2 months, but they won't be as delicious once thawed as fresh, but you probably knew that already.
Just look at this apple cider doughnut, just begging for a dunk in a hot cup of coffee or a cold glass of milk!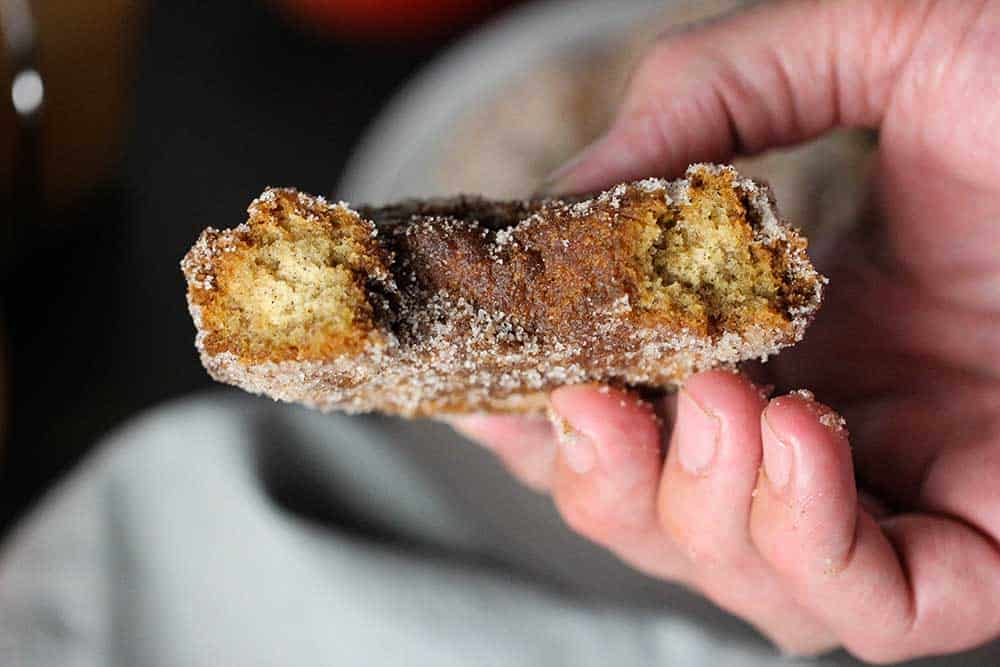 OTHER FALL BAKING FAVORITE RECIPES
How about:
And when you make a batch of these apple cider doughnuts, be sure to take a picture, post it to Instagram, and tag @howtofeedaloon and #howtofeedaloon!
Apple Cider Doughnuts
These Apple Cider Doughnuts are sinfully delicious. Crunchy on the outside and soft and moist on the inside. Perfect weekend treat to make for family and loved ones. Don't forget to set you butter out to soften before you begin. You can make the dough up to a day ahead, just keep covered and refrigerated until ready tofry. So good!
Print
Pin
Rate
Servings: 8 people
Calories: 313kcal
Equipment
Stand-mixer, or electric hand-mixer, or hand-mixer

Deep fryer, or Dutch oven and candy (high temperature) thermometer
Ingredients
1¾ cups all-purpose flour
¼ cup whole wheat graham flour
3½ tsp cinnamon ground, divided: 2 tsp for batter, 1½ tsp for dusting
2 tsp baking powder
1 tsp baking soda
½ tsp Kosher salt
2 tbsp unsalted butter softened
1½ cups sugar divided: ½ cup for batter, 1 cup for dusting
2 large eggs yolks
¼ cup apple cider
¼ cup apple butter
¼ cup buttermilk
1 tsp vanilla extract
Vegetable oil for frying and oiling fingers
½ tsp pumpkin pie spice optional
Instructions
Place the flours, 2 tsp cinnamon, baking powder, baking soda, and salt in a bowl. Scoop the mixture into a sifter, and sift into a separate large bowl. Set aside.

Using a stand-mixer, or electric hand-held mixer, or hand-mixer, beat the butter with ½ cup of sugar until creamed. It should be light and fluffy, about 3 to 4 minutes, stopping halfway through and scraping down sides.

Add yolks, cider, apple butter, buttermilk, and vanilla and mix until full incorporated.

Continue mixing, and slowly add the flour mixture until a slightly wet, sticky batter comes together.

Heat the oil in a deep-fryer or Dutch oven to 350°F.

Using slightly oiled fingers, pull about a ¼ cup of batter from the bowl and roll into a small ball. Gently flatten the ball with the palm of you hand on your work surface. Use you thumb to make a hole that is about 1½-inches wide. Repeat several more times.

Working in batches, gently lift the formed doughnuts, one at a time, and carefully lower into the hot oil. Fry, flipping once, until somewhat darkend and cooked, about 3 minutes in total.

Use a metal spatula or two forks to carefully remove the cooked doughnuts from the oil to a baking rack on top of a baking sheet. The doughnuts are somewhat soft when they first come out of the oil, but then firm up as they cool. Continue this process with remaining batter.

Meanwhile, combine the 1 cup of sugar, 1½ tsp of cinnamon, and the pumpkin pie spice (if using) in a shallow bowl.

After the doughnuts have cooled, gently toss them in the sugar/cinnamon mixture until fully coated.

Serve at once or store in an air-tight container for up to 1 week.
Notes
If you can't find whole wheat graham flour, you can substitute whole wheat flour. Beat the softened butter with the sugar until light and fluffy. It won't be creamy, at this point. If you can't find apple cider, then go with apple juice. Make sure you have a small bowl of vegetable oil to dip your fingers into. This makes handling the sticky dough much easier. If you do not have a deep-fryer, use a large sturdy skillet or pot (a Dutch oven is ideal), and pour in about 2 inches of oil. Heat over medium-high heat and use a candy thermometer to gauge and maintain a temperature of 350°F. You can bake the doughnuts rather than frying them by placing the formed doughnuts on a large baking sheet and bake at 350°F for 25 minutes, or until golden brown. They won't have the exact same texture as fried doughnuts, but will still be delicious.
Nutrition
Calories: 313kcal | Carbohydrates: 65g | Protein: 4g | Fat: 5g | Saturated Fat: 2g | Cholesterol: 55mg | Sodium: 317mg | Potassium: 191mg | Fiber: 1g | Sugar: 42g | Vitamin A: 162IU | Calcium: 84mg | Iron: 2mg
POST UPDATE NOTE: This recipe was originally posted in February, 2016, but was updated with slight improvements to the recipe, new photograph, and an awesome new video in October, 2019!