Warning: These Apple Cider Cinnamon Doughnuts are addictive.    They're that good.  We just love apple cider, and mixed with cinnamon and then made into a crunchy-on-the-outside and moist-on-the-inside doughnuts, you just can't get much better.  You could go with a nice apple cider glaze or maple glaze for a topping, but the sugar/cinnamon coating is fantastic, too.  Make these on a Saturday morning, and you'll be the hit of the weekend.  150% Loon Approved!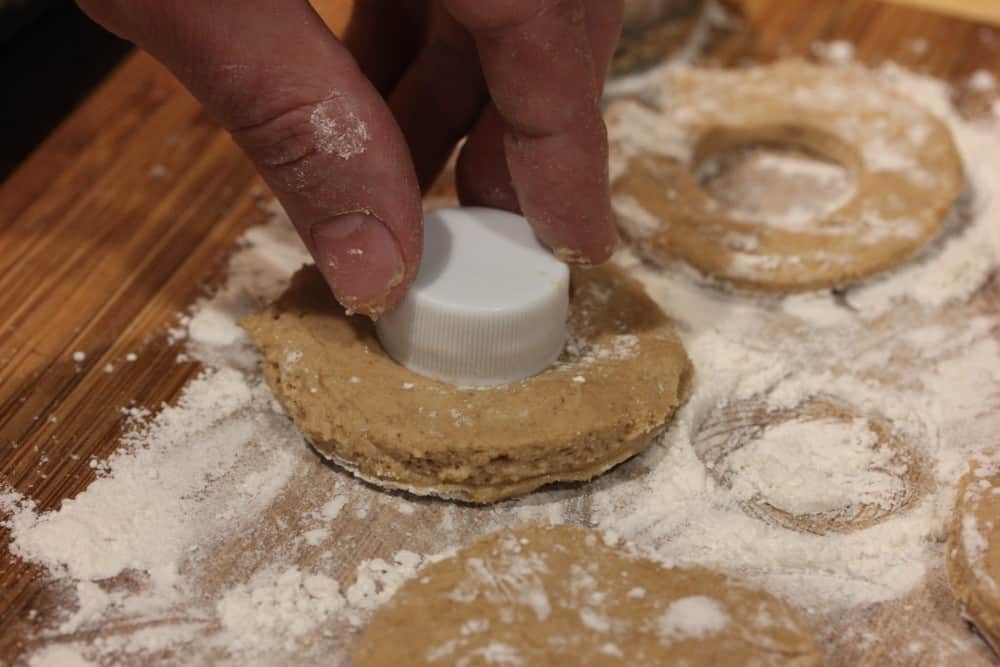 Apple Cider Cinnamon Doughnuts
These Apple Cider Cinnamon Doughnuts are sinfully delicious. Crunchy on the outside and soft and moist on the inside. Perfect weekend treat to make for family and loved ones. Don't forget to set you butter out to soften before you begin. You can make the dough up to a day ahead, just keep covered and refrigerated until ready to cut and fry. So good!
Prep Time 20 minutes
Cook Time 20 minutes
Total Time 40 minutes
Ingredients
3 cups apple cider
1/2 cup apple butter find apple butter, not apple sauce
1/2 cup buttermilk
1 tsp vanilla extract
3 cups all-purpose flour
1/2 cup whole wheat flour
2 tsp baking powder
3/4 tsp salt
1/2 tsp baking soda
1/4 tsp ground nutmeg
1/2 tsp cinnamon plus more for dusting the doughnuts
6 tbsp unsalted butter
1/4 cup light brown sugar
1 1/4 cups sugar 1/4 cup for the batter, 1 cup for the dusting mixture
2 large eggs
Vegetable oil for frying, about 4 cups
FOR THE DUSTING
Reserved sugar and 1 tablespoon cinnamon
Instructions
Bring apple cider to a boil in a medium saucepan over high heat until cider is reduced by half, about 12 minutes. Pour into a medium bowl and let cool.

Add apple butter, buttermilk and vanilla to reduced apple cider, and mix well.

In another bowl, whisk together the flours, baking powder, salt, baking soda, nutmeg and cinnamon.

In a mixer on high speed, beat butter with brown sugar and 1/4 cup of the sugar until light and fluffy, about 4 minutes.

Add eggs, 1 at a time, beating until well blended after each addition.

Reduce speed to low and add dry ingredients in 2 additions, alternating with cider mixture, starting with dry ingredients and ending with cider mixture. (The dough will be sticky to the touch).

Scrape the dough onto a baking sheet lined with parchment paper, and gently press the dough with floured hands to approx. 3/4" thickness.

Dust with a little more flour and then cover with plastic wrap and place in the fridge for 1 to 3 hours.

Remove from fridge and remove plastic wrap. Using a floured 3-inch cutter, cut out doughnuts. Using a flour 1-inch cutter (or a bottle cap), cut out doughnut holes (save and make fried doughnut holes). You may need to return the dough to the fridge for half hour, if the dough becomes too soft while cutting.

Fit a large pot (Dutch oven works well) with a deep-fry thermometer and add oil to a depth of about 3".

Heat over medium-high heat until temperature reaches 350 F.

Working in batches, fry the doughnuts until deep golden brown, about 3 minutes per side

Transfer to a rack and let cool slightly.

In a small bowl, mix together 1 cup of sugar and 1 tablespoon cinnamon.

Toss warm doughnuts in sugar/cinnamon mixture.