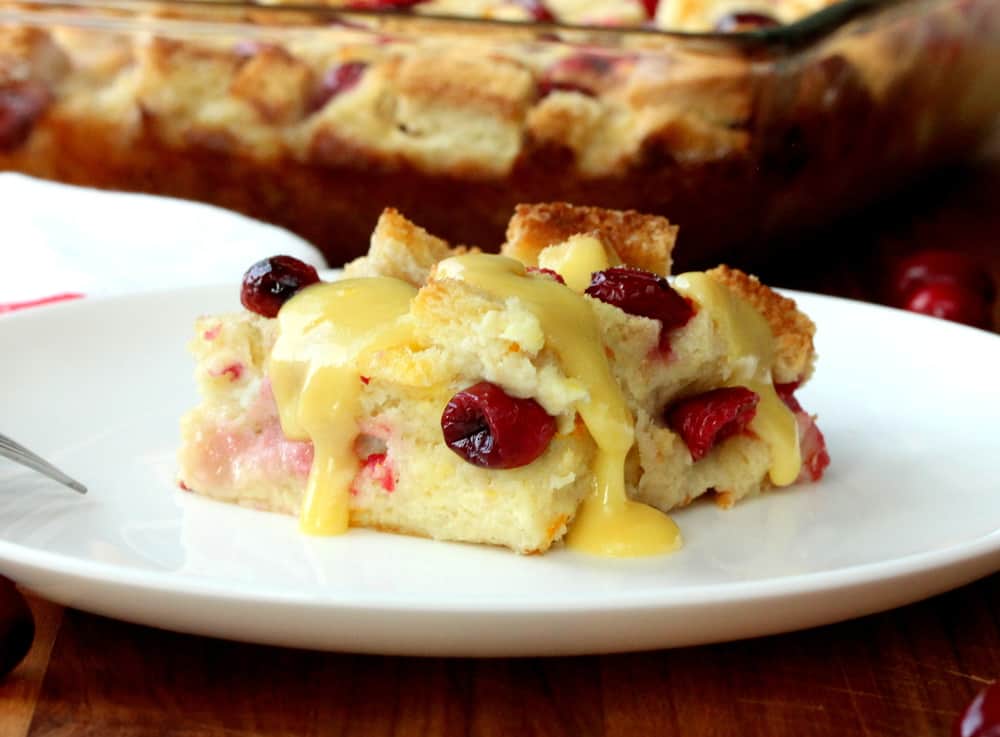 My mom is an amazing cook and every time we go back home, she always has one or two new dishes she surprises us with.  Of course, these along with her other incredible arsenal of recipes   This Cranberry Bread Pudding with Orange Sauce was a dessert she made last time we were home, and I just had to get the recipe from her and share it!   So incredibly delicious, and the orange custard sauce sends it over the top.
The Loon always tells me my mom gives me a run for my money when it comes to cooking.   I smile, I nod…and I have to agree with him.  Try this dish…you'll LOVE it.  100% Loon (and Kris) Approved!
Cranberry Bread Pudding with Orange Sauce
I got this recipe for Cranberry Bread Pudding with Orange Sauce from my mom. She is an amazing cook, and this is one of our favorites. The orange custard sauce puts it over the top!
Author: Maudell Longwell
Recipe type: Dessert
Cuisine: Dessert
Serves: 8 - 10
Ingredients
16 slices of bread, crusts removed, cubed (I love sourdough)
1½ cups fresh or frozen cranberries, thawed (I used frozen, and they were great)
1 tablespoon grated orange peel (or zest)
¼ cup unsalted butter, melted
6 large eggs
4 cups whole milk
¾ cup plus 1 tablespoon sugar, divided
1 teaspoon vanilla extract
FOR THE ORANGE CUSTARD SAUCE:
3 large egg yolks
¼ cup sugar
1 cup heavy cream
1 orange peel strip (1/4")
½ teaspoon orange extract
Instructions
In a greased 13" x 9" baking dish, layer half of the bread cubes, cranberries and orange zest. Repeat layers and then drizzle the butter over the top.
In a large bowl, mix the eggs, milk, ¾ cup sugar and vanilla until blended; pour over bread mixture.
Let stand for 30 minutes.
Sprinkle with remaining sugar.
Bake, uncovered at 360 F for 1 hour, or until a knife inserted near the center comes out clean.
MAKE THE SAUCE:
In a medium-sized saucepan, whisk egg yolks and sugar.
Stir in cream and orange peel.
Cook over low heat about 15 to 20 minutes or until mixture is just thick enough to coat the back of a spoon, stirring constantly, but gently. Do not allow to boil.
Remove from heat and stir in extract.
Pour over bread pudding slices.
Enjoy!