Banana Blueberry Muffins with Honey Nut Cheerios® have become a staple in our house. After one try, we think they might just become the same in your house!
It is certainly no secret that Wesley (The Loon) and I love to create and devour delicious, yet sometimes slightly decadent, dishes from all types of cuisines. Okay…sometimes even more than slightly decadent.
We live by the mantra that moderation, combined with thoughtful meal planning, is the key to keeping a healthy culinary lifestyle, while still being able to enjoy yummy dishes all-year long.
That's why we could not be more thrilled to be teaming up with Honey Nut Cheerios to present one of the most heart healthy AND delicious muffins we've ever encountered.
A MISSION TO INSPIRE HAPPY HEARTS
One of the things we love most about Honey Nut Cheerios is their commitment to inspiring happy hearts!
With Honey Nut Cheerios, you have the best of both worlds. It is the perfect combination of real delicious honey and whole grain oats that makes heart health enjoyable.
We knew in our happiest heart of hearts that we could take the great taste and health benefits of Honey Nut Cheerios, and make a muffin that utilizes other heart healthy ingredients, but also is absolutely delicious to eat at breakfast, or whenever snack time comes calling.
Along with being heart healthy conscious, Wesley and I have really gotten into heart healthy activities…like swimming with our dogs, namely Flo (Short for Florence). Her brother, Eb (short for Ebenezer) isn't such a fan of the pool, but he enjoys playing life guard, keeping a close eye on us in the pool and ready to jump in at any given moment to save the day.
Flo is the blonde. Eb is brown. I'm trying to swim. And Wesley, as usual, is snapping photographs, but is ready to jump in and join the active fun.
We have really enjoyed participating in Whole Heart Challenge MyFitnessPal. You should check it out, too, and join in the heart healthy fun! You'll even have the chance to win prizes and participate in fun challenges that will help your entire lifestyle.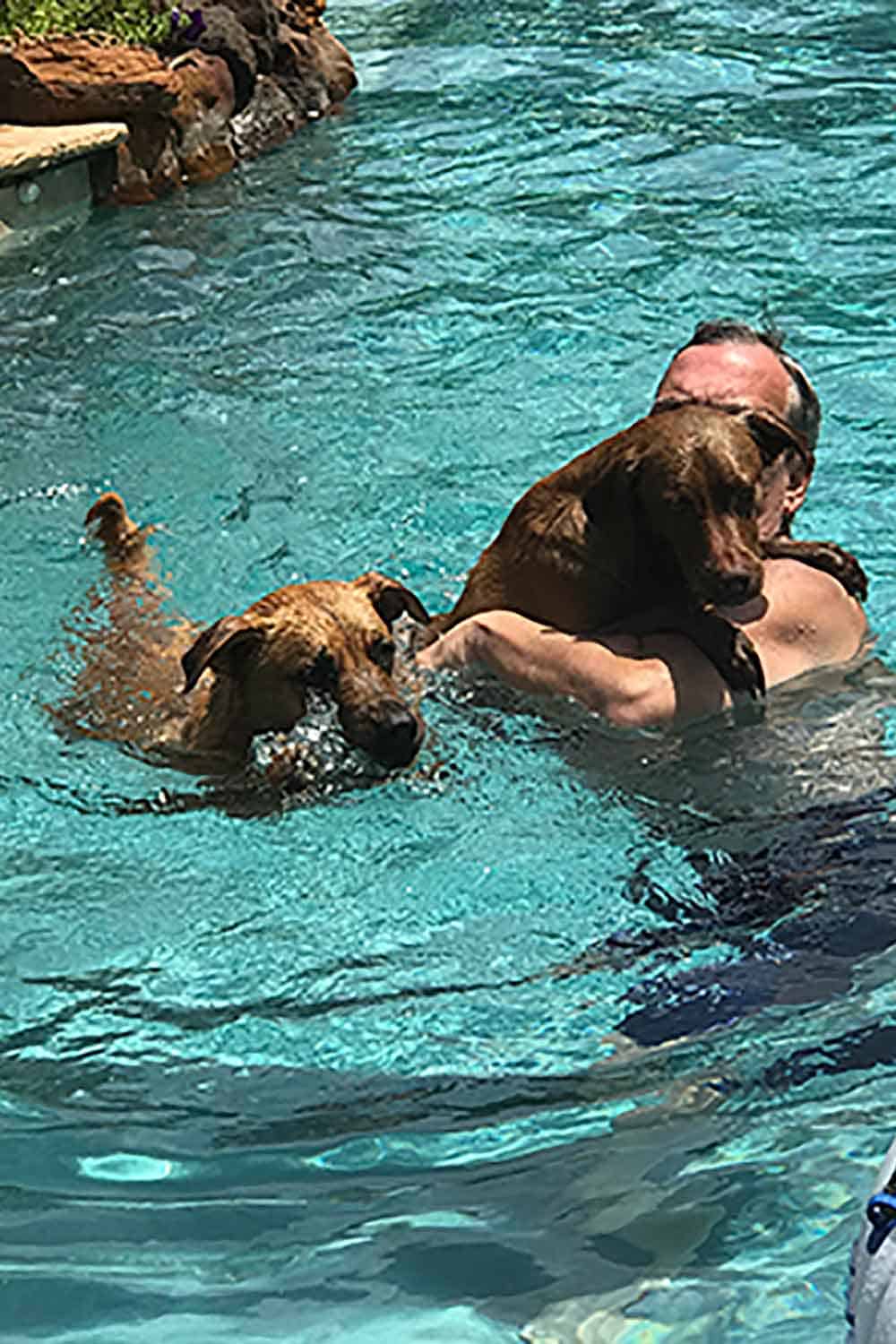 Okay, back to the best (and heart healthiest) muffins in town!
Our Banana Blueberry Muffin not only includes our favorite cereal in the world, Honey Nut Cheerios, which has whole grain oats as its #1 ingredient, but we add in other healthy and tasty items such as blueberries, bananas, unsweetened almond milk, whole wheat flour and honey!
These muffins are not only loaded with flavor, but also jam-packed with hearty healthy ingredients that can also help to lower cholesterol.
BANANA BLUEBERRY MUFFINS ARE PERFECT FOR KIDS AND ADULTS
Breakfast on the go is often hard to avoid, especially when kids are running to school and mom and dad are preparing for another hectic day.
These Banana Blueberry Muffins with Honey Nut Cheerios are the perfect healthy breakfast and snack-on-the go. We even make a double batch, and then freeze half of them for future yumminess!
And our favorite part of this recipe is that Honey Nut Cheerios is used as a binder within the muffin as well as a crunch topping for great taste and texture.
According to the Centers for Disease Control & Prevention (CDC), nearly 1 in 3 American adults have high cholesterol. People with high cholesterol have about twice the risk of heart disease as people with lower levels.
To help keep hearts healthy, medical experts recommend practicing healthy living habits, like maintaining a healthy weight, getting enough physical activity and eating a heart-healthy diet which can include foods made with whole grain oats, like Honey Nut Cheerios. (2015; cdc.gov).
Just look at these Banana Blueberry Muffins with Honey Nut Cheerios fresh out of the oven. Amazing!
These Blueberry Banana Muffins are as festive as they are delicious.
And you will not believe the smell in your kitchen as they bake.
With Honey Nut Cheerios as a main ingredient, how can you find a tastier muffin?
The muffins are so moist and flavorful by themselves.
But just for fun, we love adding another little drizzle of natural honey to the freshly baked muffins.
We are so thrilled to have partnered with Honey Nut Cheerios to bring you a heart healthy muffin! Stay active. Stay heart healthy. And stay happy!
Banana Blueberry Muffins with Honey Nut Cheerios®
These Banana Blueberry Muffins are loaded with good hearty healthy ingredients. So delicious and so good for you, too! Perfect for breakfast and snacks on the go that you can feel good about!
Print
Pin
Rate
Servings: 12
Calories: 123kcal
Ingredients
DRY INGREDIENTS
2 cups Honey Nut Cheerios Divided, 1 cup crushed, 1 cup roughly chopped
1 & 1/2 cups whole wheat flour
1 tsp ground cinnamon
1 tsp baking soda
1/4 tsp salt
1/4 cup fresh blueberries
WET INGREDIENTS
Cooking spray for spraying the liners or muffin tin
1 whole egg
1 egg white
1/2 cup honey
2 bananas mashed
1/3 cup nonfat plain yogurt
1/2 cup almond milk, unsweetened
1 tsp vanilla extract
Instructions
Pre-heat oven to 350°F.

Line muffin tins with good quality muffin liners and then spray with cooking spray. (Can omit the muffin liners, if desired, and simply spray the tin with the cooking spray).

In a medim-sized bowl, mix together all the dry ingredients (only 1 cup of the ground Honey Nut Cheerios), taking care to not burst any of the blueberries. Set aside.

In a large mixing bowl, mix together the wet ingredients. Use the back of a fork to mash the bananas (a few remaining banana chunks are fine).

Slowly add the dry ingredients into the wet mixutre until combined.

Use an ice cream scoop, or a large spoon, to carefully fill the muffin liners with the batter. You should have enough to fill 12 liners to the very top.

Sprinkle the remainign 1 cup of roughly chopped Honey Nut Cheerios over the tops of each muffin.

Bake for 25 minutes. Remove from the oven. Let cool slightly on a rack, and then remove from muffins from the tin to cool completely. The liners will pull away from the muffins easier once they have completely cooled.
Nutrition
Calories: 123kcal | Carbohydrates: 28g | Protein: 3g | Fat: 1g | Saturated Fat: 1g | Cholesterol: 14mg | Sodium: 169mg | Potassium: 159mg | Fiber: 2g | Sugar: 15g | Vitamin A: 32IU | Vitamin C: 2mg | Calcium: 25mg | Iron: 1mg