This sauce is truly a revelation in taste and has been prepared by Mexican families for generations.
It's hard to describe the depth of flavor that you get when this sauce is prepared correctly. But, when you use it in a dish like Chicken Mole, the results are truly extraordinary. You may need to seek out your local Hispanic food market for a few of the items, but it is completely worth it. Be patient, practice makes perfect!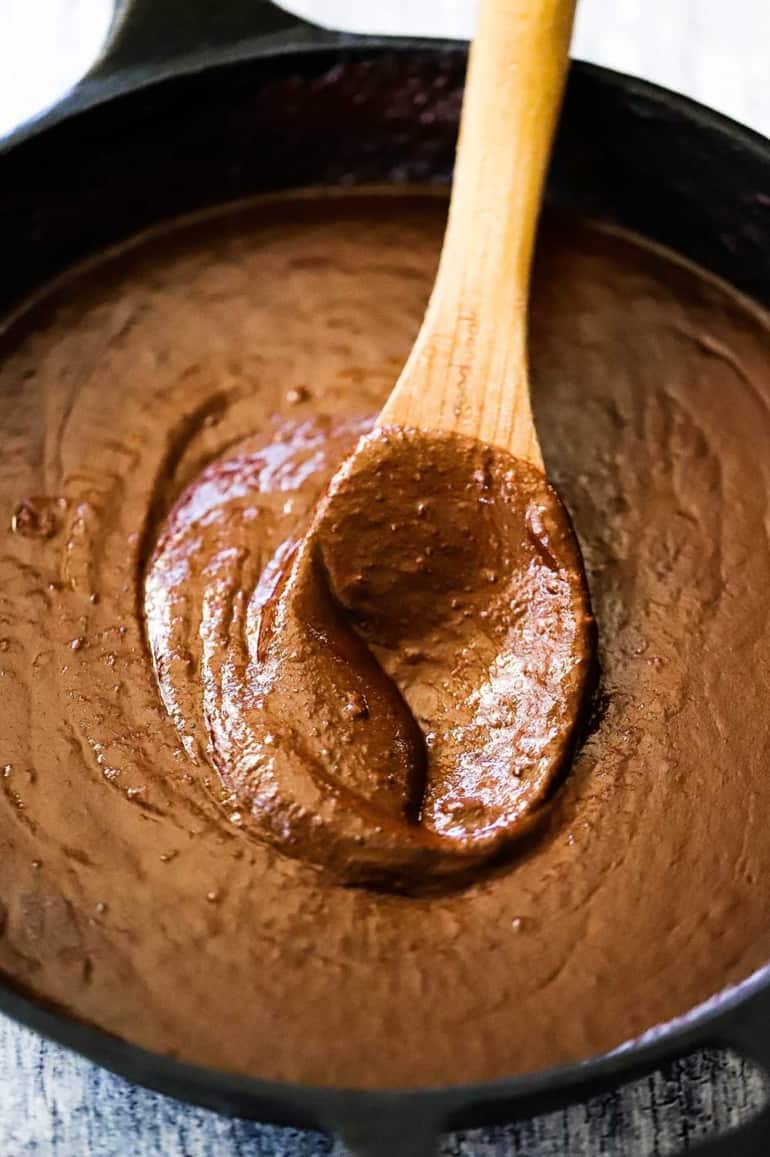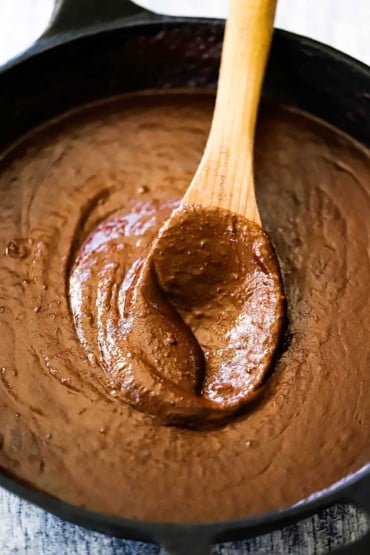 How To Make Mole Poblano Sauce
We're not going to lie, this recipe takes some tender love and care. But, it is absolutely possible for anyone to find success with it.
To get it just right, you need the correct ingredients and technique to bring it all together for a completely balanced flavor profile and texture.
NOTE: If you liked this video, please subscribe to our YouTube channel. Remember to click the little 'bell' icon so you'll never miss a new video. Thank you!
The Ingredients You Will Need
The history of mole sauce is almost as long as the ingredients list. We won't go into it, but you can learn more about it here.
Though there are many variations of mole sauce, the most common one is the one we're presenting here: Mole Poblano. Each Mexican cook has her/his own set of ingredients that they have turned to for years. We developed our list from teachings from amazing Mexican friends who are amazing cooks, as well as learnings from Mexican chefs throughout the years. We find it produces about the best mole sauce we've ever tried.
Here's what you'll need on hand
Dried chilis – We love ancho, guallio, and morita (See NOTES)
Oregano– Dried, preferably Mexican
Cloves – Ground
Tortilla – Yellow
Oil – Vegetable
Onion – Just a few slices
Garlic – 3 or 4 large cloves
Seasonings – Allspice berries, anise seeds, peppercorns
Nuts – Almonds, and pecans (See NOTES)
Fruits – Raisins and Bananas
Cinnamon – 1 stick is all you need
Broth – Chicken or vegetable
Tomatoes – Whole, or roasted salsa
Brown sugar – Dark
Salt – Table or Kosher is fine
Chocolate – Mexican is best (See NOTES)
EXPERT TIP: After softening the chilis for 30 minutes in very hot water, you'll want to puree them with about 1 cup of the reserved chili broth. Use a wooden spatula to work the chili sauce through a sieve. The chilis should be almost pastelike, and not runny. This takes a little effort but is necessary.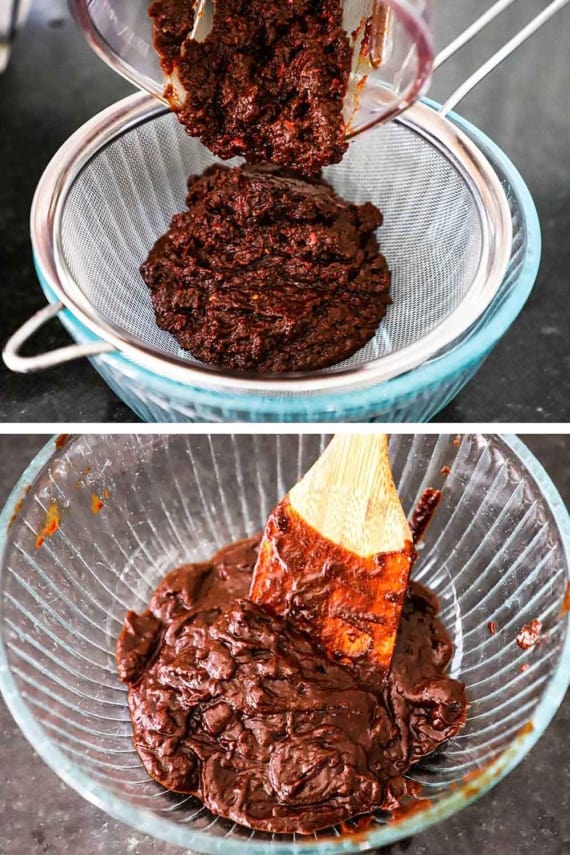 Tips for Perfect Mole Poblano Sauce
Chili Consistency – It's important that the consistency of the puréed chiles is not too thin (or runny). You'll want to start with about a total of 6 to 7 ounces of dried chilis. After puréing them with about 3/4 to 1 cup of chili broth, and then pressing them through a sieve, you'll have about 1 to 1¼ cup of the chili mixture. The texture should resemble thick pudding.
Balance of Flavors – One of the most important aspects of a good mole sauce is that no one ingredient should overshadow the others. There should be an equal balance of sweet and savory. The level of spiciness is up to you, but we don't recommend making an intensely spicy sauce. We find that our measurements create a nice balance. However, the best way to ensure a true balance is through practice.
Not too thin, not too thick – As the sauce simmers in the final hour, it will continue to thicken. Add small amounts of broth to maintain a consistency that is similar to a thick gravy, but not too thick! It's important to stay with the sauce as it simmers, and stir often. There is a tendency for the sauce to stick to the skillet and burn. Stirring often and the addition of broth prevent this. We add anywhere from 3 to 4 cups of broth during the final hour of simmering.
EXPERT TIP: Lightly fry the onion, garlic, nuts, fruits, and seasonings in a large skillet with a small amount of vegetable oil. The onion and garlic take about 8 minutes, and everything (surrounding them), take about 4 minutes.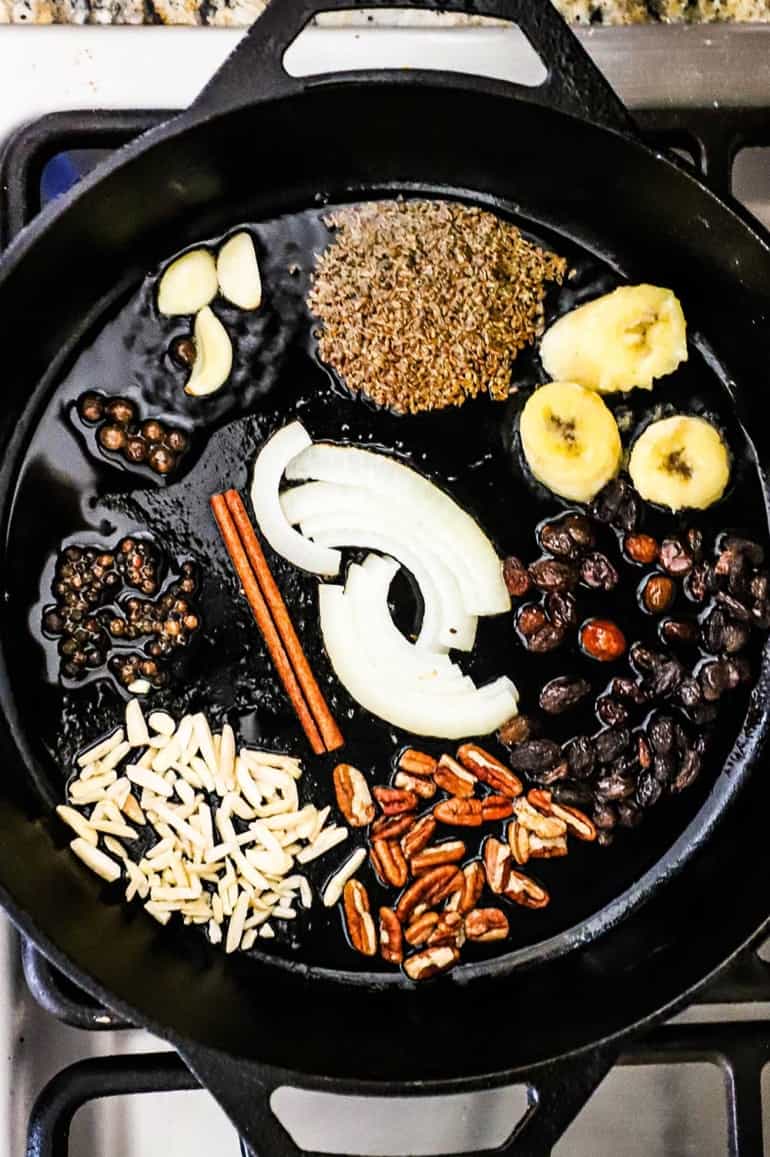 The Tools You Will Need
We find that a blender works best for us when puréing the various components of the mole poblano. You'll also need a nice sturdy skillet to lightly fry most of the ingredients, and then again to simmer the sauce. A cast-iron skillet works best for us.
However, you can use a small food processor, or even a mortar and pestle, though this takes time, elbow grease, and lots of practice.
You will notice as you try to initially purée the peppers, and also the onion/nut/fruit mixture that it won't purée it completely initially. This is normal. Remove the cover of the blender and use a small spatula to scrape the edges down. After you add liquid, it will be easier to purée. Do this in stages, and purée long enough to reach a smooth consistency. Again, practice makes perfect.
You will also need a large, preferably 12-inch, cast-iron skillet or comal for lightly frying the nuts, fruits, and seasonings, and then simmering the sauce.
EXPERT TIP: As you add the puréed almond mixture into the skillet with the chilis, the color will turn significantly lighter, almost a beige color. Don't worry, keep stirring, as the chilis fully incorporate into the almond mixture, the color will turn a deep rust or brownish color. And it will continue to darken slightly as it simmers.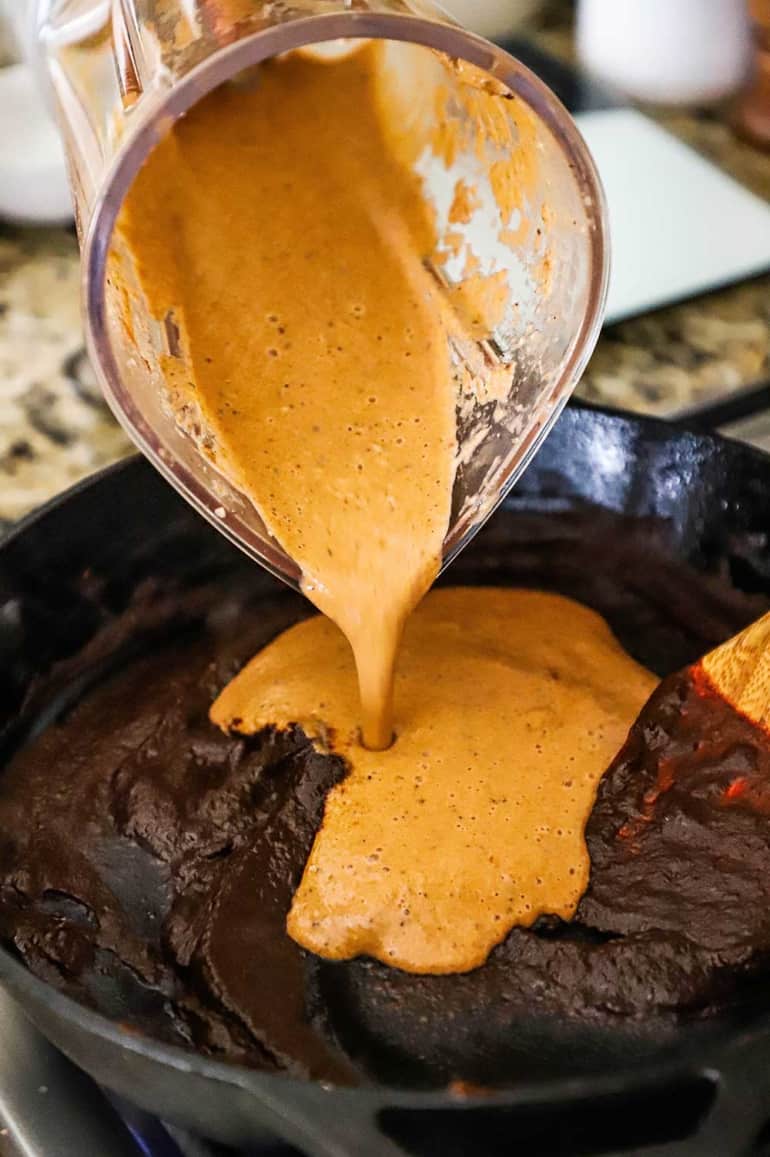 The Best Chocolate for Mole Poblano
If possible, go with a nice dark Mexican chocolate. We use Taza, but you can also find good quality chocolate in many well-stocked supermarkets.
Both Ibarra and Albuelita can typically be found in the hot chocolate section of many groceries or in Hispanic markets. These are a little sweeter than other Mexican chocolate varieties, so be sure to taste as you go, and you may decide to add less than the called-for amount of 2 ounces.
The chocolate comes wrapped as individual discs. Again, we recommend a total of 2 ounces for the perfect blend of flavors. There is the essence of chocolate, but not too much.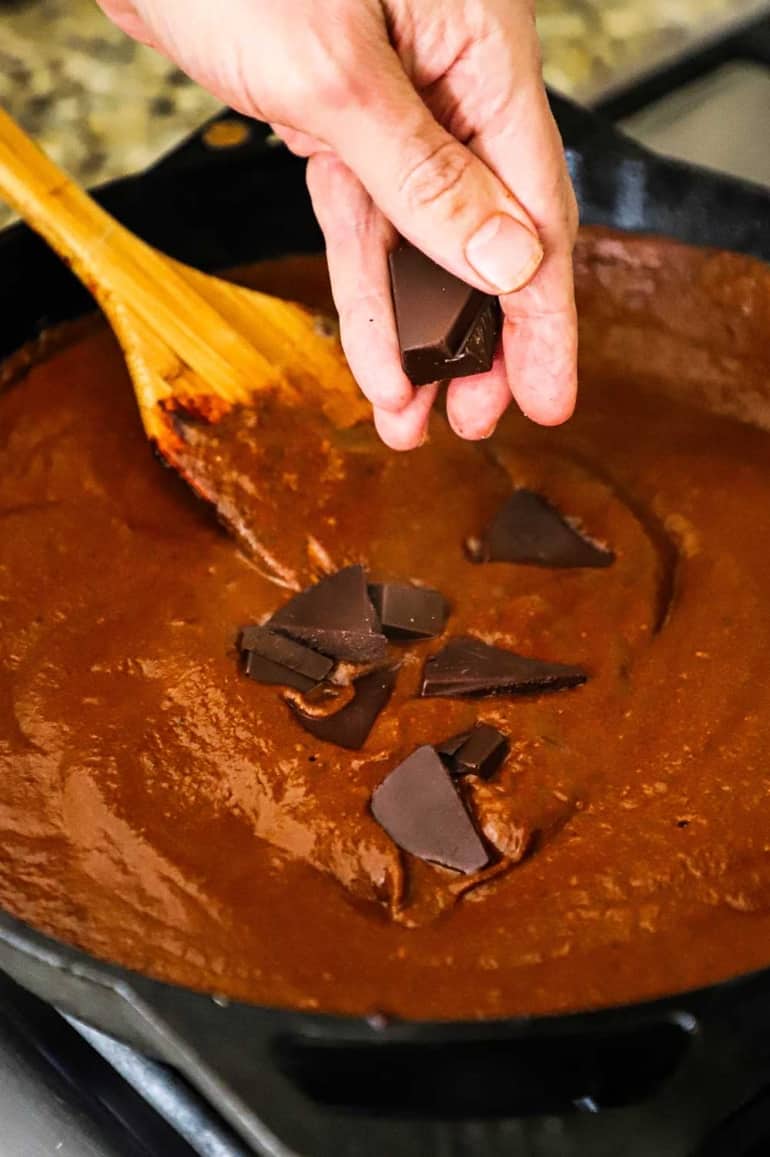 Folks, making Mexican mole poblano sauce is truly a one-of-a-kind experience.
As the smell begins to fill your kitchen, you will be transported to a beautiful place.
This sauce is steeped in Mexican history and when you get it just right, you'll understand its importance and heritage amongst the beautiful people of Mexico.
And, now…it's time to put this sauce to good use. Pollo con Mole is a good place to start!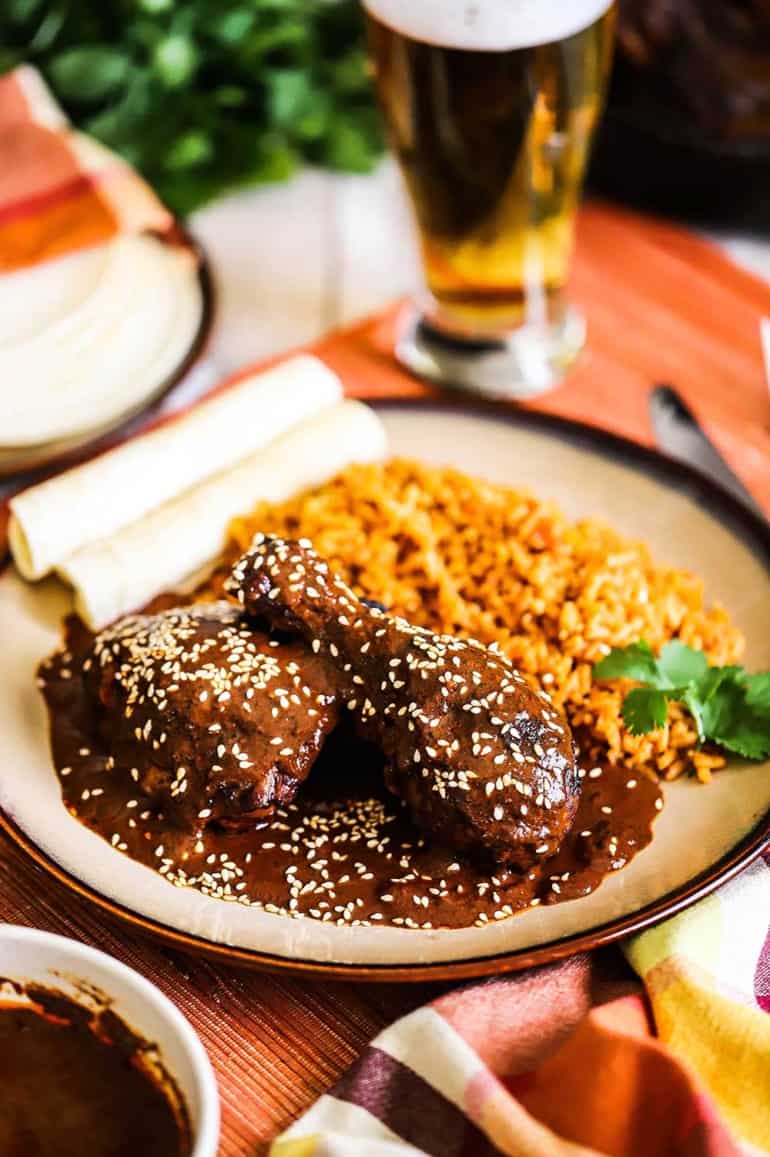 Ready to make a Mexican sauce that you can truly be proud of? Go for it!
And when you do, be sure to post a picture of it, post it on Instagram, and tag @HowToFeedaLoon and hashtag #HowToFeedaLoon!
Equipment
1 Blender or small food processor

1 large sturdy skillet preferably a 12-inch cast-iron8
Ingredients
8 ancho chilis
6 guajillo chilis
2 morita chilis or arbol
boiling water
1 corn tortilla yellow or white
1 tsp oregano dried, preferably Mexican
½ tsp ground cloves
3 tbsp olive oil divided
½ cup onion cut into strips
4 cloves garlic
1 tbsp almonds sliced or chopped
1 tbsp pecans chopped
1 tsp anise seeds
1 tsp whole black peppercorns
1 cinnamon stick
½ tsp allspice berries
2 tbsp raisins
3 slices banana about 1/2-inch each slice
4 cups chicken stock divided
½ cup whole tomatoes drained
2 oz Mexican chocolate
1 tbsp brown sugar dark
1½ tsp salt
Instructions
Bring a saucepan of water to a boil (about 3 cups).

Cut the stems from the chilis and remove most of the seeds inside. It's okay if you tear the chilis open to help get rid of seeds.

8 ancho chilis, 6 guajillo chilis, 2 morita chilis

Place the chilis in a heat-proof bowl and pour the boiling water over them. Place a small plate (or anything heat-proof) over the top of the chilis to help keep them all submerged. Allow them to soak for 30 minutes.

boiling water

While the chilis are soaking, turn your grill to medium-high. Place the tortilla over direct heat and cooked until dried out and browned in places. Turn off the grill and bring the cooked tortilla inside. (This can also be done over a gas stove or under the broiler).

1 corn tortilla

Drain the chilis into a colander over another heatproof bowl, reserving the soaking liquid.

Transfer the soaked chilis to a blender and pulse several times, using a small spatula to scrape down the edges and un-lodge any pieces that might have gotten caught in the blade. Add the oregano, ground cloves, and about ½ cup of the soaking liquid and purée again. The mixture should be very thick. Add another ½ cup soaking liquid and purée again. The mixture should not be runny, but almost like a paste.

1 tsp oregano, ½ tsp ground cloves

Transfer the chili purée to a sieve over a bowl. Use a wooden spatula to press the chili mixture through. Keep pressing until everything but the skins have passed through. You should have about 1 to 1¼ cups of the chili purée. Set aside. Clean out the blender vessel and place on its base.

Heat 2 tbsp vegetable oil in a large skillet (preferably cast iron) over medium heat. Once the oil is shimmering, gently place the onions and garlic in the center of the skillet and let cook for 4 minutes, gently pushing around with a wooden spoon (but not too much).

3 tbsp olive oil, ½ cup onion, 4 cloves garlic

Place the following ingredients around the onion and garlic in the hot oil: Almonds, pecans, anise seeds, peppercorns, cinnamon stick, allspice berries, raisins, and banana slices. Cook for another 4 minutes, until very fragrant and the onion slices are slightly charred on the edges.

1 tbsp almonds, 1 tbsp pecans, 1 tsp anise seeds, 1 tsp whole black peppercorns, 1 cinnamon stick, ½ tsp allspice berries, 2 tbsp raisins, 3 slices banana

Use a large spoon to scoop up and transfer the lightly fried skillet ingredients into the cleaned blender. Once all has been transferred, pulse the blender a few times. Use a spatula to scrape the edges and pulse again.

Add 1 cup chicken broth, close the lid to the blender, and purée again until smooth, about 1 minute. Break up the tortilla and add to the blender along with the tomatoes. Purée for another minute. The mixture will be light brown and somewhat thin.

4 cups chicken stock, ½ cup whole tomatoes

Meanwhile, clean out the large skillet. Then, over medium heat, heat the remaining 1 tbsp vegetable oil. Add the chili purée and cook, stirring often for about 2 minutes. Stir in the thin mixture from the blender. Keep stirring until fully mixed. The color should turn to a deep burnt orange or brown.

Stir in the chocolate and mix until fully melted. Stir in the brown sugar and salt. Continue cooking (stirring often) for 1 hour, adding more chicken stock to maintain a velvety sauce consistency (usually about 3 cups of stock over the hour). The sauce is now ready to use or store in an airtight container in the refrigerator for up to 7 days.

2 oz Mexican chocolate, 1 tbsp brown sugar, 1½ tsp salt
Notes
See the video near the top of the blog post for visual guidance. If you liked the video, please subscribe to our YouTube channel.
You'll want to use approx. 8 ounces of dried chilis. Chili options include
Ancho
Guajillo
Morita
Arbol
Pasilla
New Mexico
SPICE LEVELS: Morita peppers are dried red jalapeños and pack plenty of heat (similar to a chipotle). Arbol peppers and New Mexico carry quite a bit of heat, too. Ancho and pasilla chilis are mild. Guajillo chiles are between mild and spicy. NOTE: Use any combination of these, but remember, if you go with more than a couple of spicy chilis, your mole will have a kick to it.
For the nuts, you can use one of the following, or any combination:
Almonds (these are almost always used)
Pecans
Walnuts
Peanuts
The mole will keep in the fridge (covered) for up to a week and can be frozen for up to 2 months.
Nutrition
Calories: 238kcal | Carbohydrates: 42g | Protein: 9g | Fat: 8g | Saturated Fat: 2g | Polyunsaturated Fat: 3g | Monounsaturated Fat: 7g | Cholesterol: 5mg | Sodium: 690mg | Potassium: 999mg | Fiber: 13g | Sugar: 21g | Vitamin A: 10064IU | Vitamin C: 16mg | Calcium: 52mg | Iron: 3mg